Chase Stokes doesn't post much on Instagram, so whenever he does, fans zoom in on every detail. It's that exact behavior that led fans to discover that his arms are covered in small tattoos when he posted your run-of-the-mill mirror selfie on his Instagram Stories. Detective work at its finest.
Ever since Stokes rose to stardom on Netflix's hit teen drama series "Outer Banks," which premiered in April 2020, he's rarely talked about his tattoos or the meanings behind them, so a lot of information surrounding his body art still remains a mystery. However, we do know he has at least 13 known designs so far, including a memorial tattoo dedicated to a late loved one, an intricate rose tattoo, and a tiny heart tattoo.
It's worth noting most pieces in Stokes's collection are on various spots of his arms and shoulder area, so they can't be seen unless he either wears a tank top or lifts his shirt. Luckily, though, he's shared a few sneak peeks at his tattoo collection on Instagram, as well as during interviews and in paparazzi photos. Not to mention, when his now-girlfriend Kelsea Ballerini teased their relationship in a TikTok video, she did so by flashing his arm tattoos, which sent fans into a frenzy.
Want to see for yourself? Read all about Stokes's tattoo collection here, and find out what each design means. You might just find some you haven't seen before.
— Additional reporting by Jessica Harrington
Chase Stokes's "Love, Joan" Dove Tattoo
Most of Stokes's tattoos are located on his right shoulder, including one of a dove with the words "Love, Joan" underneath. In an August 2021 interview with Wired, the actor revealed the ink was inspired by his late grandmother.
"A dove is always signifying that somebody is watching over you," he said, adding that the message was in his grandmother's handwriting. "When she passed, this was the last letter that she wrote to me, so I had a tattoo artist sketch it on my skin."
Chase Stokes's Smiley-Face Tattoo
In that same interview, Stokes also showed off a small smiley-face tattoo on his wrist. "We named him Frank," Madelyn Cline, Stokes's "Outer Banks" costar, said.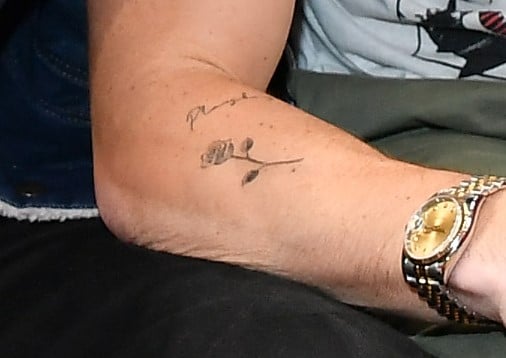 Chase Stokes's Rose Tattoo
While attending a basketball game in Atlanta in November 2021, Stokes debuted a rose tattoo on his right arm. He hasn't explained the meaning behind this design, although the rose is often a symbol of love and passion.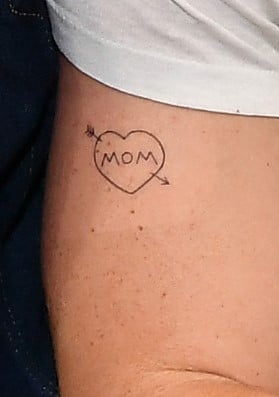 Chase Stokes's "Mom" Tattoo
Stokes has a tattoo dedicated to another important woman in his life: his mother. He has the word "Mom" inked on his bicep with a heart and arrow around it. It seems the two are super close, because in a May 2013 Instagram post, which featured a throwback photo of Stokes and his mother, Jennifer Canning, the star said, "Once a mommas boy, always a mommas boy."
Chase Stokes's "1939" Tattoo
In an Aug. 6, 2022, Instagram post, tattoo artist Jacob Reiss shared a close-up of Stokes's latest ink: "1939." Weeks later, on Aug. 23, 2022, the actor shared a mirror selfie showing off all of his arm tattoos on Instagram, including his "1939" tattoo, but he didn't explain the meaning behind it. "idk buncha random sh*t. enjoy. or don't," he captioned his post, which featured a number of other photos and videos of his daily life. "i'm cool with both options."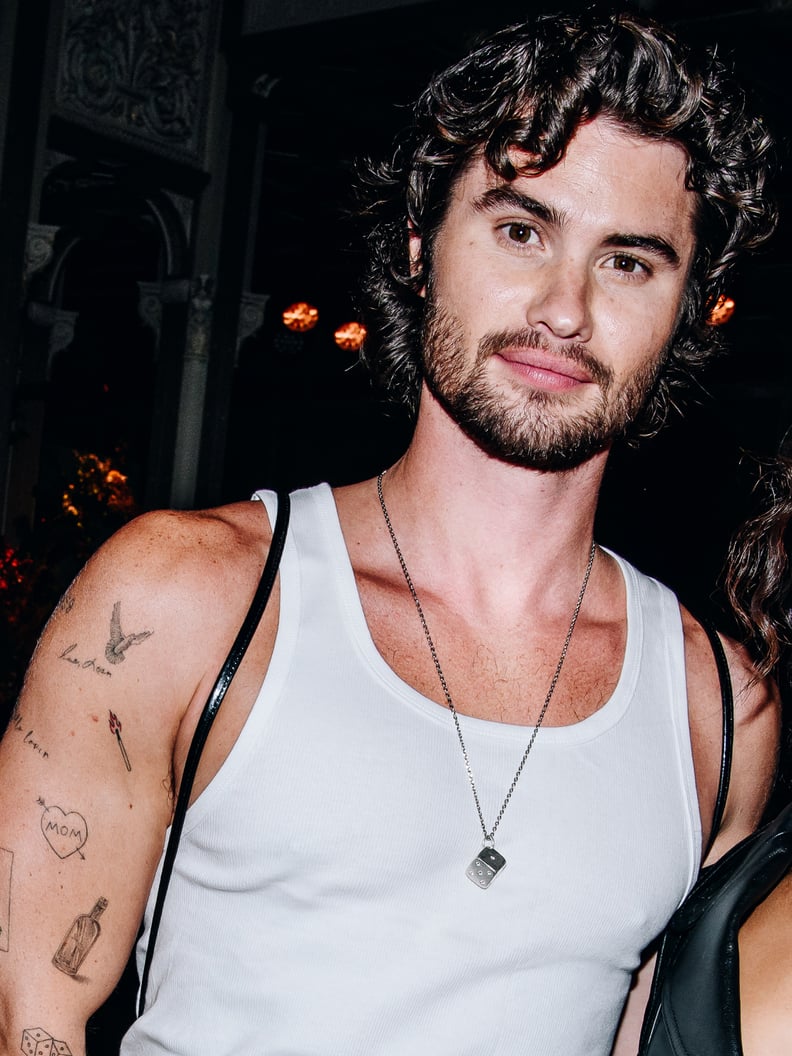 Chase Stokes' Matchstick Tattoo
Another one of Stokes' arm tattoos is the lit matchstick located under his dove tattoo on his shoulder. The meaning behind it remains a mystery, but according to TattooSEO, matchstick tattoos often symbolize "that there is a light to look toward" even in the darkness.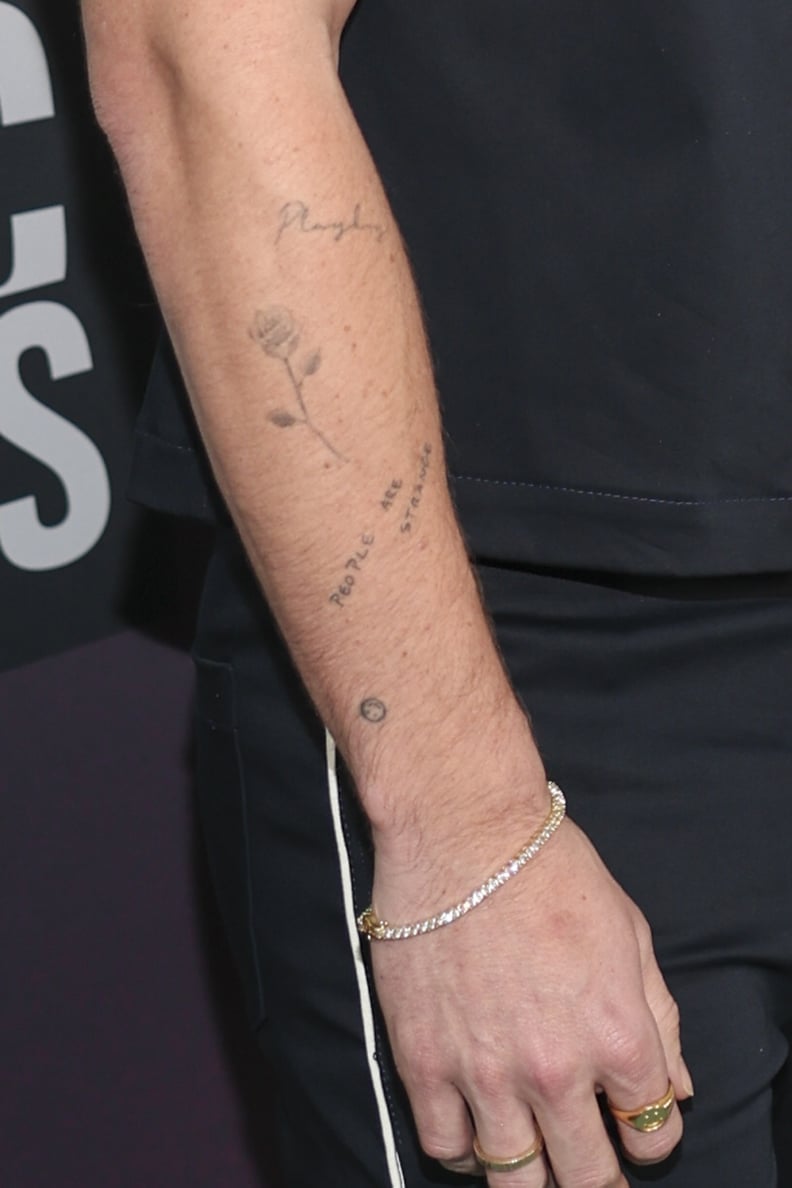 Chase Stokes's "People Are Strange" Tattoo
Stokes's has a phrase nestled between his rose and smiley-face tattoo that reads, "People are Strange" in what looks like someone's handwriting. He's never shared the meaning behind this ink.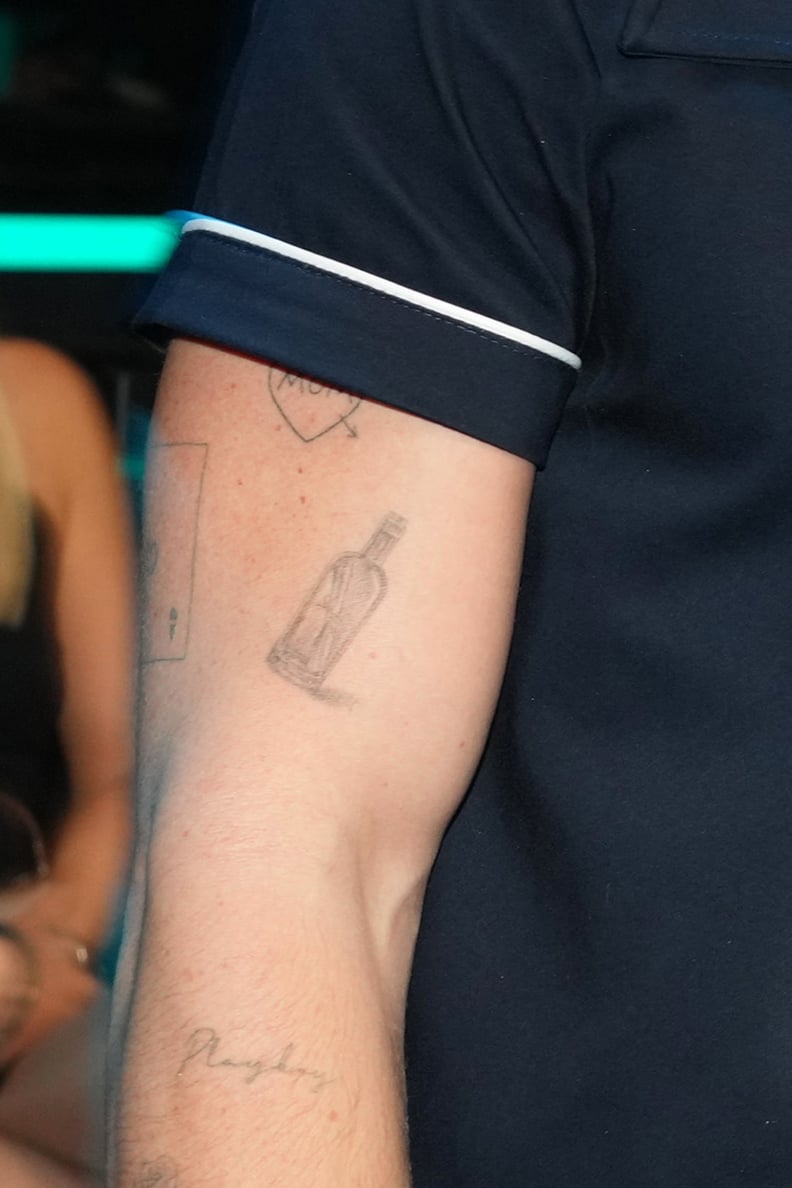 Chase Stokes's Message in a Bottle Tattoo
Under his "mom" tattoo, Stokes has a bottle with what appears to be a message in it. He's never divulged the meaning of this ink.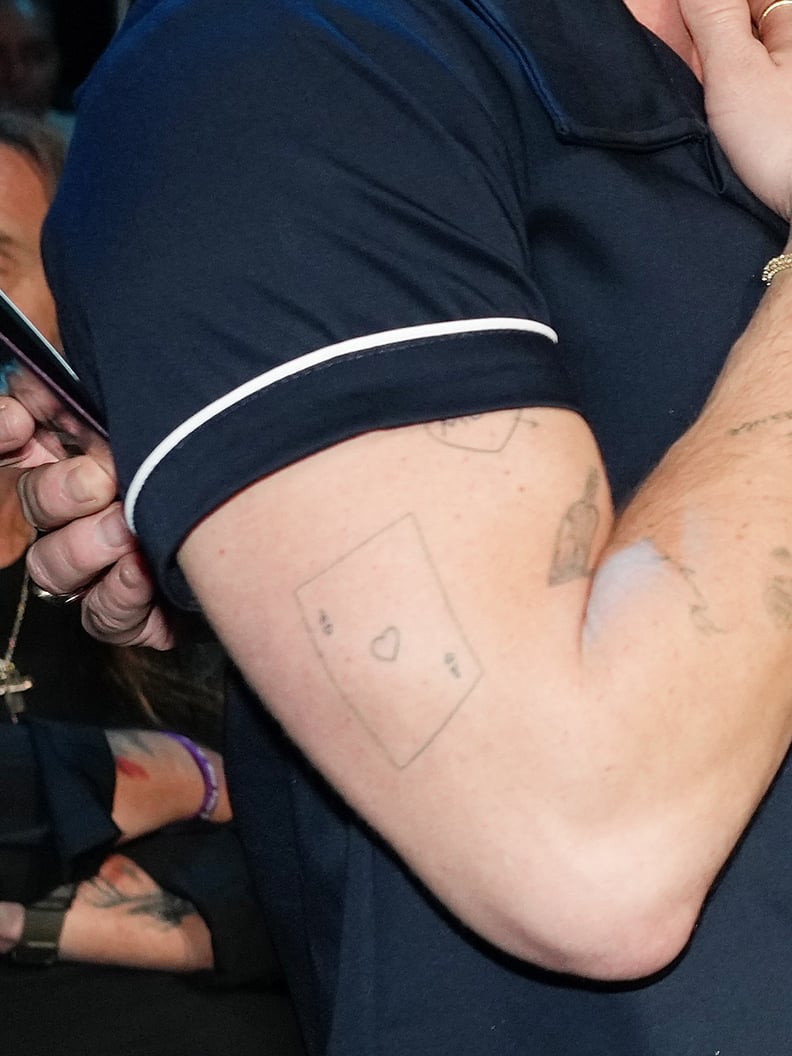 Chase Stokes's Playing Card Tattoo
On his outer bicep, Stokes has an ace of hearts playing card tattoo. It's a fine-line design with zero shading or additional details.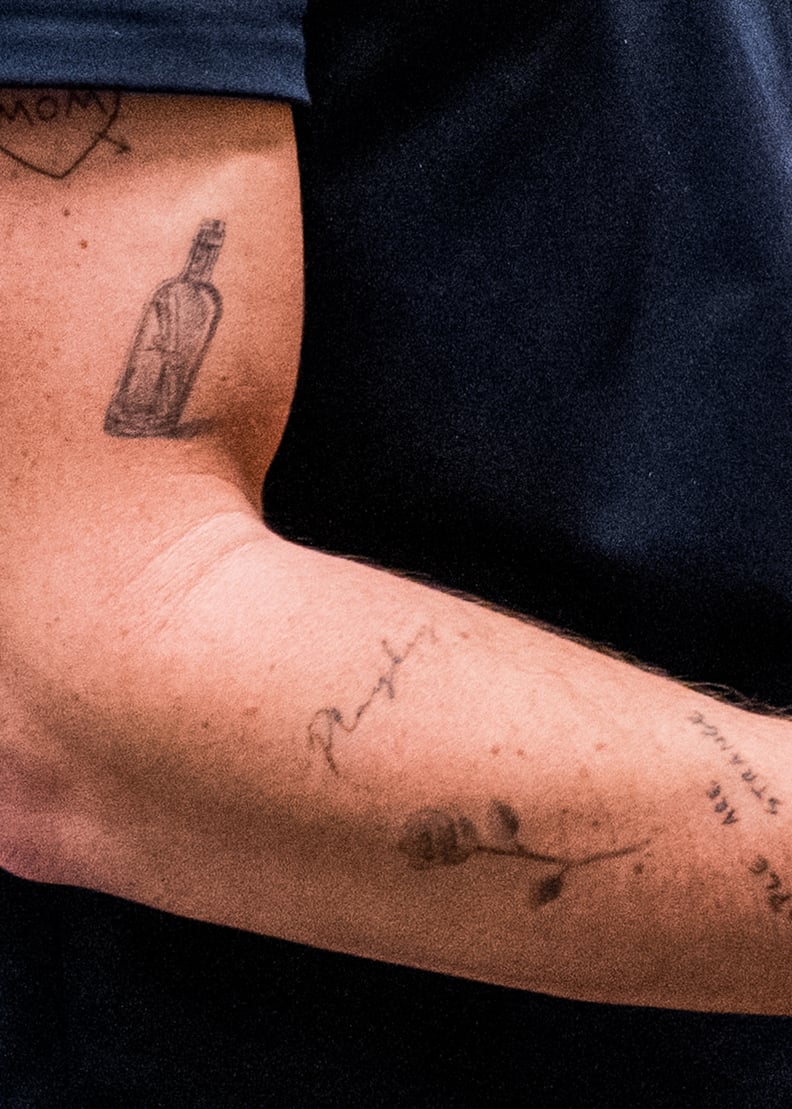 Chase Stokes's "Playboy" Tattoo
Above his realistic rose, Stokes has a script tattoo that reads "Playboy." He hasn't shared the significance behind the design.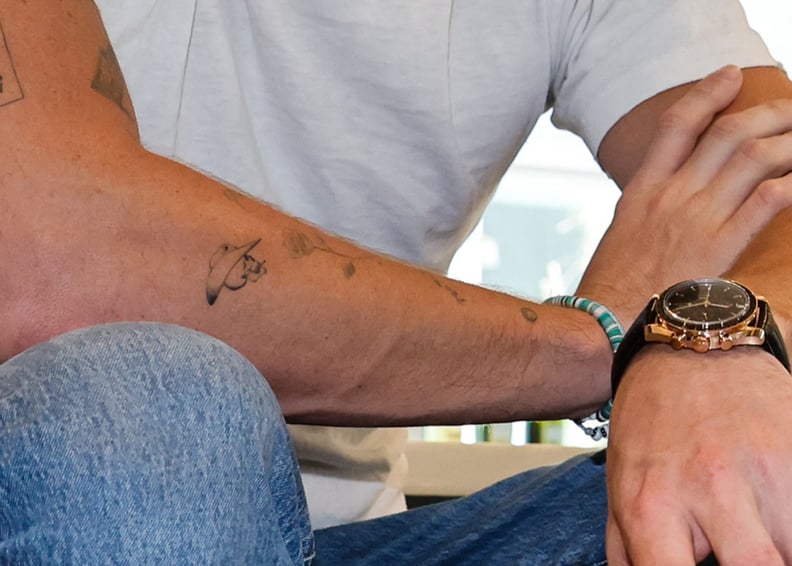 Chase Stokes's Cowboy Skull Tattoo
Sometime in 2022, Stokes added a small design on his forearm of a skull wearing a cowboy hat.
Chase Stokes's "Hello Lover" Tattoo
On the outside of his bicep, Stokes has a new script tattoo that reads "Hello lover." He likely got the design sometime in 2023. Though we don't know the meaning, it's perhaps a nod to his relationship with Kelsea Ballerini.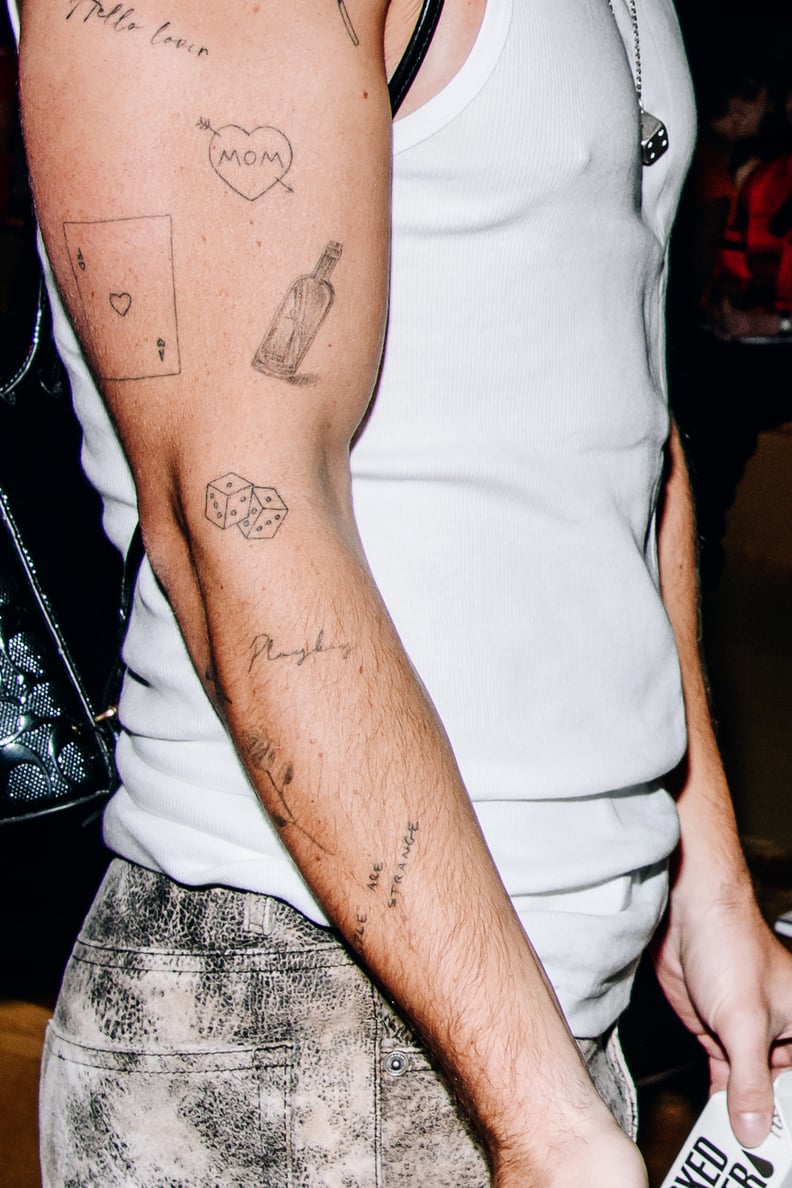 Chase Stokes's Dice Tattoo
Located near his elbow, just below the playing card and the bottle and above the "Playboy" ink, Stokes has a pair of dice inked. He got it in 2023 but hasn't shared the meaning behind it.