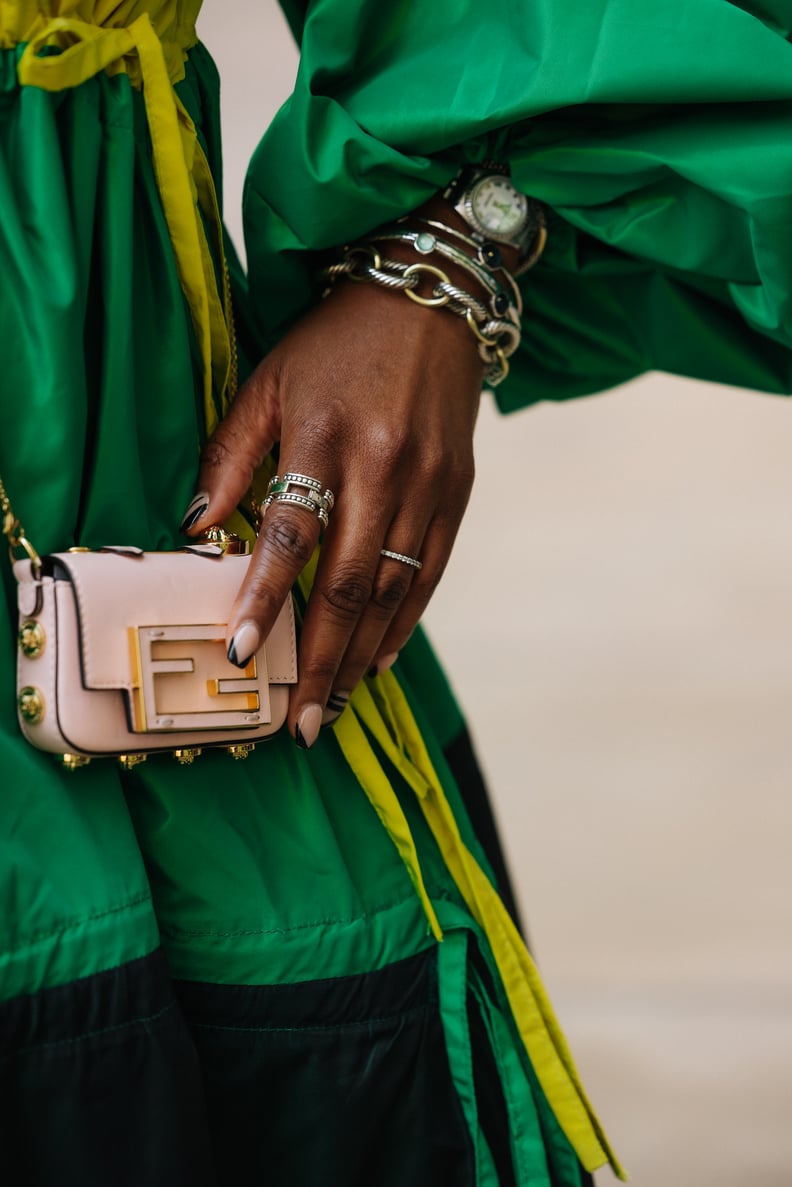 POPSUGAR Photography | Darrel Hunter
French manicures are everywhere you look right now: on Instagram, on the hands of your favorite celebrities, and even on the New York Fashion Week runways and streets. But these are not your average french tips — they're much more fun. Since the swift return of this classic nail-art design, we've seen countless spinoffs of the trend, including the micro-french, glazed-doughnut french, and now, the V-cut french manicure.
"The V-cut manicure is a really fun spin on the traditional french," Tammy Taylor, celebrity manicurist and founder of Tammy Taylor Nails, tells POPSUGAR. The trend gets its name from the shape the lines at the tip of the nail make. "Instead of creating a smile line, you create a deep V, also described as a chevron."
This nail-art trend lends itself to a variety of other nail styles and colors. Depending on how you do it, the intersecting lines at the tip of the nail can look very different. "This can be negative space or filled in with your favorite color," says Taylor. It's most common for the chevron french manicure to appear on square, ballerina, or coffin-shaped nails, but it also works on oval and round shapes.
This manicure is one you can easily get at the salon, but it's not impossible to re-create at home, either. You simply need to create two long strokes of color to form the V on a base shade of your choice. There are hacks out there to make this easier: tape is one way to do it; precut nail stencils is another.
To get inspiration for your own V-cut french manicure and discover just how versatile this nail look is, keep scrolling.
Classic Chevron French Manicure
This V-cut french manicure on ballerina-shaped nails features classic colors — white tips and a neutral base color — for a timeless look.
Negative Space Chevron French Manicure
This V-cut french manicure as a neutral base and neon orange as the accent color. Instead of filling in the tip of the nail, they left it empty for a negative space twist.
Split Chevron French Manicure
This chevron french manicure incorporates two different nail polish colors on the tip, almost like the split french trend.
Chevron French Manicure With Silver Accents
The ring finger of this chevron french manicure is accented by silver gems tracing the edge of the V-shape.
Chevron French Manicure With Rhinestones
This V-cut french manicure has crystal accents and charms on a few of the fingers for a bold and sparkly look.
Orange Chevron French Manicure
Instead of using white nail polish for the tips, try incorporating your favorite color, like this person did with orange.
Glitter Chevron French Manicure
For an added pop of color and sparkle, try using a glitter nail polish for the tip of the chevron design.
Negative Space Chevron French Manicure
This negative space design uses traditional french nail polish colors for an understated and minimal look.
Green Chevron French Manicure
The green nail polish over the neutral base color really makes these nails pop. For an added touch of personality, they added a dot at the nail bed in the same shade.