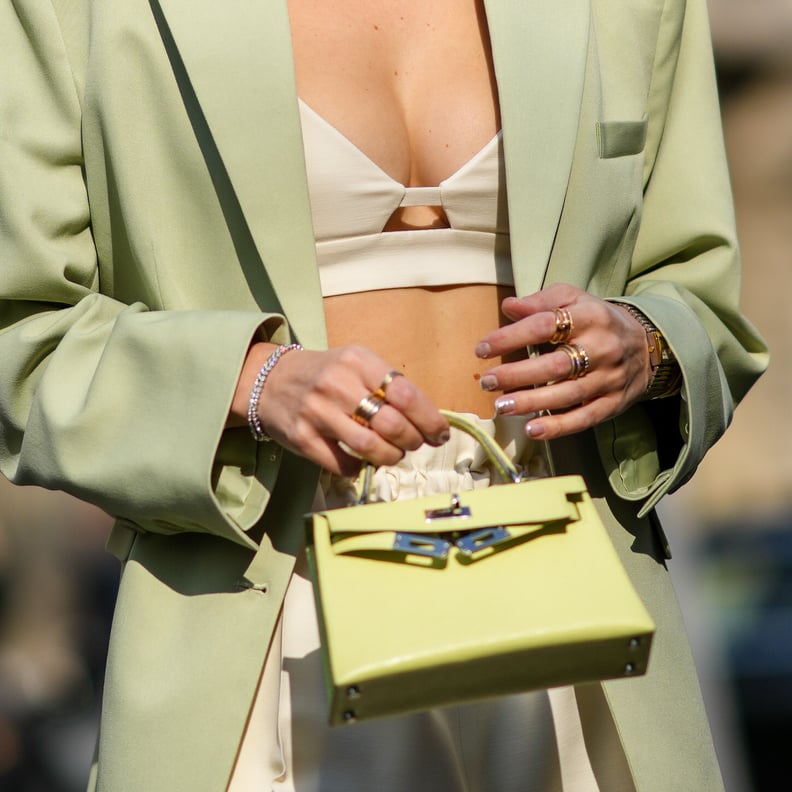 Cue the record scratch, because we have a beauty-trend remix on deck. You've likely seen Hailey Bieber's glazed-doughnut nails by now — you know, the ones that glisten just like a doughnut freshly slathered in melted sugar. After flooding the internet and salons all summer, the model's go-to manicure is now getting combined with another nail trend: french tips.
We first caught wind of the mashup when celebrity nail artist Queenie Nguyen posted a video of her topping a client's french manicure with a shiny glazed finish, and other nail enthusiasts are now following suit, including social media star Addison Rae.
"Given how chic the viral glazed-doughnut nail trend is, I wanted to combine it with a timeless french manicure to create a modernized version of french tips," she tells POPSUGAR. "My ultimate goal was to create another wearable look that is subtle and works great for all skin tones and nail lengths." It also suits a variety of nail shapes, whether you prefer almond, oval, coffin, or square.
If you want to try the trend yourself, Nguyen is sharing the scoop on how she brought her vision of the glazed-doughnut french manicure to life. Check out the steps ahead, including product recommendations.
How to Create a Glazed-Doughnut French Manicure
Step 1: Apply a base coat, and then swipe white nail polish along the ends of your nails for the french tips. Nguyen suggests using OPI's Alpine Snow Nail Lacquer ($10) and prefers creating "deep, visible french tips" rather than a micro french, but the thickness of each white line is totally up to you.
Step 2: Wait three to five minutes so the nail polish is almost dry and slightly tacky to the touch. Using a sponge-tip applicator, lightly apply a chrome nail powder all over each nail, being careful not to dent the polish. Nguyen's go-to powder for that mirror-like shine is OPI's Chrome Effects Nail Powder in Tin Man Can, which is sold out online at the moment, but we also like the CND Over the Top Effects in Off the Chain ($14).
Step 3: Apply one thin coat of OPI's Chrome Effects Top Coat ($9) to protect the powder layer. Wait five minutes for nails to dry.
Step 4: Apply an additional top coat — any brand will do — to seal everything in and finish the look.
In case you need additional confirmation that glazed-doughnut french manicures are about to be everywhere, check out photos and videos of people trying out the nail trend ahead.
Inspiration For Your Next Glazed-Doughnut French Manicure