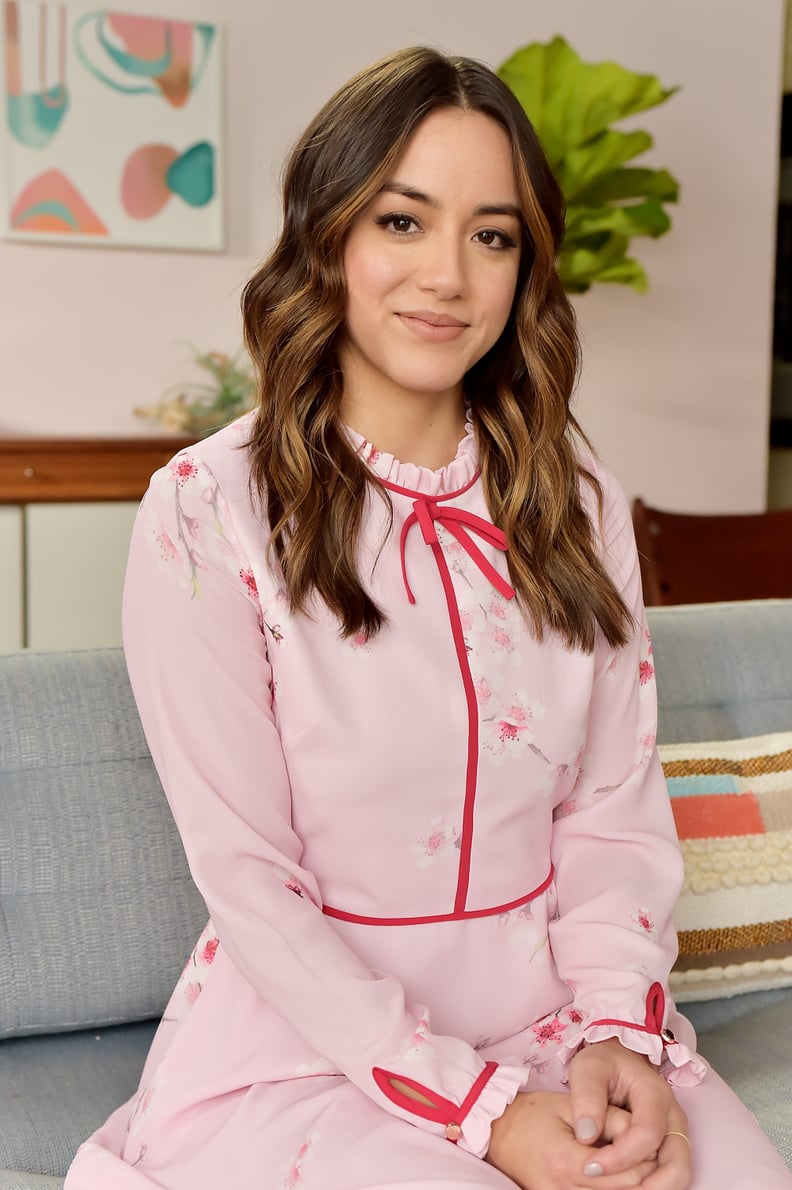 SK-II | Getty
SK-II | Getty
Much like Daisy Johnson, the Agents of S.H.I.E.L.D. character she's played for the past five years, Chloe Bennet speaks in a deep, powerful voice. Her cadence is unapologetically slow — she's going to talk for as long as she needs to, and you're going to listen.
Such casual, mature confidence is probably what makes people think the actress is older than her 26 years. That and the fact that she boasts a wildly impressive résumé that includes her stint on S.H.I.E.L.D., some time on Nashville, and a starring role in the upcoming romantic comedy Valley Girl.
Chloe may have stayed busy throughout her 20s, but she's also the face of a new SK-II campaign called "The Expiry Date," which calls bullsh*t on society's expectations that a woman accomplish a certain number of things by a specific age. We spoke to the actress on everything from the pressures of being a role model to why she'll never wear setting spray on set. Oh — and she also told us about that time she was a teen pop star in China. Let's let Chloe explain.
POPSUGAR: The theme of your new SK-II campaign is that women have no expiry date. You're 26. How has your approach to aging changed over the years?
Chloe Bennet: All of my insecurities about age have always been about my youth. I have always been the youngest female in the group. And my insecurities have always been about not feeling good enough because I was so young in such a professional setting very early. And then all of a sudden, I turn 25, and I go from being this young kid to no longer in young Hollywood because I'm over 25. I go from being the young kid to then not being young enough to play someone who is 10 years older than me on camera. It goes from not being taken seriously as a professional because of my age, then all of a sudden, I'm the old grandma on the block once I turn 25. That is so representative of where society is right now and how much pressure women have to age the way that everyone else expects you to age. I think every woman feels a pressure to have a certain number of things done, whether it's start a family or have a career path. And it's always on society's terms and not necessarily each woman's individual idea of what she wants. It's such a crazy concept because so many dynamic, interesting women I know live by their own terms.
PS: I feel sort of similar in that at 23, I could be considered "too young" for my job. I've actually lied about my how old I am so people take me seriously. Did you ever do that?
CB: Actually, to get cast on my show, I told them that I was 27 when I was 20 years old. I lied because people always assumed by the way I acted that I was older. And I always saw my youth as a bad thing, because to me, it meant I wasn't smart enough, I wasn't experienced enough, I wasn't capable enough to handle the responsibilities I had. I've always felt completely capable, but I also felt the pressure from everybody else around me. So I lied to get the job.
I remember when I turned 21 on the reshoot of the pilot of S.H.I.E.L.D. and everyone was like, "How old are you turning now?" And I was like, "21! I can drink!" And they were like, "But really, how old are you turning?" "Seriously, I'm turning 21." And they're like, "You told us you were 27 or something when you got cast!"
PS: With all of the good that's coming out of #MeToo and Time's Up, do you, as someone who's working in the industry, think it's actually changing? Are you hopeful? Are you seeing that change implemented day to day?
CB: I really do think it's actually changing. And that's where I think the beauty of social media is. I think social media is such a double-edged sword. It's such an easy way to compare yourself to others in a negative way. But it is just as easy to be inspired by other people and hear other people's stories. It's not just a campaign because it's trendy. It's a campaign because it's important, and it needs to happen. And it's real. I think those are the types of things that are really implementing change. And I can say without a doubt that things on set — the daily life is completely different because of movements like #MeToo. I feel more heard. I feel like I'm being taken seriously. I feel like I can say something, and it won't be judged because of my race or my sex or my age but because I have the insight and the knowledge to say something about it because of who I am. So I do think that there is change happening.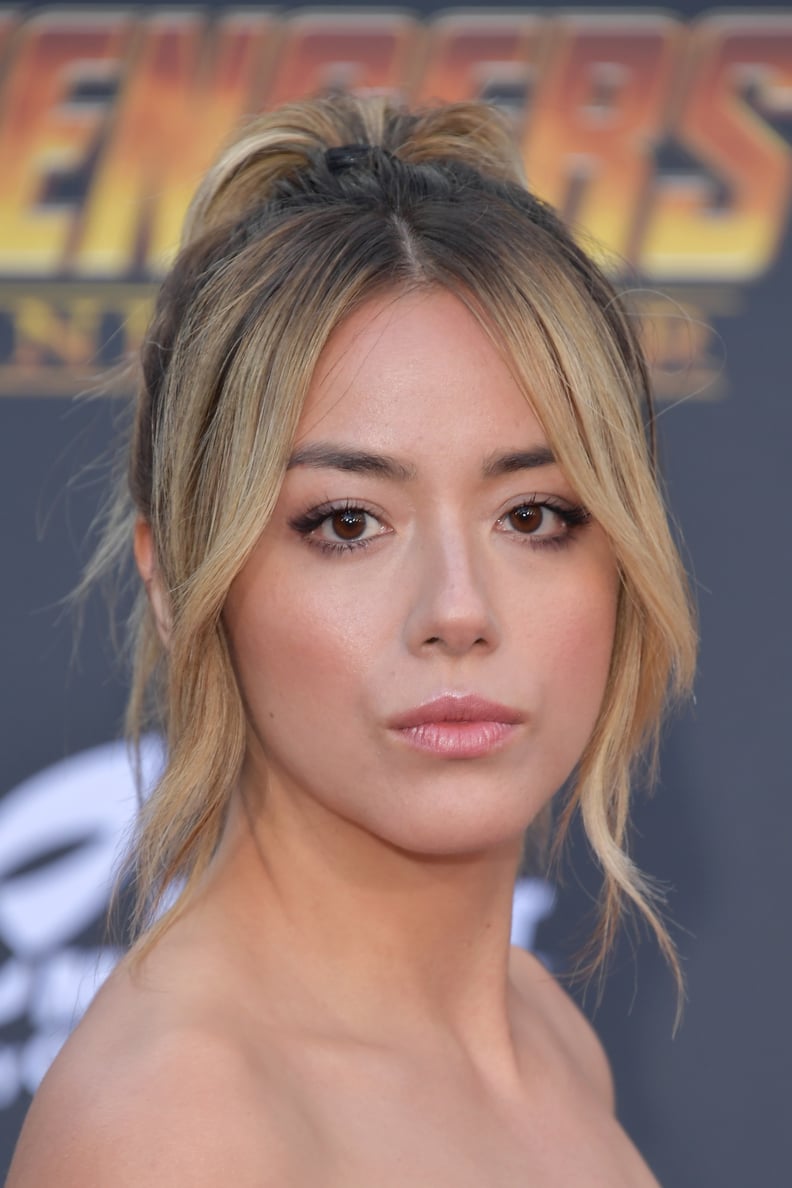 PS: You're on a series that has a woman showrunner. How has that experience been compared to other male-dominated sets that you've worked on?
"I pride myself in my character being an honest superhero where it's not all perfect."
CB: We do have a female showrunner. It still is predominantly male in terms of the crew, but we have a female leader. Maurissa [Tancharoen] is such an incredible leader for our show and supported by great, strong men alongside her. And Maurissa is a working mom. I'm still inspired by her every day as someone who is in Hollywood, who has overcome a lot of adversity because she is a Thai woman.
Often I see this where we'll have new actors come on our show, and I'll be talking to Maurissa, and they'll kind of come up to me and kind of schmooze me a little bit and completely assume Maurissa is like a PA or a wardrobe assistant because she's a beautiful, young Thai woman. And I'll be like, "Hi. This is actually Maurissa." And they'll be like, "That's nice. Can you get off the carpet?" or something like that. So often, I go, "This is the boss of the show. Our showrunner, creator, writer of this episode." That happens all the time. I think if you're a young female, you can relate to that. But having her as the leader of the show has been so important for me. Being on the show for five years, I didn't finish high school with my class, I finished on my own. I didn't go to college, and this has been really a huge learning experience for me. I could not be more thankful for having a strong Asian female who's showing me how everything works.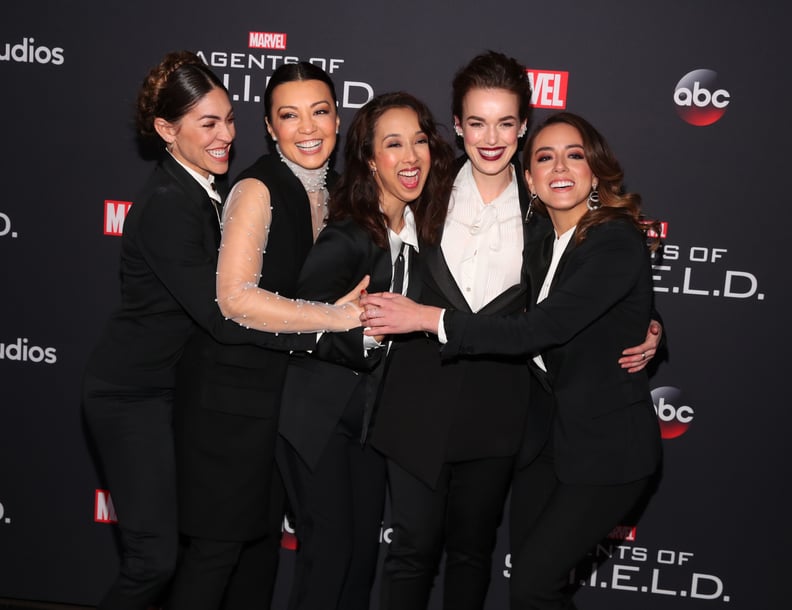 PS: Speaking of your nontraditional education, you were a pop star in China before getting your TV gigs.
CB: True.
PS: Did you learn any beauty hacks or tricks in your past life?
CB: I did. There are so many that I learned from that time. It was like a pop-star boot camp. I learned a lot of actually old-school Chinese tricks for skin, like an egg white face mask, something we definitely rocked after like a show or touring. It's straight egg white, which is a lot, but that's something we did in terms of like just pure beauty.
PS: Did that work?
CB: I don't know. I think it did. I feel that my skin is definitely more soft, like a whipped egg white. But I learned a lot. I learned how to get my makeup done, what I like, and how much makeup can change my face. I found a balance of, "Oh, this is a really good way to accentuate my features but not look like a different person." I learned to rock high ponytails there, that's for sure. Love that look. That is where I felt really comfortable often playing up my Asian features. So often in America, people want to tone that down. But I loved learning the fact that I am half-Chinese, and that is celebrated there, rather than being like, "You don't look Asian." I get that a lot: "You don't look Asian." It's like "Well I don't know. Is that a compliment?" They say it to me usually as a congratulatory situation. "You don't look Asian, good for you." And that's always a weird thing to have said to you, so it was really fun to get to play up my Asian features in China.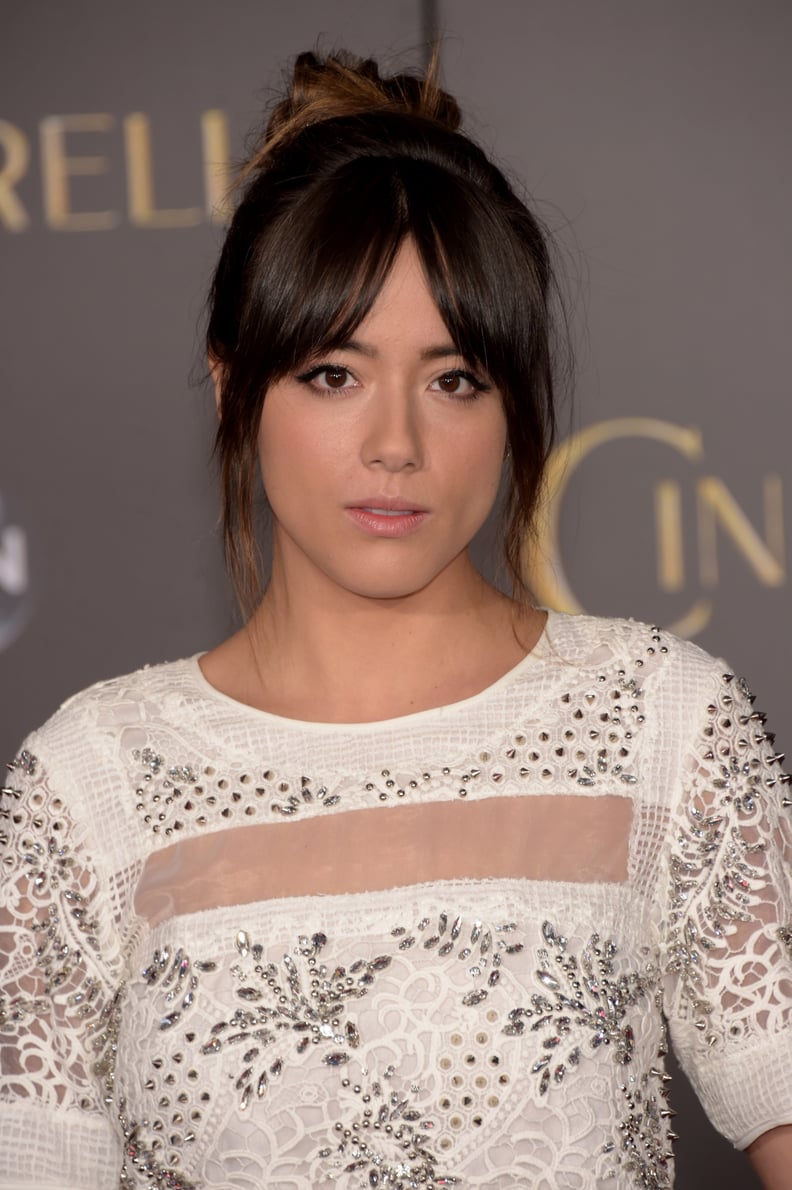 PS: You changed your last name from Wang to Bennet after you weren't getting called in for roles. How did you go about telling your parents, "Hey, this is a problem, I'm in kind of a racist industry, so I'm going to change my name"? How did they react to that?
"I wanted to book roles because I was right for the roles, not because I was Asian or I was white, because those things don't define me."
CB: My parents are very open and understanding. They're very aware of the world that we live in. And it was always an issue for me. I come from an incredibly multicultural family. I have two black brothers, one is Mexican-Filipino, and the rest are half Chinese. My dad is Chinese, and my mom grew up in Europe. When I came to Hollywood, people were always incredibly confused by me. I would go out for parts, I would walk into a room, and they would tell me I was in the wrong room because it was for an Asian role. Or I'd walk in for the lead character, and they would say, "Sorry, what's your last name?" And I would say, "Wang." And they'd go, "We're not really going to go ethnic for this part."
I mean, this was only seven or eight years ago. Roles were either white, Asian, or black. And now it is so much more fluid, and I definitely have gotten a lot of heat over the past few months or years about changing my name and people saying, "Oh, you're hiding from who you are." And that's just actually not true. I am me, and that comes with an incredibly complex background. I wanted to book roles because I was right for the roles, not because I was Asian or I was white, because those things don't define me. They're just a part of what makes me who I am. So when I told my dad, he was just incredibly on board because he was like, "We just want you to get work so you can pursue your dream." In Chinese culture, the dad's name is a very big part of honor and carrying the family name. And so my dad's first name is Bennet. So I took his first name to honor him and how much work he's put in. But I booked the first role after I changed my name.
PS: Really?
CB: Because people weren't confined to society's idea of who I was. It was like they were able to just see me for me and not for what they thought I should or shouldn't be. I've dedicated myself to using my platform to bring awareness to Asian Americans in the industry in politics. I have a charity, an organization called RUN. It's short for Represent. Us. Now, and it's about Asian Americans and being represented equally in politics and in pop culture. And I take my role as someone who is an Asian role model very seriously. My motive behind changing my name wasn't like, "Oh, I want to be more white." It was because I'm going to be Chloe, and hopefully they'll see me for who I am, and then I can share my story. But I'm not even going to get the opportunity to share my story if I don't have a platform. So I get some heat for changing my names from both sides, but what else should I have done? I needed to pay my rent. That pop star money was running out.
PS: Exactly. So, you guys must use a mean setting spray on set.
CB: A what spray?
PS: A setting spray. To hold your makeup.
CB: Oh, girl. My makeup just falls off all day. I want it to be real on set, so if I look like sh*t after the fight sequence, I'll try to commit to that. I try to keep it real. Women can be messed up! Like, if I have lots of blood, I try to keep it real. You're not going to be in that perfect hair and that perfect makeup and all that stuff. And I pride myself on my character being an honest superhero where it's not all perfect. The more messed up my hair and makeup can be, the better, actually.