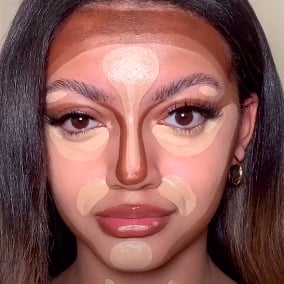 We don't know about you, but contouring the regular way stresses us out. Granted, we're not TikTok-famous makeup artists, but plenty of people on the app are, and they're showing off their blending skills in these wild makeup-contouring videos.
From hundreds of tiny dots to a pixelated video screen and stain-glass-window design, these blending videos are mesmerizing to watch — not to mention really satisfying when they end with a flawless, full-glam beat. We can only imagine how long it takes to create these transformations from start to finish, which is why it makes sense some people are hesitant to blend their masterpiece away. (If anyone has a color-by-number version for us to try, let us know.)
If you're on beauty TikTok, you know how easy it is to fall down a rabbit hole of makeup challenges, so we rounded up a few of the best ones ahead.