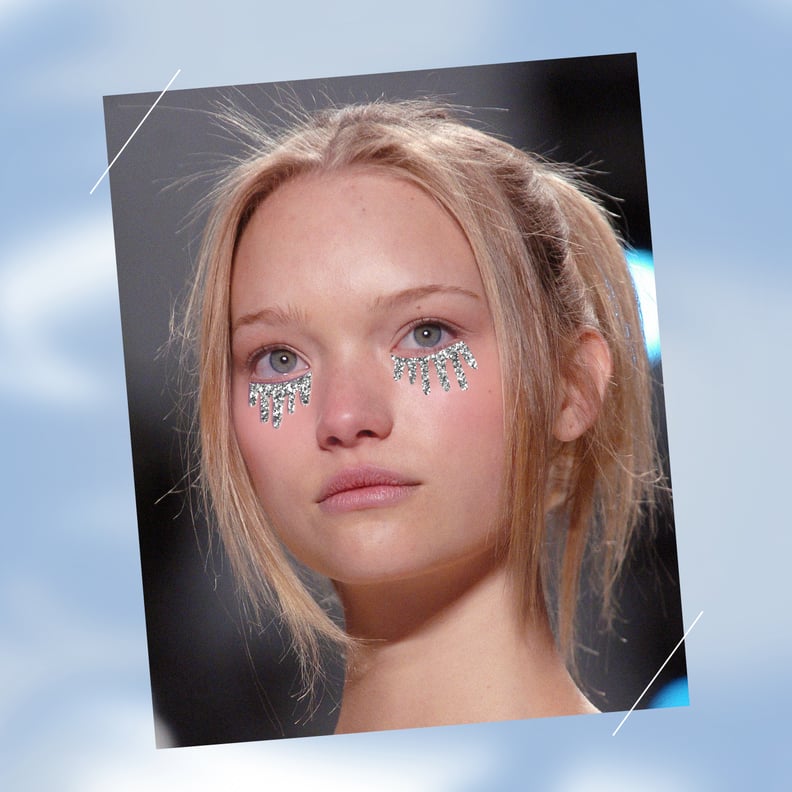 Getty/ Theo Wargo | Staff Unsplash/ Pierre Bamin and Photo Illustration by Becky Jiras
Getty/ Theo Wargo | Staff Unsplash/ Pierre Bamin and Photo Illustration by Becky Jiras
A new makeup trend is making the rounds on TikTok, and it's rather . . . unexpected. You may have noticed more people talking about "crying makeup" or "sad-girl makeup" recently, and it's exactly what it sounds like: makeup meant to look like you just had yourself a long, good cry.
"So this one is for the unstable girlies," makeup artist and beauty creator Zoe Kim Kenealy says at the start of her viral video on the trend using TikTok's green-screen feature to share a ton of inspiration photos for the look. "You know how we look good when we cry?" she asks, before going on to explain how to get the look with makeup if you're "not in the mood" to shed a few tears.
This isn't exactly a novel topic. There are 5.9 million views on #CryingMakeup on TikTok and countless videos to browse through soundtracked by Lana Del Rey's "Pretty When You Cry." One creator said that her crying makeup really brings out her "feminine energy," while another called the final result — red cheeks; glassy, red eyes; and swollen lips — sexy.
But why is this unconventional "beauty" trend picking up steam? Well, there are a few theories. "There is a romanticized trend toward crying and posting photos after, barefaced or with smudged liner," Sanam Hafeez, MD, NYC-based neuropsychologist and director of Comprehend the Mind, tells POPSUGAR. "TikTokers, in particular, do this, and come across as 'real' or 'vulnerable.'"
Bella Hadid, Nicola Peltz Beckham, Dua Lipa, and Billie Eilish have all contributed to the wave of crying selfies on social media and truthfully looked damn good while doing it, only strengthening the case for "crying makeup."
The timing of this trend coincides with more people, both on the app and outside of it, opening up about their mental health, going to therapy, and sharing the real moments in between what's traditionally posted online. "That look or brand has gained popularity in this era of sharing, discussing trauma, and the 'glory' around it," Dr. Hafeez says.
It could also be that the polished, fresh-faced "clean-girl" aesthetic that previously dominated the app has run its course. There's been a renewed interest in "Tumblr makeup," or the 2022 version of emo beauty, which isn't the same thing but is pretty similar in concept. It's a way to look vulnerable and raw but still attractive. "The eyes are rimmed red from crying, often with a pouty mouth or carefully dabbed black liner smudged with a sad, 'pretty' face," Dr. Hafeez says. "It's a way for people to seem relatable and to bring their followers along on their journey but seem beautiful doing it."