As POPSUGAR editors, we independently select and write about stuff we love and think you'll like too. If you buy a product we have recommended, we may receive affiliate commission, which in turn supports our work.
Curtain bangs are hands down the style of the season. In the past few months alone, celebrities like Elizabeth Olsen, Olivia Rodrigo, and Gigi Hadid have gone in on the nostalgic, flirty cut. So naturally, I decided that my first post-lockdown haircut would have to include long curtain bangs.
I gravitated toward Olsen's subtler take on the trend because they naturally frame her face, and I was into the shaggy, '70s-esque vibe of the rest of the cut. Her curtain bangs don't feel drastic — they're more soft and less traditional. I brought these pictures to my appointment at Beverly Hills-based Meche Salon to help me realize my vision of becoming a person with bangs.
I tapped the skills of stylist and dry-cutting specialist Austin Yi and colorist Kari Hill to guide me along my journey, and get all the curtain bang info you need to make the decision for yourself.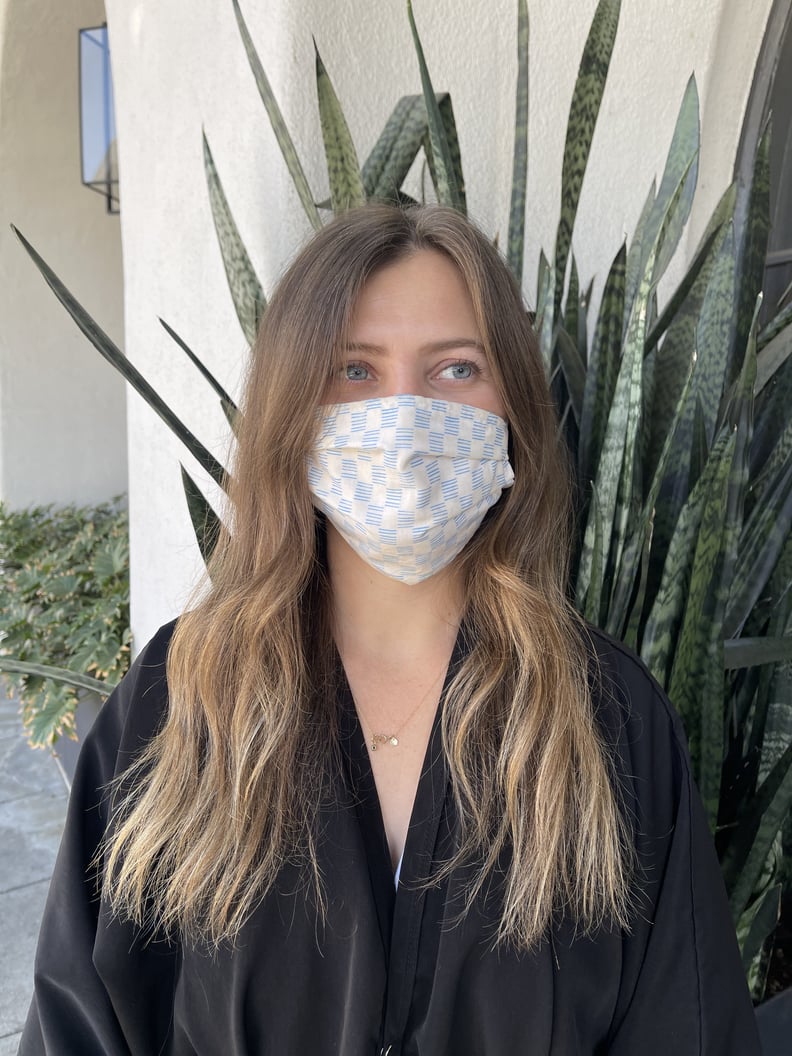 My Hair Before Getting Bangs
A bit scraggly, amirite? To be fair, I hadn't gotten a real haircut since the pandemic started, so it's kind of just been doing its own thing for a year. I was excited to get that dead 3-4 inches chopped off, along with a more face-framing effect that the curtain bangs would give me.
Since my color clearly needed a refresh as well, I asked Hill what people should keep in mind when getting color along with the curtain-bang cut. "You have to be careful when getting highlights with curtain bangs, because you have to know how much bang you're going to be getting. You don't want the highlights to go back too far. I always advise people to get their bangs cut first, and then get color. You want to make sure you get the highlights in the right spot and place them very strategically."
Hill said you also want to think about how much upkeep you want to deal with — not just with the cut itself, but also with the color. "Ironically, people think if they don't want to go to the salon very often, they should take the bangs up shorter. In fact, you want them to start out softer so they grow out softer."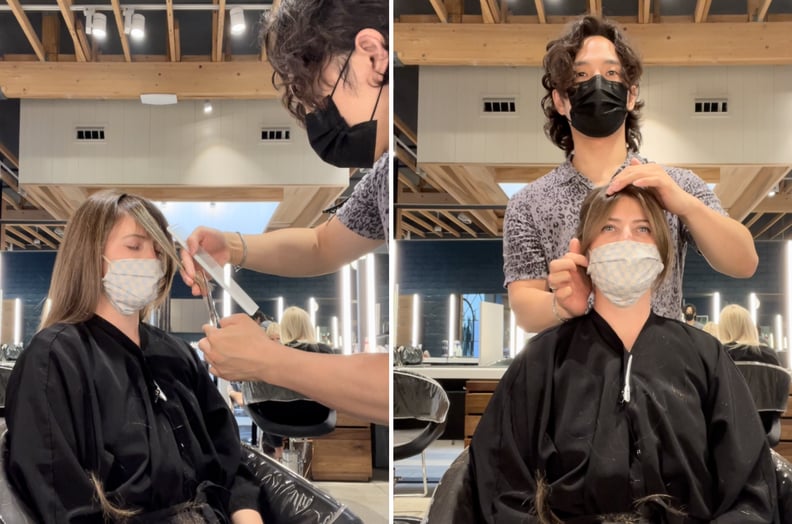 My Hair During the Bang Cut
For the cut itself, I put my strands in Yi's hands, who decided to do the entire cut dry. "When your hair is wet, the hair clumps together, whereas when it's dry, I can see all the individual pieces," he said. "When I'm cutting, I can see immediately how it rests. I'm not good at waiting. Dry cutting is immediate."
Before he got started on the cut, we discussed how long I wanted the bangs and where I wanted them to fall on my face. "Usually, it curves at the cheekbone and hugs the jawline," Yi said. "I love these bangs because it really highlights the beauty of every face." I wanted them to stay on the longer side, so that I could tuck the ends behind my ears, but Yi said curtain bangs really work at any length and on any face shape. It just depends on the look you're going for.
When do curtain bangs not work? "If someone comes in and they already have short bangs, I'm not really able to do it," said Yi. Otherwise, curtain bangs are pretty much a one-size-fits all cut. It works well with a longer, layered cut, short styles, and for pretty much any texture of hair (including curls). Yi's advice: "You just have to be willing to style it every day."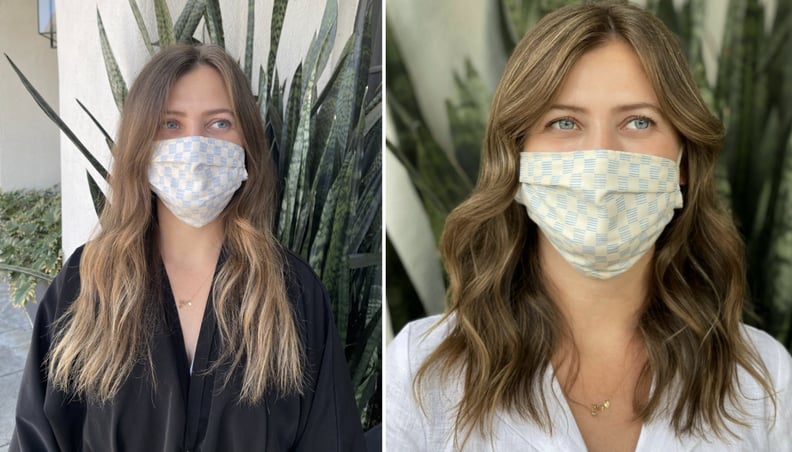 My Hair Before and After
Et voilà! Do I look like a new person? Because I certainly feel like one. I love how Yi got just the right swoop to hit just the right spots on my face. However, coming out of the salon, it was a little more styled with a capital S than I usually do, so I was excited to get home and try messing around with it myself.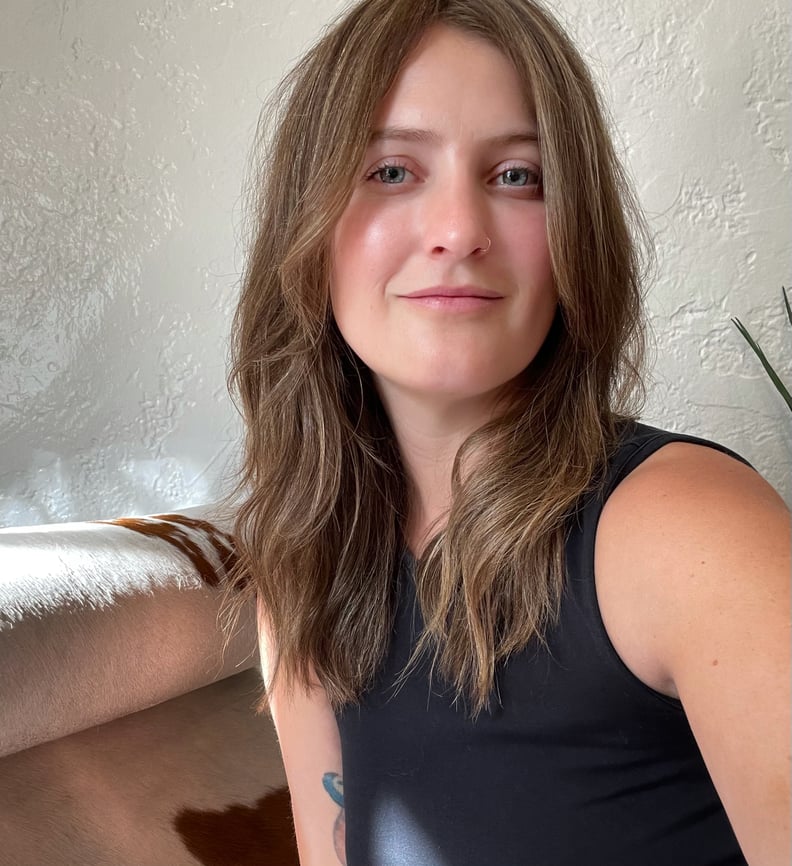 My Curtain Bangs Styled at Home
My most pressing questions for Yi were around styling at home. As a person who wears their hair pretty much the same every day and has their routine down pat, I was a little nervous about how much work I would have to put into making my bangs look their best. Thankfully, Yi gave me a step-by-step way to style at home, complete with his favorite products.
Step 1: Separate your bangs from rest of your hair.
Step 2: Take a boar bristle round brush and place it underneath the section of bangs.
Step 3: Use your hair dryer angled down so that it's drying the hair to go in the direction of your face.
Step 4: Switch the direction of the round brush, so that it's on top of your section of bangs. Pull and curl the hair upwards as you dry in the same direction.
Step 5: Brush the hair back away from your face, and let the bangs fall to the sides along the middle part.
If you want more swoop or a slight curl, run your hair straightener or curling iron through them, with the curl going away from your face. Then use your favorite lightweight styling cream, dry shampoo, or hairspray to help them hold their shape.
If I'm being honest, it look me a couple of days to get the hang of it, but now I feel like a pro. I'm finally in the bang club, and I'm loving it.
Products You Need For At-Home Curtain Bang Styling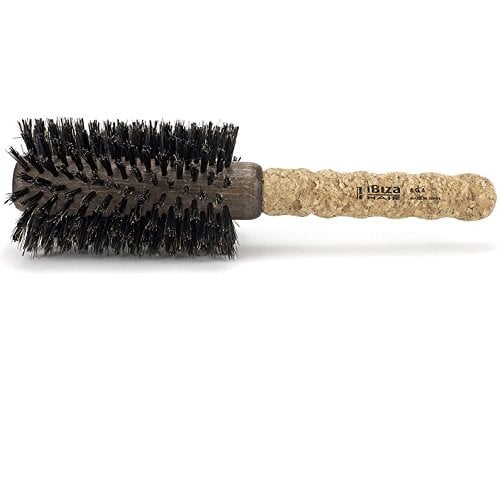 Ibiza Hair G4 Boar Bristle Round Hair Brush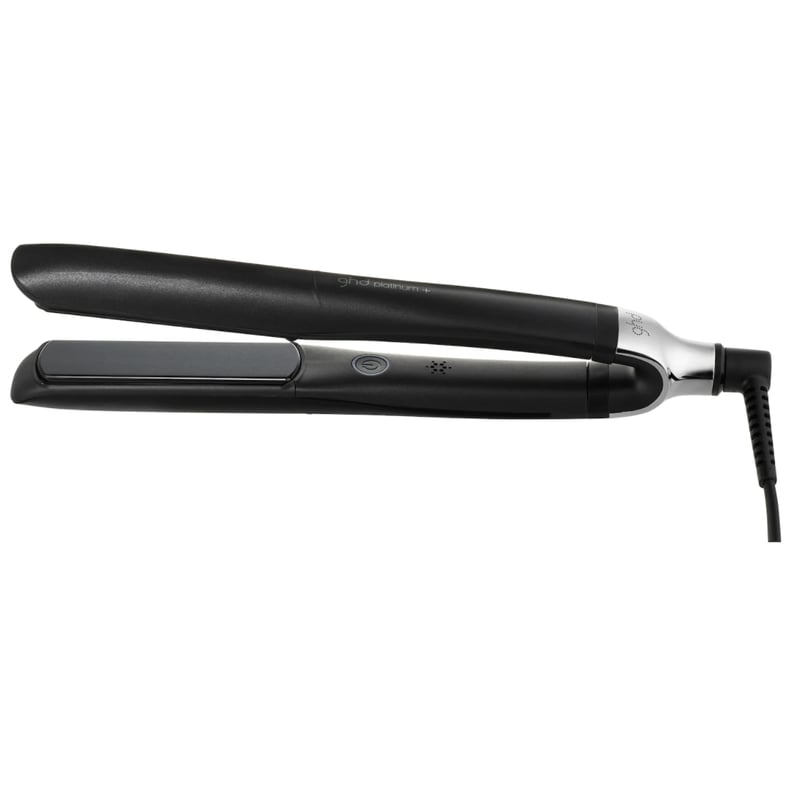 ghd Platinum+ Professional Performance 1" Styler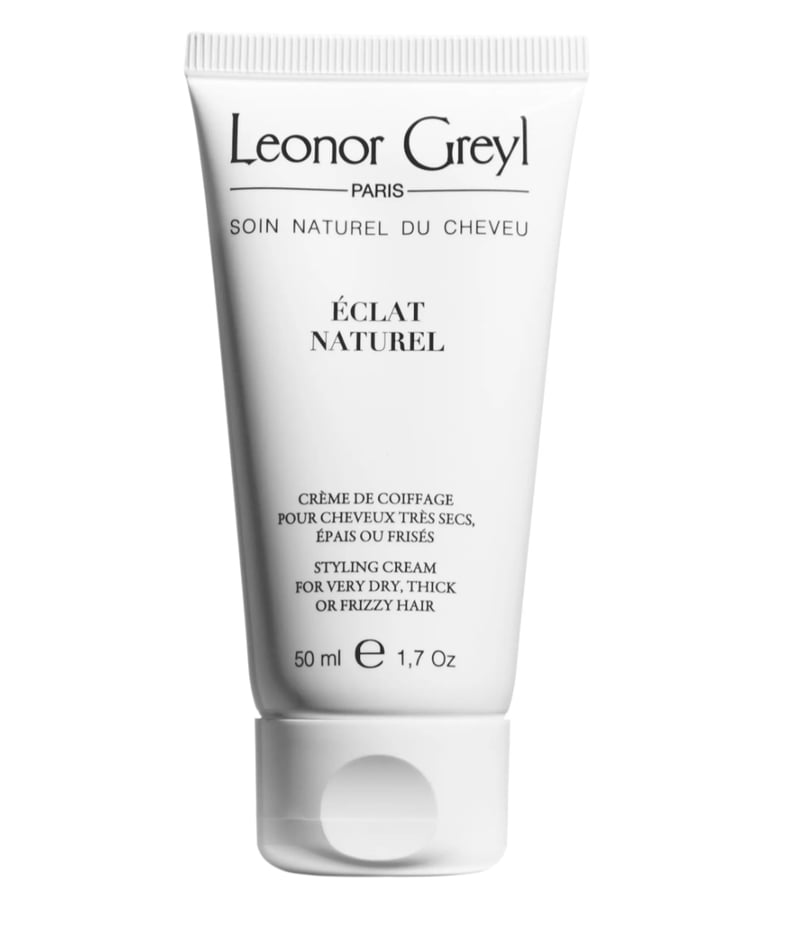 Leonor Greyl Éclat Naturel Styling Cream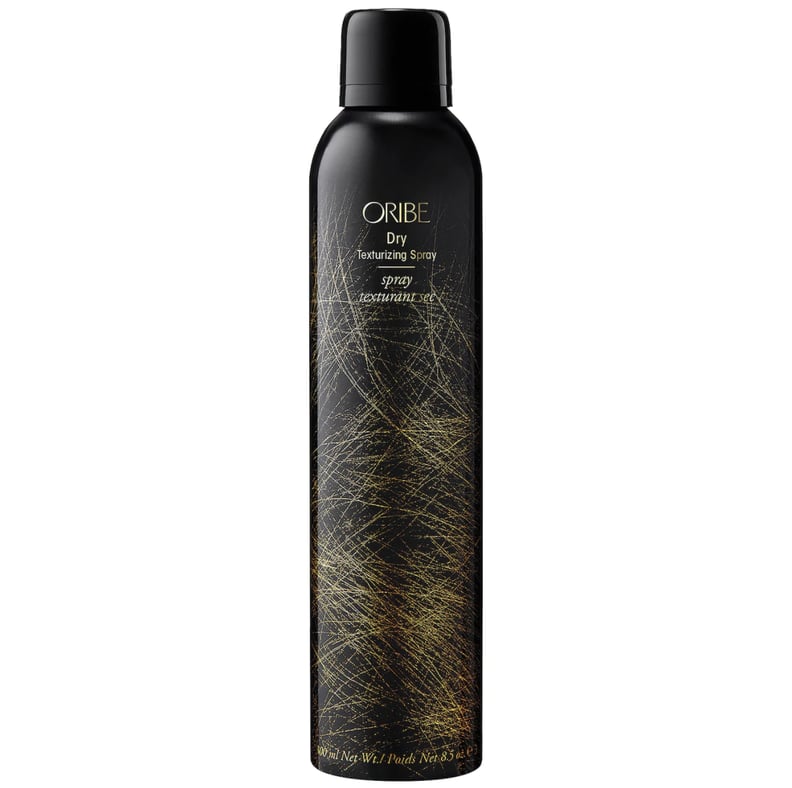 Oribe Dry Texturizing Spray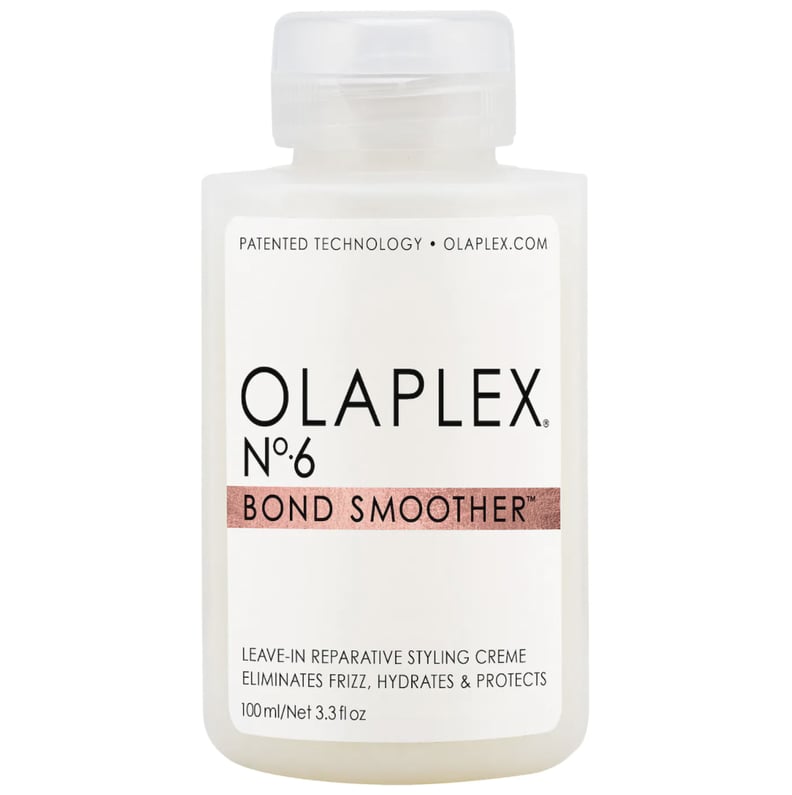 Olaplex No. 6 Bond Smoother Reparative Styling Creme