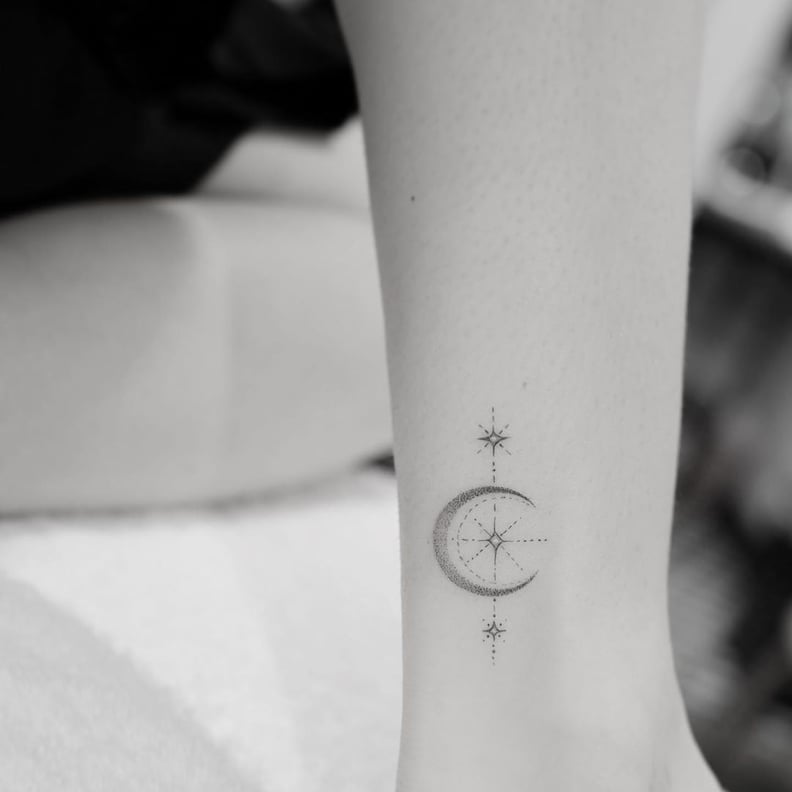 Maybe you're among the group of people itching to get back to "normal" — for the Zoom calls where everyone wears nothing but underwear from the waist down to end; for the copious time spent between you and banana bread to be a thing of the past. While that's not likely to happen any time in the immediate future (and for good reason), the day-to-day tedium is likely behind the spike in tattoo appointments as many parlors across the country have started reopening at some capacity.
Nobody know this better than Brian "Dr. Woo," a celebrity tattoo artist who's inked everyone from Hailey Bieber to Zoe Kravitz. "At first my clients were pretty quiet about coming in — everyone was quarantining and being mindful about where they were going," he told POPSUGAR. "Now judging by the influx of requests of people asking if they can get a tattoo, everyone is definitely ready to get back to their daily routine and the activities that bring them joy. For some people, that means getting a new piece of artwork."
While he hasn't fully opened up his studio in Los Angeles, California, he has been doing tattoos for clients privately here and there — and there are a few common denominators in the asks he's getting. "I don't think the designs correlate with our given situation," said Dr. Woo, adding: "The fact that people want to get a tattoo and break up the monotony of quarantine life is more of the emphasis here."
Still, if you're looking for inspiration, we've got it all here. From every kind of animal — both wild and domestic — to star-fueled designs, keep reading (yes, in your underwear, should you so choose) as Dr. Woo breaks down the three of the most popular tattoos people are getting right now.
Pet Tattoo Trend: Dogs
Anyone who's had a pet pass away knows that there is no heartbreak quite like it (just note the strong response to Orlando Bloom's sweet tribute to his poodle Mighty), which makes a tiny portrait of your furry friend an especially popular tattoo year-round . . . but especially now, says Dr. Woo.
Pet Tattoo Trend: Hedgehogs
Cosmic-Inspired Tattoo Trend: Constellations
It seems more people are thinking about the world beyond planet earth these days, with "cosmic-themed tattoos including constellations and zodiac signs" on the rise, according to Dr. Woo. Every design under the sun — or stars, if we're being more factually correct — are on the table.
Cosmic-Inspired Tattoo Trend: Gemini, Aquarius, Leo
Cosmic-Inspired Tattoo Trend: Moons
Cosmic-Inspired Tattoo Trend: Stars
Animal Lover Tattoo Trend: Birds, Lions, Rabbits
"Animal-inspired tattoos have been always a huge request and have maintained their popularity even after COVID," said Dr. Woo. This type of animal design — compared to the aforementioned pets — are a little more on the wild side, but are just as cool.
Animal Lover Tattoo Trend: Fish
Animal Lover Tattoo Trend: Longhorn
Animal Lover Tattoo Trend: Elephants
Animal Lover Tattoo Trend: Birds
Animal Lover Tattoo Trend: Wildlife