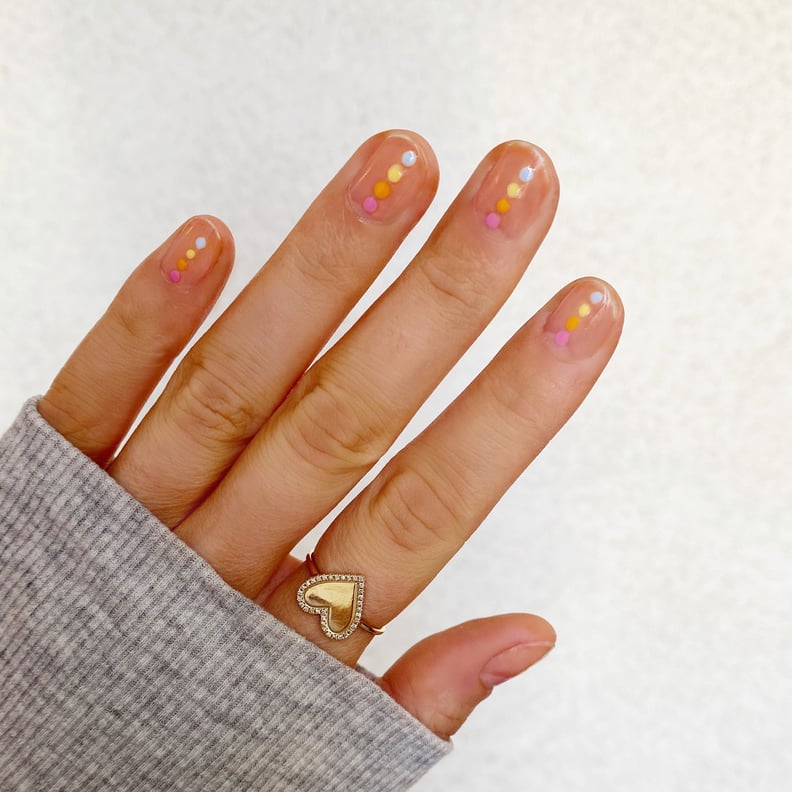 Courtesy of Olive & June
If you've opted to do your makeup because it makes you feel good or tried a new hairstyle just for fun in the last few weeks, you know the meaning of practicing self-care with beauty. But why just stop there? Painting your nails is another way to partake in a little "me time," let your creativity flow, and, dare we say, boost your happiness. With it being Pride Month, we're looking for ways to celebrate and show Pride at home and nail-art is the perfect way to do that.
"Your mani is really such an expression of self and of your mood in that moment," Olive & June founder and CEO Sarah Gibson Tuttle told POPSUGAR. "Having a fresh mani is an immediate pick-me-up. It's part of what makes me feel put together, ready to take on anything, and always brings a smile to my face. Manis can completely shift your mood."
"Painting my nails was always a part of my self-care journey which contributed to my self-love journey," said Nabela Noor, founder and CEO of Zeba. "When you set the time to do something just for yourself, it can have an amazing impact on your confidence. When I am painting my nails, I am giving myself time to celebrate and take care of me. There's something so special about that."
At-home manicures don't have to stop at applying a single color of polish and calling it a day. If the recent nail trends prove anything, it's that the more colors you use, the better. With that in mind, Tuttle shared one of her favorite Pride-themed, mood-boosting nail-art tutorials to try this summer. Learn how to re-create this rainbow dot nail-art method, ahead.
Step 1: Shape by Clipping, Filing, and Buffing
A great manicure starts with the prep work. Think about how much time it takes the manicurist at the salon to clean, shape, and get your nails ready for polish application. "At home, go slow and really take your time," Tuttle said. "With proper prep, an at-home mani can last seven-plus days."
So, what does the proper prep include? Clipping, filing, and buffing. "It's all about the 90/10 rule: 90 percent of your shape comes from your nail clipper; 10 percent from filing," Tuttle said. Begin by cutting your nails to your desired shape before filing the edges gently.
"If you have polish on, all the better," Tuttle said. "Shaping with polish on helps you visualize the final shape without being distracted by the natural whites of the nails." Her pro tip: whether you have nail polish on or not, after you're done prepping your nails, be sure to wipe them clean with nail polish remover one last time. This will ensure there are no oils left on your nail and help the polish stick better.
"Once you've prepped your nails, avoid touching your face and hair," Tuttle said. "I also recommend avoiding washing your hands before you paint. Water expands your nail plate so when it evaporates it will contract and cause chips or cracking."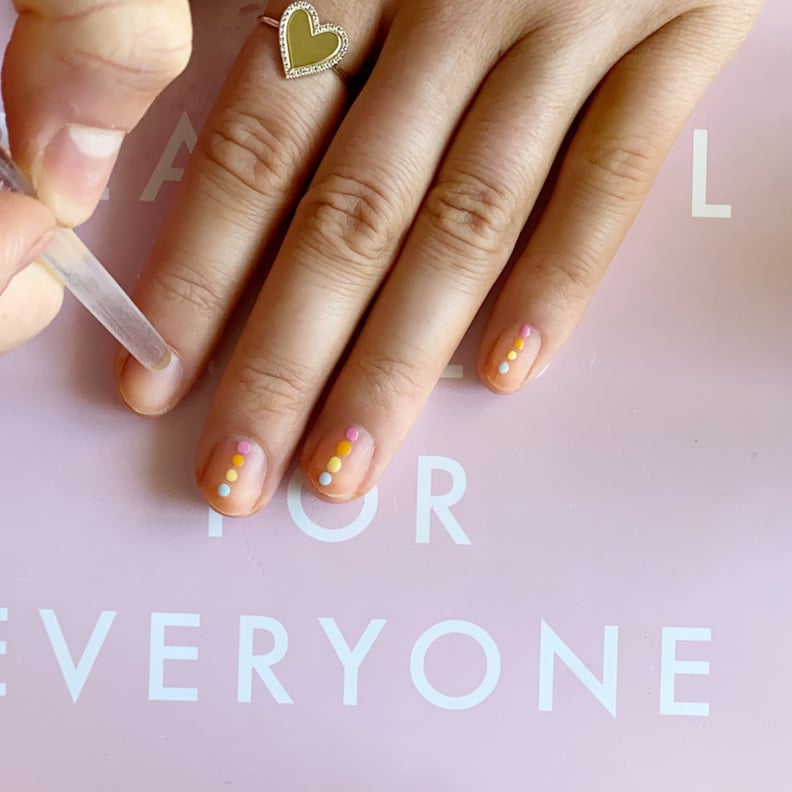 Step 2: Add the Dots
Now that your nails are prepped, you're ready to start painting. (The polishes here were created using the new Olive & June x Zeba Collection.) For the rainbow dot nail tutorial, select four or five colors, depending on how long your nails are, to create a gradient effect. You can use a Q-tip, bobby pin, or a nail-art tool to apply the dots — Tuttle recommended dipping the back end of the Clean Up Brush ($8) into each color. Once you finish adding a dot of the first color onto each nail, repeat with the remaining shades.
"The beauty of this look is you can mix and match shades to make it your own," Noor said. "Color has power and for me, these vibrant shades are super uplifting and playful."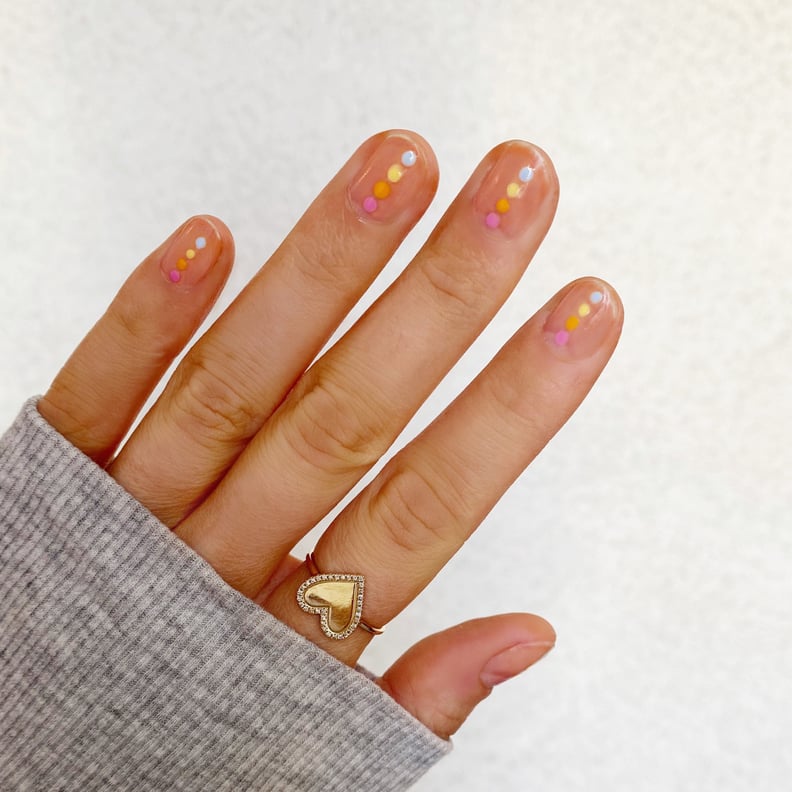 Step 3: Add a Top Coat to Complete the Look
Once the dotted nail art has dried completely, finish with a top coat. "My biggest mani-saving trick is to apply a thin layer of top coat every two to three days," Tuttle said. "This will really extend the life of your mani by acting as a layer of defense against everything your hands are interacting with."