Yes, I Was Influenced by TikTok — and This $9 Face Cream Is a Must For Winter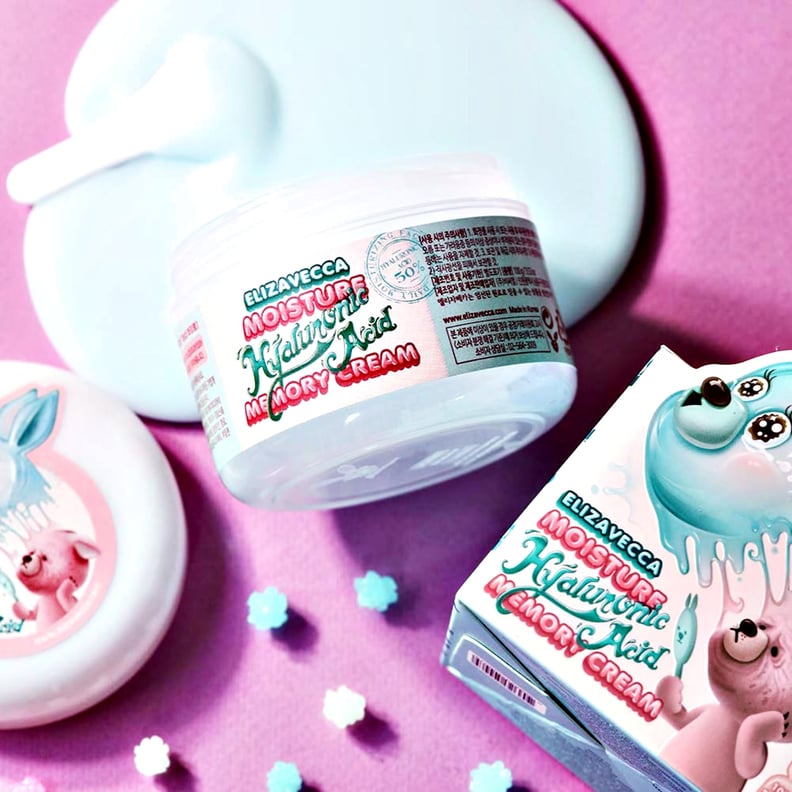 POPSUGAR Photography | Lauren Harano
POPSUGAR Photography | Lauren Harano
As POPSUGAR editors, we independently select and write about stuff we love and think you'll like too. If you buy a product we have recommended, we may receive affiliate commission, which in turn supports our work.
TikTok, Amazon, and Korean beauty: the all-star trinity that makes up a Gen-Zer's skin-care routine. As many beauty buffs know, TikTok has become the holy grail for all things skin care, as it's filled with everything from product reviews to DIY hacks. The speed, simplicity, and ease of buying products on Amazon has made the retailer everyone's go-to for instant gratification. Pair the two with K-beauty, and you've just created a triple whammy in the skin-care realm.
The hottest new product making the rounds on TikTok ticks all three boxes. The Hyaluronic Acid Memory Cream is from from K-beauty brand Elizavecca, is available on Amazon, and users on the video-sharing platform swear it hydrates skin, all with a memory foam consistency. After seeing countless videos of the memory cream bubbling up on TikTok, I decided to put it to the test and see if, in fact, the hype was real.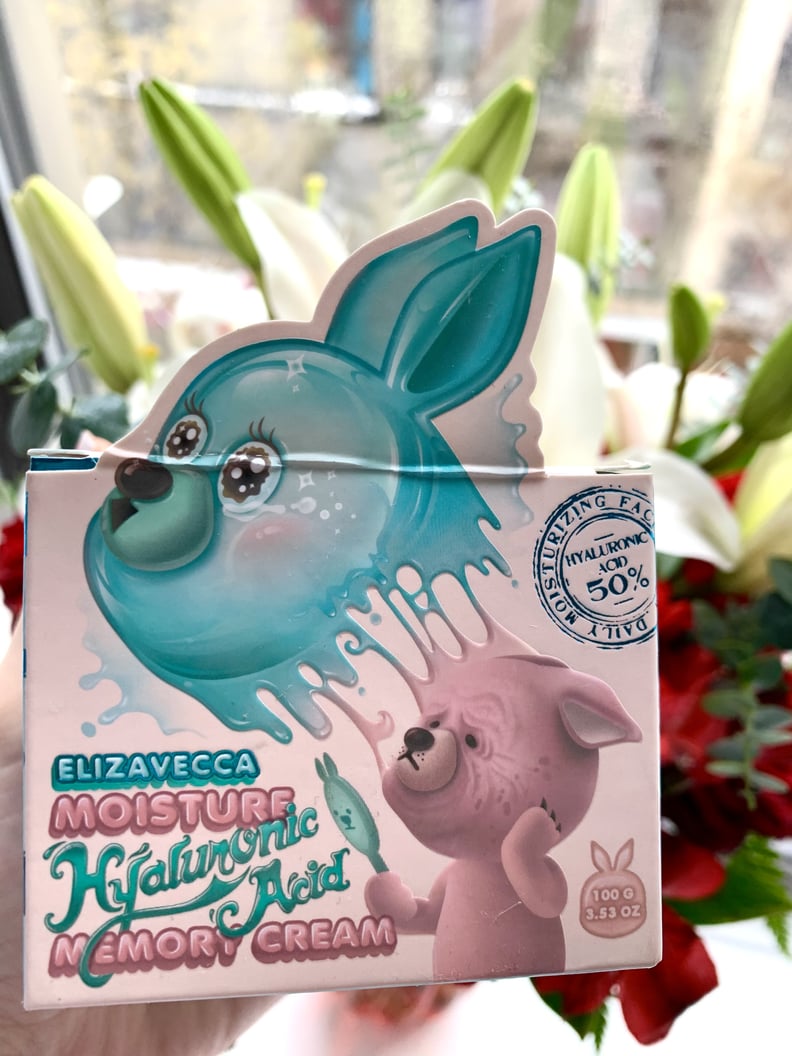 After a quick "add to cart" click on Amazon, the memory foam cream was en route to yet another excited gen Zer's house who was fully and unashamedly influenced.
Right when I got the product, I opened it up to see the cutest (and most relatable) packaging of all. On the box, a little bear with extremely dry skin is looking into a mirror. Right above that is another bear looking hydrated and glossy, a sure play on the product's promise. It was as though I, too, was looking into a mirror and searching for an answer to my flaky winter skin.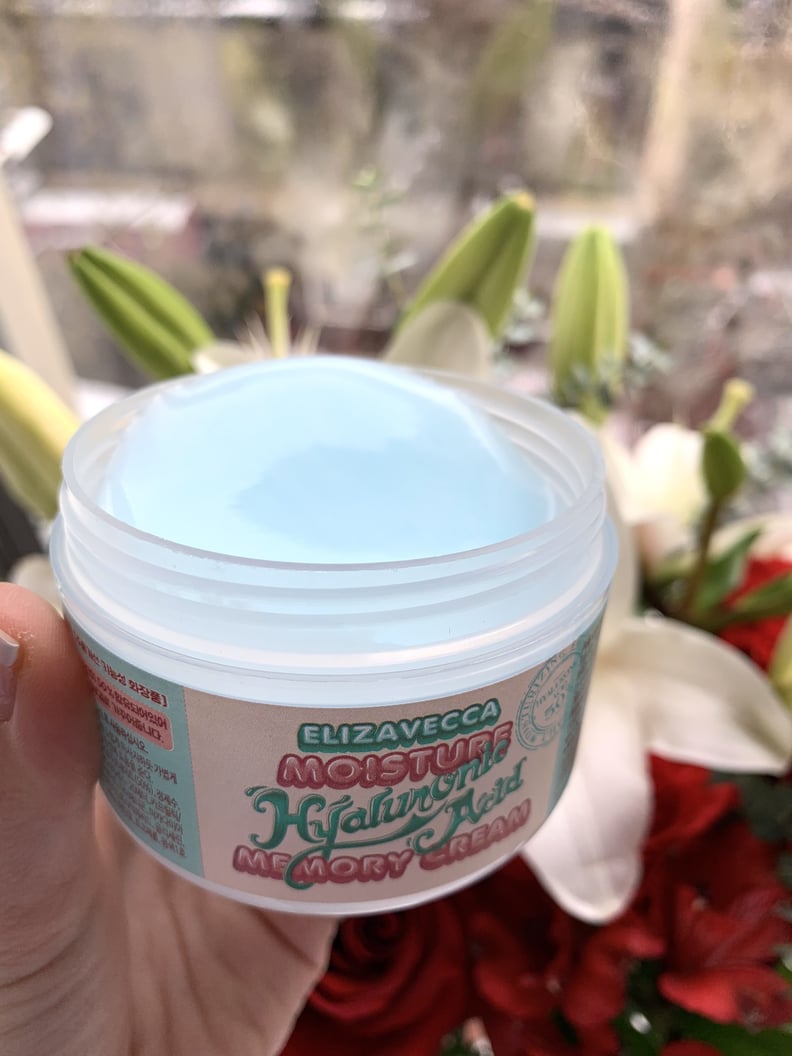 The first thing I noticed when I opened the tub was that the memory foam cream had the prettiest baby blue hue, and the sweetest floral fragrance. The texture of the cream was spongy and cold, and felt a bit wet to the touch, which made me excited to see how moisturizing it would be on my skin.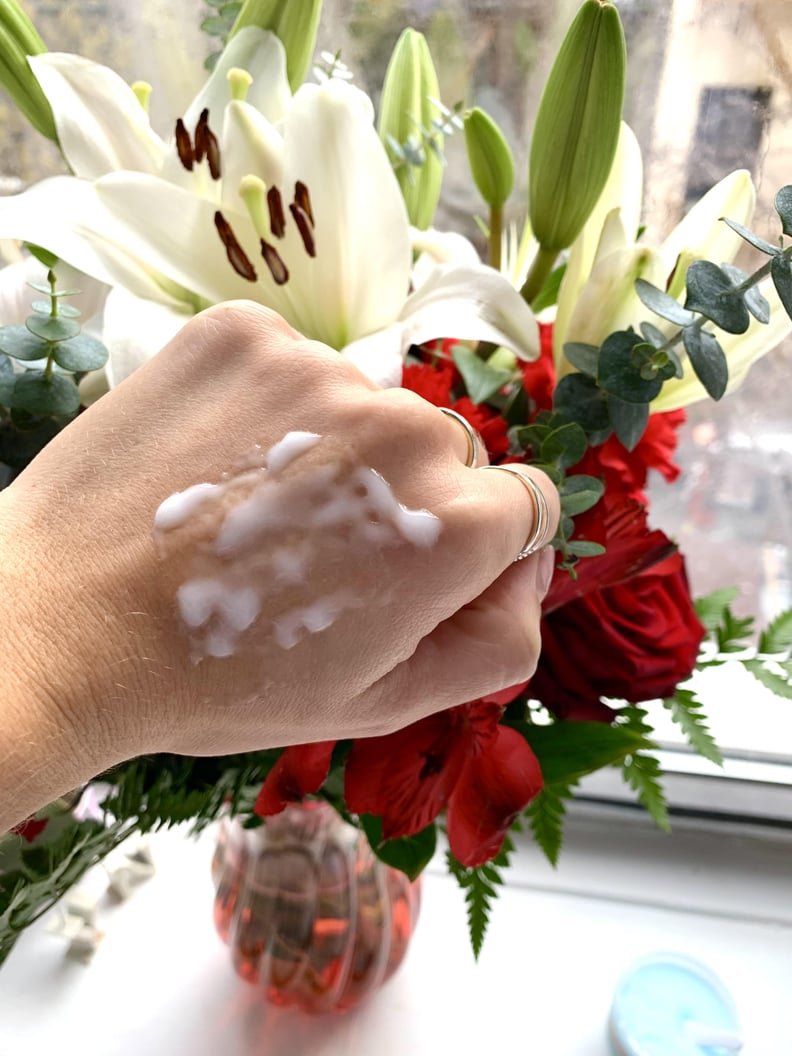 The product comes with a small spatula that you can use to apply it to your skin, so that's exactly what I did. The texture of the cream felt extremely light and moist, and started to absorb into my skin almost instantly. After just seconds, it had already begun to flatten and penetrate into my (very) dry hand.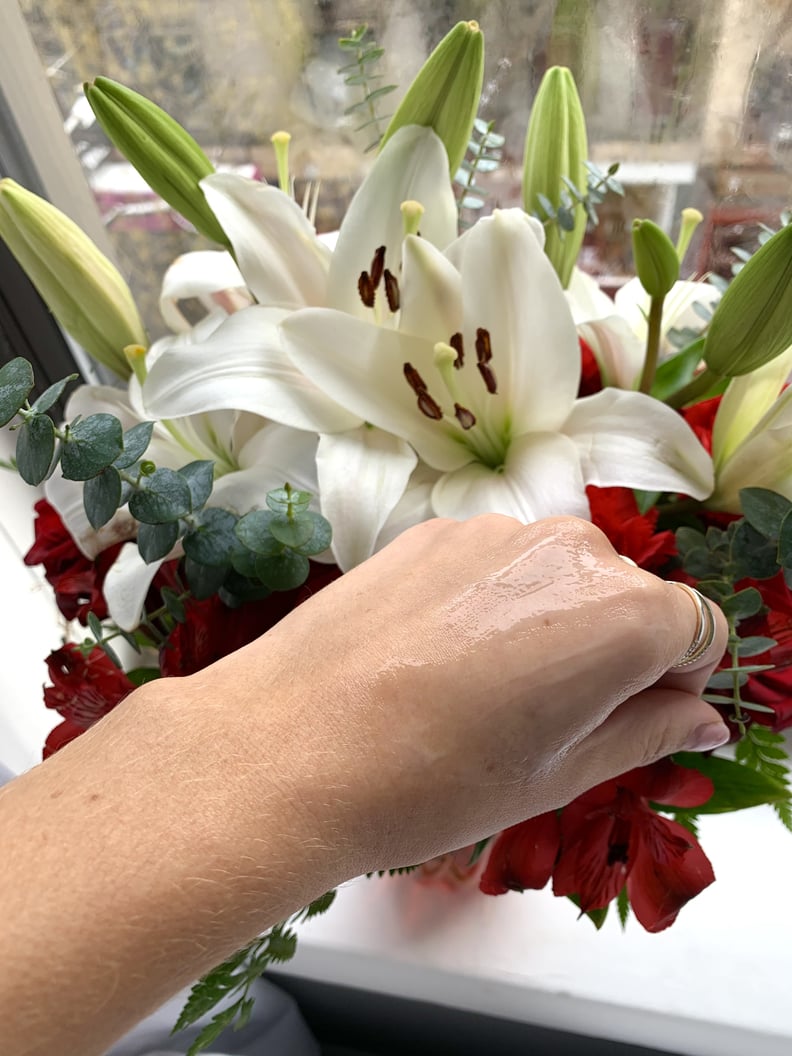 I spread it onto my hand, and felt the cool, wet cream sink deeper into my skin. It went on extremely smooth, and left my skin with a hydrating layer that coated the top of my hand. I could see the difference between the part of my skin that I put it on and the part I did not, and I also felt the difference. The moisturized section of my hand looked dewy and glossy, and it felt oh-so light and supple.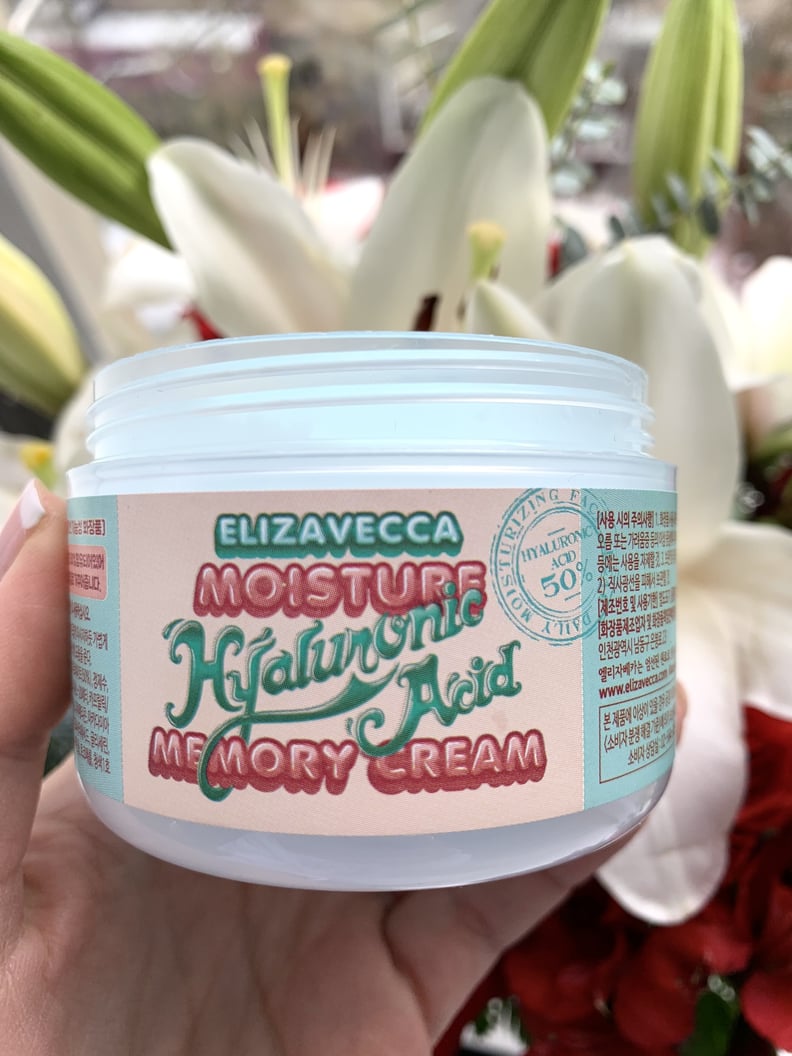 Immediately after I tried it on my hand, I slathered it all over my face. Being that it's peak winter in NYC right now, I could feel my skin soaked it all in. The best part is that it's lightweight enough to wear under concealer or powder, and it locks in moisture for hours thanks to its hyaluronic acid.
The only problem I had with this product is that it's a bit hard to wash off at the end of the day. To combat this, I wash my face with a cleanser, pat it dry, and then use a cotton pad with micellar water to clean off any residue from the cream. Ultimately, the memory foam is rich enough to continually hydrate skin even if you wash it off with water.
Moral of the story: yes, I was influenced by TikTok, but yes, it was worth it. This ultra-hydrating cream has earned a spot in my winter routine — and for less than $10, it's a steal. I give my thanks to TikTok, Amazon, and my newfound love of all things K-beauty.
Rating: ★★★★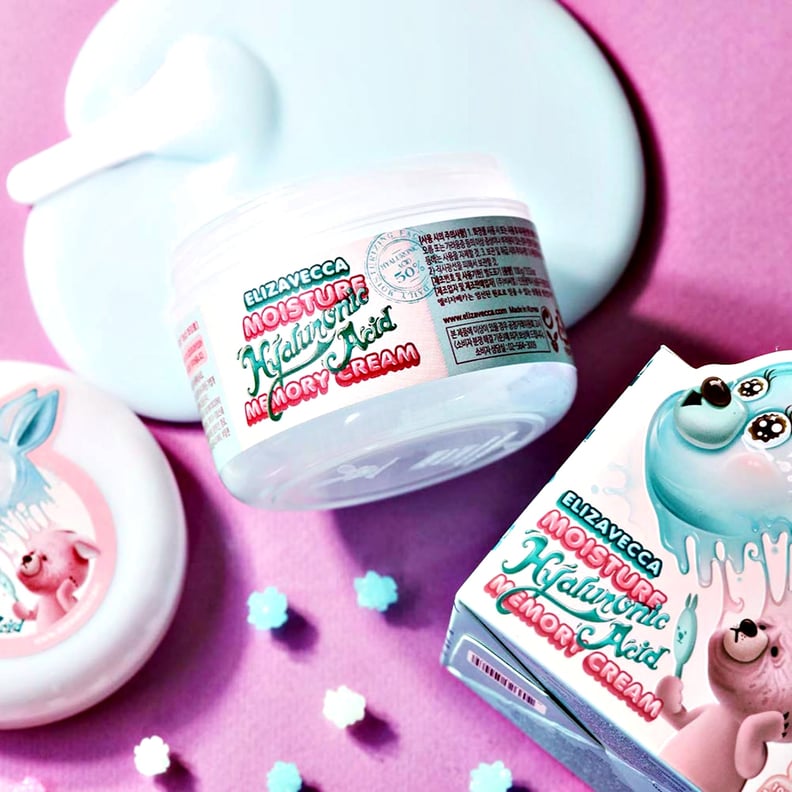 Buy It: Elizavecca Moisture Hyaluronic Acid Memory Cream