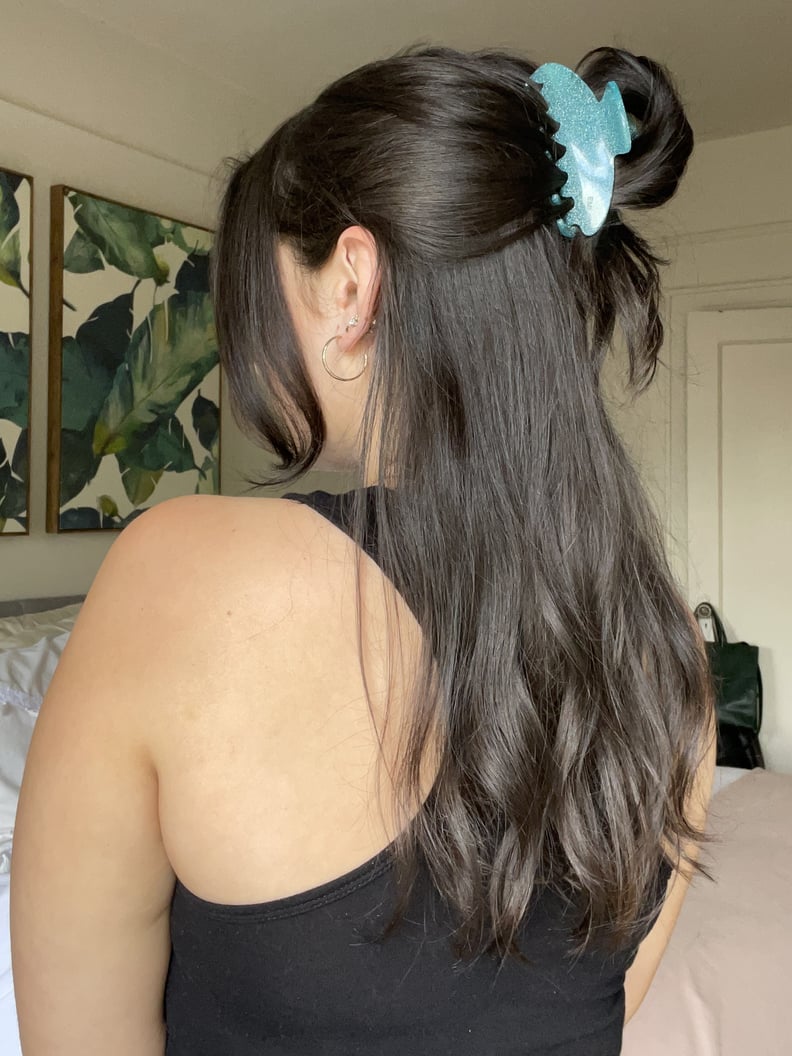 POPSUGAR Photography | Jessica Harrington
POPSUGAR Photography | Jessica Harrington
I've pretty much lived the greater part of the past two years in a claw clip. My go-to style used to be a low bun or high ponytail, but I find claw clips to be an easier, more effortless-looking alternative — not to mention more forgiving for your scalp. Still, as much as I love claw clips, I sometimes get tired of wearing my hair the same way every day. That's when I'll try a half-up half-down style or look to TikTok for a new variation of the hairstyle to try, which is how I discovered this easy claw clip bun tutorial by Sophie Murray.
In the video, Murray uses a single claw clip to pull her shaggy haircut into a half-up half-down bun. The end result is chic looking and, most importantly, super easy to pull off, so I decided to give it a go.
On day three hair, I applied dry shampoo to my roots to give them a little lift and add some grit to my hair. Then, after I rubbed that in, I parted it down the center like I usually do. Before picking up the claw clip, I divided my hair into two parts horizontally, starting in front of my ears, and gathered the top section in one hand. With the claw clip in my other hand, I started to clip that chunk of hair into the accessory.
What's different about this tutorial is instead of stopping there, you wrap the piece up around the clip once more. Once those steps are complete, the only thing left to do is fluff the bun a little by tugging on it gently — and you're done.
As someone who's not the most skilled in the hair department, I was able to nail this claw clip bun tutorial on the first try, and it took me fewer than two minutes to complete. I wore it around for a few hours and didn't experience it falling out or loosening up as the day went on, which is a common issue for someone with fine hair like me (especially when I do a half-up style with this type of clip). I'll definitely be adding this hairstyle into my regular rotation moving forward.
Take a look at my video testing the hair hack ahead.