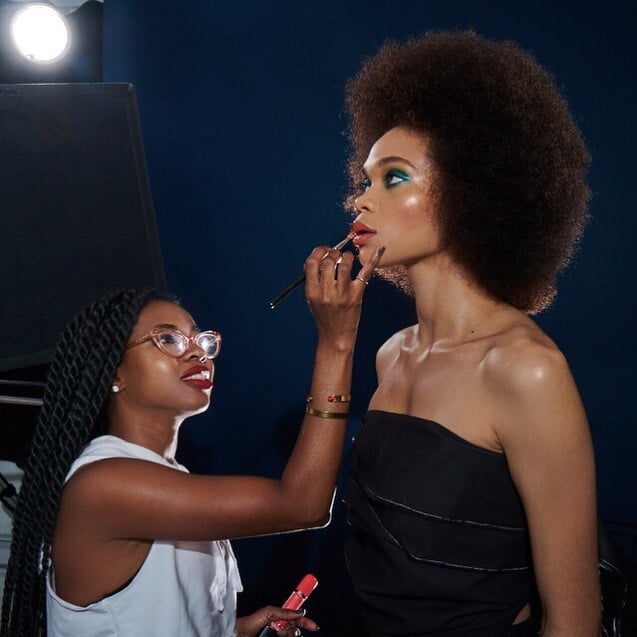 Since the killing of George Floyd in Minneapolis, many different issues of systemic racism and injustices have been brought to light. If there's one thing that we should all take away from this powerful social justice movement that we're in the middle of right now, it's that long-term change needs to happen. To help put actions in motion, many Black members of the beauty industry are vocalizing what that looks like.
In addition to just encouraging consumers to support more Black-owned businesses by simply spending money at them moving forward, Sharon Chuter, founder and CEO of Uoma Beauty, launched the Pull Up or Shut Up Challenge asking brands to share the presence or lack thereof of Black people in leadership positions at their companies, and Aurora James set forth the 15 Percent Pledge, asking major corporations to commit to carrying more Black-owned brands on their shelves.
There's even more room for change in the beauty industry, specifically pertaining to Black beauty experts like hairstylists and makeup artists. Naeemah LaFond, global artistic director at Amika, created a guide on how to support Black hairstylists, which inspired New York City-based makeup artist Jaleesa Jaikaran to do the same for her field of work.
"There needs to be a deeper look into the normalized and continual injustice faced in work places and on sets," Jaikaran wrote in her caption on Instagram. "Often times the opportunities given are such at a high disproportion that sometimes even us as artists tend to shut out other black artists because of the fear of that 'ONE spot' already being filled."
Keep scrolling to read her guide on how brands can support Black makeup artists.
#1. Stop celebrating Black makeup artists only when they are attached to a Black celebrity. Do your research. There are tons of other artists in all parts of the industry just as talented.
#2. Black makeup artists do not just do Black skin. Hire us in all situations, your beauty campaigns, your editorials and product development projects.
#3. Normalize Black hands and faces in your ads. Seldom do you see a brand promoting a product and the makeup artist in the print or video ad is Black.
#4. Hire Black artists as leads. Don't rush to hire Black assistants to make sure the models look good. Make sure your lead can actually lead the job at hand.
#5. Same goes for Black assistant, give equal opportunity to artists on all types of jobs. Take a look at their work and not just their social media pages.
#6. It's OK to have more than one Black makeup artist that you work with or have on your team. We're not a quota so you can save face.
#7. While not always an issue, there is no need to overuse Black vernacular and drag culture terms in order to relate to us.
#8. Make sure your photography team knows how to light Black skin. No matter how great the makeup is done, bad lighting ruins it all.
#9. Hire more Black people on your corporate teams, often times they are the lone rangers that cannot be responsible solely for amplifying Black voices and talent.
To view more directives that have been added to the guide by Jaikaran, check out her Instagram post.