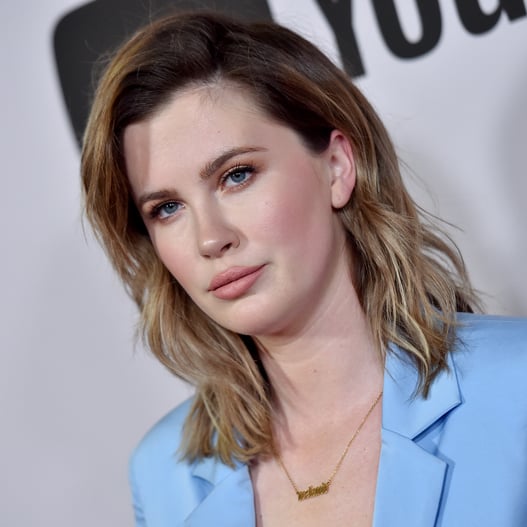 Ireland Baldwin just unveiled her most striking transformation yet. The model dyed her hair platinum blond and shaved it into a buzz cut over the weekend, and the new look definitely suits her. Sharing photos of her freshly cropped hairstyle on Instagram, Baldwin wrote, "don't tell me I won't do something because I will." Her mom, actor Kim Basinger, agreed with the sentiment, commenting on her daughter's post, "This is my baby… Don't tell her not to do something……. because she will…….. i'm a witness to that and have been for many years… Simply beautiful."
"Do things that scare you."
Baldwin offered more insight into why she chose to shave her head on Instagram Stories, citing years of damage and a desire for change. "Do things that scare you. Do things that other people say you'll never do," she wrote. "My hair was destroyed by years of bleach and modeling and bullsh*t since I was 17. It's long overdue for a restart/refresh. I've always wanted to do this but I was always scared. Now that I don't care what other people think, I feel more beautiful than ever."
Portland, OR-based hairstylist Hannah Bonetti was the mastermind behind Baldwin's drastic haircut. While sharing a time-lapse video of the transformation on Instagram, they explained how Baldwin actually didn't arrive at their salon, Enjoy Co. Hair Studio, with the intention of getting a buzz cut. "We were planning on a big change (like, bangs), but neither one of us knew our session would end in a transformation of this magnitude," Bonetti wrote. "Grateful to have clients who bring all of themselves into my chair and trust me with moments as radical as this. Today was a celebration of shedding that which no longer serves us." The video shows Baldwin briefly shaving her own hair before handing the clippers off to Bonetti.
Through the years, Baldwin has rocked a plethora of hair colors, from bubblegum pink and light blue to purple and fiery orange. She's the latest celebrity to take the plunge and go for a buzz cut this year, following in the footsteps of Doja Cat, Saweetie, and Maisie Williams. Read ahead to watch Baldwin's full transformation in action at the hair salon.