A Walk-Through of Kelsea Ballerini's Tattoos From the Singer Herself
Kelsea Ballerini made her MTV VMA debut at the 2023 ceremony while simultaneously ringing in her 30th birthday. To mark the special occasion, the country singer-songwriter brought her fashion A-game to the red carpet in a custom hot-red Mônot gown featuring bold cutouts and a sultry open back. It put her newly minted, delicate hummingbird tattoo on full display.
While her latest piece of ink has caught many fans' eyes, you might be surprised to learn this is far from her first tattoo. The Grammy-nominated musician has been slowly building up a meaningful tattoo collection that now boasts six designs — many of which she's gotten in 2023 alone. Though Ballerini got her first tattoo in 2014 in a somewhat haste (more on that later), she's made sure that all her designs serve as an authentic reflection of her personal and artistic growth. This explains the extended hiatus between her newer and older designs.
"I took a break," Ballerini tells POPSUGAR in an interview with Covergirl. "Then [I] made some life changes in the last year and a half, and got it," she explained, referring to the minimalist wave that she got on her hip earlier this year. When asked whether she'd ever consider potentially covering her existing tattoos or removing them, she says, "I believe in no regrets." Even as she embarks on a new era of her body art, she says, "I stand by my life. And so I made the decision to get this when I made it," adding, "I think if things no longer suit you, you're allowed to change your mind."
Ahead, we have rounded up all of Ballerini's tattoos along with their meanings. From capturing her sentimental memories to celebrating her personal and musical milestones, read on to learn more about the country star's growing ink collection.

— Additional reporting by Renee Rodriquez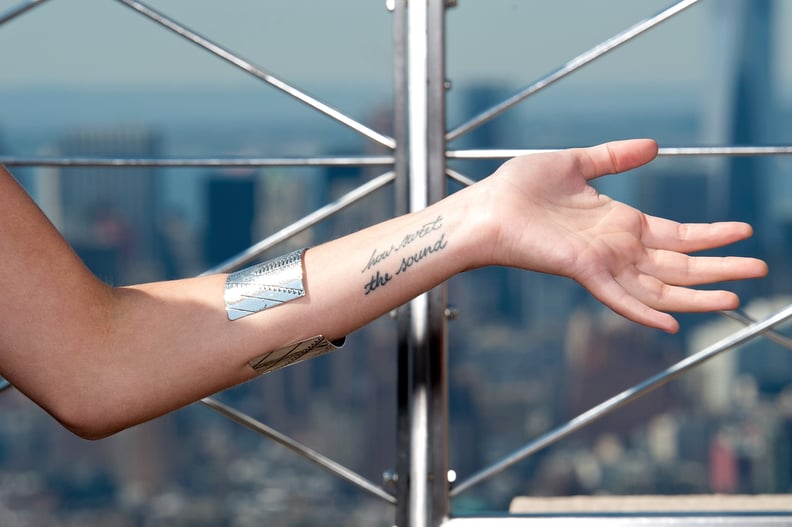 Kelsea Ballerini's "How Sweet the Sound" Wrist Tattoo
Ballerini has the cursive script "How sweet the sound" inked horizontally on the inside of her left wrist. The text is an ode to "Amazing Grace," the first solo song she performed in her church choir growing up, which largely inspired her passion for music. She chose this sentimental lyric as her first piece of ink and got it right before her first-ever photo shoot following the release of her 2014 debut single, "Love Me Like You Mean It."
While speaking with Shape magazine in a 2021 story, she revealed the funny story behind how this meaningful, yet very impromptu, tattoo came to be. "The day before my first photo shoot, I panicked because I wanted a tattoo but didn't have one yet," she said. "And I was like, 'What if this single works and people start to follow me?' Then all of a sudden, I get a tattoo. People will be like, 'She's going off the deep end.'" To avoid that, she went to the tattoo parlor the day before the shoot. "It was just this youthfully innocent way of saying, 'I've got to be who I am from the beginning of this.'"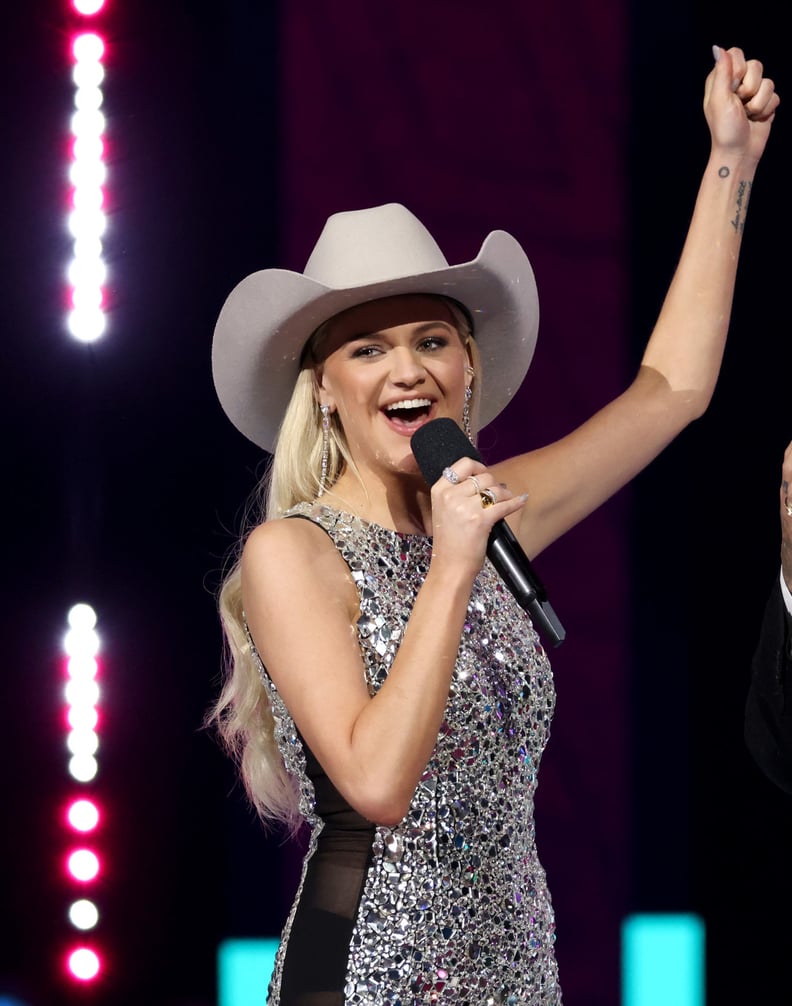 Kelsea Ballerini's "Square Pegs" Wrist Tattoo
To commemorate the empowering message of nonconformity in her 2015 single "Square Pegs" off her debut album "The First Time," Ballerini got a tiny abstract illustration tattooed on the inside of her left wrist. "This one is, it's a square peg and a round hole, and it's from a song from my first record," she says. "And honestly, I got it with a group of 12 people drunkenly after I played my first headline show up the Troubadour. So that's that." Fellow country artist Levi Hummon is among the people who got this matching ink with Ballerini.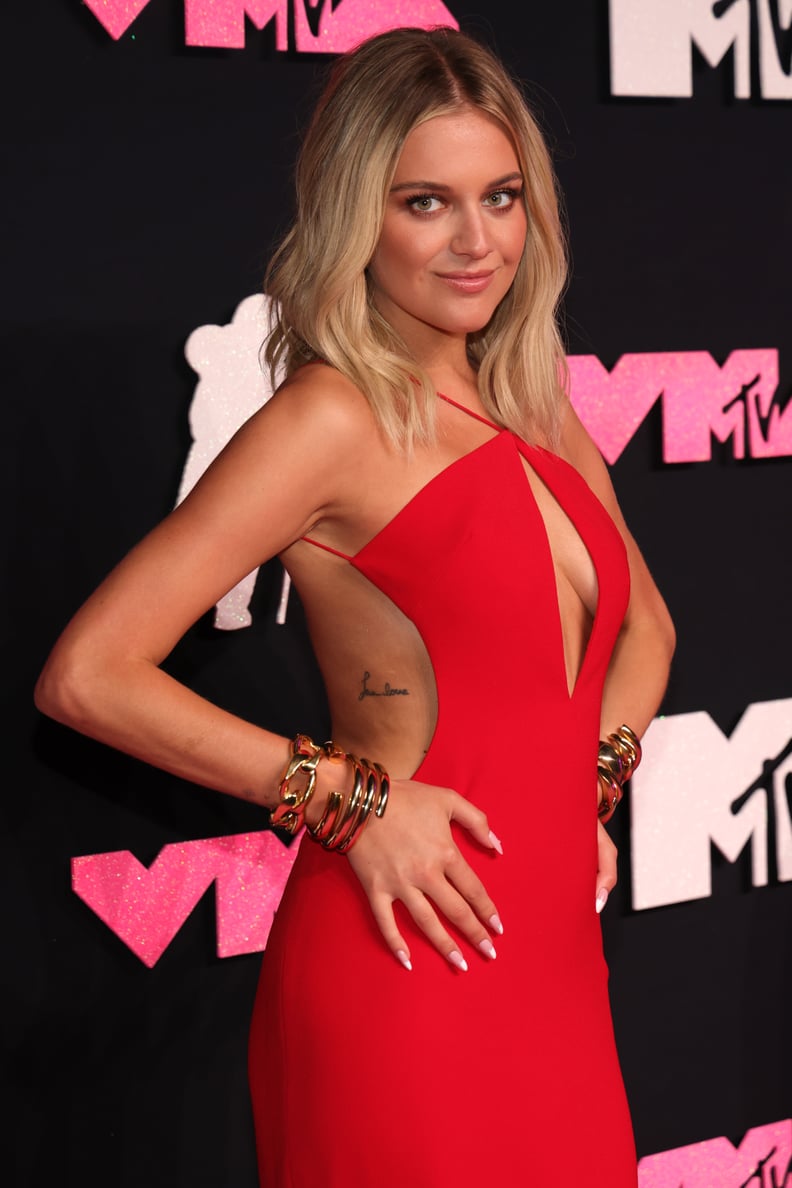 Kelsea Ballerini's "Love Love" Tattoo
The text "Love Love" is inked on Ballerini's right rib cage, with each word written in her parents' handwriting. The singer says this is her most meaningful tattoo to date. "It says, 'Love Love,' and it's my mom and my dad's handwriting," she tells us. She got the writing from a letter they wrote her around the time she released her first single. "It said, 'Love, Mom; Love, Dad,'" she says. "And so, I was in New Orleans when the song went number one, and I took the 'Love's from the letters, and I put them side by side on my ribs."
Kelsea Ballerini's Waves Hip Tattoo
Ballerini kicked off 2023 by adding a fourth tattoo to her growing body-art collection. The singer got a small wave on her left hip, which "sparked her journey of tattoos again."
It's a design she had been thinking about getting for a long time. "Then [I] made some life changes in the last year and a half, and got it," she says, describing how the ink represents a fresh start in both her personal life and her body-art journey.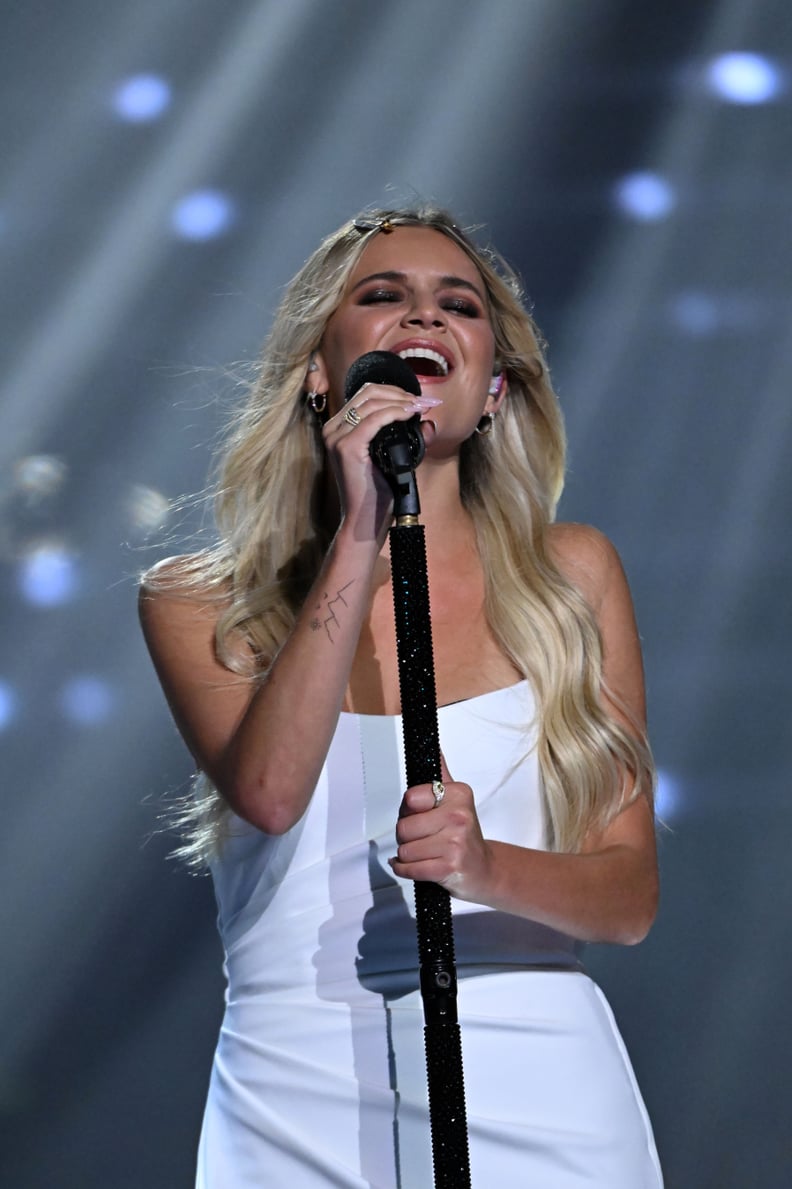 Kelsea Ballerini's "Mountain of the View" Forearm Tattoo
In a July 2023 Instagram post, Ballerini debuted another piece of fresh ink that sits neatly on her left forearm. The delicate single-needle design depicts a scenic view of a mountain range with birds and the sun. When asked about the inspiration behind the piece, she revealed that its significance is rooted in her music and personal growth.
"I have a song on my EP ("Rolling Up the Welcome Mat") called "Mountain With a View," and it was just a really important moment for me, just personally. So got that," she says.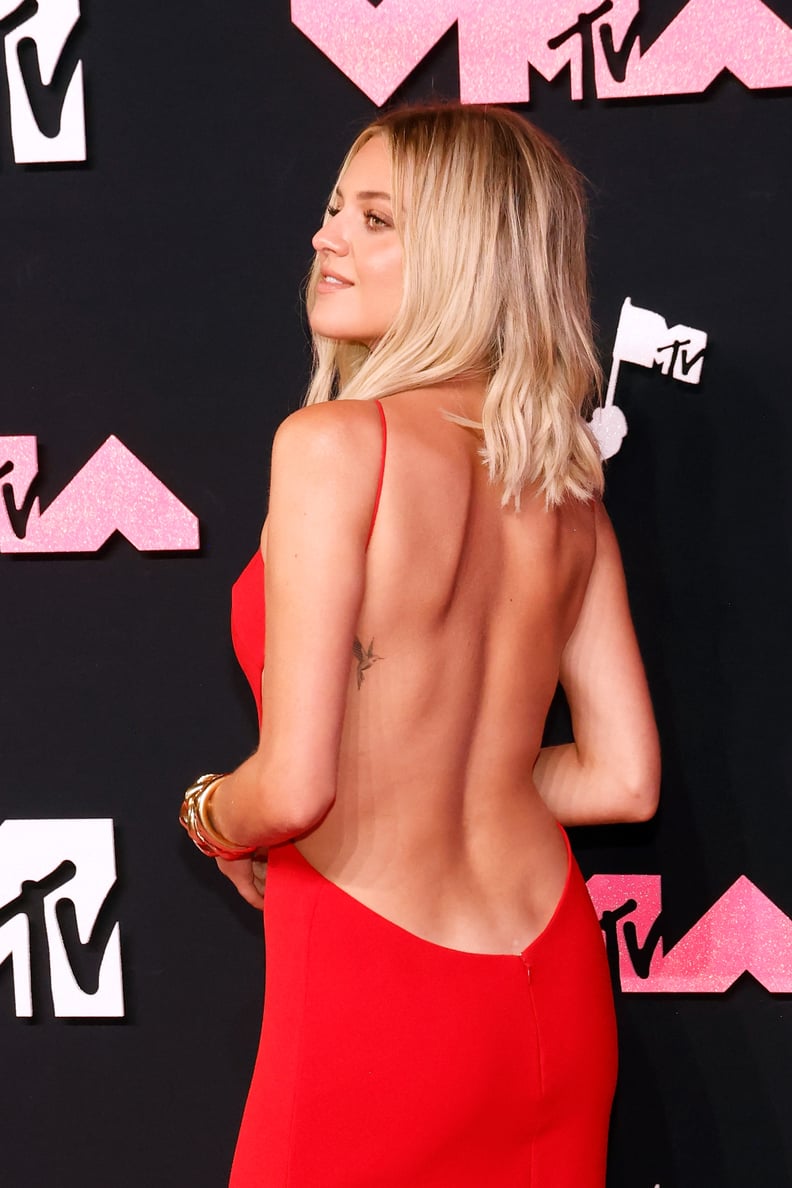 Kelsea Ballerini's Hummingbird Back Tattoo
Ballerini recently unveiled her beautiful back tattoo of a small hummingbird at the 2023 MTV VMAs, which she claims is her favorite design thus far. She got it done at NYC's hottest tattoo shop, Bang Bang, where she worked with tattoo artist Michelle Santana. "She's incredible. She's getting her debut on the VMAs. I'm so excited," Ballerini said, gushing over the tattooist who helped create this intricate piece.