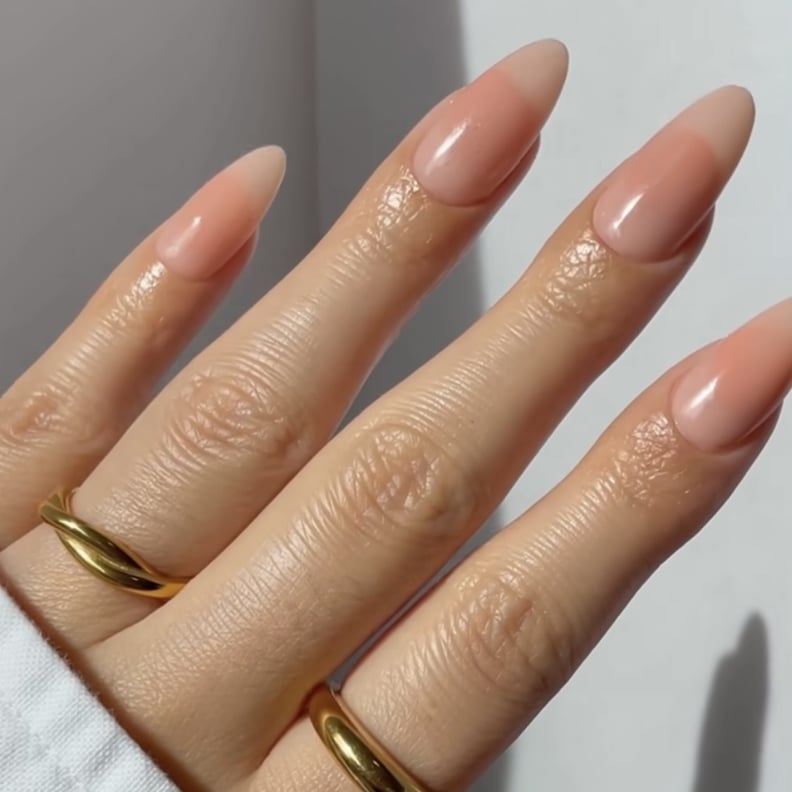 New nail trends are constantly popping up on social media. If you're on the hunt for your next fall manicure, we have just the thing. "Korean blush nails" are making waves on TikTok and Instagram, and the stunning minimalist nail look is easy to re-create at home.
If you're not familiar with blush nails just yet, allow us to explain with the help of two pros.
What Are Korean Blush Nails?
"Blush nails are a beautiful Korean style combining nail art and makeup," Jin Soon Choi, founder of Jinsoon Nails, tells POPSUGAR. The manicure usually features a light, neutral-colored base with a spot of diffused pink or red polish — or in some cases, actual blush — to mimic the look of rosy cheeks.
"It's like a more toned-down and natural sister to the aura nail trend we have seen everywhere at the end of summer, making this a nice transition into fall nails," Choi says. Given their existing popularity in Korea, this nail trend certainly isn't new, but it is finally getting some much-deserved attention on social media stateside.
Korean Blush Nails Tutorial
"The original trend is created by applying a sheer pink nude base and an actual blush or a pink eyeshadow that is lightly dabbed with an eyeshadow brush onto the center of the nail, then sealed with another coat of the base shade to blend everything together," digital creator and manicurist Dayanna Sapiens says. However, you can get a similar look by using only nail products, which is what Sapiens did in her Instagram Reel tutorial for the trend.
"To create this gorgeous nail look, I used two jelly pink nude nail polishes, Lights Lacquer Adaline ($11) and Marie ($11), one lighter than the other," Sapiens says. "The lightest shade is used as a base." With these two colors, you'll want to start by applying your base color, and then, "while the polish is still wet, with the brush of the nail polish, dab the deeper pink onto the center of the nail while fading it slightly outward to create a more natural transition." Adding the pink "blush" to the nail while the base is wet is what gives it that diffused look — as if you're blending a blush pigment onto your cheeks.
If you so choose, you can also dress up this manicure by adding additional accents. "You can add gems, a french tip, or blob nail art — another popular Korean trend if you have the materials," Choi says.
With the rise of minimalist nails that we're seeing for fall, we have no doubt that blush nails will become a huge trend. The manicure is a bit more unique than just simple "Parisian" or beige nails, while still being subtle and understated. Meaning, it'll still earn you those coveted "let me see your nails!" comments without making too much of a statement.
Get inspiration for the blush nails trend ahead and watch Sapiens's tutorial on how to re-create the design at home.
Korean Blush Nails With Nail Polish
This Korean blush nails tutorial uses regular nail polish to create the blush effect, making it easy to do at home.
Korean Blush Nails With Crystals
These almond-shaped blush nails have crystal embellishments on each finger to add a touch of sparkle to the mani.
Hot-Pink Korean Blush Nails
If you want more of a statement manicure, you can opt for a brighter shade of blush like this hot-pink example.
Korean Blush Nails With Heart Charms
This manicure features traditional Korean blush nails as the base, but each ring finger also has a heart-shaped charm.
Korean Blush Nails With Chrome Swirls
Chrome nails are also super popular right now, and this Korean blush manicure incorporates silver chrome swirls on the fingers.
Bright-Pink Korean Blush Nails
Bright pink adds a pop of color to the subtle gradient you traditionally see with blush nails.
Korean Blush Nails With a Split French
Blush nails make a great base for other nail-art designs. Here, you see a split-french tip on the end of the blush nails.
Korean Blush Nails With French Tips
The blue french tips on these blush nails add a fun twist to the design, allowing your personality to shine.
Korean Blush Nails With French Tips and Charms
These blush nails incorporate not one but two additional trends into a single manicure: the baby french tip and 3D charms.
Korean Blush Nails With Glitter
Glitter on top of the blush center makes these nails really fun while still understated.
Korean Blush Nails With Hearts
Hearts in various nail-polish colors add a sweet touch to Korean blush nails. You can add the design to all 10 fingers or just a few accent nails.