I Tried Chris Appleton's Low-Bun Hack From TikTok: Photos
I Finally Mastered the Perfect Low Bun Thanks to This Hair Hack
As POPSUGAR editors, we independently select and write about stuff we love and think you'll like too. If you buy a product we have recommended, we may receive affiliate commission, which in turn supports our work.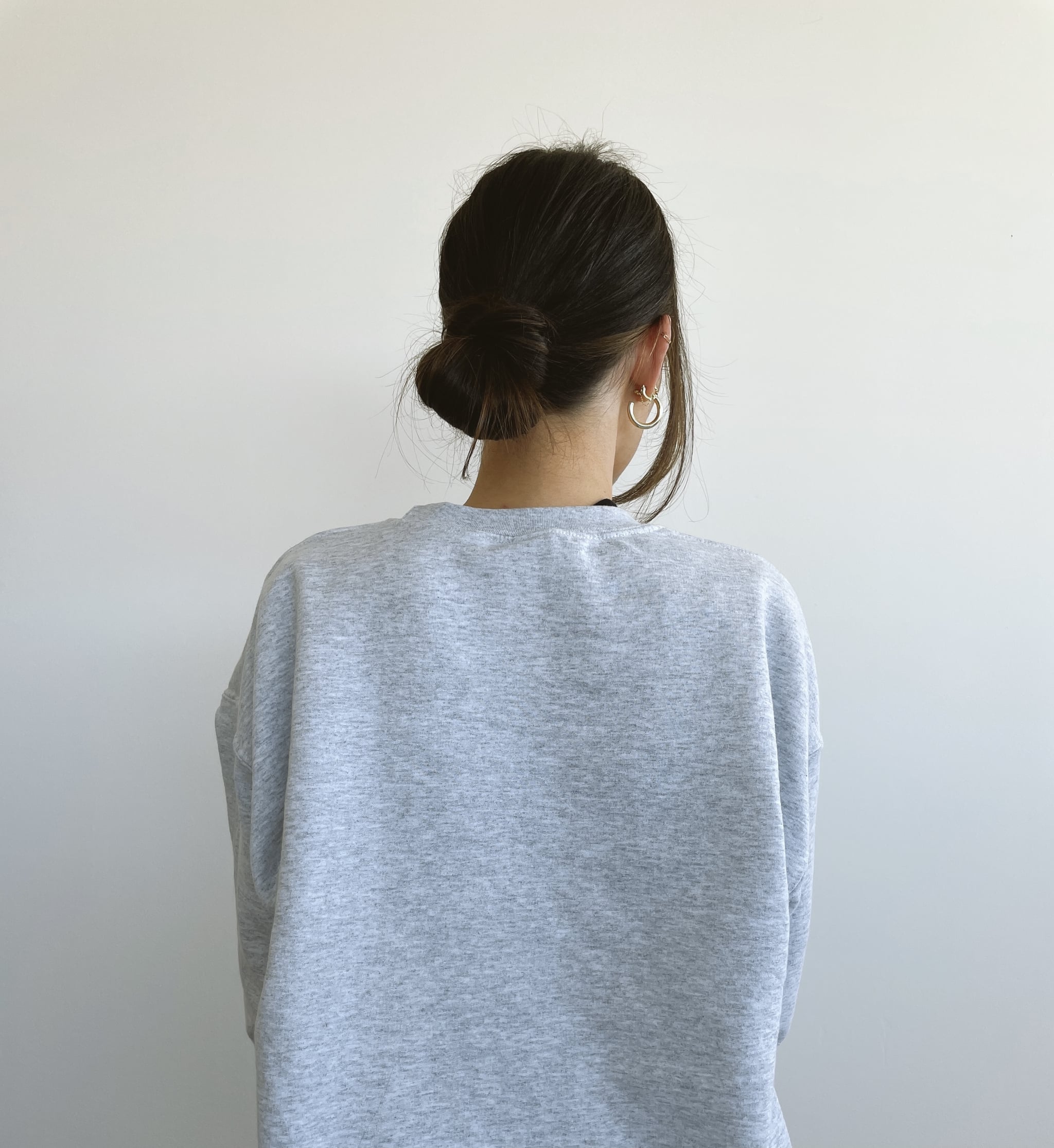 For the last year or so, I've seen influencers, celebrities, and even (gasp!) regular people lean heavily into the low-bun hairstyle trend. I haven't been able to scroll my Instagram feed or my TikTok For You Page without seeing at least 10 people rocking the popular look. Although the low bun favored by off-duty models and celebrities looks effortless, I've found that trying to re-create it isn't as effortless as I originally thought. It seems like every time I think I've nailed getting the perfect style, I only have to twist my neck and survey the back of my hair before I'm immediately humbled. In my case, anyway, mastering the front of my hair usually means the back of my hair is left looking like a complete mess.
So when I saw a video of celebrity hairstylist Chris Appleton demonstrating a hair hack for how to get a sleek low bun, I knew I had to test it out ASAP. The video has over two million views and counting, and if there's one person I trust when it comes to creating perfect-looking hair, it's definitely Appleton, the man behind some of Jennifer Lopez's greatest hairstyles.
I only wash my hair two times a week at most, so I'm always on the lookout for different hairstyles to wear when my hair is dirty. I wear my hair in a low bun pretty often, but my technique is definitely lacking. I usually tie my hair into a low ponytail, then I twist and wrap the hair into a bun. It usually takes roughly four hair ties and 10 bobby pins to keep everything in place (even with my thin hair), and it always ends up falling out within a few hours. What appealed to me about this new hack was that the style seemed easy to achieve, and it made the model's hair look sleek and put together — much more put together than any low bun I've ever created.
To test this hack, I started by dividing my hair down the center to give myself my typical middle part. From there, I pulled my hair into a low ponytail by wrapping a hair tie around my hair twice. (For my thin hair, I prefer these Goody Ouchless Elastic Hair Ties ($5).) On the third wrap, instead of pulling my hair all the way through, I only pulled it one-third of the way through, until I had formed a tiny bun with my hair.
I then took the remaining hair that wasn't pulled into a bun and split it into two halves. I took the two halves of hair, twisted them, then brought them up and wrapped them around the hair tie, covering the hair tie completely with my hair. To keep the hair in place, I used a single bobby pin and pinned my hair at the base of my ponytail. To finish off the look, I pulled a few of my shorter layers out of the front of my hair to frame my face.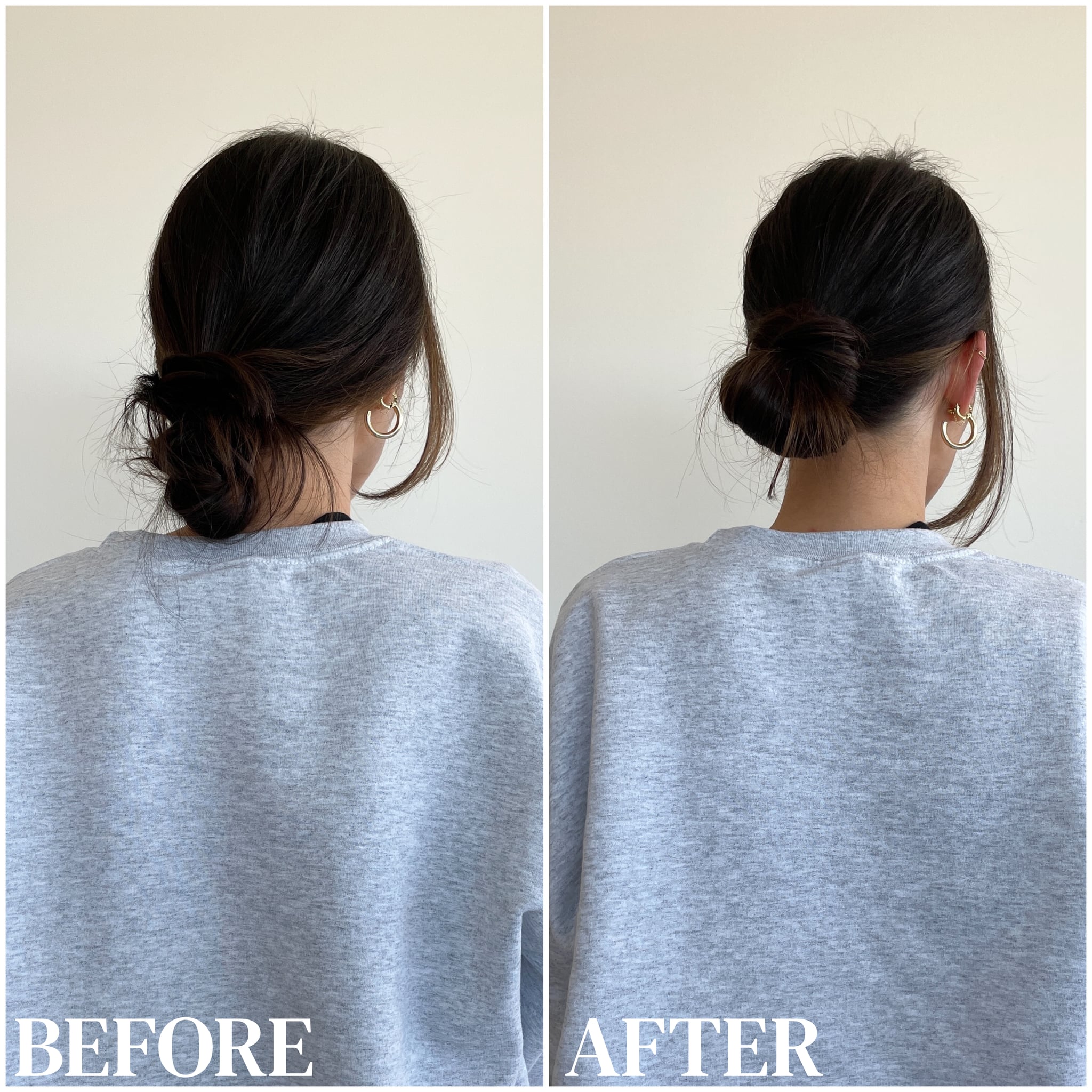 The final result left me with a smooth low bun that looked perfect in both the front and the back. While my typical low bun looks messy with hair all over the place, Appleton's hack was the key to creating a sleek look with little to no effort. Plus, the style lasted me all day without a single hair falling out of place. This hack has quickly become my new go-to look every time my hair is dirty, and I've even worn it a few times on clean hair. No matter how I rock this style, my hair always looks chic and put together, which means it's going to be on repeat for the foreseeable future.
Image Source: POPSUGAR Photography / Renee Rodriguez