One of the easiest ways to transform your look is by switching up your go-to hairstyle. Of course, getting a new trendy haircut, like the "mixie" or the ubiquitous "octopus," will surely make an impact, but that big of a chance is not for the faint of heart. Nothing matches the ease and versatility of incorporating more looks, like easy hair buns, into your daily rotation. While you can always brush up on your braiding skills and break out the hot tools now and then, it's hard to beat this classic updo.
Your options for easy hair bun styles are plentiful. The timeless look offers a chic and quick fix to all hair woes, as it can be worn by people of all hair types, textures, and lengths. From an effortless messy bun to a half-up bun and even a quick-to-achieve scrunchie bun, all you need is a little bit of inspiration and some hair ties to get you started.
Ahead, we've rounded up a variety of easy hair buns for beginners requiring no previous experience to pull together. Whether you're getting ready for a wedding, need a look for a fun night out with friends, or just want to elevate your typical ponytail, you'll find a look that suits your needs and aligns perfectly with your style. Keep reading to discover just how many different easy bun hairstyles there are to choose from for long hair, curls, and even lobs.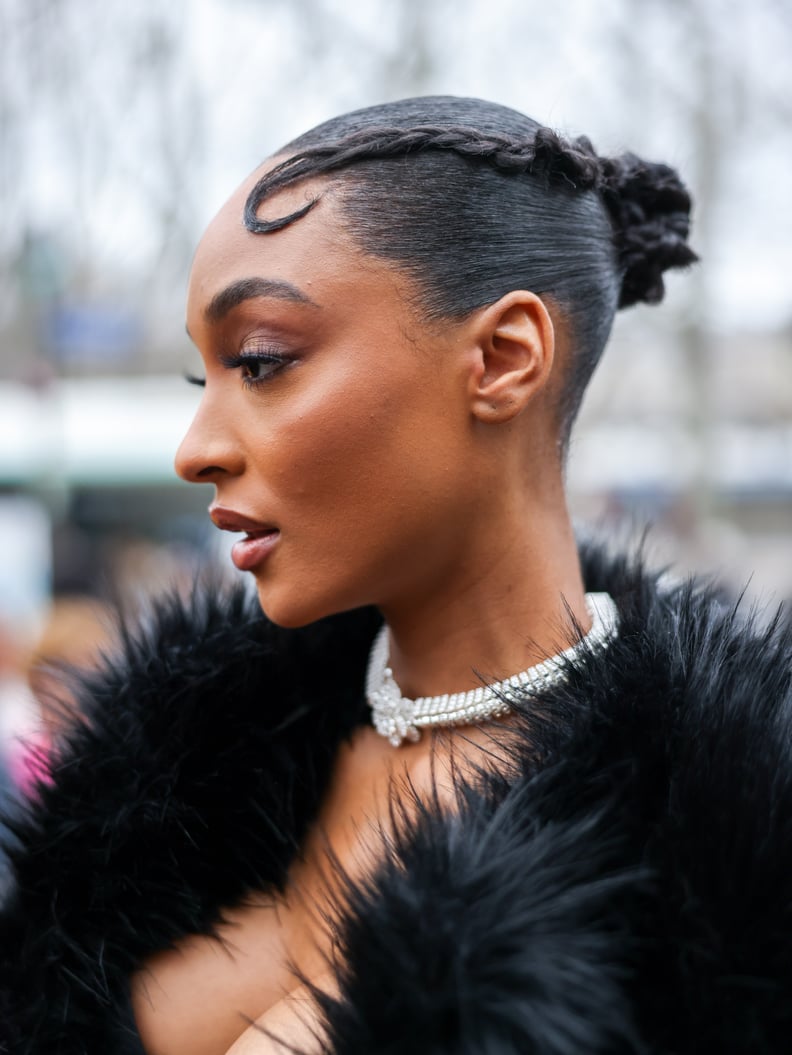 Braided Bun For Natural Hair
This slicked-back braided bun sits directly on the back of the head, which helps put a spotlight on your facial features. While you can leave the style as is, the addition of the braided tail pinned on the side of the head to form a curl on the forehead gives it an edgy, high-fashion feel.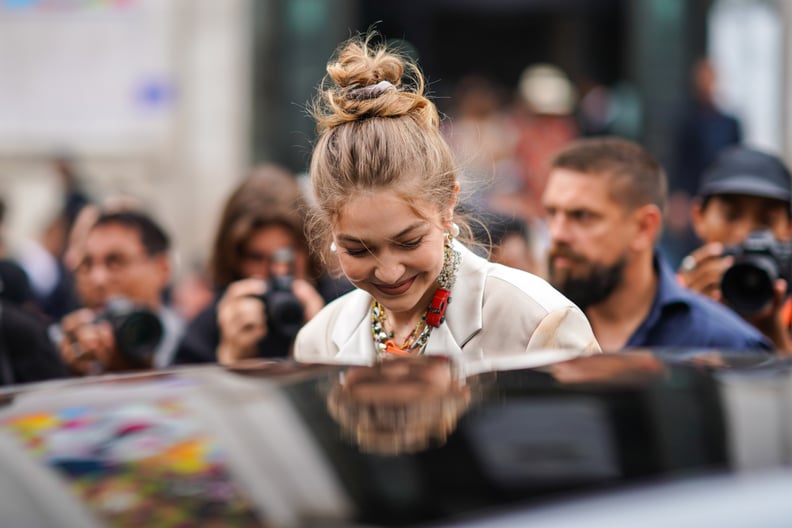 Messy High Bun
Gigi Hadid is proof that sometimes the messier, the better when it comes to easy hair buns for beginners. The model's high updo appears as though it was simply twisted into place and secured with a fun scrunchie. The wispy, undone pieces are the finishing touch.
Low Easy Bun
Nothing beats an easy-to-achieve style, especially when you're in a rush and only have a few minutes to dedicate to your hair. Let this low bun be your go-to for those hurried days. Not only does it look chic and polished, but it barely takes any time to pull off. We know a hack for creating the perfect low bun that you can try. To elevate the style even more, leave a few face-framing wavy pieces out at the front.
Twisted Low Bun
Braided buns can prove to be a bit challenging when you're doing your own hair. Enter, this super quick, equally sophisticated low bun that involves playfully twisting a tied section of hair for a perfectly imperfect finish. Straighten an inch or two of hair at the end and leave it out to the side for an effortless touch. If you're a beginner, check out this perfect hair accessory to help you achieve a twisted bun in no time.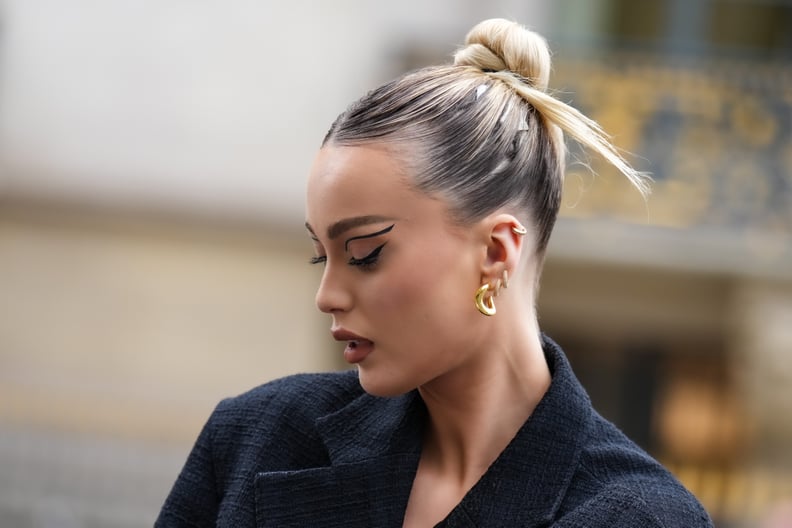 '90-Inspired Spikey Bun
A slicked-back spikey bun is suitable for a formal event but can also be worn to hang out with friends or run some errands. This style, which includes twisted sections of hair pinned to create a bigger bun, is inspired by popular looks worn in the '90s. For an easy step-by-step breakdown, check out this "treatment bun" tutorial.
High Bun For Curly and Coily Hair
Wear your natural hair in a classic high bun to keep your hair off your neck and accentuate your features. You can keep out a few strands to frame the face, which will make your updo look super cute and stylish. This updo will look great on both tight coils and looser waves.
Easy Messy Bun For Long Hair
Don't be fooled: messy buns deserve a spot in your hairstyle catalog. This easy hair bun for long hair is extremely versatile, working on every hair type, texture, and length. You can tie your tousled hair up in a classic high bun or lower at the nape of the neck depending on your preference. Leaving out a few pieces of hair at the front and styling them in loose curls adds a touch of elegance to the otherwise tousled look.
Braided Bun For Natural Hair
Style your natural hair into a low bun with two Dutch braids on either side of your head to secure it back. This hairstyle is incredibly versatile, fitting any occasion imaginable.
Fishtail Braided Bun For Short Hair
Loose fishtail braids can add volume to your hair without the need for hot tools. Add a low, twisted bun at the end to complete the sophisticated style. A few wispy face-framing pieces add to the romantic feel of this hairstyle.
Braided Bun For Long Hair
People blessed with thick, extra-long hair will find that a braided bun is effective at keeping their hair up and out of the way. Start by simply making a high ponytail and braiding it into one or two plaits. Then, wrap them around the base of your ponytail into a high bun.
Waterfall Braided Bun
Loose waterfall braids can add instant volume and texture to your hairstyles, and a bun updo isn't an exception. The beauty of this hairstyle lies in its imprecision, so start by loosely securing the front of your hair in a waterfall braid, then gather your hair into a soft bun at the top of the head using a hair tie and bobby pins.