Makeup Shades For Dark Skin Are Not Inclusive & Problematic
There Is a Language Discrepancy Between Makeup For White Skin and Makeup For Dark Skin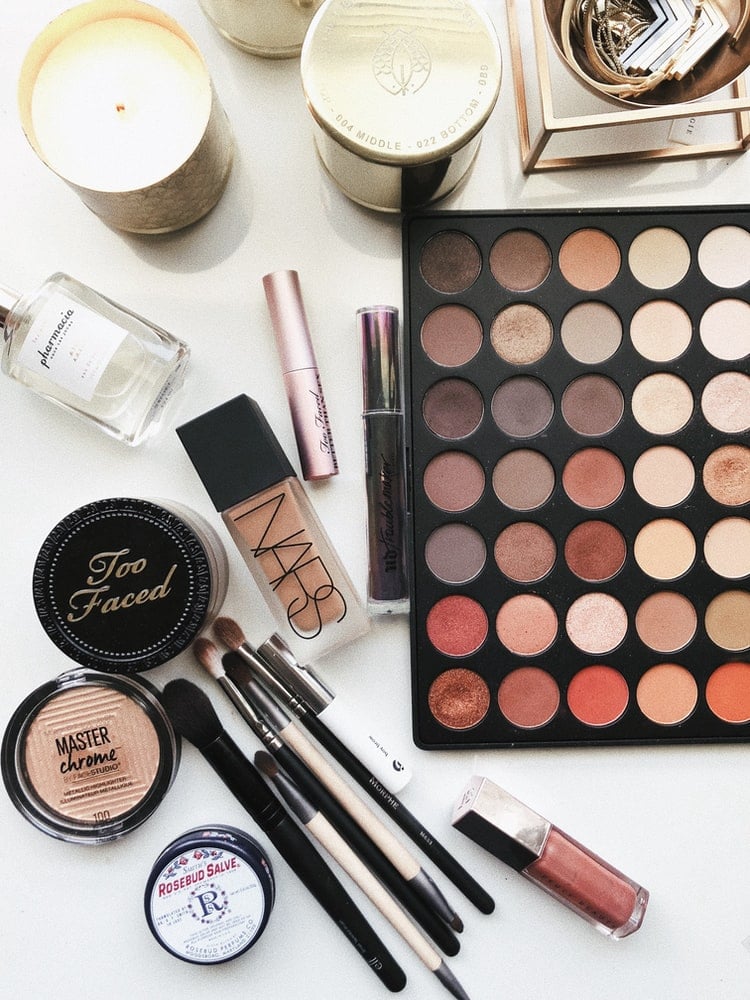 When I was younger, I did a lot of acting. I landed major parts in school plays and commercials and played an extra in a couple well-known films. I loved acting: the challenge of memorizing lines, learning how to emphasize dramatic monologues, and exercising my love of accents — it was great. But one thing that always bothered me was the makeup I'd have to wear from scene to scene.
Fifteen years ago, makeup was not as diverse as it is today. There was no Fenty Beauty, Cover FX, or A.P.D.G. to provide us with authentic color-matching shades. For people of color like myself, our only options were nude, beige, brown, chocolate, and mocha. None of these shades ever matched my slightly fair with brown undertones skin.
Back then, I was too young and naive to complain to the makeup artist or costume director, but I was very conscious of how my onscreen makeup didn't match the color of my neck and body. When I'd make a face after I was all made up, the makeup artist would always say something like, "We added more makeup because of the onstage lights; don't worry, you look fine!"
The majority of the makeup used on me was labeled as "nude" — which was a shade above beige — but it was confusing that "nude" never actually matched my skin tone. The experience my white counterparts had was totally different; their makeup — labeled "porcelain," "ivory," or "rose" — seemed to blend in perfectly with their fair skin, while mine looked uneven and wrong. I quickly realized the makeup industry was aware of the variations of white skin. It provided white customers with numerous options and appeared to be oblivious that Black skin could have such variations as well.
I hated my stage makeup. The transformation never made me feel pretty or myself. My white friends had the option to choose from "rose," "honey," or "ivory" and leave the chair with glowy skin, ready to accept a Tony. The makeup shade names did exactly what they promised: provide a rosy tint or honey glow. I, on the other hand, had to choose between coffee or cream, neither of which fit my skin color. In fact, the entire experience of my acting career turned me off makeup entirely in my personal life. And I'm not alone: people of color have expressed frustration around accurate shades of color and proper naming of these colors for years.
Unfortunately, while shade ranges have expanded in options for darker skin tones, not much has changed in the beauty industry when it comes to the names of these shades. From time to time, I still see "mocha," "butter pecan," "espresso," "hot chocolate," and even "chia" (or my favorite, "Yikes" and "Typo" from a huge cosmetics brand). This degree of naming reinforces the problem that elevating European beauty standards (fair skin, blue eyes, straight hair) is the norm while only tolerating darker complexions. Not to mention chocolate, sugar, and, coffee are all historical products of slave labor. This is hugely problematic and offensive. It makes me, and other Black women I know, feel small and unseen. It makes us feel like an afterthought.
To be clear, "nude" and "espresso" are not inclusive; in fact, they overlook many people of color. Not all Black or brown people have the same skin tone, therefore there should not be a one-color-fits-all solution.
I'm sick of being labeled as a basic brown caffeinated drink. I want to be treated as an equal and see creative names like "maintaining my sand-ity," "tanacious spirit," or "barefoot in Barcelona" that you see on store shelves that are catered to white people. When I see these, it makes me realize how much thought and creativity were put into the product, only to be followed up with "chocolate" or "mocha" for darker skin tones. To be clear, "nude" and "espresso" are not inclusive; in fact, they overlook many people of color. Not all Black or brown people have the same skin tone, therefore there should not be a one-color-fits-all solution. As a consumer, it looks lazy and instantly tells me the brand does not care about its POC customers.
I strongly believe real change will only happen if we build a common language and understanding around these critical conversations. Beauty brands can no longer say they stand with the Black community and not address the language they are using to describe the Black community.
The beauty industry must make it its duty and responsibility to ensure its products are empowering and inclusive — both in their offering and labeling. Words are powerful, and words matter.