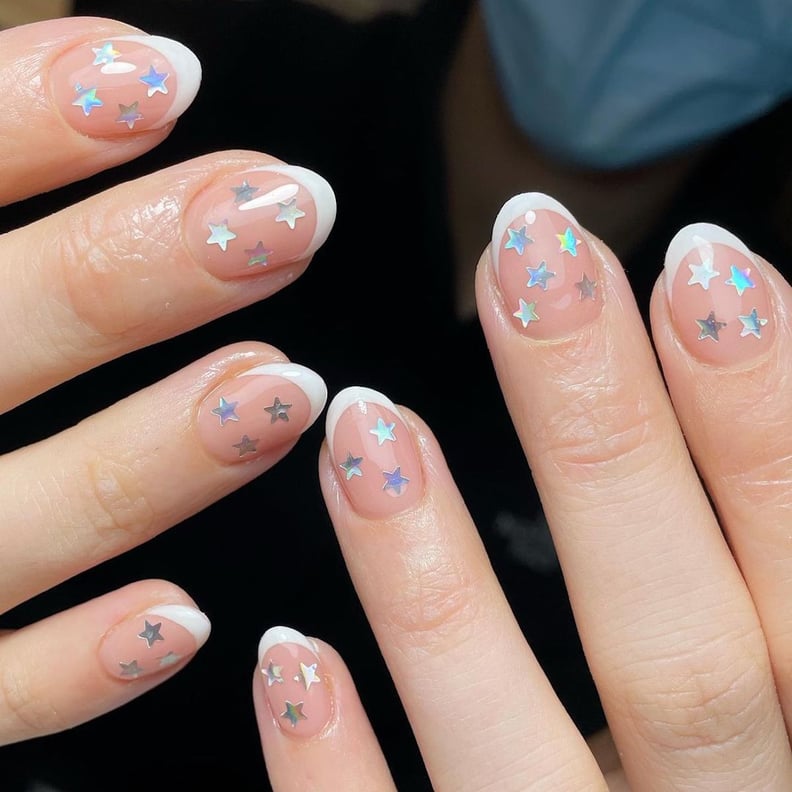 If you're just as ready to kiss 2021 goodbye as we are, then you've probably been counting down the days to the new year like you would the clock at a New Year's Eve party. Celebrations will still look a little different this year, but that's even more of a reason to go all out with your holiday beauty look — especially your New Year's Eve nails.
There are a lot of directions you can take your holiday manicure. Are you in a glitter mood, or do you want something more minimalist? Is your stance on nail art the more, the better? What about the length: do you like 'em as long as possible, or are you a fan of a short-but-sweet nail shape? Rather than sweating every last detail (because let's be honest, there's already too much of that around the holidays), let your zodiac sign point you in the direction of your perfect New Year's Eve nails.
Consider this your New Year's Eve nail horoscope, and keep scrolling to find your perfect manicure match to ring in 2022. There's something for everyone on this list — yes, even an indecisive Libra.
Capricorn (Dec. 22-Jan. 19): Full Glitter Nail Art
Capricorns tend to approach nail art in a very practical way: you want a design that will look good on New Year's Eve and the days following. A full glitter nail-polish manicure will dazzle without losing its sparkle the next day.
Aquarius (Jan. 20-Feb. 18): Colorful French-Tip Nail Art
As an Aquarius, minimalist nail art is your jam. For your holiday manicure, stick with a colorful french-tip manicure using whatever color speaks to you most at the salon.
Pisces (Feb. 19-March 20): Holiday Sparkle Nail Art
As a Pisces, you're probably still sad that the holidays are over. Sparkly nail art with a sheer base will allow you to keep that festive spirit alive a little longer.
Aries (March 21-April 19): Neutral and Gold Nail Art
An Aries is dynamic and adventurous, so nothing but stiletto tips will do. Instead of traditional New Year's Eve designs, you'd rather keep your nails looking more classic, like this neutral and gold manicure.
Taurus (April 20-May 20): Deep Starry-Night Nail Art
Tauruses are one of the most complex zodiac signs. You're sensitive, but you have a hard exterior. Deep-navy-blue nails with a small, romantic gold design are basically you in manicure form.
Gemini (May 21-June 20): Sparkly Polka-Dot Nail Art
Geminis are forever young at heart. A fun and festive polka-dot pattern, in glitter nail polish, of course, will show off just how lively your personality is.
Cancer (June 21-July 22): Geometric Nail Art
Cancers are notoriously very imaginative and thoughtful. You probably put a lot of thought into your nails and enjoy a complex design. Geometric nail art will please your creative spirit.
Leo (July 23-Aug. 22): Metallic Star Nail Art
In typical Leo fashion, you're a star, and you want everyone to know it. A manicure covered in metallic star decals will have everyone complimenting your nails, which is ultimately your goal.
Virgo (Aug. 23-Sept. 22): Gold Constellation Nail Art
As a Virgo, you're not one to make a big deal out of things, even the holidays. What you are big into is astrology, so a constellation-themed manicure is more your speed.
Libra (Sept. 23-Oct. 22): Metallic Nails
New Year's Eve nails don't need to include an intricate design to be festive. A single-color metallic manicure feels just as fresh and exciting to ring in the new year.
Scorpio (Oct. 23-Nov. 21): Firework-Inspired Nail Art
If you're a Scorpio, fireworks are most likely your favorite part of New Year's Eve. Nail art inspired by those explosive, powerful displays will match your equally powerful personality.
Sagittarius (Nov. 22-Dec. 21): Abstract Nail Art
You don't like to be put in a box or feel tied down. As a Sagittarius, your perfect New Year's Eve mani is inventive, fun, and, most importantly, whatever you want it to be — aka very abstract.