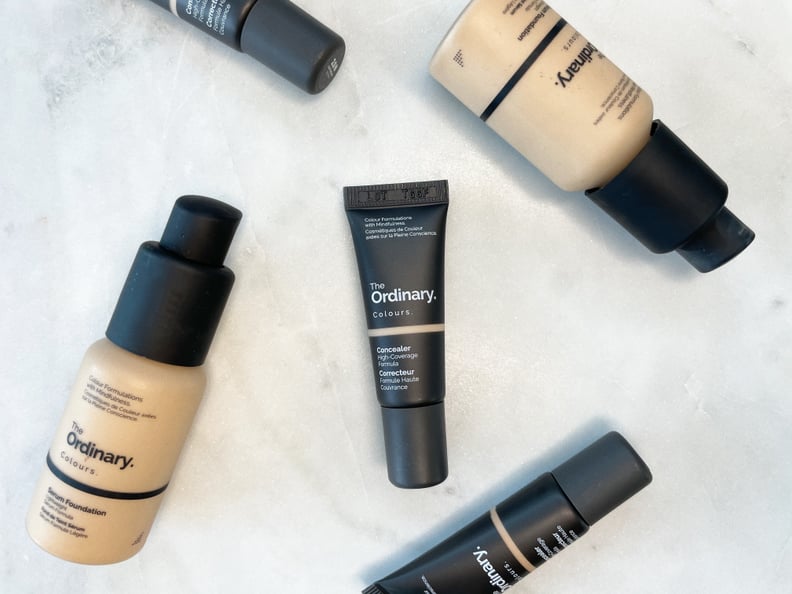 POPSUGAR Photography | Renee Rodriguez
POPSUGAR Photography | Renee Rodriguez
As POPSUGAR editors, we independently select and write about stuff we love and think you'll like too. If you buy a product we have recommended, we may receive affiliate commission, which in turn supports our work.
Lately, my wallet and I have kind of had some beef. It just can't seem to understand why I need to keep dropping *our* hard-earned cash on expensive makeup and skin-care products. And that is on my wallet for not knowing what it's like to have a face. However, when it comes to affordable skin care and makeup, there is one brand that we both agree gives you the most bang for your buck: The Ordinary. I am a huge fan of The Ordinary's skin-care line, and after falling in love with its foundation a few months ago, I would pretty much throw my money at any other makeup product the brand creates. So I was practically jumping out of my seat with excitement when I got the opportunity to test its newest drop, The Ordinary Concealer ($6).
My expectations were high after seeing such great results with the foundation, and I'm happy to report that this concealer does not disappoint. I've been using the same pricey concealer for the last eight years, but I was so impressed after just two uses of The Ordinary's concealer that I am switching over permanently.
My first time testing it, I applied the concealer directly under my eyes and on the high points of my face using the nozzle applicator. This kind of applicator was new to me, but I found that I liked it for its ability to hit precise points without making a mess. After applying, I buffed out the concealer with a beauty blender. The first thing I noticed was how spreadable the formula was — it offered full coverage with just a tiny amount of product. I don't think I would be able to blend out this product with just my fingers, because it is on the thicker side, but I did just fine with my makeup sponge, and I think a concealer brush would work just as well.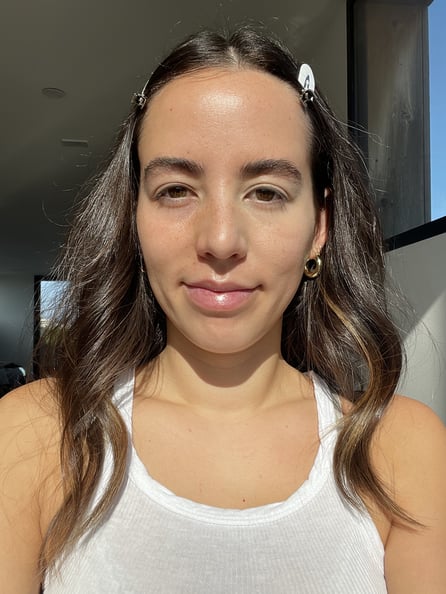 I have never really considered myself to be someone with "undereye bags" or extreme dark circles, but after looking at the picture of my face showing one eye with this concealer and the other without, I can absolutely see the difference. The Ordinary's concealer brightened up my undereye area without making my makeup look too cakey or overdone, which is something I can absolutely appreciate.
I have dry, acne-prone skin, but this product did not break me out or cause any irritation. It also didn't immediately settle in the fine lines around my eyes or cause any noticeable added dryness. Some concealers I've used in the past have made the skin in this delicate area feel tight and dry, but I was able to wear this all day without any problems. This is definitely a full-coverage, matte product, but it isn't at all cakey. However, if you like an added dewiness in your concealers, this product probably isn't for you.
I found this concealer to be long lasting, which is another thing I look for when testing any new type of makeup. Throughout the day, I'm doing a million things at once, and I don't have time for bathroom breaks solely dedicated to reapplying my makeup. My first time wearing it, I decided not to set it with setting powder so I could see how long it lasted, and I was surprised to see that it lasted throughout my workday. In the future, I'll most likely use a setting powder, but it's nice to know this product has staying power all on its own.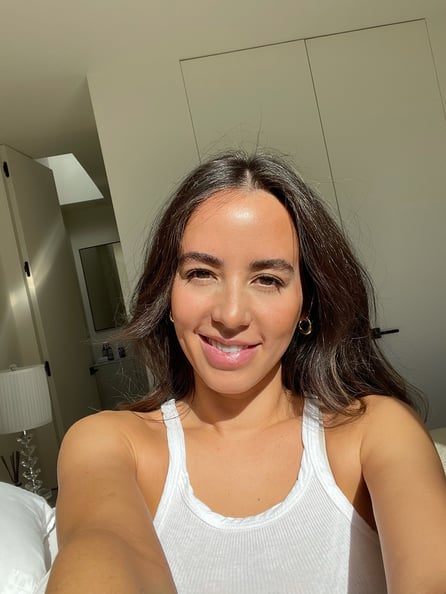 Full disclosure: at the end of the day, I did have a tiny bit of creasing underneath my right eye (where I have a wrinkle that I absolutely cannot get rid of), but it happens to me no matter what product I use. Despite that teensy tiny hiccup, I'm fully obsessed with this new product, and I can't wait to use it on the reg. Now that I can finally kick my expensive concealer to the curb, both my face and my wallet will be thanking me until the end of time.