Why After Seven Years Away From Afro Hair Salons, I'm Finally Relinquishing Control
Thanks to a now industry-wide call to action against the marginalization of Afro hair, words like "coily," "kinky," and "Afro" are now autocorrect mainstays in my work as a beauty writer. The ever-evolving conversations around how to care for Afro hair at home have been ones I've eagerly participated in, writing down and offering advice from the wealth of knowledge I've gained somewhere between teenage fringe experimentation and watching countless online hair tutorials. Styling aside, my laissez-faire attitude to the health of my hair — partly due to the fact that growing up, my hair was oftentimes described as "stubborn yet soft" — made for a comfortable step-and-repeat approach to my hair-care routine, one that since I was 16 had one major constant: I never stepped foot into a salon. But after more than a year of lockdown that was full of microfiber hair turbans and write-ups about the innovative steps now being taken by Afro hairstylists and specialists, I realized that my own return back to a salon was long overdue.
It would be easy to attribute my salon hair-care hiatus to an awful chemical burn incident, or even to growing up in an Afro hair desert (a less affronting description used to excuse the lack of hairstylists trained in all hair types). However, over the past year, I've found that the root cause of my salon avoidance is a little more complex.
At-home Afro hair care had become much more than just a form of experimentation for me and rather a way to strictly enforce control over my hair and, in some ways, my life. Instead of my at-home hair care approach providing me with "freedom", it helped me cement three strict versions of myself: the one who wears braids (particularly in the summer in a jet-black hue that allowed me to have fun but secretly still be in control); the one who wears wigs with fringes (which were an excuse for me not to have to confront my internal frustration over the fact that growing up in a predominantly white area left me unversed in the language of lace fronts); and lastly, the one with my hair blow-dried straight and swept into a bun (which I did for fear of damage and with constant curl guilt over not wearing it in its most natural state).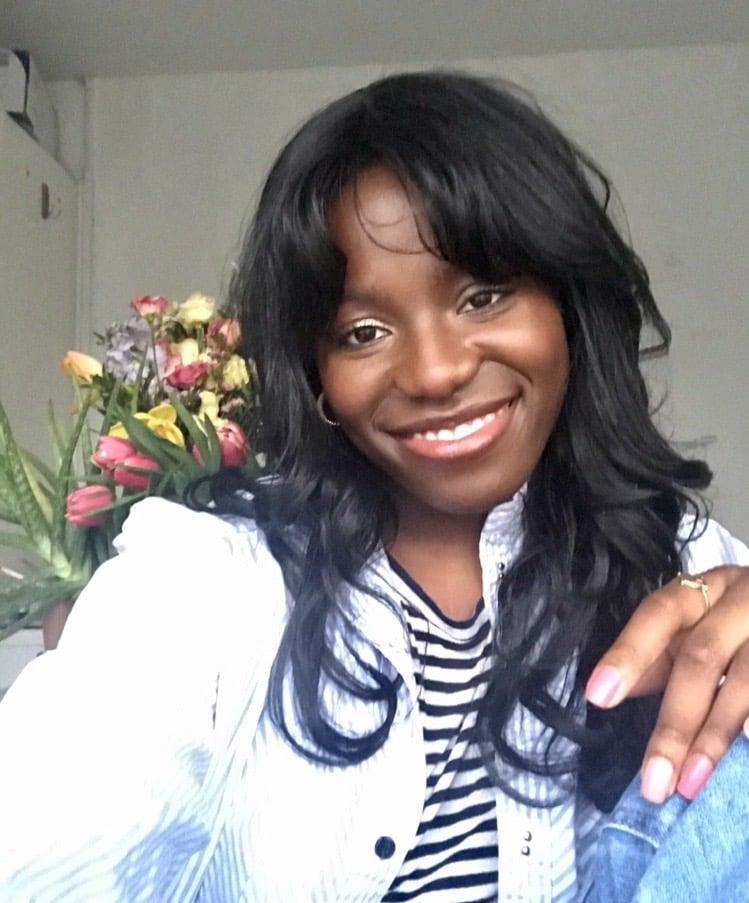 This control, aided by YouTube and the online natural hair community, allowed for the emergence of bad hair habits sanctioned by my belief that "it's only hair, it'll grow back, I'm not one of those Black girls who cry over temporarily broken locks". Even when I eventually weaned myself off of chemically taming my hair and manipulating it to the point of breakage, it did nothing for my attitude toward controlling my hair.
A year of countless deep-conditioning treatments during Zoom calls later, and I finally reached a point of frustration over the repetitive nature of my restrictive hair routine. It took a few uncomfortable self-discovery sessions, which included debating shaving it all off and having conversations with Afro-having women around me, before I began to recognize that control — control over my hair, strict control over every strand — had been the driving force behind my almost seven-year salon standoff.
I set about my reunification with salons using the "community telephone" method, previously employed by my mom in order to sniff out any new braiders who could do my hair before school started, and a friend quickly pointed me in the direction of hairstylist Zateesha Barbour. The drastic jump from my at-home only stance to being sat, Afro out, in front of Barbour — who has worked with the likes of Jorja Smith and on campaigns for Estée Lauder — felt like a far cry from the buzzy salons from my childhood. The trendy loft salon, which Barbour later explained housed a collective of freelance stylists, initially did nothing to calm my racing mind over the intimacy of the event, amplified by a yearlong decrease in human touch thanks to COVID-19.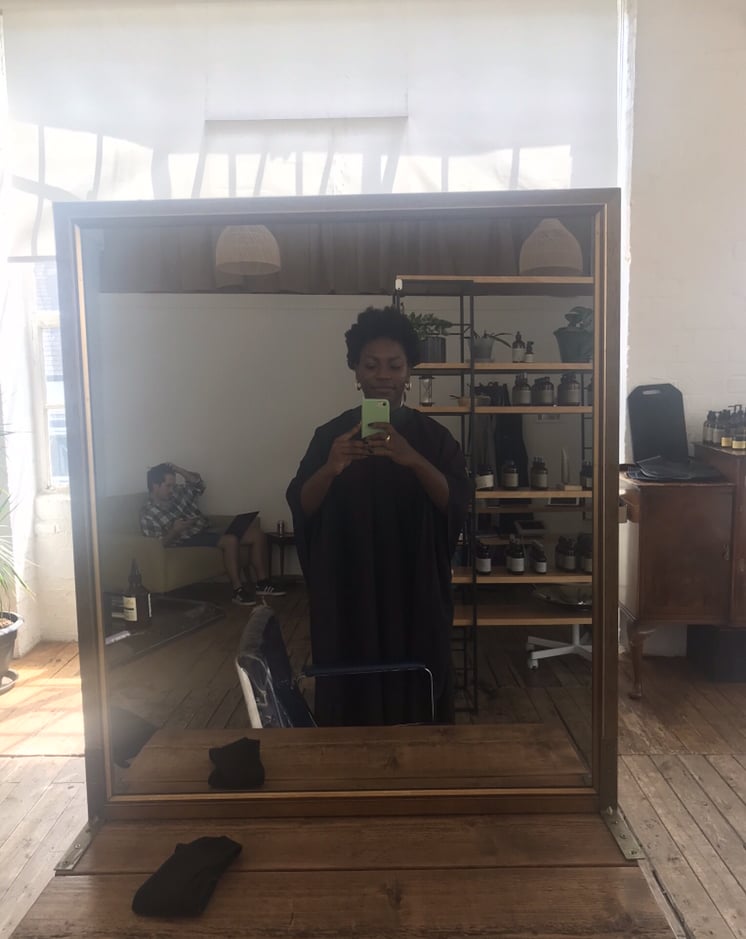 Nonetheless, whether it was Barbour's ease and confidence in her Afro hair expertise, or my knowledge that I could always change it when I get home (which I admitted to her), and soon the appointment began to feel less like a chore. According to Barbour, the benefits of the appointment for my hair were so much more than just a new 'do.
"The biggest benefit of regular appointments for people with Afro-textured hair is definitely scalp care, because it is really important and often it gets neglected; another benefit is hair care in general," she said. "I say hair care because, if the style looks cute, people stop necessarily caring if you're manipulating it in ways that cause more damage. Sometimes a professional is needed for a gentle reminder not to do that." Barbour recommended to book an appointment "every 8-10 weeks" in order to regularly trim the hair and make sure products and treatments are actually working for you, a message that was music to my ears — and a relief to my cluttered bathroom cupboards.
Thanks to Barbour's careful consultation, we were able to discuss the state of my hair, her professional opinion on treatment masks and co-washing (15-20 mins for the latter, avoid for the former), alongside more complex topics like the myths so many people have about afro hair, myself included. Despite its years of villainization, Barbour explained that heat (in moderation) was not my fro's foe and that co-washing, a beloved pillar of the online natural community, could actually be the source of product build-up related scalp issues. The biggest shock, however, came after her confident assurance that no, despite how great an all-day hair mask feels, it "can only penetrate so far into each hair layer," so wearing it for 20 mins is more than enough. We touched on hair color, which Barbour described as her "favorite thing to do with clients, because the main thing is to make sure that the hair is healthy prior," and she also provided me with new insight about after care for transitioning hair, natural fros, and even chemically straightened ends.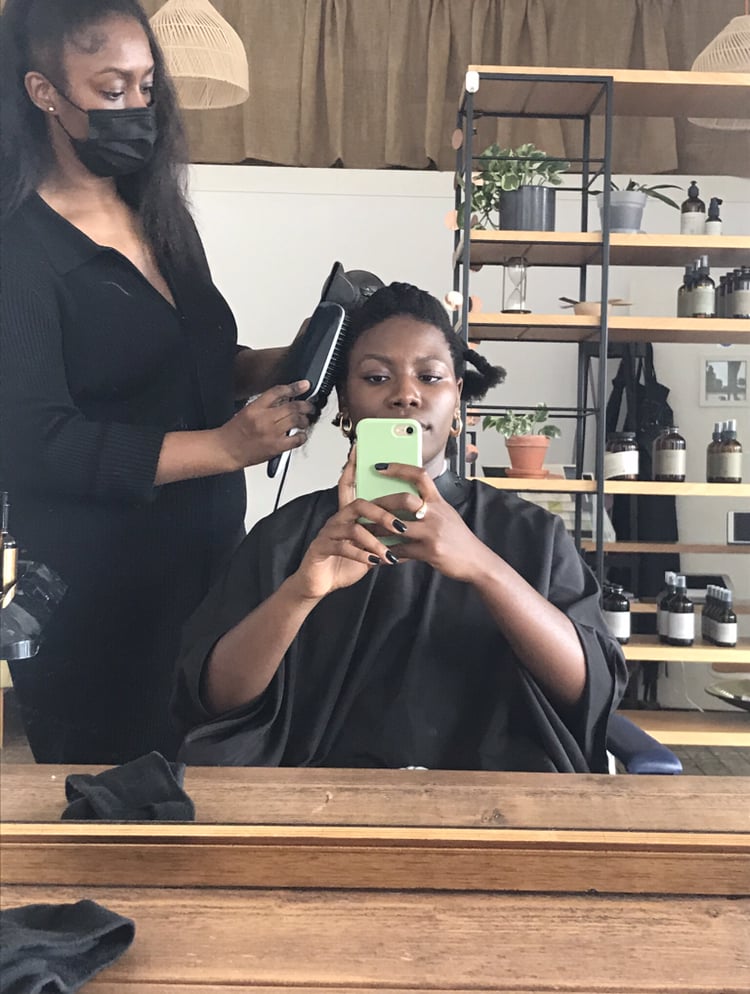 Prior to the appointment, I had discussed at length with friends about how I wanted it to be a fresh start away from my restrictive hair stance — a new hair color, or maybe just highlights, and a coily cut. However, sitting in the chair, blurting out my request for a straight silk press coupled with my initial horror over the idea of an off-center parting, I realized that even attempting to relinquish years of control in one appointment was equally restrictive. The freedom to discuss my worries and concerns with someone other than my internal voice was both a welcome relief and a reminder of the benefits (beyond split-end removal), that a trip to the salon provides.
As with most things in the hopeful (yet, at times, hesitant) look at the beauty industry post 2020, our conversation soon turned to awareness, accessibility, and Barbour's belief "that the government should make it compulsory for all hair types to be studied, so everyone can be able to walk into any salon and have a service done," and we shared passion for Black women and people with Afro hair to feel safe, proud, and equally heard. The time spent in the salon did not magically undo years of my control issues all at once, and I didn't leave with a coily afro with highlights strewn throughout — but this first release, under Barbour's capable hands, is one that could never have happened at home alone by the bathroom sink.