Skin Proud Sorbet Skin Jelly Moisturizer Review 2023
I Swapped Out My Highlighter in Favor of This $13 Jelly Moisturizer
As POPSUGAR editors, we independently select and write about stuff we love and think you'll like too. If you buy a product we have recommended, we may receive affiliate commission, which in turn supports our work.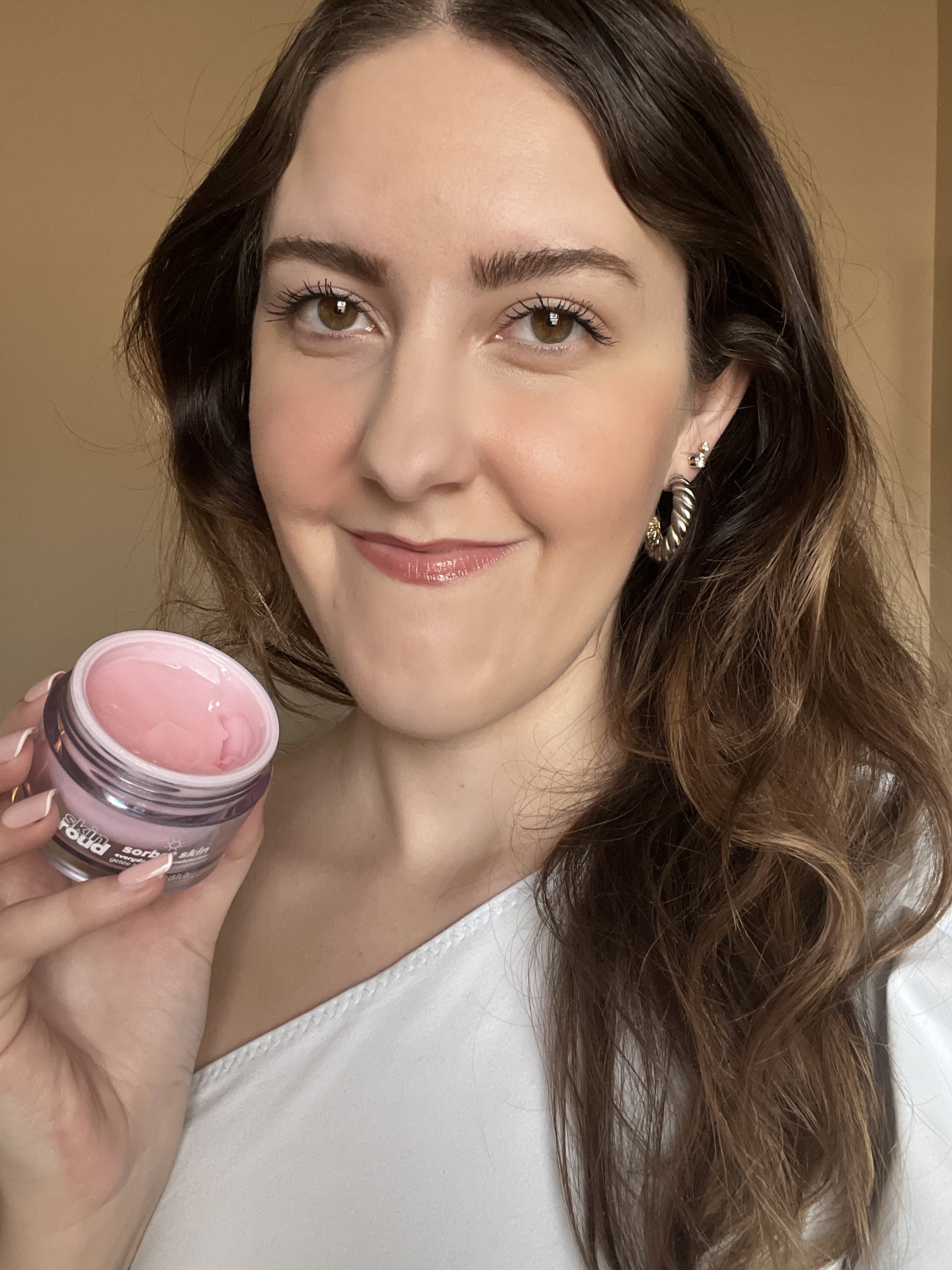 I'll be the first to admit that when Hailey Bieber recommends something, I take notice. With her slicked-back buns, oversized blazers, and peak '90s cool-girl aesthetic, she's become my go-to lifestyle muse — and it's reflected in both my wardrobe and beauty cabinet. To achieve her signature "glazed doughnut look," I scrolled endlessly through TikTok for a hydrating moisturizer before finally discovering the Skin Proud Sorbet Skin Everyday Jelly Moisturizer ($13).
The jelly moisturizer has an ingredient list that's just as appealing as its bubblegum-pink packaging and under-$20 price tag. The sorbet-like formula has quickly become a staple in my winter skin-care routine, and it's even managed to replace my need for a highlighter altogether. Yes, my skin really is just that glowy now. Keep reading for my full review of this internet-loved skin-care product.
What to Know About the Skin Proud Jelly Moisturizer
The Skin Proud Sorbet Jelly Moisturizer is formulated with ingredients like hyaluronic acid, rose water, and glycerin.
It's certified vegan and paraben-free, and certain elements of the moisturizer's packaging (including the cap, shive, and carton) is made from recyclable materials.
This moisturizer can be used both in the morning before sunscreen, and at night as the final step in your skin-care routine.
The product works to hydrate the skin with a four-part hyaluronic acid complex, and is recommended for all skin types — particularly those with dry skin.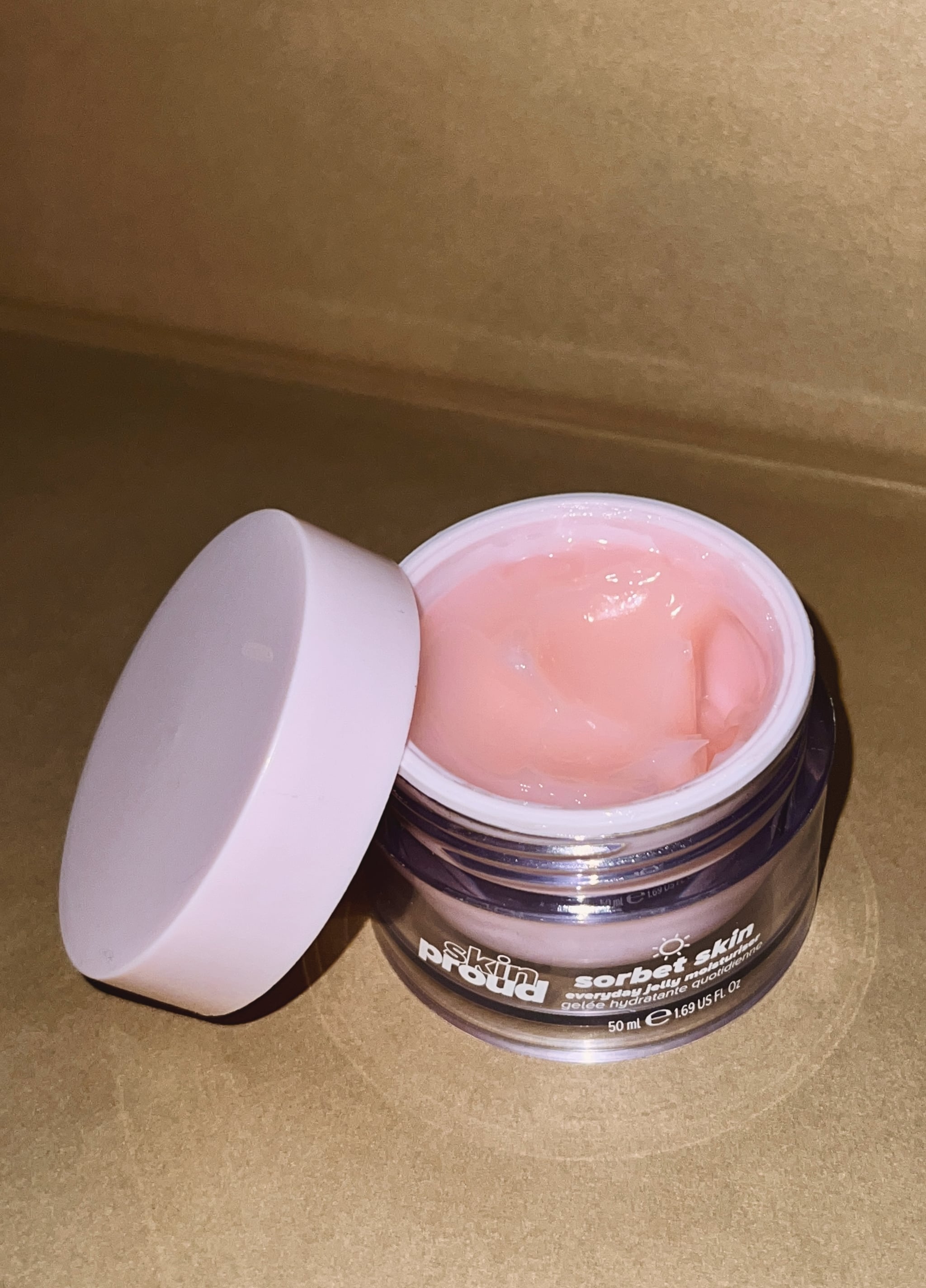 What I Like About the Skin Proud Jelly Moisturizer
Living in a drier climate, my skin needs as much moisture as it can get — especially during the winter months. This particular moisturizer glazes my skin with a layer of hydration that I can noticeably feel, yet still isn't too dense or heavy that it clogs my pores or causes me to break out. Unlike other formulas that I've tried, this product also has an oil-free consistency that leaves my face with a healthy radiance that isn't too shiny or slick. The lightweight solution is long-lasting, and it keeps my skin feeling dewy all day, even long after applying my makeup. The biggest appeal of the moisturizer, however, is its affordability. Very few, high-quality moisturizers are available to shop for under $50, let alone ones that are formulated with vegan and paraben-free ingredients.
How to Use the Skin Proud Jelly Moisturizer
I prefer to use this jelly moisturizer in the morning, and then opt for a denser, more nutrient-rich cream at night, like my personal favorite, Drunk Elephant's Lala Retro Whipped Cream. Right when I wake up, I start by washing my face with a cleanser and then patting my face down until the skin is damp. I try to keep my morning skin-care process simple, as I've found that too much product will leave my face with red and irritated. I then coat my skin in a light layer of toner before applying a vitamin C oil. Because this moisturizer is so rich in hyaluronic acid, I feel comfortable using it as my primary source of hydration in the mornings.
After scooping out a small amount of the cream onto my wrist, I take my middle finger and dot the solution onto different sections of my face — usually starting with my cheeks and then moving to my forehead, chin, and nose. Finally, I rub the moisturizer all over my face, making sure the cream is evenly applied and well blended into my skin. A little goes a long way with this dewy cream, so it's important not to overdo it. For the last step in my morning skin-care regimen, I'll layer on some sunscreen, wait for everything to absorb to avoid pilling, and then move onto makeup.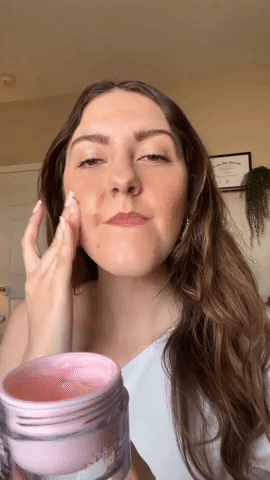 What to Consider Before Buying the Skin Proud Jelly Moisturizer
It's hard to believe you could ever have too much of this hydrating cream, but I found that when I used this product both in the morning and at night as recommended by the brand, my face felt unusually greasy and even prompted a few random breakouts. My skin is super-sensitive, so this may be more of a personal problem rather than an issue with the product.
However, if you have dry or sensitive skin, I'd err on the side of caution before adopting this moisturizer into both your a.m. and p.m. routines. Start by using this product in the morning for a more dewy, daytime glow. I've found that the formula is a solid base for your makeup, as it leaves the skin with a healthy shine. Once your skin has adapted to the product and passed the purge test, you can then ease it into your nightly skin care, as well.
Where Is the Skin Proud Jelly Moisturizer Available?
The Skin Proud Jelly Moisturizer is available to shop at Walmart and ASOS ($12, originally $14).
Rating:

Image Source: POPSUGAR Photography / Kyley Warren