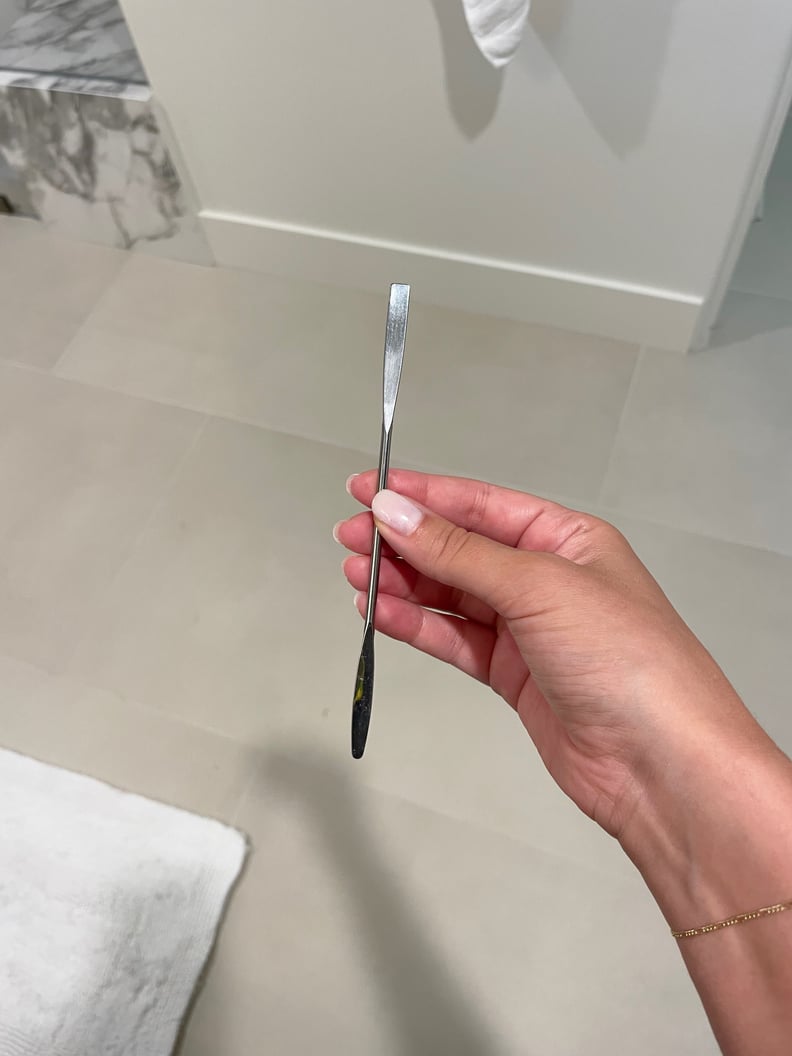 POPSUGAR Photography | Renee Rodriguez
POPSUGAR Photography | Renee Rodriguez
As POPSUGAR editors, we independently select and write about stuff we love and think you'll like too. If you buy a product we have recommended, we may receive affiliate commission, which in turn supports our work.
I can always count on TikTok to keep me up to date with the latest beauty hacks. Earlier this year, for example, I applied my foundation with a jade roller when I saw the technique all over the app, and I was so impressed with the results that I still do it every time I want a full-coverage makeup look. So when I saw a few viral videos of TikTokers using a spatula to apply their foundation, I thought I'd give the trick a try (even if it did seem a little wild).
In one clip I saw while scrolling the app, user @soobeauty says, "The whole idea is that by applying with a spatula, it will lay out the foundation evenly and thinly so you don't end up caking up your face."
Typically when I apply my makeup, I either spread the foundation directly onto my skin from the bottle, or I squeeze a bit onto the top of my hand and use a makeup brush to blend it onto my face. I like to use the smallest amount possible because I hate the look of caked-on makeup, so I was hoping this hack would give me that less-is-more finish.
For me, the hardest part of testing this hack was finding a spatula. Everyone trying the trend was using a kind made specifically for makeup — usually used by professionals when doing SFX looks — so I had to spend some time scrolling on Amazon looking for the right product. Once I finally found something that didn't resemble anything I'd find in my kitchen — the Wismee 5Pcs Makeup Spatula Set ($7) — I ordered it ASAP. When it arrived, I washed it and immediately set to work.
I chose to do a split-face experiment because I wanted to make sure I could truly gauge the results of using a spatula against how I regularly applied my makeup. So on one side of my face, I applied foundation onto the back of my hand and used a foundation brush to blend everything out. Next, I moved on to the spatula. I started by applying foundation to the back of my hand, and then I slid the spatula through the foundation as if I were cutting through it with a knife. From there, I smeared it onto the other side of my face by drawing a line down my cheek and then spreading it out.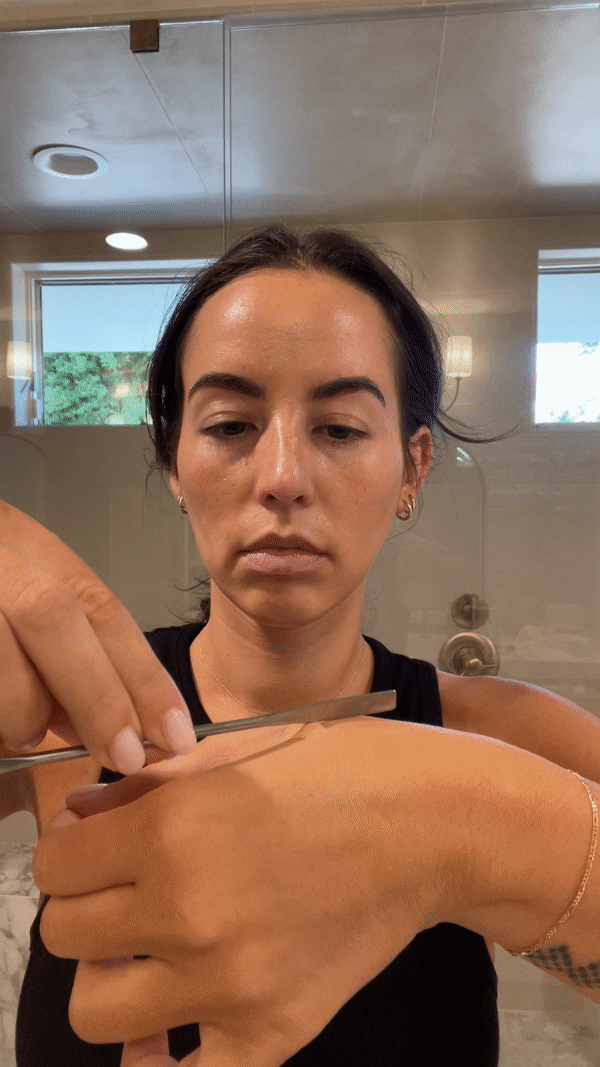 At first glance, I felt like I had way too much makeup on the spatula side of my face, but once I started to blend it out with a beauty sponge, things started to look more normal. I worked from the center of my face to spread the foundation outward and upward.
When I took a minute to step back and survey the results, I was impressed with the spatula side of my face. My makeup didn't look cakey at all, and it was spread evenly all over. I didn't think the side where I applied my foundation using a brush looked bad, per se, but because the spatula didn't absorb any pigment (whereas the brush definitely did), that side ended up looking a lot more smooth. I actually ended up adding a bit more foundation to that side to even it out.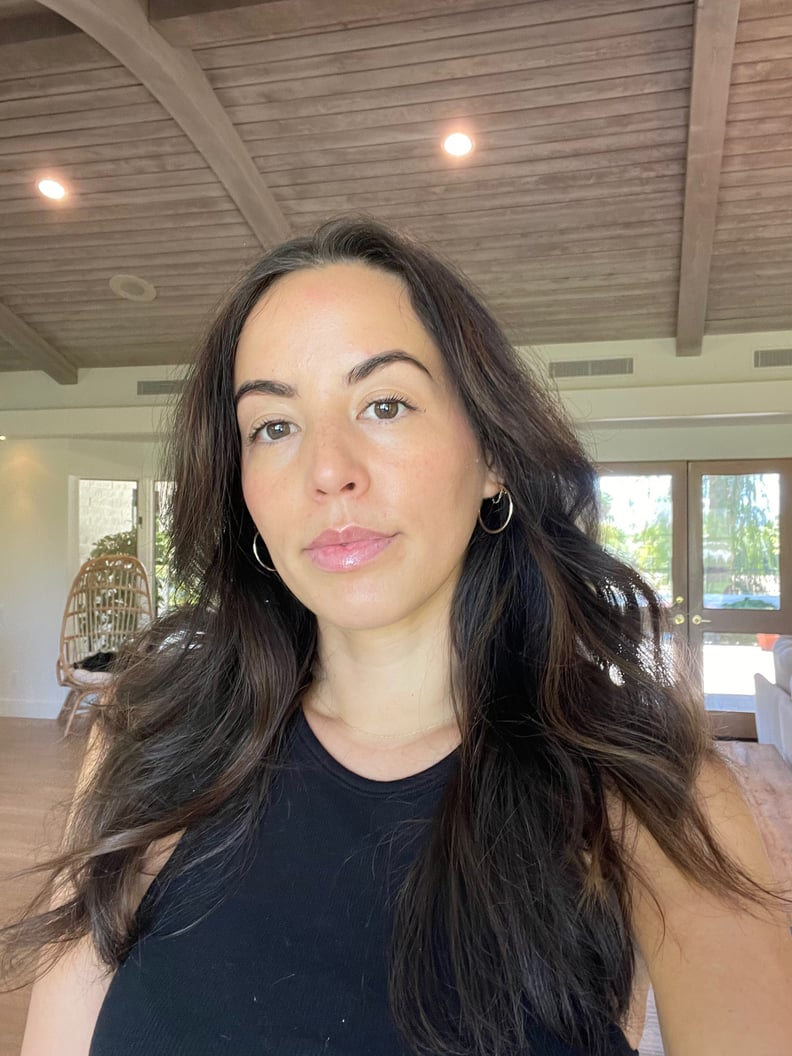 I'm not one to spend a ton of time doing my makeup, so this extra step isn't something I'll use all the time, but this is a great foundation hack for big events or when I have a little more time in the morning. If you don't have a makeup spatula, other TikTok users have suggested trying it with a butter knife — but be careful, obviously — or the back of a spoon.