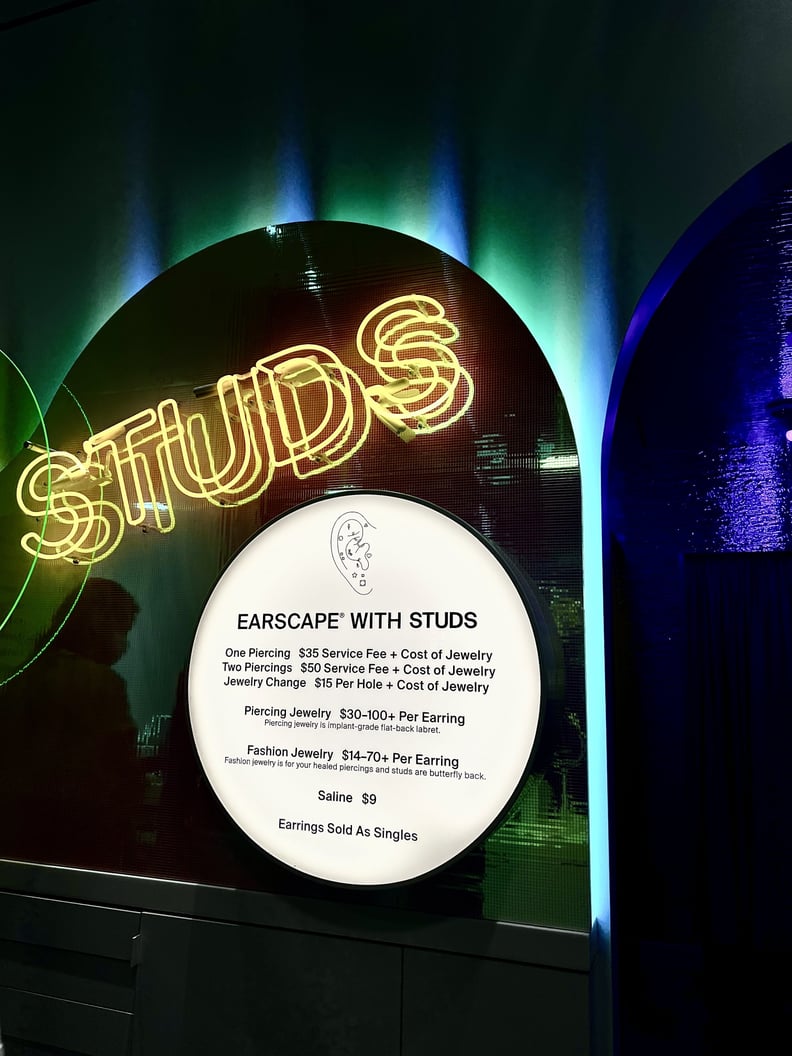 POPSUGAR Photography | Anvita Reddy
POPSUGAR Photography | Anvita Reddy
As POPSUGAR editors, we independently select and write about stuff we love and think you'll like too. If you buy a product we have recommended, we may receive affiliate commission, which in turn supports our work.
I love accessorizing and playing around with jewelry. There's nothing more elevating than a little bling. One of my favorite things to style is my ears, especially since I already have multiple piercings. Being creative with your earrings is an easy and timeless way to change up your look. Plus, high-quality jewelry lasts a long time. Some of the pieces I use to style and curate my ears are from when I was an infant or were handed down to me by my grandmother. When I got the chance to check out Studs and get a new piercing, I was beyond excited to refresh my ear with something trendy.
Studs is an ear-piercing parlor and jewelry shop that specializes in earscaping. It's the technique of creating a stylized, curated ear that flows while being completely true to you. If you're interested in getting a piercing, Studs only performs piercing services using needles, never guns, which was a huge plus for me. The shop has tons of piercing jewelry options, from 14k to 18k solid gold to high-quality implant-grade titanium. All of the piercing jewelry has flatback titanium labrets for a secure yet comfortable fit — another plus for me.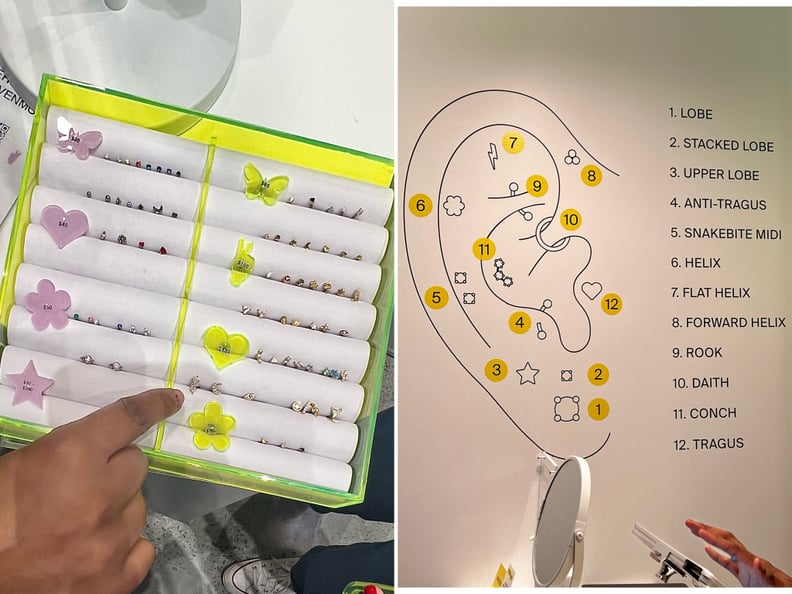 When I first walked into Studs at the Hudson Yards location in New York City, I instantly loved the vibe. It's fun, playful, and trendy; the staff were very welcoming. First things first, I had to check in and sign a waiver. Then I was shown the store's expansive collection of piercing-grade jewelry, and I was impressed. Most other piercing places I've been to did not have this many stylish options. This was a catch-22 for someone who loves to have options but is also quite indecisive. Luckily, the staff were super helpful in narrowing down my choices according to the look I was going for and my goals. Plus, with so many trendy and stylish picks to choose from, you're less likely to want to prematurely change out your earrings and risk infection.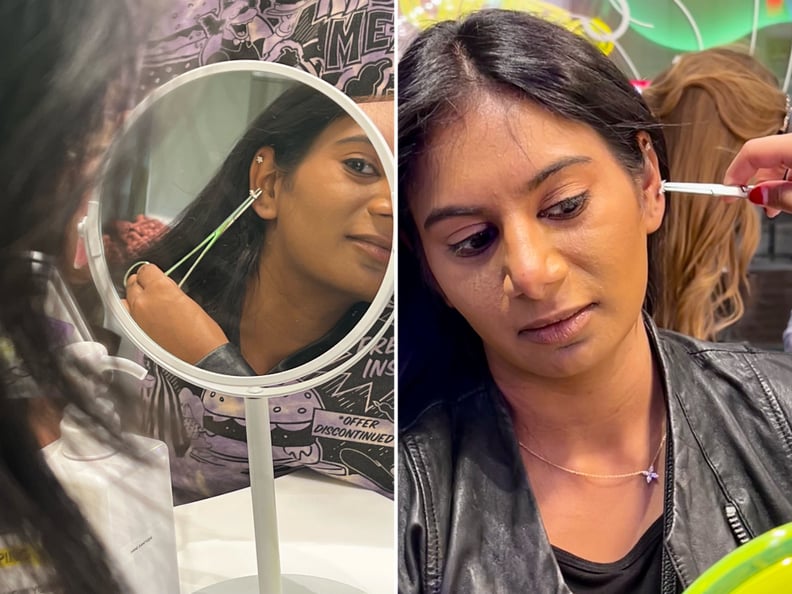 For the longest time, I've wanted to redo my third hole piercing. When I had first gotten it done, it got infected within a few weeks. As a result, it ended up scarring and forming a small keloid on the back of my ears. Once the keloids formed, I pretty much gave up on getting it repierced or that even being a possibility. But when I talked to Studs's expert piercer Jessica Gonzalez-Gaxiola about the situation, she told me it was actually possible to pierce close enough and right above my closed-up third hole so that it's hidden without disrupting or interfering with the keloids in the back. What made me feel even more comfortable with the experience was how many detailed and thoughtful questions Jessica asked about my previous piercings so she could give the best advice and suggestions for my needs. I opted for the small crown marquise 14k piercing stud since it was big enough to cover my closed-up third hole.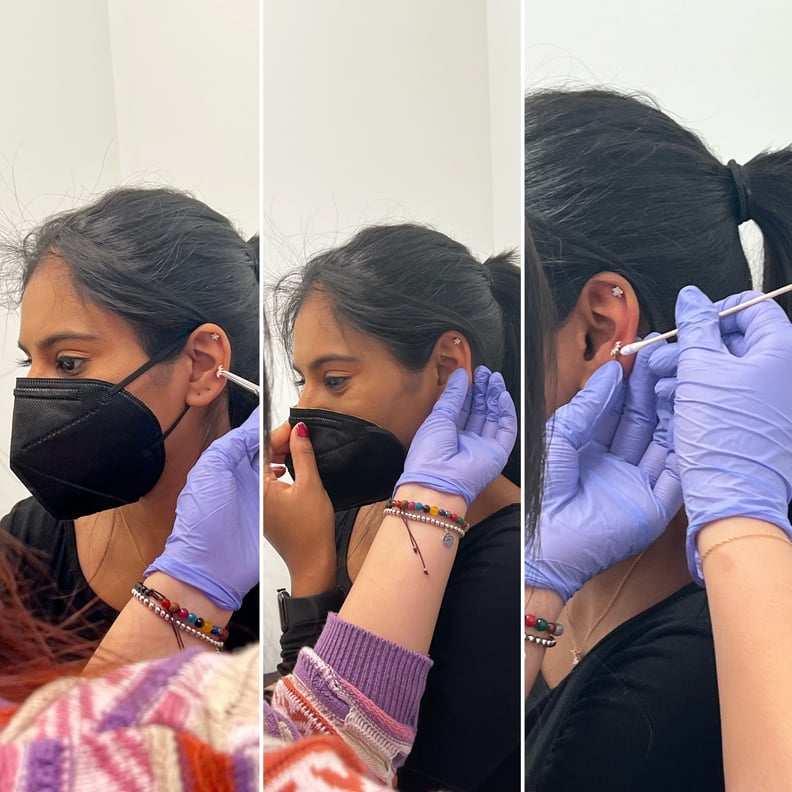 When I got to the piercing rooms, masks were mandatory and hair had to be tied up. I also took my other two sets of earrings out from my lobes to keep the area clean and less congested. Jessica cleaned and disinfected my ears with alcohol wipes. Then she marked a small dot where the needle would go and double-checked the placement with the actual piercing jewelry. She even measured the exact distance of the potential piercings on both ears to make sure each side matched and was symmetrical. Once I approved everything, we got started. She told me to take one giant breath in, pierced my ear, then had me exhale. That was it; easy, painless, and quick. She placed the earring in, secured the back by pressing it in, and cleaned up the area with a cotton swab. We repeated the process on the other ear, and within five minutes, I was admiring and enamored by my new piercings.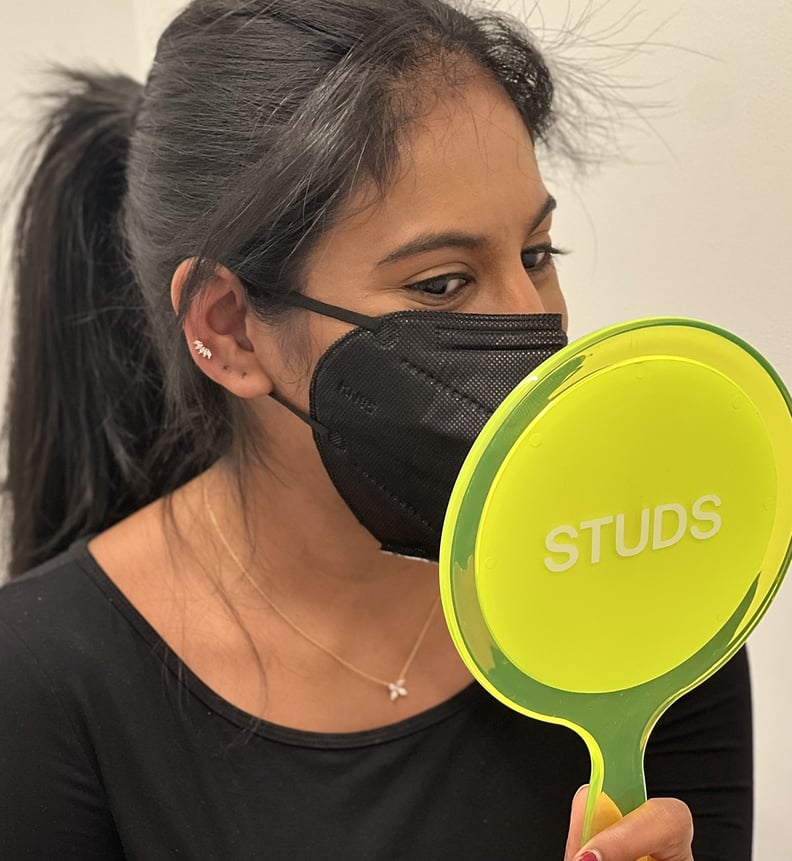 I was given a comprehensive post-care guide, which includes what piercings I got, the healing time for them, and my gauge size. It also has a list of post-care best practices, like keeping it clean with saline solution twice a day, not sleeping on the side where your piercings are, being aware and careful of snagging, and avoiding pools and oceans for two weeks. Studs is a safe and clean place to get a piercing done with knowledgable experts who know what they are doing. Jessica and the rest of the Studs staff were happy to answer all post-care piercing questions I had, as well as help me style an earscape that's very much me. It was clear from the first step I took: the brand is more than just cute and trendy earrings, it's a fun experience as well.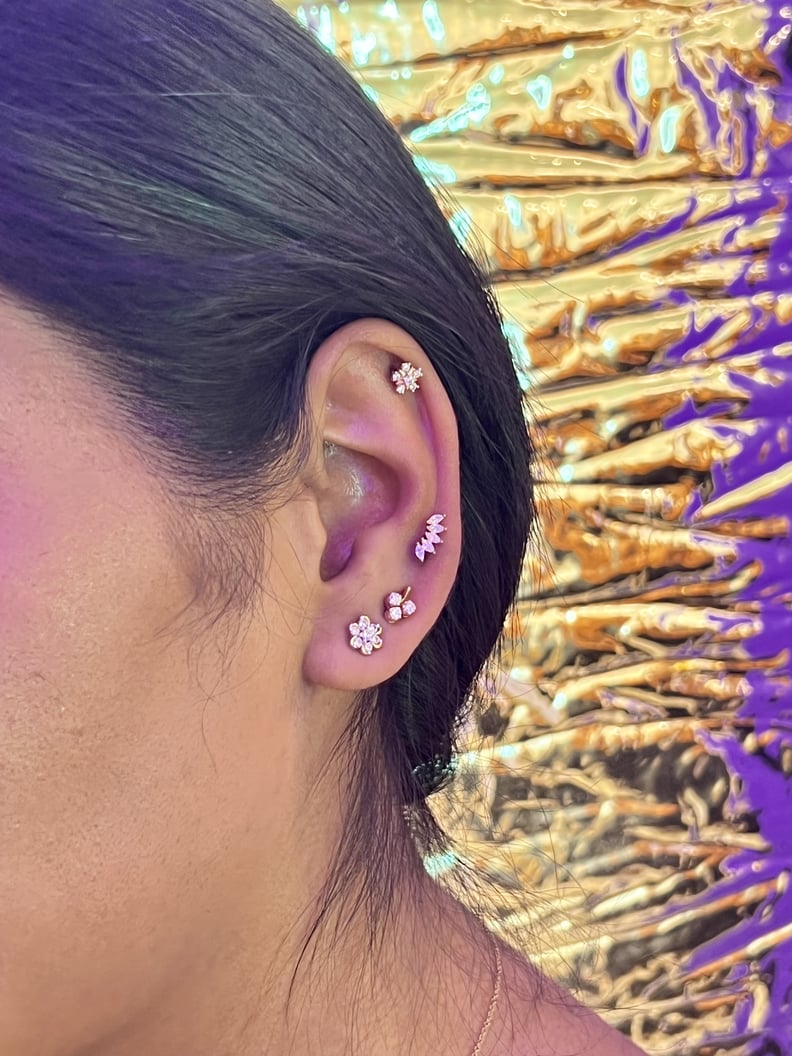 Ratings:
★★★★★
Studs has locations in New York City, Los Angeles, Austin, Massachusetts, Miami, and Nashville. If you're interested in getting your ears pierced or getting the perfect earscape for you, book your appointment here. You can also shop some of its stunning earrings ahead. I even found a few that are similar to my curated ear, like the CZ Bezel Triad Flatbacks ($28-$56), the CZ Cluster Stud Flatbacks ($28-$56), and the CZ Flower Stud Flatbacks ($26-$52).
If you're looking to achieve that earscape look at home, Studs has several curated earscape sets you can buy right now, like the Gold Color Crush Set ($88, originally $114), the Silver Color Crush Set ($88, originally $114), the Groovy Set ($118, originally $152), and the Galaxy Set ($108, originally $136).