As POPSUGAR editors, we independently select and write about stuff we love and think you'll like too. If you buy a product we have recommended, we may receive affiliate commission, which in turn supports our work.
I already have a pretty intense hair-care routine, but I'm always looking for ways to improve it, whether that's using less heat, trying out new products, or testing various hair hacks. I've been in LA for most of the summer, and I've noticed the water here is different from the water in San Francisco, where I usually live. My hair has felt dry and straw-like almost every single time I wash it, and products that normally leave it feeling silky smooth in San Francisco don't always do the trick in LA. So when I swiped onto a TikTok hair hack that promised super-shiny and soft hair, my interest was immediately piqued.
In the video, TikTok user Audrey Victoria showcases the hair-care routine that leaves her hair shinier than a new car off the lot, and when I tell you her results make the "liquid" hair trend look like child's play, I'm not kidding. The reflection was blinding. The video has over 1.4 million likes so far, and tons of commenters said it worked for them, so I decided to try out the hack for myself.
Typically, when it's time to wash my hair, I start out by doing a scalp treatment and a hair mask while my hair is still dry. From there, once I'm in the shower, I shampoo my hair twice (upside down — I told you, my routine is intense), focusing on the scalp, and then I apply conditioner to just the ends of my hair. After letting the conditioner sit for anywhere from two to 10 minutes, I rinse everything out with cold water.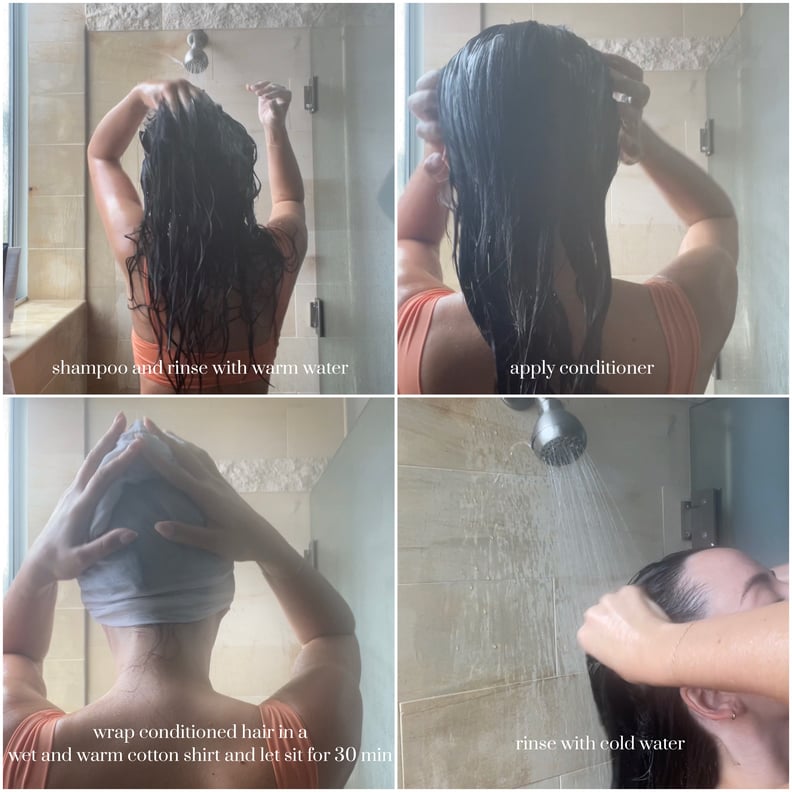 To test this hack, I needed a wet and warm cotton T-shirt, so I had to bring one into the shower with me. To start, I shampooed with the R+Co Bleu Essential Shampoo ($59) like I normally would (except just once instead of twice), then I rinsed it with warm water. Then I applied the R+Co Bleu Essential Conditioner ($59) and combed through my hair with my fingers. From there, I took my cotton T-shirt and soaked it in the hot water from the shower, wringing out any excess so it wasn't dripping. Next, I wrapped my hair in the T-shirt and stepped out of the shower to let it sit for 30 minutes. To help me keep track of time, I set an alarm and moseyed around my house for a half hour. Once the timer went off, I hopped back into the shower and rinsed my hair using cold water.
Letting my hair sit in the T-shirt for 30 minutes was definitely the most annoying part of the entire process, but having to get into a cold shower after hanging around my house with a wet T-shirt on my head was a close second. I usually try to switch the water from hot to cold every time I wash my hair anyway, but there's something about getting into a shower that's already cold that was absolutely not fun.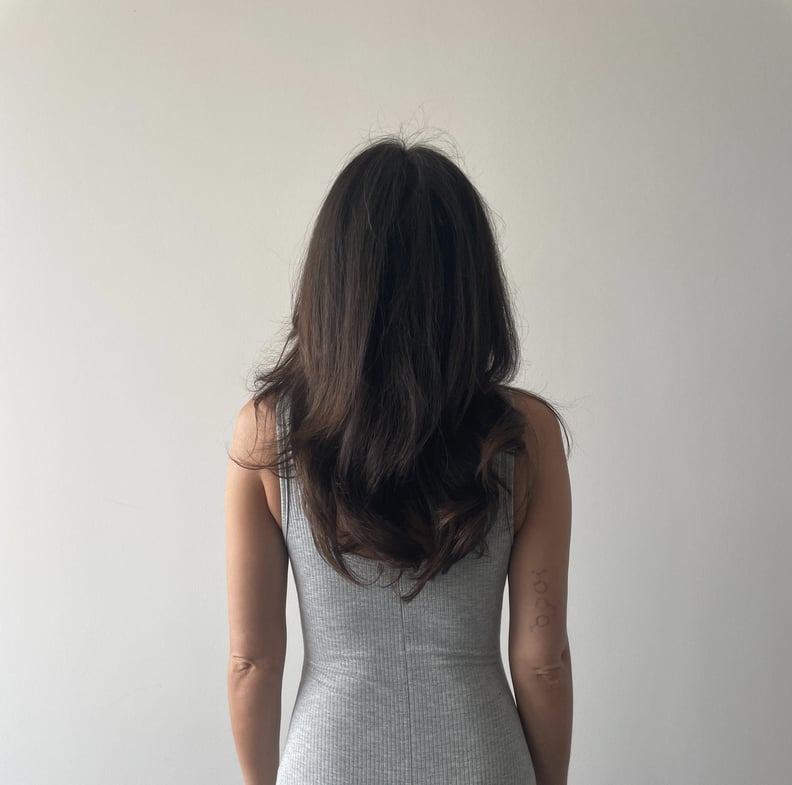 I considered letting my hair air-dry after testing this hack, but since I only wash my hair twice a week at most, I needed to style it so it would last me through the next few days. However, other than using a heat protectant, I decided not to prep my hair with any other products because I wanted to see if the hack truly worked.
I gave myself a blowout using my regular Dyson Airwrap, and I noticed while I was styling my hair that it felt softer than it usually did. Once everything was dry and styled, I took a few minutes to survey my results in the mirror and noticed my hair also looked shinier than usual. The real test was asking my boyfriend, who is extremely well-versed with the health of my hair (although not by choice), if he noticed a difference. When he agreed it was extremely soft, shiny, and definitely better looking than usual, I knew the hack had worked.
Although I don't plan to use this trick every single time I wash my hair (who has that kind of time?), I definitely will for special occasions. If you've been dealing with dry, dull hair, this hack is worth a try.