TikTok and Instagram Are Changing the Definition of Beauty Professionals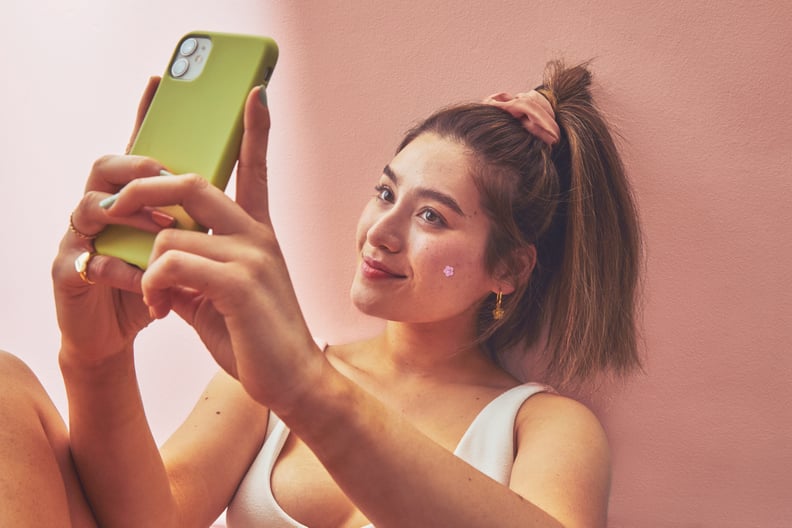 POPSUGAR Photography | Matthew Kelly
POPSUGAR Photography | Matthew Kelly
If you asked most people what they do as soon as they wake up or right before they go to sleep, they'd probably say check social media. Apps like Instagram and Twitter have quite the hold over our lives, but they still don't compare to the effect that TikTok has had on society. With 78.7 million users in the US on the video-sharing app, it's become the platform of choice for professional and amateur content creators alike. On the app, you can find at-home chefs, experienced fashion stylists, financial whizzes, and pretty much any other type of expert you can think of, but none of these categories compare to the vast number of beauty pros on the app.
Because of its format and the opportunity to reach millions of people, TikTok has become the new favorite platform for beauty creators of all backgrounds and skill levels. You can find influencers recording from their bedroom set ups of ring lights and iPhone stands rating new products, trying the latest hacks, and answering questions from followers right up there with seasoned veterans who boast a list of celebrity clientele. But the ease in which people can go viral overnight and gain millions of followers makes you wonder: with the potential to make it big through social media, is there any reason to seek professional training anymore?
"Nowadays, people aren't trained the way other people were trained back in the day," celebrity hairstylist Tracey Cunningham tells POPSUGAR. "Now, you can become more famous quickly with Instagram and a curling iron." What many aspiring beauty influencers lack in professional experience is made up for in passion and determination. You have self-taught hair, makeup, and nail enthusiasts as young as teens setting trends with their video content at night while attending high school and college classes during the day.
"It was just rejection, rejection, rejection, rejection, and I just thought, Oh my goodness, I'm never going to get the chance."
That's how Mikayla Nogueira became famous on TikTok. With 9.6 million followers on the app, Nogueira is one of the most followed makeup artists on the platform, but she originally went to college for communications. She got her start doing makeup over a decade ago after shadowing a special-effects makeup artist just for fun while working at a haunted house. While studying at school, she tried applying to be a makeup artist for a number of different brands. "It was just rejection, rejection, rejection, rejection, and I just thought, Oh my goodness, I'm never going to get the chance," she says. But then Ulta Beauty hired her after her fourth time applying.
Unfortunately, shortly after that, the COVID-19 pandemic shut down her university and she was laid off from her job at the beauty retailer. That's when she decided to join TikTok. "I had tried time and time again to pursue my dream as a beauty content creator. I had done YouTube back in 2014. I had a beauty Instagram for as long as I can remember. Nothing was happening for me," she says. "But with TikTok, I went viral with my very first video, and then I proceeded to go viral with every single video I posted thereafter." Since then, she's scored countless brand partnerships, her own makeup collection, and has even gotten the chance to work with celebrity professionals like Chris Appleton.
Shelby Swain, Lizzo's go-to hairstylist, finds herself in awe of this "new generation on TikTok" every day. Swain originally got a degree in psychology before later going to cosmetology school and then opening her own shop. As a hair sculptor herself, she says that she's seen creators on the app come up with hairstyles that she never would have thought of herself. "We're in a new day of hair and just playing with hair, and just being just as creative as possible," she says.
Going the nontraditional route to breaking into the beauty industry isn't new, though. Celebrity makeup artist and queen of the "dewy dumplings" Nam Vo got her start doing makeup for brides and adult dancers before breaking into the editorial and celebrity side of the business. She had no prior training — just natural-born talent — and she too credits social media for her fame. She joined Instagram in 2016 and has been "riding the social media train ever since." Vo saw Instagram as a way to show off her work without needing an agency to do it for her. "Social media has been really good for me because I am a sharer," she says. "I have my own point of view — I literally feel like I'm my own magazine."
This isn't all to say that cosmetology school isn't important. In fact, "the school is busier than ever," says Andrew Arrojo, the digital director of Arrojo Cosmetology School in New York City. Still, there's no denying that TikTok has certainly changed the industry; although, at this school, they view that as a positive thing. Not only does it lend exposure when students display their work and garner a following on TikTok, but it better sets them up for success post-graduation. "Social media, in general, gives young people an opportunity to create money for themselves," says Arrojo. "The ability to create a personal brand gives young people confidence that they can make it anywhere they go."
Social media is also a great way for people unable to attend a professional program to showcase their talents from wherever they are, making it infinitely more accessible and inclusive to all. "We're used to seeing beauty and makeup people who are in LA or New York, but the beauty-content creators [on TikTok] that I watch today are in Canada; they're in Florida; they're in Texas; they're in Massachusetts," says Nogueira. "They're all over the place."
The accessibility of social media also allows people who would have never been able to pursue cosmetology school to get in on the action by just owning a cell phone, which is the case for Nogueira. "I went to college on a scholarship, but for beauty school, I was just never able to afford it," she says. "I also just didn't have the support from those around me." Though he's not an aspiring beauty professional, Khalil Battle, the 17-year-old founder behind the natural hair-care brand KingCurls, feels similarly. He grew a following of 1.1 million followers on TikTok with his hair-care videos before creating his own product line. "Social media has helped change the overall idea of the beauty industry," he says. "It really helped people feel comfortable in their own skin doing what they love to do."
"The ability to create a personal brand gives young people confidence that they can make it anywhere they go."
To Nogueira, whether or not you need professional schooling comes down to what you want to get out of your career. "If you're trying to be a beauty content creator and you have a talent that you want to share with the world, you don't need that license at all," she says. But if you're interested in becoming a professional makeup artist in addition to creating content, "the nice thing about having that license is you're taught so much that maybe you wouldn't learn on your own."
On a very basic level, cosmetology schools won't be going away anytime soon because beauty is a licensed industry. "If somebody wants to be a professional stylist, they have to go to cosmetology school," Arrojo says. But also, because hairstylist and makeup artistry are very technical, the knowledge and training you get in cosmetology school is invaluable. "The most successful hairdressers are hairdressers that do a lot of training — they do a lot of education. Social media has created this opportunity where you can become an instant star and get successful very quickly. The challenge is, it's only going to be a very, very small number of people that manage to break through that kind of glass ceiling."