I Tested TikTok's Viral Rainbow Makeup Hack: See the Photos
I Tried the Viral "Rainbow" Makeup Hack to See If It Really Works
As POPSUGAR editors, we independently select and write about stuff we love and think you'll like too. If you buy a product we have recommended, we may receive affiliate commission, which in turn supports our work.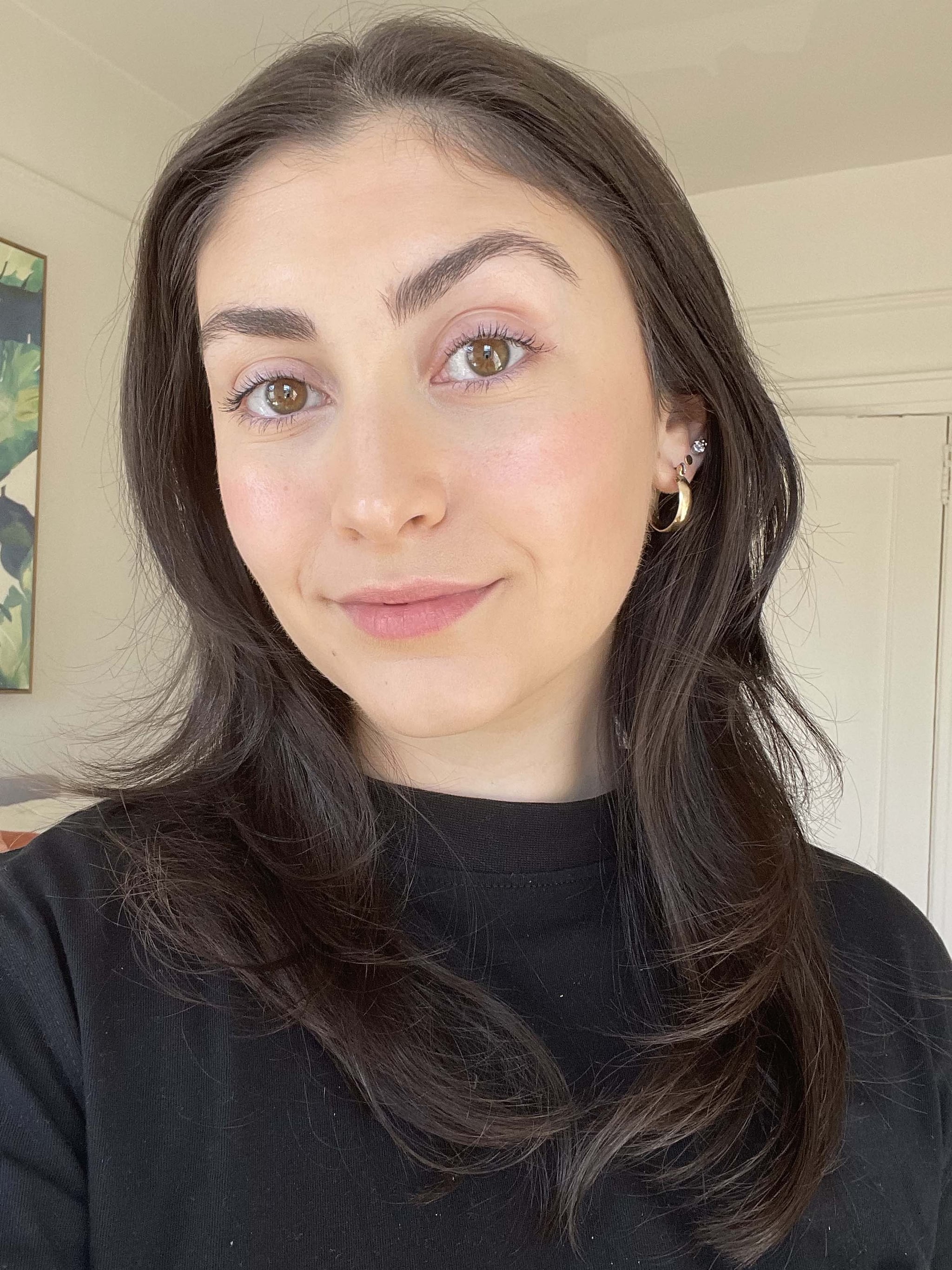 I tried the "rainbow" contouring hack from TikTok.
The makeup trend involves stacking your concealer, blush, and cream bronzer before blending.
See our editor's before and after using the viral makeup technique.
I'm a sucker for a new makeup hack. Anything that can make my life easier, help me perfect my skills, or cut down on the time I'm spending getting ready in the morning, I'm game to try. That's how I ended up testing the five-minute makeup hack, the concealer facelift trick, and the dot contouring technique. That's also why there wasn't a doubt in my mind that I was going to test the viral "rainbow" contouring trend that's circulating on TikTok.
With this makeup trend, you apply your concealer, blush, and contour all at once. The method in which you apply the three products somewhat mimics the shape of a rainbow. Strange? Yes. But from the video, it looked like it worked, so I gave it a go. It's a similar concept to the five-minute makeup hack, which also involves applying all of your base products at once to save time.
The creator in the TikTok video used all cream products, so I stuck to that theme. I used three tried-and-true products: the LYS Beauty Triple Fix Brightening Concealer ($18), Victoria Beckham Beauty Cheeky Posh Cream Blush Stick ($42), and Rare Beauty Contour Stick ($23).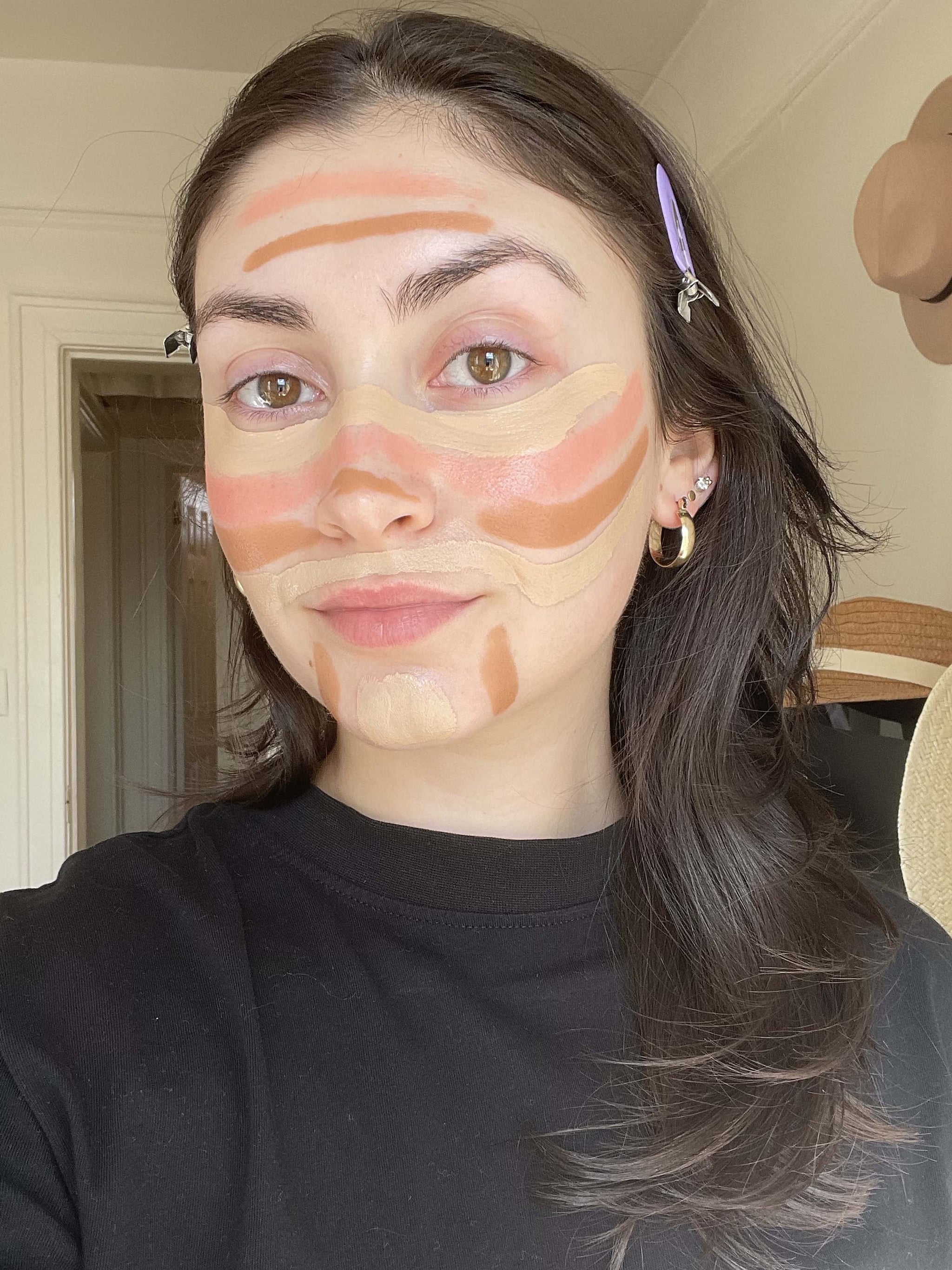 I started by applying my concealer under my eyes, extending it from my temples and across my nose. Then, under that, I applied my blush to the apples of my cheeks and over the bridge of my nose. I carried the blush up slightly at an angle to help lift my cheekbones. Next came my cream contour, which went directly under my cheekbones but slightly above the hollows of my cheeks. Another strip of concealer went under the contour to brighten the lower half of my face.
For my forehead, I followed the video and applied my blush in a crescent shape along my hairline and my cream bronzer directly under it. Then, on my chin, the creator in the video put concealer in the center of her chin and bronzer on either side.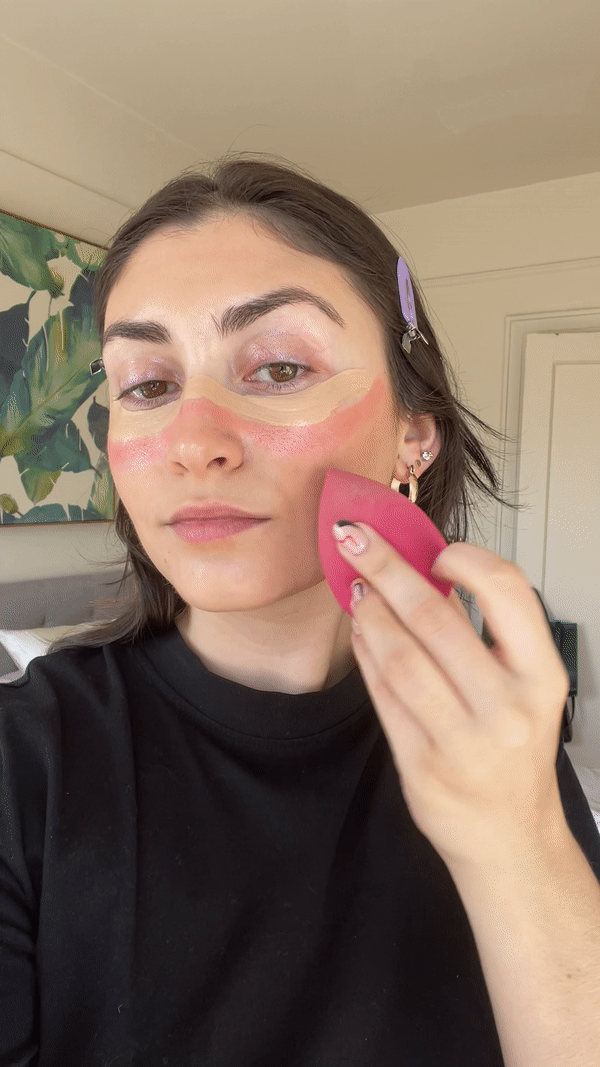 My initial thoughts: why is there blush on my forehead? It kind of looked like Neapolitan ice cream — or like a child had gotten to me with face paint — but I digress. To blend, I grabbed a setting spray — the Charlotte Tilbury Airbrush Flawless Setting Spray ($35) — and gave my face a good spritz to saturate the different pigments on my face. Then, it was time to blend.
I assumed the rainbow contouring hack was going to be a nightmare to blend, but spraying my face with the makeup spray helped make it a breeze. I used a makeup sponge in quick, dabbing motions — I made sure not to drag it across my face to keep anything from smearing. I started with the concealer on the lower half of my face and worked my way up to the bronzer. Leaving the blush and undereye concealer (for now), I moved on to my chin, followed by my forehead. Then, I circled back to my cheeks. Why did I do it in this order? I don't know, but it felt right at the time.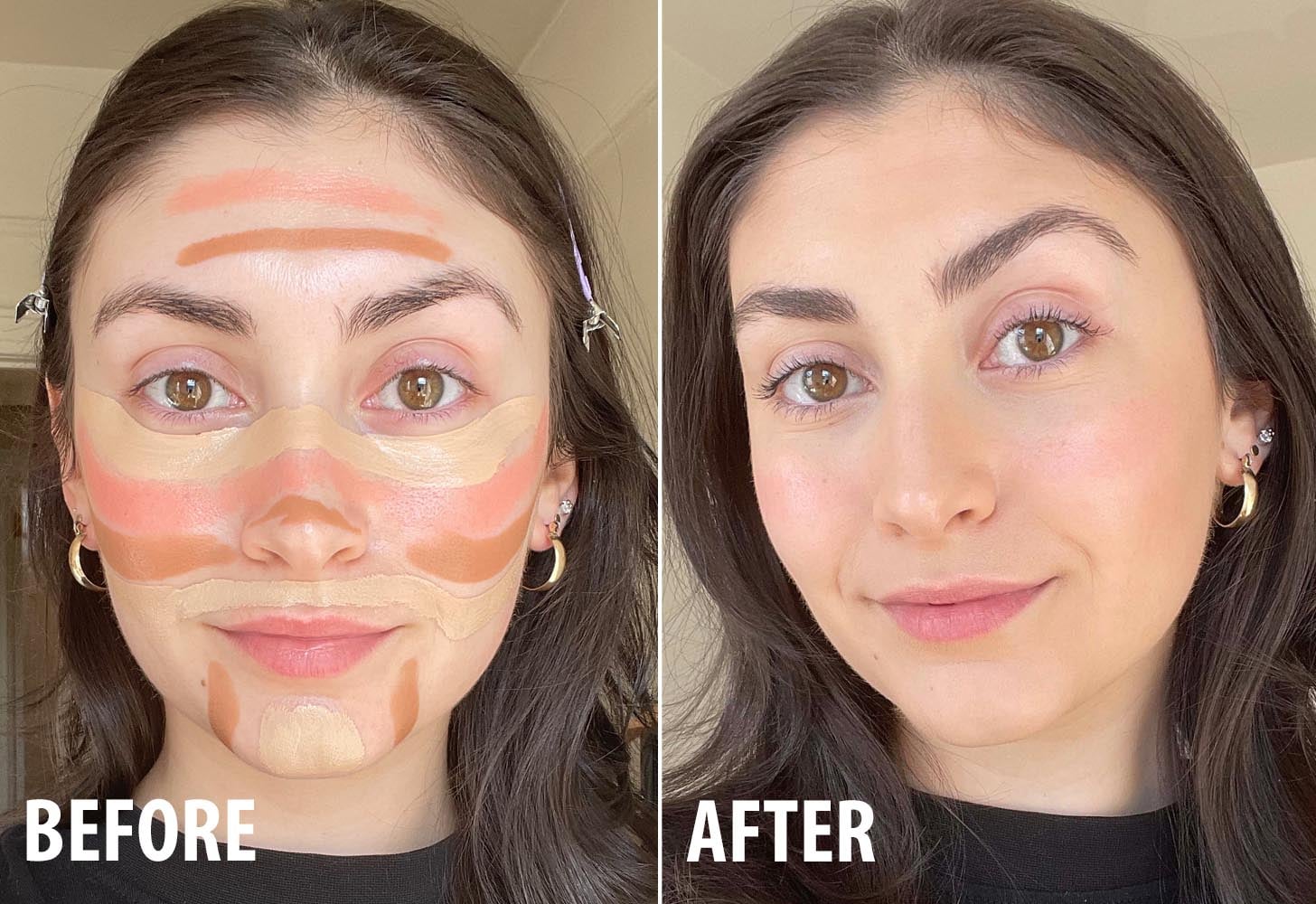 I was shocked by how easy the different products were to blend. I had no issues getting the dark contour to mix seamlessly with the peachy blush and beige-toned concealer. It took maybe five minutes tops to apply the swipes of makeup and blend them. My makeup looked good — great even. Despite not putting on any foundation, I was able to get smooth, even coverage with my other products. In terms of sculpting and highlighting, the results were minimal, so it's not the best hack for getting a chiseled face. But if you're someone who wants a natural look, it's great.
The only part I would probably change if I were to do it again would be the blush placement. I typically like my blush on the high points of my cheeks to give my face some lift — putting it directly on the apples of my cheeks added a lot of color to the center of my face, which made me look flushed. I finished off my makeup look with some highlighter, brow gel, and mascara and was done. Consider me impressed.
Image Source: POPSUGAR Photography / Jessica Harrington