Wander Beauty Baggage Claim Eye Masks Review With Photos
Wander Beauty's Eye Masks Are Super Luxe — and Won't Slip Off Your Face
As POPSUGAR editors, we independently select and write about stuff we love and think you'll like too. If you buy a product we have recommended, we may receive affiliate commission, which in turn supports our work.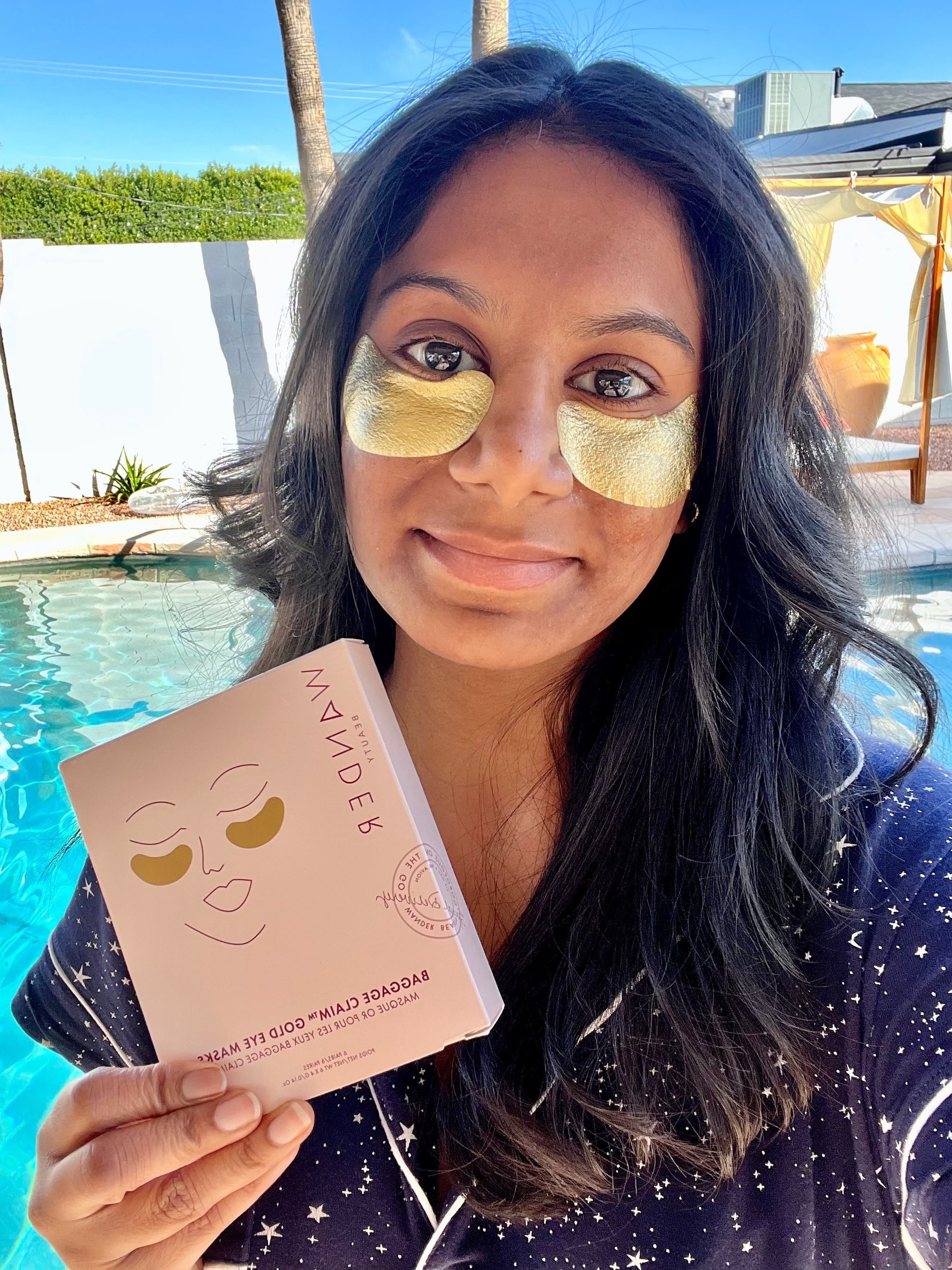 As someone who considers self-care to be giving myself a fun facial every day, eye masks are a little extra something I love to incorporate into my skin-care routine. I don't use them every day, morning and night, but rather when I feel like my undereye area needs some extra love, especially when I want to alleviate dryness around my eyes. As much as I try to prioritize sleep, my undereye area tends to give the appearance of perpetual exhaustion with its stubborn bags and puffiness. During the winter and allergy season, that area becomes even more sensitive and dry. Although I add an extra layer of moisturizer or a rich eye cream to the affected area, I love going the extra mile and using eye patches for a deeply hydrating treatment. I've seen the Wander Beauty Baggage Claim Eye Masks ($26) all over social media for years, with plenty of rave reviews. And as someone who loves a luxe moment, I knew I had to test out these internet-famous eye patches and see what all the hype is about.
About the Wander Beauty Baggage Claim Eye Masks
They help to depuff and brighten the undereye area, reduce the appearance of fine lines and wrinkles, and hydrate and soothe the area, prepping the skin for smooth makeup application.
These eye masks contain calendula extract, hyaluronic acid, a blend of 17 amino acids, and aloe leaf extract to hydrate and calm the area. Camu extract brightens the eyes for a more awake appearance.
They are formulated for all skin types.
The product is cruelty-free, gluten-free, vegan-friendly, BPA-free, and free of parabens, phthalates, synthetic fragrance, and mineral oil.
Each box contains six pairs of individually sealed eye patches.
You can choose from three luxe colors: gold, rose gold, and a limited-edition fuschia.
What I Like About the Wander Beauty Baggage Claim Eye Masks
My one major gripe with eye masks, in general, is that they always slip off my face unless I'm lying down. It prevents me from multitasking, whether it's getting some errands done, enjoying a good book, or catching up on TV shows. Plus, the feeling of eye masks slipping off your face isn't relaxing. Wander Beauty's Baggage Claim Eye Masks are the only ones I've tried that don't slip down my cheeks. They stay put until I decide to take them off, even when I'm talking. The eye patches are unique compared to others on the market because they have a three-layer construction that helps prevent serum evaporation and also limit the eye masks from slipping off your face, ensuring proper absorption of the skin-care ingredients.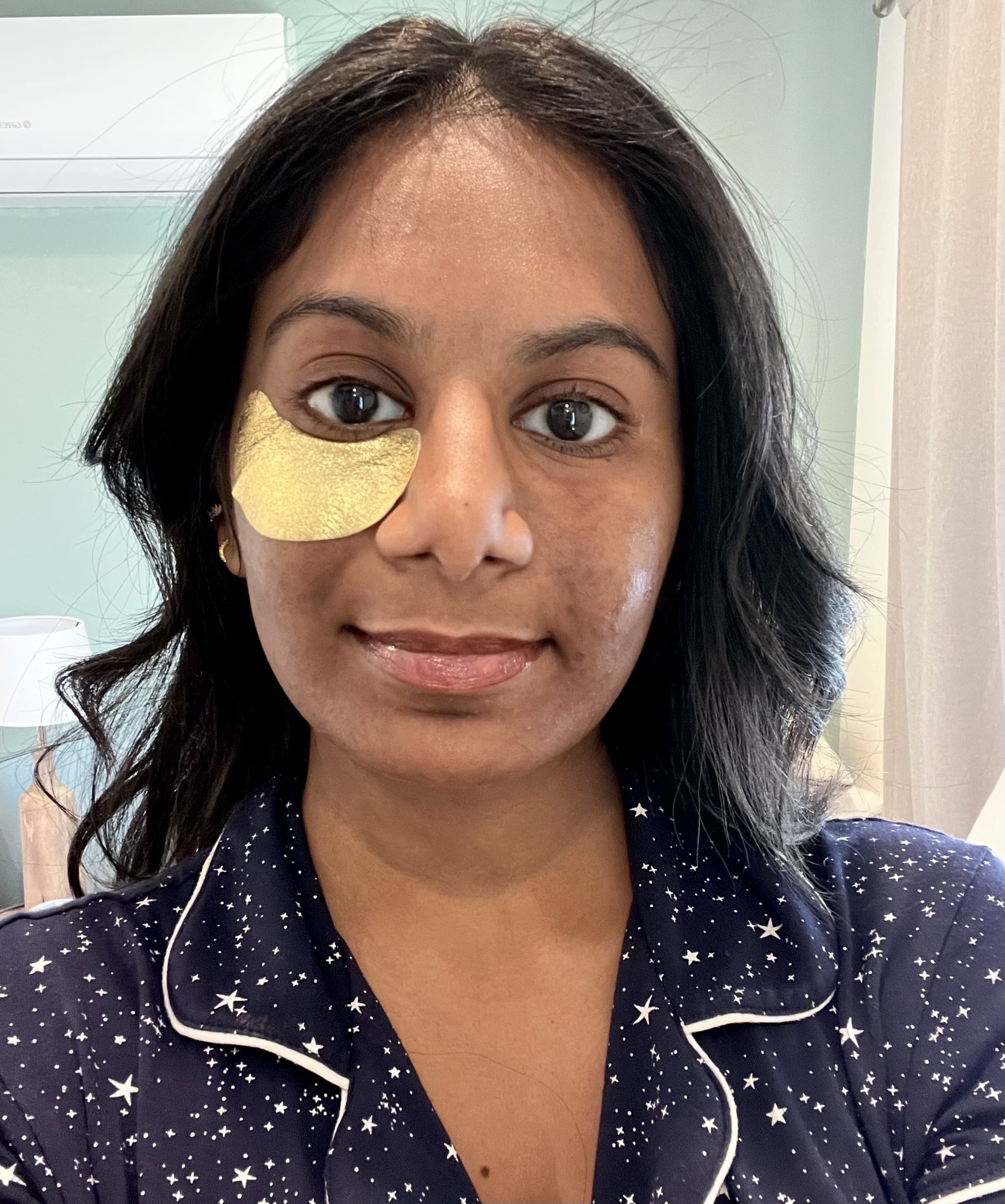 The Baggage Claim Eye Masks are soaked in a deeply hydrating serum that helps reduce the appearance of puffiness and gives a more awakened appearance. When I use these eye patches, there's a subtle but noticeable change in my eyes. As you can see on the right side of my face, I look more awake and less tired and exhausted, my eyes are less puffy and more wide-eyed and bright, and my undereye area has a healthy glow. You're supposed to leave these eye patches on for 10 to 15 minutes, but even when I keep them on for longer, they don't dry out. I've actually accidentally fallen asleep with them on a few times and woken up with a rested and revitalized look. The individual packets make them easy to travel with and use on flights, just like their name claims. I use them when I'm getting ready for a party or an event, when my undereye area feels too dry, or when I just feel like pampering myself.
How to Use the Wander Beauty Baggage Claim Eye Masks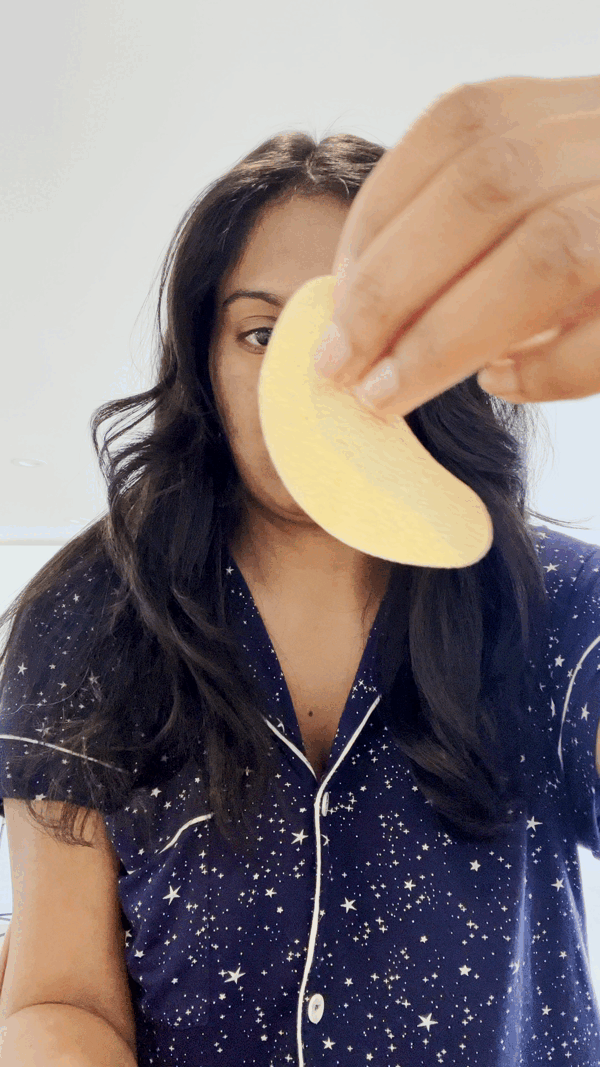 The Wander Beauty Baggage Claim Eye Masks are simple to use. Once you have cleansed and dried your face, you can place each eye patch on your undereye area, with the foil side facing out and the white cellulose fiber side touching your skin. These eye patches are drenched in serum, so I like to take the extra serum from the packet and pat it on the rest of my skin for an extra boost of hydration. After 10 to 15 minutes (or longer, if you wish), you can remove the patches, pat the excess serum into your skin, and continue your skin-care routine.
If your skin runs dry, I recommend spritzing your face with a hydrating toner before putting these eye masks on so the rest of your skin is hydrated as well. You can also use these eye masks while multimasking to treat other areas of concern. Need to handle a breakout? Apply a clay mask or an acne patch while you keep your undereyes hydrated. To really amp up the experience of the Baggage Claim Eye Masks, I like to store them in the refrigerator (or a mini skin-care fridge if you have one). This delivers an extra relaxing, cooling feel that helps to combat puffiness. Another great tip is to use a facial roller, like the editor-favorite Skinny Confidential Hot Mess Ice Roller, or your fingers to give yourself a calming massage that helps relieve tension in the area.
What to Consider Before Trying the Wander Beauty Baggage Claim Eye Masks
Just like any other eye masks, these offer a temporary fix for reducing the appearance of puffiness and fine lines, as well as hydrating and brightening the undereye area. If you deal with these issues often, it's best to use targeted eye creams for dark circles or color-correcting techniques when applying makeup and supplement with these eye patches. Although they are a luxe pick-me-up, they're not an absolute necessity to have in your everyday routine. However, if your daily dose of self-care involves eye patches, the Baggage Claim Eye Masks are worth it. I don't use eye patches every day, but when I do use them, the Baggage Claim Eye Masks are one of my go-tos.
Where Are the Wander Beauty Baggage Claim Eye Masks Available?
The Wander Beauty Baggage Claim Eye Masks are available at Nordstrom, on the brand's site ($26), Amazon ($26), and Sephora ($26).
Rating

Image Source: POPSUGAR Photography / Anvita Reddy