What Is a Keratin Treatment? A Hairstylist Breaks It Down
What Is a Keratin Treatment? A Hairstylist Breaks Down How the Smoothing Treatment Works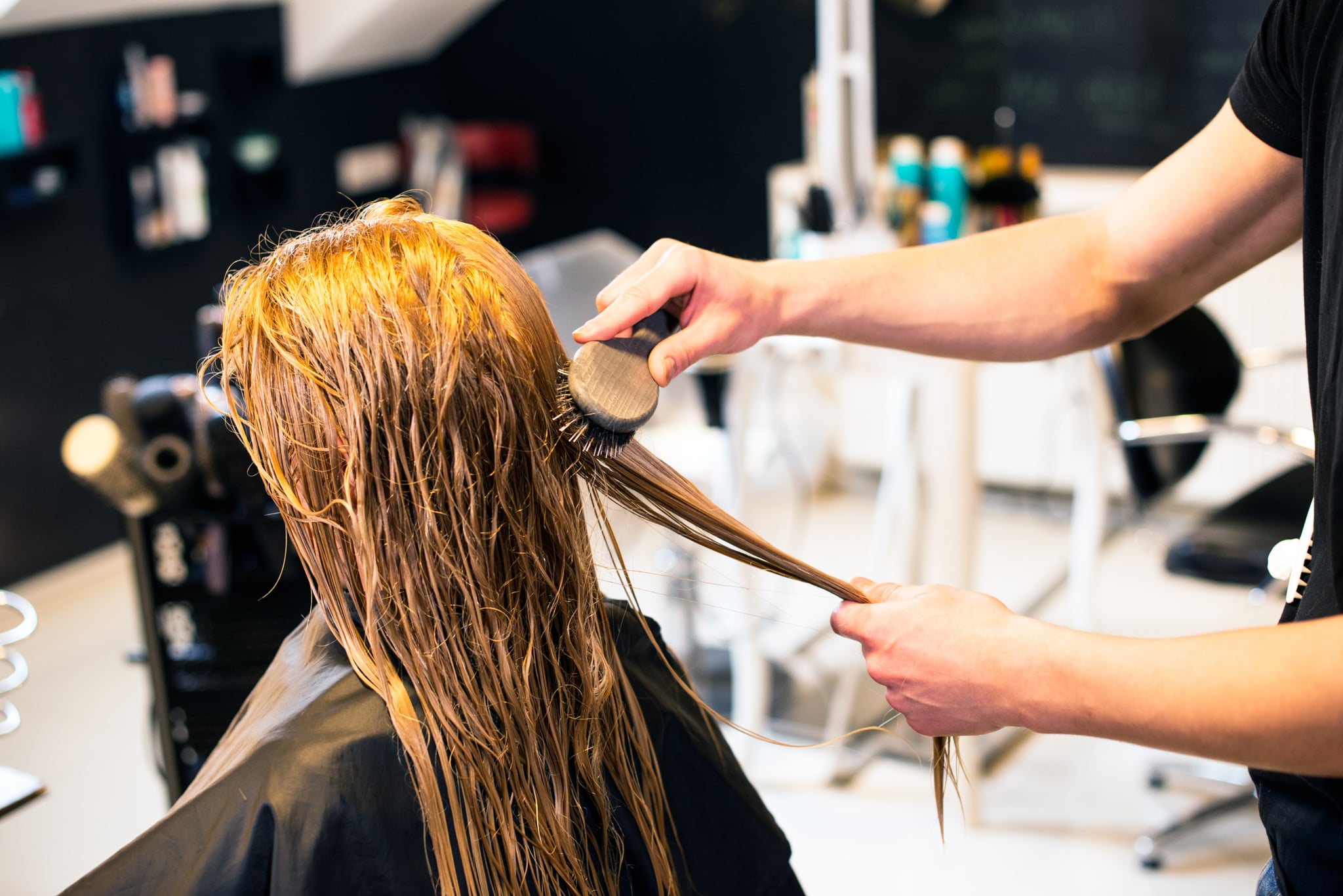 A keratin treatment is a popular service you can get at the hair salon.
The smoothing treatment minimizes frizz and leaves hair feeling soft.
Keratin treatments work by sealing the cuticle for up to three months.
If you've ever looked at the service menu at a salon, you probably found some treatments listed that you've never taken advantage of or didn't know existed. Aside from the standard cut, color, and blowout, many hair salons offer additional services, like a keratin treatment.
Keratin is a protein and essential for healthy hair, skin, and nails. At the salon, it's a popular smoothing treatment that gives you silky-soft hair with loads of shine. You've probably heard of it before, or perhaps you know someone who's gotten in done, as it's been around for quite some time.
"Although it is not a straightening treatment, it does relax the curl pattern and takes away 100 percent of frizz," Nylza Yepez, a hairstylist at Jenna Perry Hair Studio in NYC, told POPSUGAR. "It seals the hair cuticle with a coat of protein, which adds shine, eliminates frizz, and makes your hair very soft."
What Are the Benefits of a Keratin Treatment?
Because a keratin treatment chemically smooths the cuticle, it delivers long-lasting results, unlike at-home products that promise the same frizz-free benefits, which only work for a few hours or days. "If you have frizzy, dry hair, it helps it to become more manageable, healthy, and shiny," Yepez said. "Any curl patterns will get more relaxed, and your hair will dry faster."
The results last up to three months, but the longevity of the treatment depends on your hair habits. You have to use sulfate-free products, and "the more you wash [or] go in the pool or ocean, the shorter the results will last," she said.
What Is the Process Like For Getting a Keratin Treatment?
There are different types of keratin treatments, and the options are often dependent on the salon. Where Yepez works, they use a one-day formula: "First we use clarifying shampoo twice, then we dry with a flat brush, apply the product, dry again, and finally seal the product with a flat iron," she said.
The process doesn't end there — in order to see the full benefits, there are some important after-care steps you need to follow. "After the treatment is finished, you need to avoid getting your hair wet, and you can't braid, style, or use clips or scrunchies. Essentially, you can't do anything that could modify the shape of the hair for 24 hours."
If you're familiar with a Brazilian blowout, a keratin treatment may sound very similar, but the main difference is how long each lasts. Yepez explained keratin treatments are "softer" (read: gentler) and last a shorter amount of time.
What You Should Know Before Getting a Keratin Treatment
While the longterm, frizz-fighting benefits of a keratin treatment may sound appealing, there are a few things you should know before blindly signing up. To start, the smoothing treatment isn't recommended for thin, fine, or overprocessed hair. "Some keratin treatments can be stronger than others and contain harsh ingredients or carcinogens," Yepez said. "It's very important that only a professional is handling these products as they have the proper training. It is also very important the treatments are done in a well-ventilated area and a mask is worn to prevent inhaling the fumes."
Yepez added that your hair needs to be strong enough to take the treatment, so you should consult with your stylist beforehand to ensure you're a good candidate (and to make sure your expectations for the final result are within reason). "It's very important to review the health of the hair first to make sure it's not too fragile for heat since heat is what seals the product in," she said. "I always highly recommend a trim to get rid of any split ends caused by heat."
And aside from that, you want to make sure a keratin treatment is a good fit for your hair type and lifestyle, because it's not cheap and you don't want to waste your money.
Can You Do Keratin Treatments at Home?
Like with most beauty services, there are at-home versions available that allow you to perform the treatment yourself from the comfort of your bathroom. At-home keratin treatments aren't as strong as professional-grade ones, but they can help you achieve some of the same benefits (like smoothness). DIY keratin treatments come in many different forms, from shampoos and leave-in sprays to treatments that you apply with a brush and flat iron into your hair, similar to the salon version. If you want to test out the smoothing treatment before committing to the real deal, at-home products can be a great option.