Considering Copper Hair? Here's Everything You Need to Know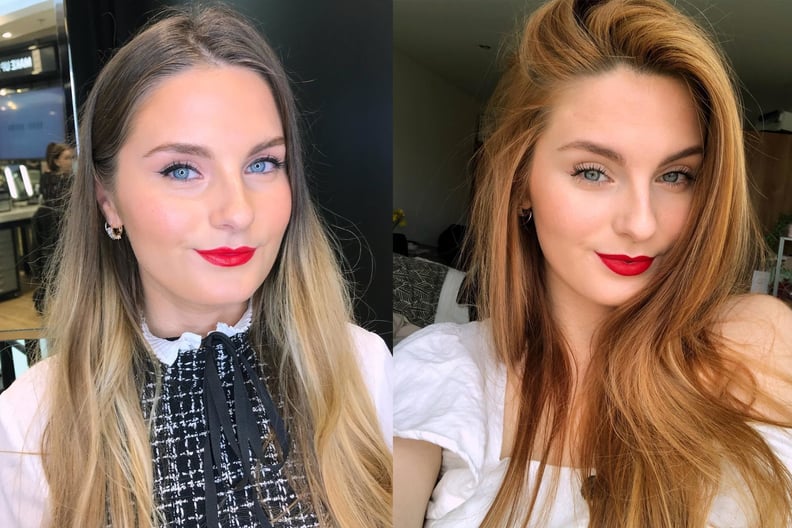 POPSUGAR Photography | Tori Crowther
POPSUGAR Photography | Tori Crowther
As POPSUGAR editors, we independently select and write about stuff we love and think you'll like too. If you buy a product we have recommended, we may receive affiliate commission, which in turn supports our work.
If you're one to lose a few hours scrolling through photos of beautiful hair colors on Instagram, join the club. I did the same for approximately six months trying to decide whether to take the plunge and dyed my hair one of the biggest trending hair colors: copper. As seen on Lily James, Kendall Jenner, and so many more, red hair is very popular for 2023. But it wasn't just the photos of stunning copper hair with highlights that convinced me to go for it; I researched the process, aftercare, and upkeep as if it were major surgery. It's no secret that dyeing your hair a completely different hue than your natural shade can be daunting. Exciting, but definitely daunting. There's a lot to consider.
Not only do you need to take into account the price of getting your hair dyed, you also need to consider the maintenance, the perfect shade for your skin tone, and how to adapt your beauty routine to suit your new hue.
Of course, there is no right or wrong when it comes to deciding on a new hair color, but if you want to make a copper hair color work for you, you've come to the right place. We asked the experts to give us the lowdown on how to nail the copper hair-color trend. Read on for the ultimate guide not just to going copper, but to everything that happens after you leave the salon, too.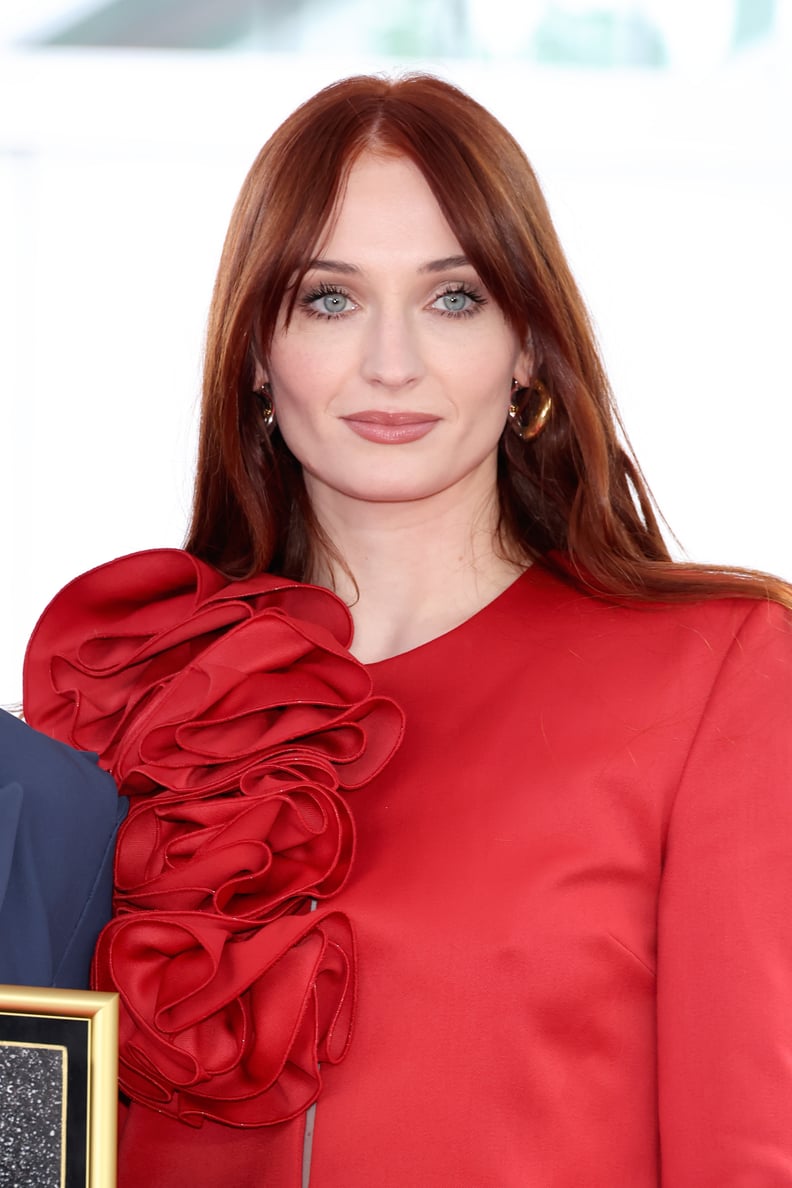 Copper Hair-Color Ideas
When I approached Jack Howard, colorist at Paul Edmonds Salon, with the idea that I wanted to go copper, I went to my consultation armed with 10-plus photos I'd saved on Instagram of what I thought was the same hue. His straightforward response was "You're showing me completely different hair colors here." Oops.
Although photos are a great guide, he gave me a quick color education and told me it's all down to expectations, commitment, and skin tone. We discussed what would and wouldn't work for me based on my skin tone and my desired outcome. This, my friends, is what a great colorist does. I left my consultation exactly how one should, bursting with excitement for my new fiery hue.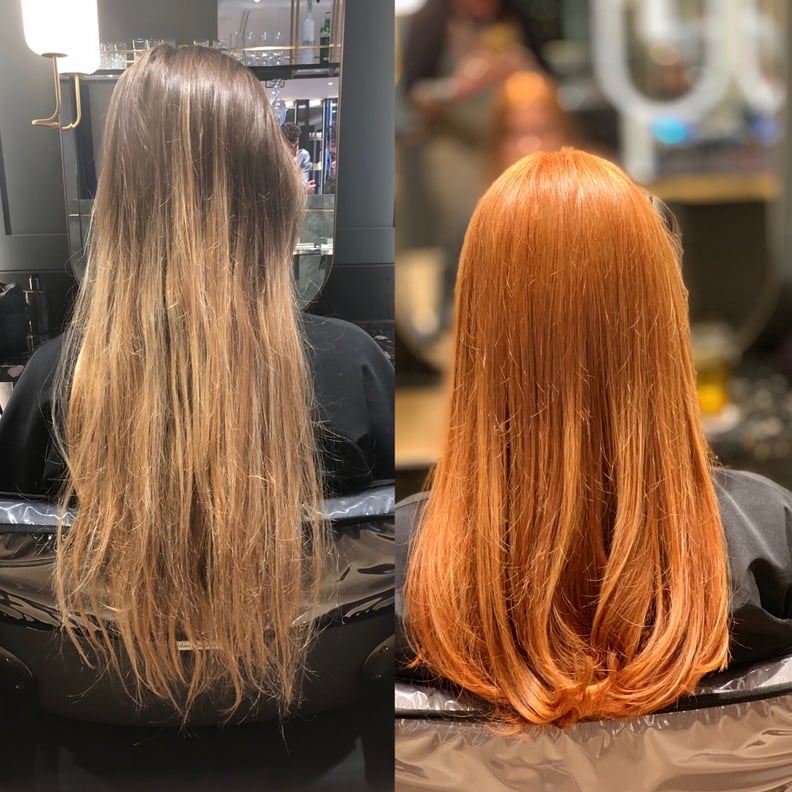 Choose the Right Copper Tones For You
Your first question should most definitely be: will I look good with copper hair? The answer, according to Howard, is yes — and it may come down to tweaking the shade to complement your unique eye color and skin-tone combination.
"Due to copper being a warm tone, I believe that pale skin with eyes that aren't too blue work beautifully for the Titian-strawberry coppers. Additionally, I love it on light-skinned Afro-Caribbean women and golden Caucasian skin. In my opinion, deeper coppers suit dark skin tones." However, Howard said that, really, you can choose any color you like.
How Easy Is It to Get Copper Hair?
"If you have virgin hair (natural and uncolored), it's 100 percent easier to go copper, as the whole process is much simpler as you only need a tint," Howard says. "If you have colored your hair darker or blonder, it will be a lengthy process and will definitely require a consultation with your colorist. It all depends on how long you want to spend in the salon, as the further away you go from your natural color, the more often you'll be visiting."
If you're nervous about going full copper, you can always dip your toe in the trend with a few strategically placed slivers or an allover glaze. "Copper glazes and copper pieces are great for someone who doesn't want to go fully copper but may want to experiment to see if it suits them," says Howard. "Glazes and pieces also mean lower commitment, so they're suitable for people who may not want to spend a lot of time in the salon."
Keep reading to see a step-by-step process for dyeing hair copper.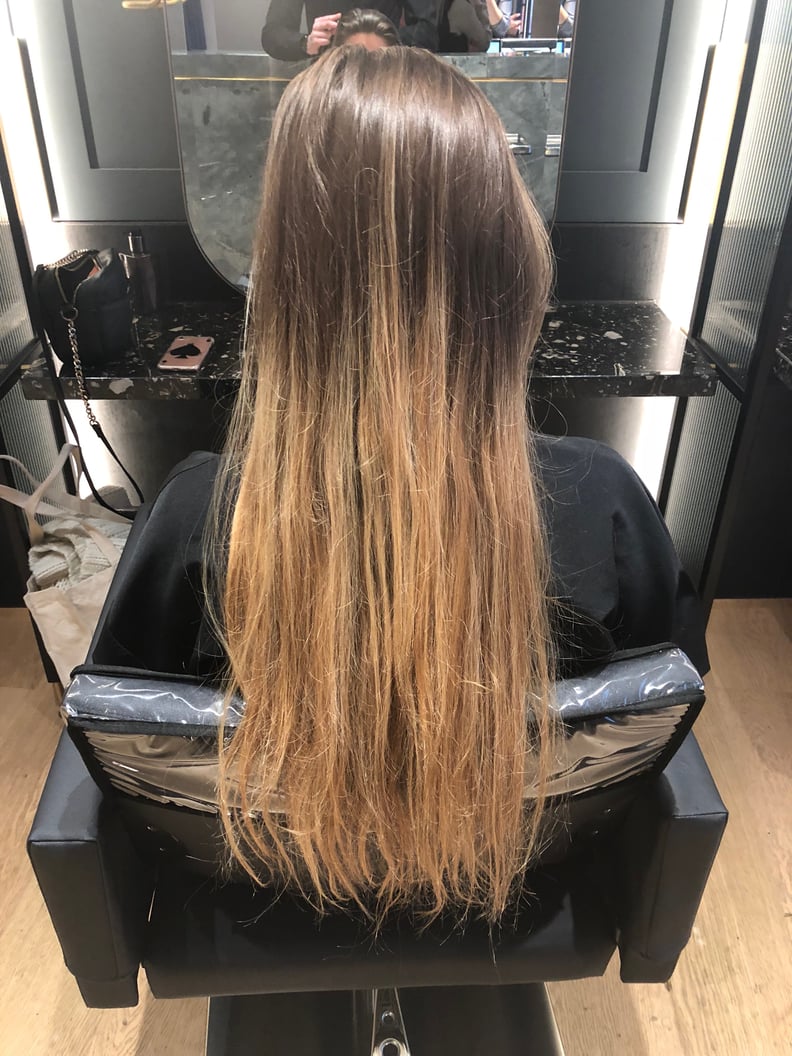 Copper Hair Before
I went into the salon knowing my hair wasn't in the best condition, but I thought, "How bad can it be?" Then, I saw my "before" photo. I hadn't dyed it in 18 months, but thanks to Howard's incredible California balayage, it needed little maintenance; however, I'd only gotten a light dusting haircut twice in that time. It was in need of a color refresh and major chop.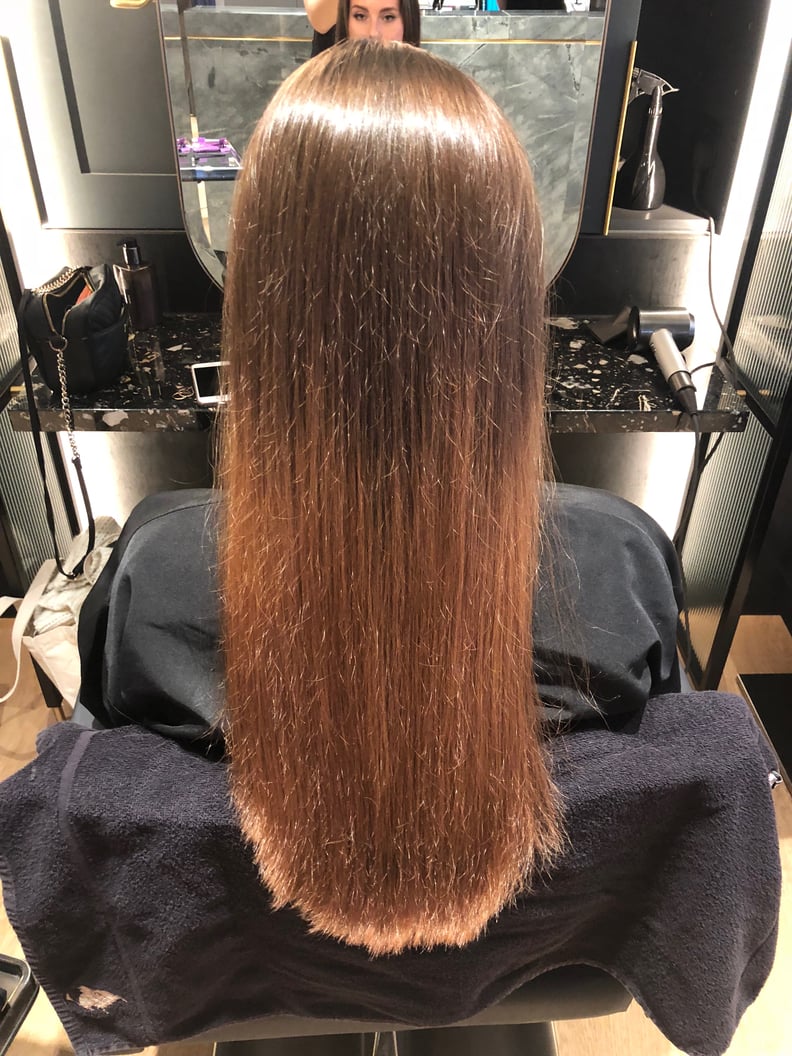 Copper Hair Step 1: Precolor Phase
Before getting into the process, Howard insists on having a consultation and patch testing before an appointment. The consultation means the colorist can assess exactly what the desired outcome is and manage a client's expectations. Patch tests avoid any allergy disasters because that's the last thing you want to leave the salon with.
Howard explained that the condition of your hair and whether it's previously been colored will determine how many stages it will take to get you to copper. Virgin hair (hair that has never been colored) needs fewer stages and probably won't need the precolor stage. If you have darker dye all over, the buildup of color will need to be removed with prelightening, which is a slightly longer process.
As my hair had balayage prior to coloring, Howard needed a precolor phase to get my whole head the same color so the results look even. If you have prelightener (bleach) in your hair, this prefill work puts darker pigment back into the hair and is vital. This is the step that ensures the hair doesn't veer into a muddy color and prevents the new color from fading. After letting it process for 20 minutes, the hair is washed and roughly dried.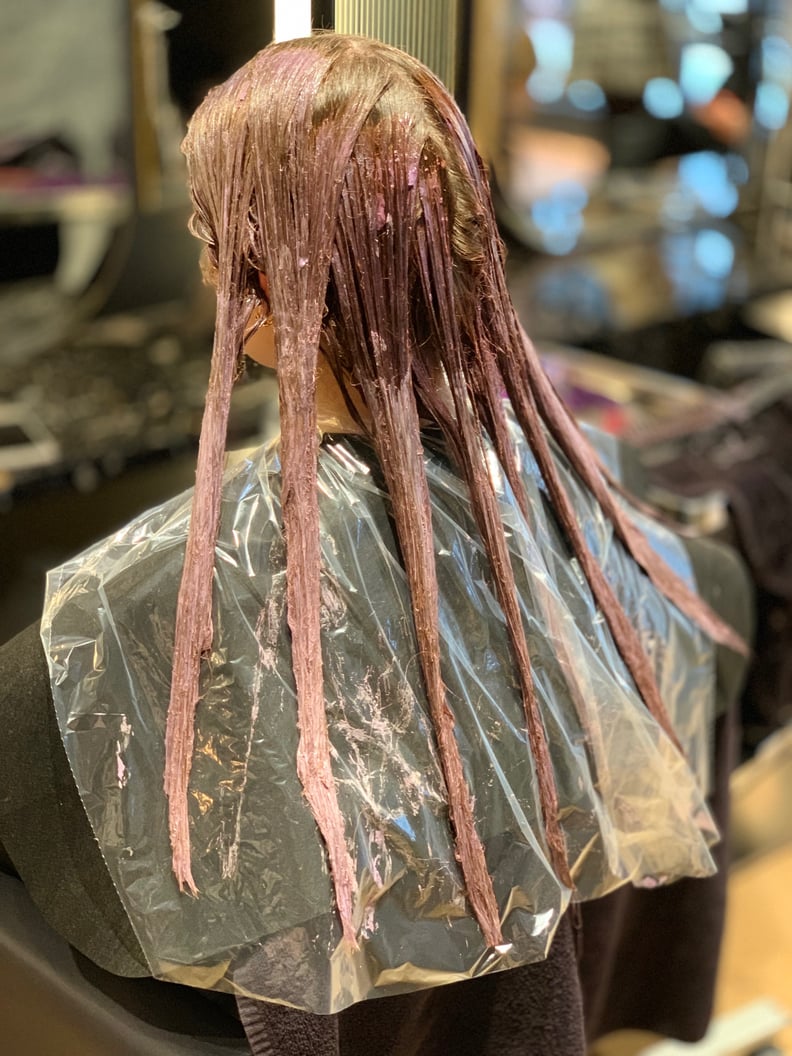 Copper Hair Step 2: Color Process
Next up is applying the copper color. Howard added the desired hue we'd discussed in my consultation — a Julianne Hough/Madelaine Petsch–inspired vibe that wasn't too vibrant for my skin tone with threads of slightly lighter balayage pieces throughout to frame my face. He applied the dye to the midshaft and the ends of my hair first, which he let process for 35 minutes.
Then he colored my roots, and I was left to marinate (a nontechnical term I like to use) to let the copper color process. Howard did the roots last to avoid "hot roots," or roots that "glow," which makes the end result not look as sleek and professionally done.
Copper Hair Step 3: Admire the Vibrant Hue
Once the color was washed out and roughly blow-dried, we admired the vibrant hue in a ring light. But the dye job wasn't over yet . . .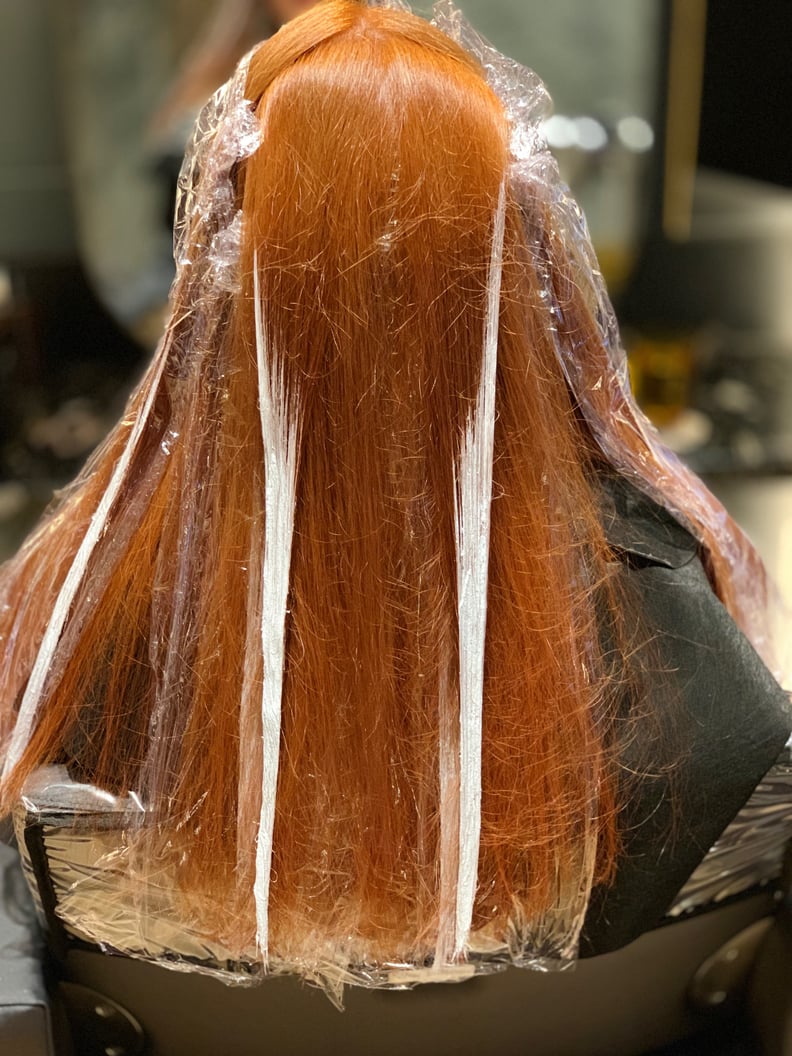 Copper Hair Step 4: Balayage
Since Howard is the king of balayage, he wanted to add some dimension to the copper color by adding small pieces of lighter balayage throughout. He says this process is bespoke to each client — he looks at where the hair falls and adds pieces throughout the back of the head and around the face to frame it.
In total, he added 10 layers of balayage color throughout my hair.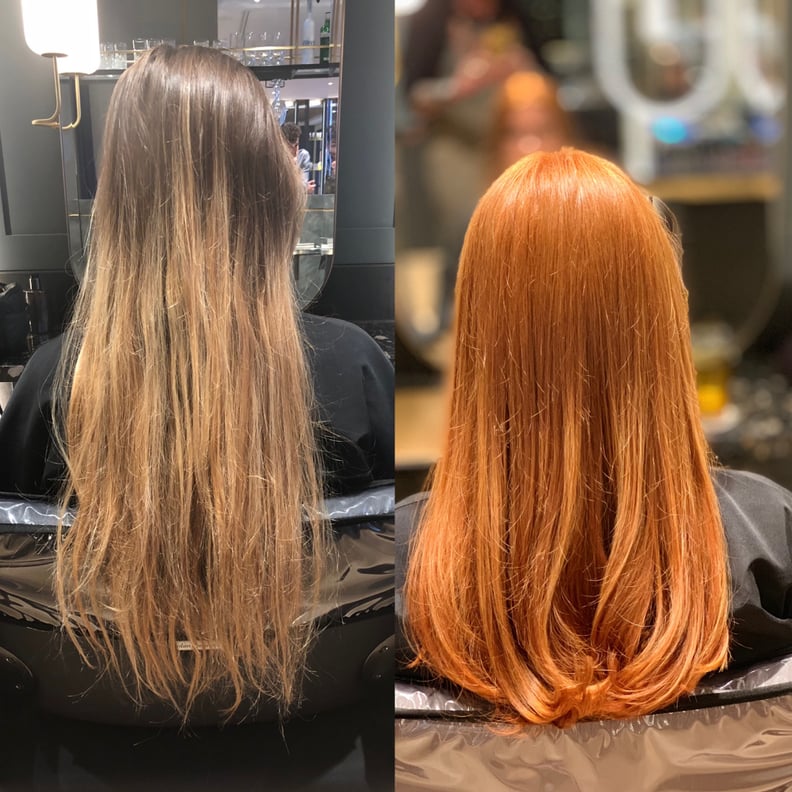 Copper Hair Before and After
After another wash, cut, and blow-dry, my hair was finally finished, and not to be too dramatic, but the results blew my mind. Not only was it vibrant and fun, but it was also glossy as hell and suited my skin tone perfectly, thanks to the correct copper hue and cleverly placed balayage pieces. The process in total from when I sat down to blow-dry and finish took around five and a half hours, so it's definitely a job to clear your schedule for. Initially, I thought the new color would be a total shock to the system, however, it suited my skin tone so perfectly that I kept telling Howard I didn't look that much different. The length actually was more shocking because I now have to learn how to style it. (The most styling I used to do was sleep with it damp.)
Howard created just enough copper and vibrancy, and he knew exactly what I was after, which kept me at ease the entire time.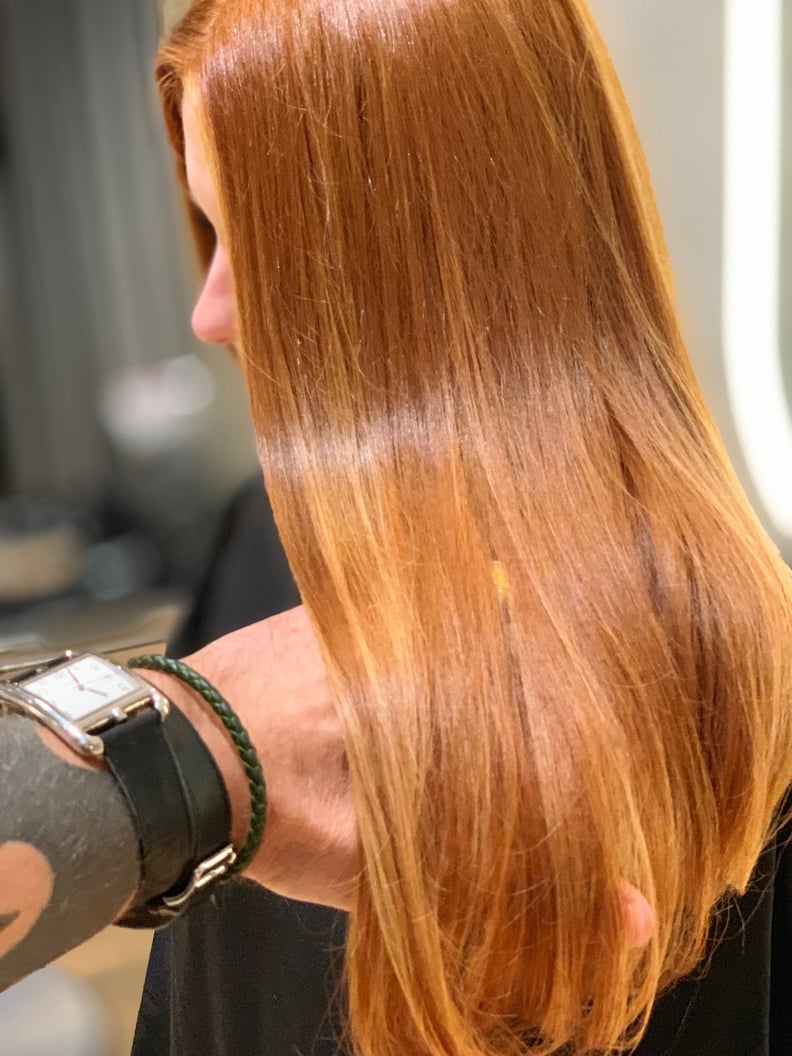 How to Maintain Your Copper Hair Color
This color isn't just a dye-and-go job, though. Howard warned me that there will be upkeep and that I must stick to it. Every major hair-color change comes at a cost if you see a professional (which we always advise for big color changes as opposed to DIY). "Allover color requires maintenance and root touch-ups every four to six weeks," says Howard. If visiting the salon this often is not feasible, Howard recommends a soft copper glaze over a blond balayage as an alternative option. He explained that copper hair looks best when it is lively and fresh, so if you're not committed, he wouldn't suggest an allover copper hair color.
When it comes to maintenance, "healthy hair means healthy color," says Howard. "If you don't use a color-safe shampoo or a heat protector when you're styling your hair, or if you use the highest temperature on styling tools, then your hair color will fade." Making sure to care for your hair between appointments is essential, particularly from daily aggressors such as water, pollution, and sun exposure. In Howard's experience, copper tones don't fade faster than other colors, but aftercare is crucial.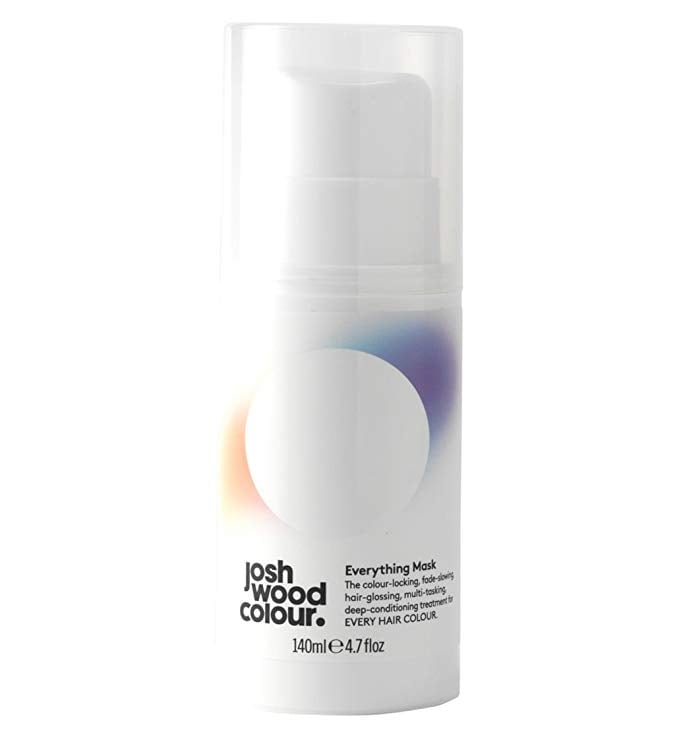 The Best Products For Copper Hair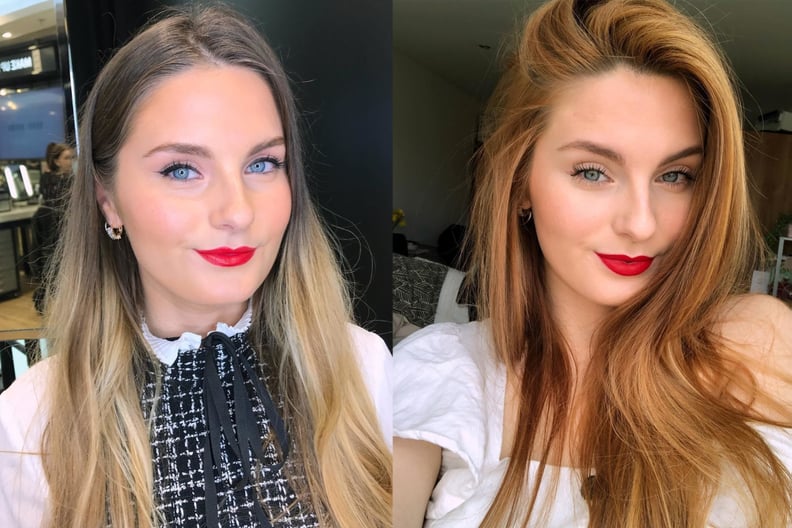 Makeup Tips For Red-Copper Hair
One of the biggest shocks after getting a new hair color was adapting my makeup routine and go-to makeup shades. I naturally gravitate toward copper-, bronze-, and orange-hued makeup (especially on the eyes), and after my color transformation, I had a hard time using these shades. I pleaded with my two favorite makeup artists to share advice as soon as humanly possible.
When creating a look, makeup artist Amanda Bell considers how the shades she's using will work with both the person's hair color and the undertones of their skin. For copper hair color, Bell suggests eyeshadows in shades like mink, taupe, stone, emerald, aubergine, teal, midnight blue, and apricot. "Copper hair doesn't mean you have to stick to banal shades," she says. "Pewter and khaki metallic eyeliners look phenomenal with copper hair and create beautiful dimension."
Bell says to start with lipstick, then add your blush. That way, you can ensure the blush isn't too overpowering, and she suggested experimenting with creams, gels, and tints for sheerer coverage.
Lastly, consider your eyebrows. Your colorist may suggest dyeing your brows to more closely match your new hue (do NOT try this at home), or you may just need to tweak the shades of your brow products, which is what I chose to do.
Choosing Lipstick Hues to Complement Copper Hair
Makeup artist Hannah Martin says that going copper is similar to going blond in that the hair-color hues can make strong makeup shades look even stronger. I've taken this advice as well as Bell's suggestion of using more muted makeup overall and balancing it out with a pop of color.
I found some of my orange–red lip hues didn't suit me as much with copper hair, so I swapped them for engine-reds like Fenty Beauty Stunna Lip Paint in Uncensored ($26) for my pop of color. If you aren't a huge lipstick-lover, however, you can try a sheer formula or a tinted lip balm.
As for makeup shades I've steered away from, I took Bell's advice and avoided harsh, dark, matte shades. I've incorporated multiple hues into my makeup on a daily basis. For blush and bronzer, I use more than one shade to add warmth with peach/neutral bronzes. For eyeshadow, I use various softer shades and avoid one intense hue, like matte black or basic brown, instead layering pewter-colored shimmer over a neutral eyeshadow base.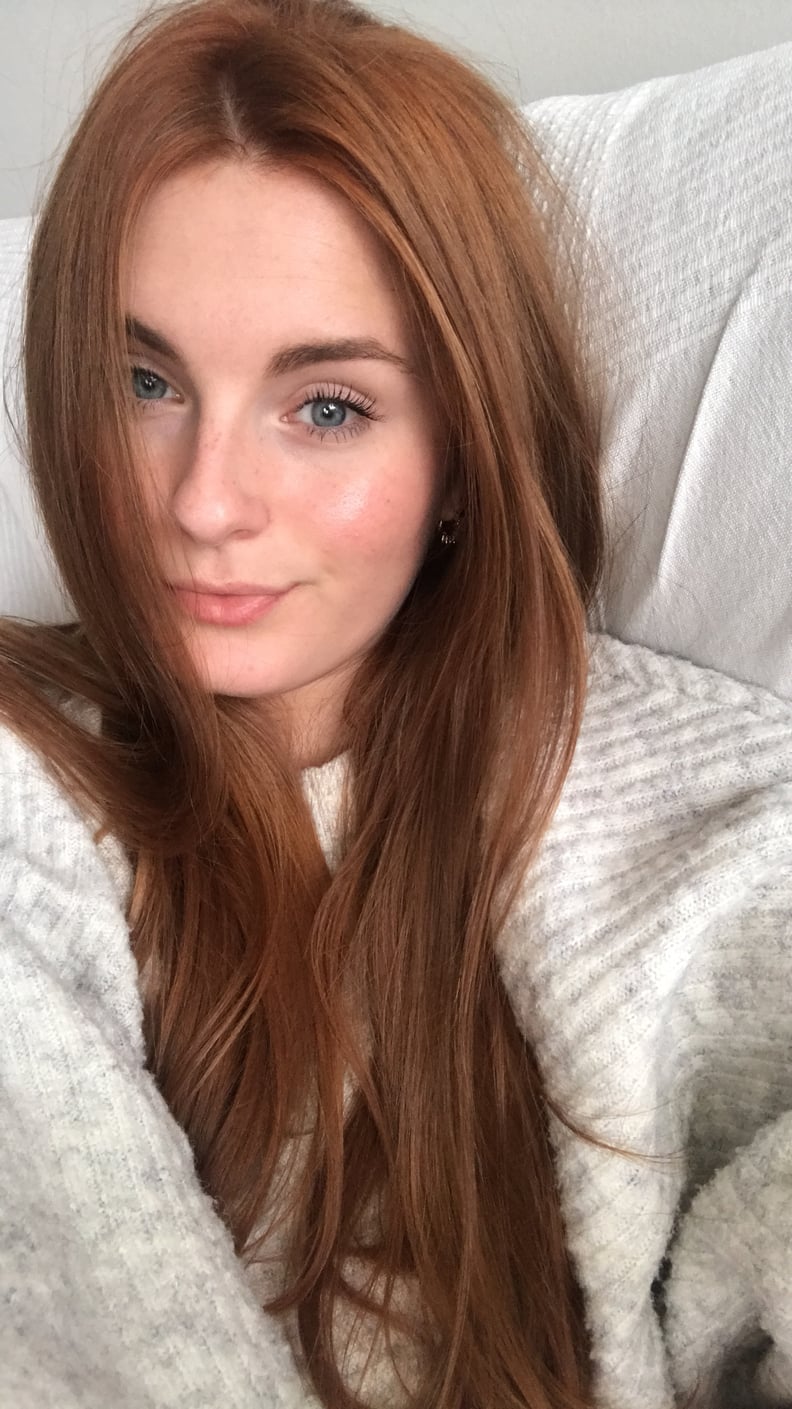 Rethinking Your Tanning Routine With Copper Hair
I am a self-tanner enthusiast, to say the least. So when I joined the copper hair club, I panicked that I'd have to give up my bottled beauty must have. But with the right products and sound expert advice from Jules Von Hep, cofounder and creative director of Isle of Paradise, I've found a tan routine that is just right.
For copper hair, Von Hep recommends avoiding "deeper, more reddish self tans, as there can be a tendency for the whole overall look to appear a touch faux. Instead, opt for self-tan a shade up from your usual (especially on your face)." Rather than going all out and applying two layers of tan, Von Hep suggests just applying one coat to ensure a golden hue while still obtaining the uniform skin finish.
As always, apply moisturizer to the body before applying tan, particularly to the face to ensure the tan is an even finish. Isle of Paradise has been my go-to tan for a year now. The color-corrective technology says goodbye to any orange-toned issues. Combining Isle of Paradise Glow Clear Self-Tanning Mousse ($32), which gives an overall base tan, with Isle of Paradise Self-Tanning Drops ($32), which can be adjusted to the face and rest of the body if needed, is the perfect combo for a golden glow without feeling too tan.