Andy Cohen's Story About Taylor Swift and Katy Perry 2016
Andy Cohen Reveals Why Taylor Swift Probably Thinks He's a "Shady Ass B*tch"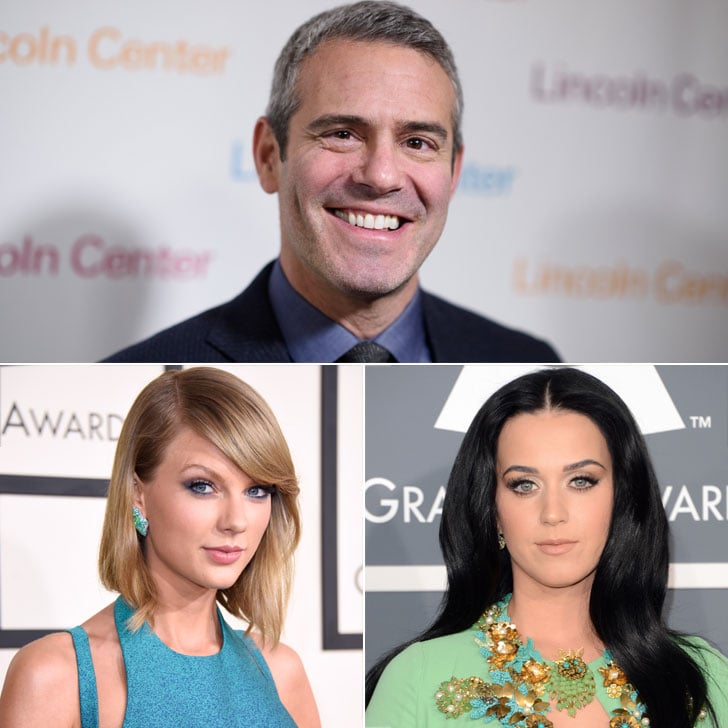 Taylor Swift and Katy Perry's feud has been raging on since the "Bad Blood" singer's interview with Rolling Stone in 2014, and it doesn't show any signs of stopping. During a recent episode of The Jess Cagle Interview, Andy Cohen sat down with the People magazine director to chat about his new book, Superficial: More Adventures from the Andy Cohen Diaries, which includes a story about an awkward run-in he had with Taylor at this year's Met Gala. The Watch What Happens Live host said he was waiting for a drink when he saw Taylor (who showed up to the event looking like a fierce candy bar) searching the room for a seat with her friend. He decided to interrupt the pair to cheekily point out that there were a few seats left at Katy's table. "I said, 'Your friend Katy is over there,'" he divulged. "She goes, 'Katy who?' I go, 'Katy Perry.'"
Apparently the pop star was none too pleased by the suggestion, and told him that she didn't want him discussing their interaction or her feud with the "Rise" singer on his talk show. She didn't, however, say anything about putting it in a memoir. "Maybe I am a shady ass b*tch that I did put it in the book," he said. "I think the story is about what a douche I am in that instance." He notes that he didn't mean for their conversation to be "shady," but that it probably came off that way regardless. Katy and Taylor have kept their distance from each other since the original drama went down, but have been crossing paths over the last year. In addition to the Met Gala, Katy got dragged into Taylor's breakup with DJ Calvin Harris in July, and they also both showed up to celebrate at Drake's birthday party in October. If Taylor's other public feuds are any indication, it doesn't look like they'll be burying the hatchet anytime soon.