Does Kate Middleton Wear a Wedding Band?
Kate Middleton Actually Wears 3 Rings on Her Ring Finger — Here's What They Represent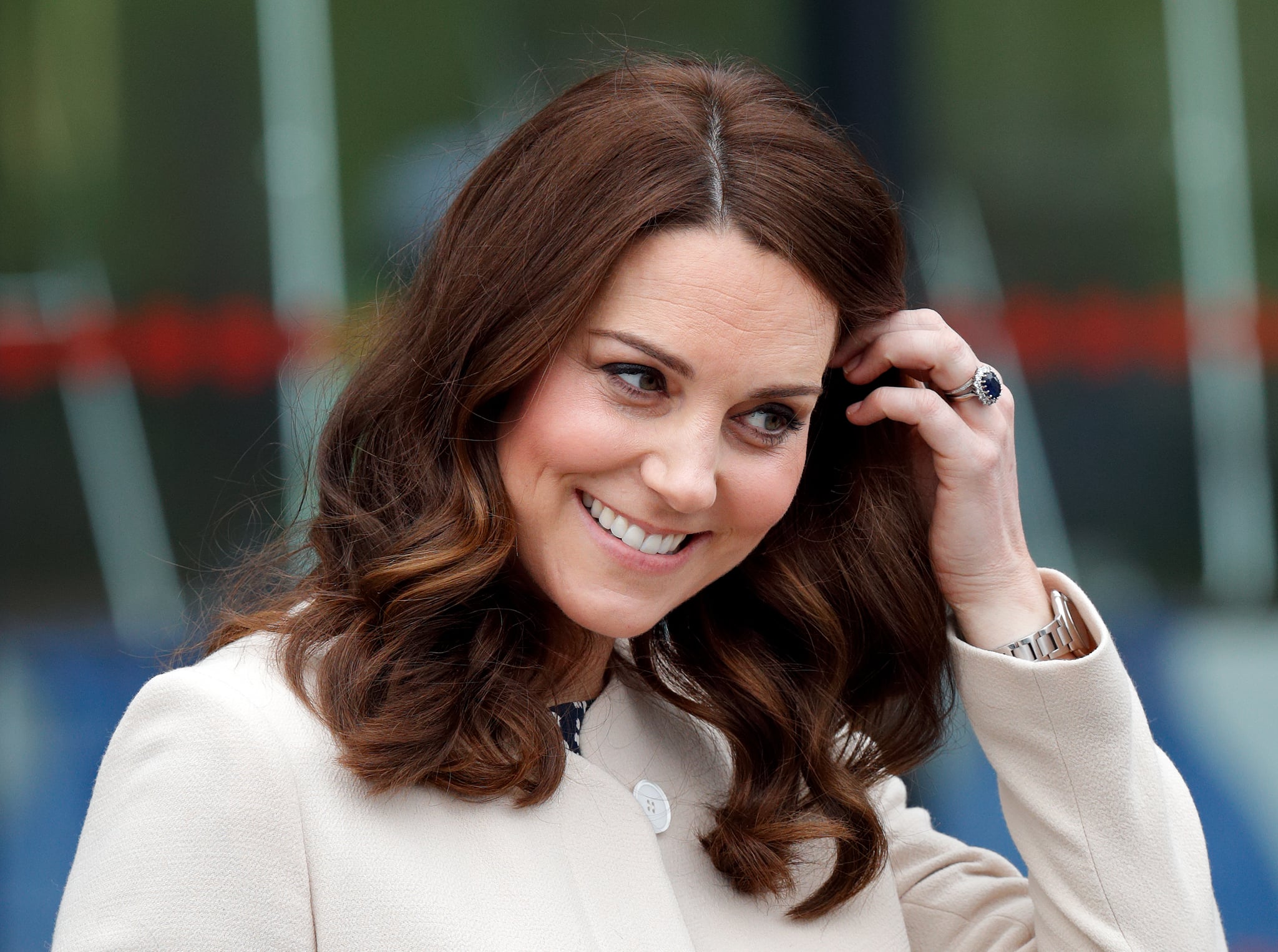 Whenever they're out in public, the women of the royal family never fail to appear in glamorous, glittering jewels — some brand-new, and some passed down through the generations. Catherine, Duchess of Cambridge, is definitely a style icon, but one of the most meaningful pieces she wears is actually one of the subtlest: her wedding band.
Ever since her 2011 wedding, Kate has worn her wedding band on her left ring finger, nestled alongside the sapphire and diamond engagement ring that previously belonged to her late mother-in-law, Princess Diana. According to Vogue, the slim wedding band is made of 18-karat Welsh gold: it's a simple, traditional bit of jewelry that is elegant in its simplicity. The future queen follows in the footsteps of many contemporary women and royal women in history, wearing her engagement ring and a simpler wedding band side by side. You have to look carefully, as it can look like her engagement ring is so big that it requires two bands to support it, when it fact there's only one thin band next to her separate wedding band.
The wedding band that sits on Kate's hand, though, is a little different from your ordinary ring. For nearly a century, royal wedding bands have been made from nuggets of rare, pure Welsh gold from a specific mine: the Clogau St. David's gold mine. The company's website explains that "this tradition was founded by The Queen Mother, then Lady Elizabeth Bowes-Lyon, on her marriage to the Duke of York on 26th April, 1923."
In the years since the wedding of Queen Elizabeth's parents, nearly all royal weddings have involved a wedding band made of Welsh gold from this same mine. The Queen herself wears a wedding band made of this special gold and has since her 1947 wedding to Prince Philip. Other royal women who have worn Welsh gold wedding bands include the Queen's sister Princess Margaret, the Queen's daughter Princess Anne, Princess Diana, Camilla, Duchess of Cornwall, and Kate herself. Most recently, Meghan Markle received a wedding band of Welsh gold when she married Prince Harry in the Spring of 2018. Princess Eugenie and her mother, Sarah, Duchess of York also had rings made of Welsh gold at their respective weddings.
While royal women have always worn wedding bands, the men of the royal family actually don't often wear wedding bands — which is why it was such a surprise when Prince Harry elected to wear a wedding band when he married Meghan last year. Prince William, on the other hand, does not. Officially, the reason given was simply personal preference. However, a Telegraph article suggests that part of the reasoning could be tradition, too: upper-class men, especially royals and aristocrats from old families, often won't wear jewelry, looking on it as something that simply isn't done. Prince William follows in the footsteps of his grandfather, Prince Philip, who also does not wear a wedding ring (although Prince Charles does).
Kate wears both her engagement ring and her wedding band — plus a third ring! Hello! noted that the duchess has been wearing a white gold eternity ring, studded with diamonds, stacked along with her engagement ring and wedding band. The ring was reportedly a gift from Prince William to commemorate the birth of their first child, Prince George, back in 2013.