Kanye West Dancing at the 2015 VMAs GIFs
Kanye West's Dance Moves at the VMAs Refuse to Be Ignored
Kanye West, is that you? Before his lengthy acceptance speech at the VMAs, the rapper cut loose as The Weeknd performed "I Can't Feel My Face." We have to say, we like seeing him relax and enjoy himself a little bit. While his longtime friend and collaborator John Legend chose to bob his head mildly to the beat, staying firmly seated, Kanye was not to be subdued. Instead, he waved his arms in the air like he just didn't care and jumped up and down. Here were Kanye's defining dance moves of the night:
The "Hey, What's Your Name? OK, Cool, Never Mind Then"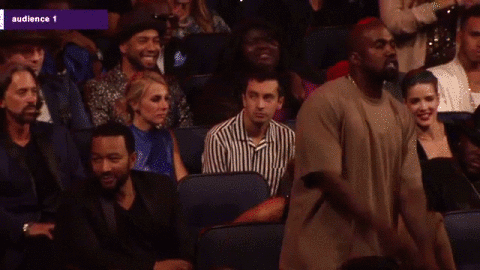 The "I Just Washed My Hands, but This Bathroom Is Out of Paper Towels"
The "Old Man on a Skateboard"