Kristin Cavallari Talks About Laguna Beach
Kristin Cavallari Reveals the 1 Laguna Beach Line That People Won't Let Her Forget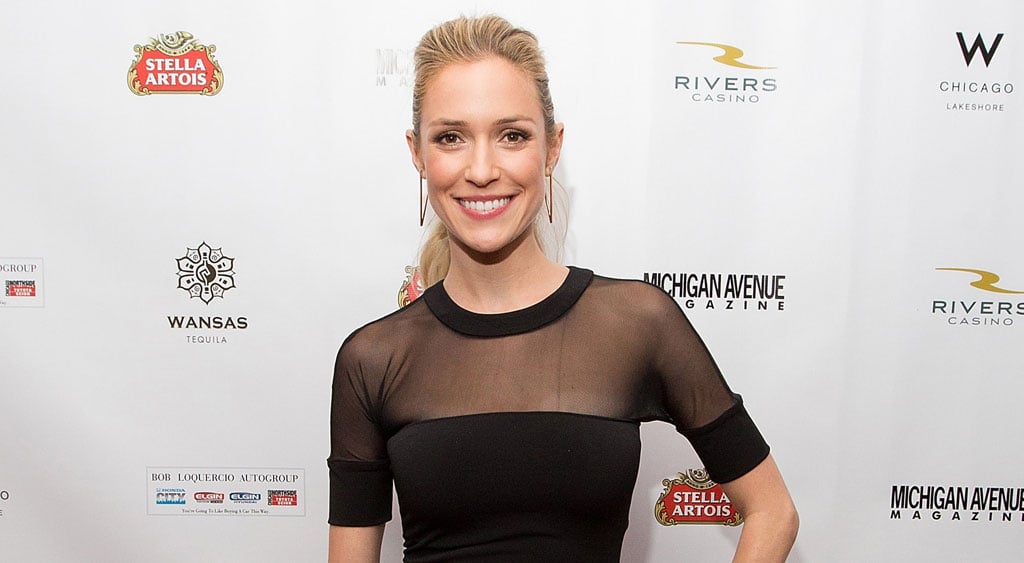 Kristin Cavallari has been in the spotlight for years. After bursting onto the scene as the neighborhood bad girl on Laguna Beach in 2004, Kristin went on to star in The Hills, have a few high-profile romances, and grace us with a slew of wonderfully unapologetic moments. But since then, Kristin has settled down a bit. She married NFL pro Jay Cutler, welcomed two sons, Camden and Jaxon, and is currently expecting their third child, a daughter. In addition to her busy home life, Kristin also has her own shoe collection with Chinese Laundry and is gearing up for the release of her new book, Balancing in Heels. We sat down with Kristin to talk about baby #3, her reality TV days, and the one line that people won't let her forget.
POPSUGAR: Congrats on baby #3! Is this pregnancy any different than your first two?
Kristin Cavallari: No, which is good! They've all been relatively easy for me. The only difference is with this one, I've actually been carrying a little bit higher, so I guess there's some truth to what they say about carrying girls higher. I'm very excited!
PS: What are you most excited about with having a daughter?
KC: I'm just happy that I'll have someone to give all my shoes to! I'll have someone to take over everything. It's funny because I'm having a lot of fun buying clothes for her. She already has shoes for when she's a size eight. She's covered for a while.
PS: How do you stay in shape during pregnancy?
KC: I just try to consistently work out. Right now, I work out about two to three times a week. I'm starting to slow down a little now since I'm getting so close to the end of this pregnancy. And then I try to maintain how I normally eat, which is healthy 80 percent of the time and the other 20 percent I just eat whatever I want. That's how I stay on track, actually, is by indulging and eating whatever I want occasionally. But I think just staying active is the best thing; just get your blood flowing even if it's for 20 minutes, three times a week. I think it makes a huge difference.
PS: What is your best advice for working moms?
KC: It's tough! I'm lucky because Jay and I have a great partnership in the sense that when one is working, the other one sort of takes over the parenting duties. Like when I wrote my book, Balancing in Heels, I wrote from February to June, which is when Jay doesn't work. I felt extremely lucky because he was able to take over and let me write a lot. And now that football season is in full swing, I'm home a lot more and taking over those responsibilities. You just have to find your balance.
PS: Do you have any advice for first-time moms?
KC: Don't stress! I would just try to go along with it and not try to plan every little thing out. It's always something new and every baby is different and you just have to ride the waves. Just know it's gonna be hard; the first few months are really hard. I basically raised Camden for the first seven months by myself because Jay was at training camp and I didn't have any help. It can seem like there's no end in sight but it gets a lot easier. Just know that!
PS: Congrats on your new book, Balancing in Heels! Can you tell us what we can expect?
KC: It's sort of, obviously, how I balance everything, but it's also about my own journey to health and happiness. I feel like I'm finally in a good place in my life. Anyone who watched Laguna Beach knows, or I don't know if they know this, but I was pretty unhappy. I was sort of the wild party animal and I think I've come a long way, and it's just sort of how I've gotten here. I cover everything from exactly what I do and don't eat to my workouts to fashion and beauty tips and tricks. There's also a few chapters, like the mommy and wife chapters, that are very raw and real. I really let people in; I don't sugarcoat anything. It's kind of scary because I've never let people in to that extent, but I'm really excited because I think people think that they know me from being on reality TV, but they really don't.
PS: Is there a line from Laguna Beach that people still quote back to you?
KC: Dunzo! All the time. It's pretty funny.
PS: What's your favorite thing to do for a date night with Jay?
KC: Honestly, we're pretty boring! A perfect night for me right now is waiting to eat dinner together until the kids have gone to bed so that we can actually connect and talk and then watching Ray Donovan and going to bed. That is a dream night for me! Once I have this baby, it will be nice to actually go out to dinner and have a glass of wine, but right now I have no interest.