Princess Diana's Connection to Mother Teresa
The Connection Between Princess Diana and Mother Teresa Will Break Your Heart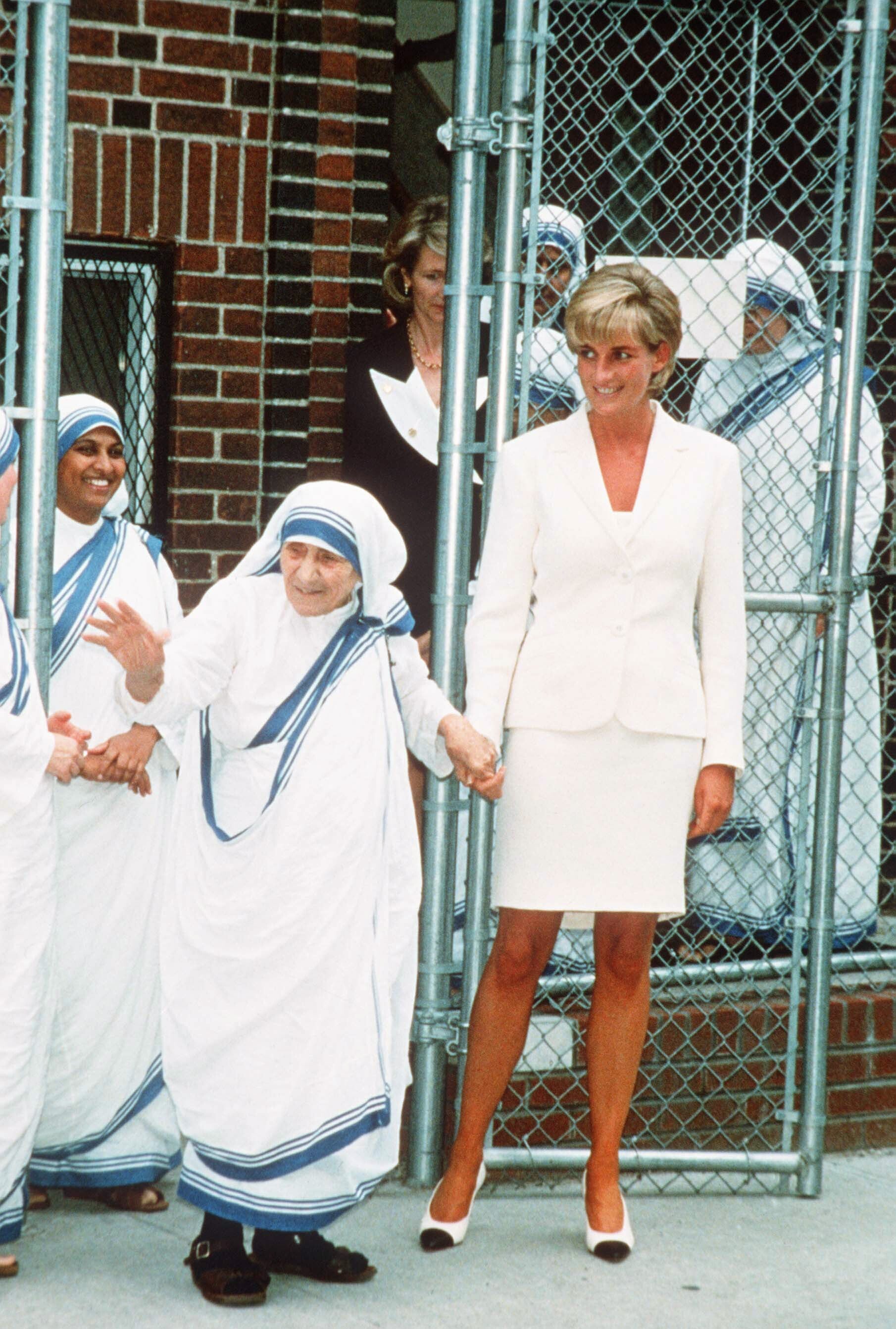 Princess Diana had a wide variety of friends, but one friendship might surprise you: the jet-setting, stylish princess had a friendly relationship with nun and missionary Mother Teresa. The duo reportedly bonded over their shared commitment to helping the poor, and a memento from Mother Teresa became one of the most poignant details on the day Princess Diana died in 1997.
As reported by the Daily Mail, one of the items brought to the hospital after Diana's death was a rosary that Mother Teresa had given her. The late princess's butler, Paul Burrell, reportedly gathered up a few items from her home to take to Paris. Along with a handful of other items, Burrell picked up the rosary beads before traveling with her usual driver, Colin Tebbutt, to Paris. When they arrived, the two men visited where Diana's body lay to pay their respects. Tebbutt then gave the nurse on duty the rosary beads, asking her to place them in the princess's hands. His request was carried out: the rosary was in her hands when her sisters and Prince Charles arrived, along with a picture of her sons that she carried around with her and was found in her handbag.
On that same day, a few hours later, Mother Teresa herself gave a statement to reporters in Calcutta. "Diana was extremely sympathetic to poor people — and very lively, and homely, too. All the sisters and I are praying for her and for all members of her family." The Seattle Times also reported that Mother Teresa called the princess "a very good friend, in love with the poor, a very good wife, a very good mother. She was very concerned for the poor. She was very anxious to do something for them. That is why she was close to me."
The relationship between Mother Teresa and Princess Diana was much more than simply a shared interest in helping the poor and vulnerable members of society. In fact, the two women had met and formed an unlikely friendship.
Mother Teresa and Princess Diana first met in 1992, according to HuffPost's firsthand account by Mary C. Johnson, a former nun in Mother Teresa's Missionaries of Charity who was present on that day.
"Mother led Diana into her room, a tiny office/bedroom just off the compound. I waited outside, guarding the door, hoping these two women — so hounded and so admired — might find solace in each other's company," Johnson recalled. "They talked for nearly thirty minutes, longer than I'd ever spent with Mother's undivided attention, despite having been a sister for fifteen years at that point," she added, wryly pointing out the irony of her own sin of envy for the attention Mother Teresa gave to the princess. After their meeting and a quick photo op, Johnson said, the two women went to pray together.
"Mother told me she and Diana wanted to be alone with Jesus. Mother led Diana across the compound. According to our custom, they both removed their shoes before entering the chapel. I guarded the open chapel doors as the world's two most-admired women knelt, heads bowed. Mother mumbled words none of us in the gathering crowd of nuns and British Embassy folk outside could hear."
Princess Diana and Mother Teresa would meet once more before the princess's untimely death. They reunited in New York City in June 1997, only a few months before the crash that claimed Diana's life. According to The Independent, the duo "walked hand-in-hand through the streets of New York's Bronx . . . They hugged, kissed and prayed together during the 40-minute visit and Mother Teresa blessed the Princess." The paper also reported at the time that the women talked about Princess Diana's sons, Prince William and Prince Harry, and their shared concerns over charity issues such as poverty in developing countries. Although they were from polar opposite lifestyles and backgrounds, Mother Teresa and Princess Diana had a friendly relationship that proves shared compassion can cross any boundaries.