Are The Rock and John Cena Friends?
Are Dwayne Johnson and John Cena Actually "Best Friends?" Well, It Depends Who You Ask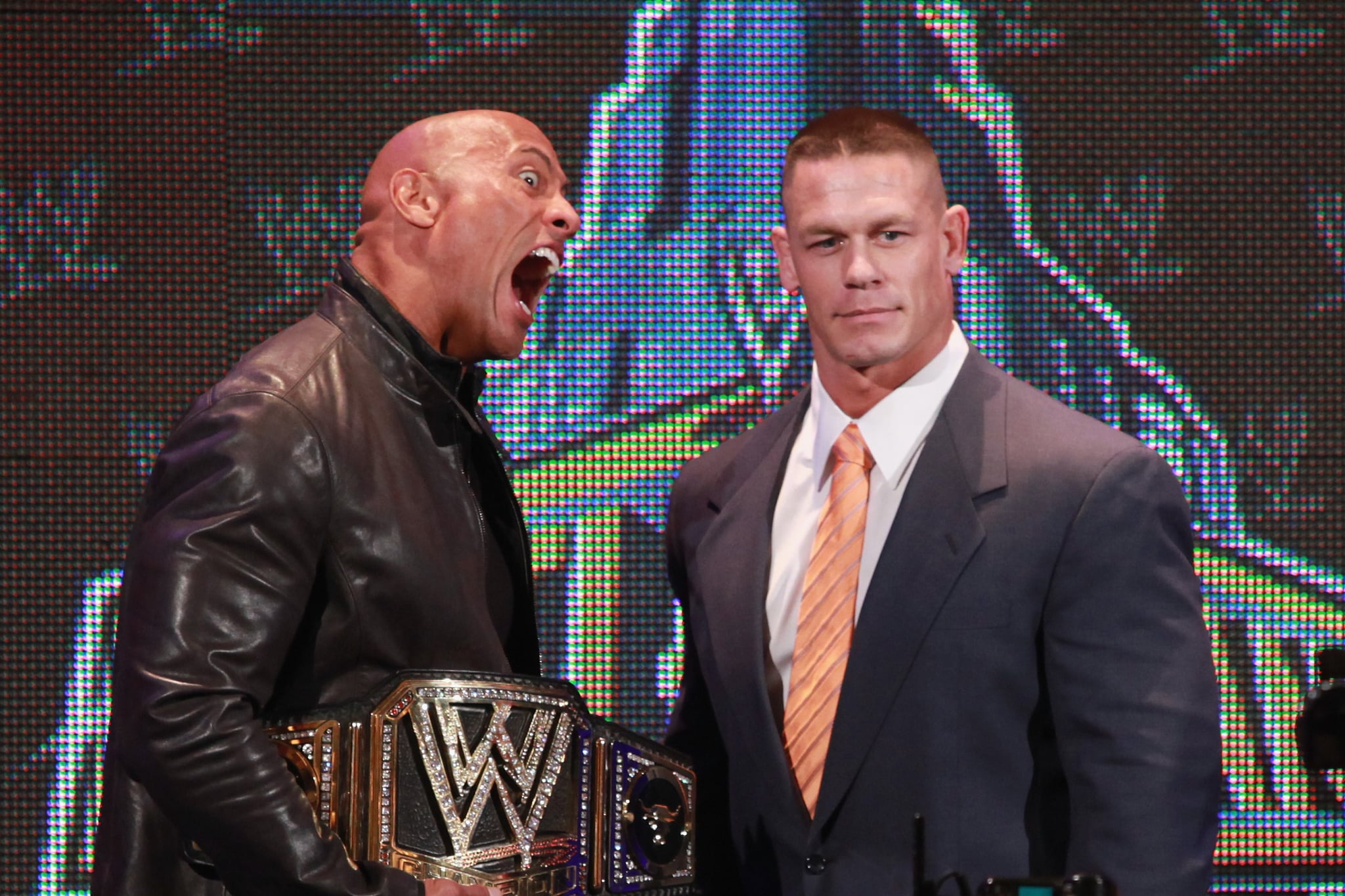 Dwayne Johnson and John Cena have one major thing in common: they're both WWE wrestlers who transitioned into successful Hollywood actors. But long before they were raking in millions from the big screen, they were trading jabs in and out of the wrestling ring. It all began when Dwayne decided to pursue his acting career after hosting Saturday Night Live in 2000. John didn't agree with Dwayne's decision to leave wrestling and made comments that didn't sit well with the self-proclaimed "People's Champ."
"My thing was, 'Hey man, as a fan, I loved you performing in this venue all the time, you left us high and dry, why aren't you back here?" John previously told Sports Illustrated. "It's obvious you're still healthy and obvious you're still capable.'"
In a 2014 interview with Muscle and Fitness, Dwayne confirmed that he and John did have a legitimate feud over John's statements when they faced each other at Wrestlemania in 2012 and 2013. "John had said some things in an interview that I took exception to," he said. "He felt they were OK, I felt that they weren't OK."
Fortunately, Dwayne considered it all water under the bridge by that point and had forgiven him. "We're good buddies these days," he told the publication. John also apologized for his comments in his aforementioned Sports Illustrated interview, saying, "It was stupid of me. It genuinely was." John continued, "For me to not be able to see Dwayne's vision on what he wanted to do personally, and how his personal success could affect a growing global brand, that was just ignorant on my part."
In 2018, John revealed to EW that it would be his "dream" to work with Dwayne in a Fast and Furious film. "I just think between our chemistry in the live performance setting, there's something certainly there with The Rock. So that would be my one name on the wish list."
While promoting his latest film, Rampage, Dwayne stopped by Jimmy Kimmel Live earlier this week, and opened up about his former rivalry with John. "In the world of wrestling, it's fictionalized, it's a TV show, but we had our rivalry. Now we can look back on it, it was so real," the 45 year old admitted.
The father of two — with one on the way — also said that John is one of his "best friends". "We talk all the time, and I'm rooting for him to win," Dwayne said.
However, when it came time for John to respond to Dwayne's comments when he appeared on the late night talk-show the next day, he seemed a bit taken aback by Dwayne's "best friend" statement.
"Have you ever been to his house?" Jimmy asked. "Like, what do you mean by that?" John teased. "I mean, have you ever gone through the front door of his house and entered it?" Jimmy fired back. "Yeah, 10 times . . . in my mind," John joked. Here's to hoping the "good buddies" can sit down, grab a beer, and hash things out about starring in a movie together sooner than later.