Why You Should Be a Harry Styles Fan
I Will Always, ALWAYS Be Proud to Be a Harry Styles Fan — Let Me Tell You Why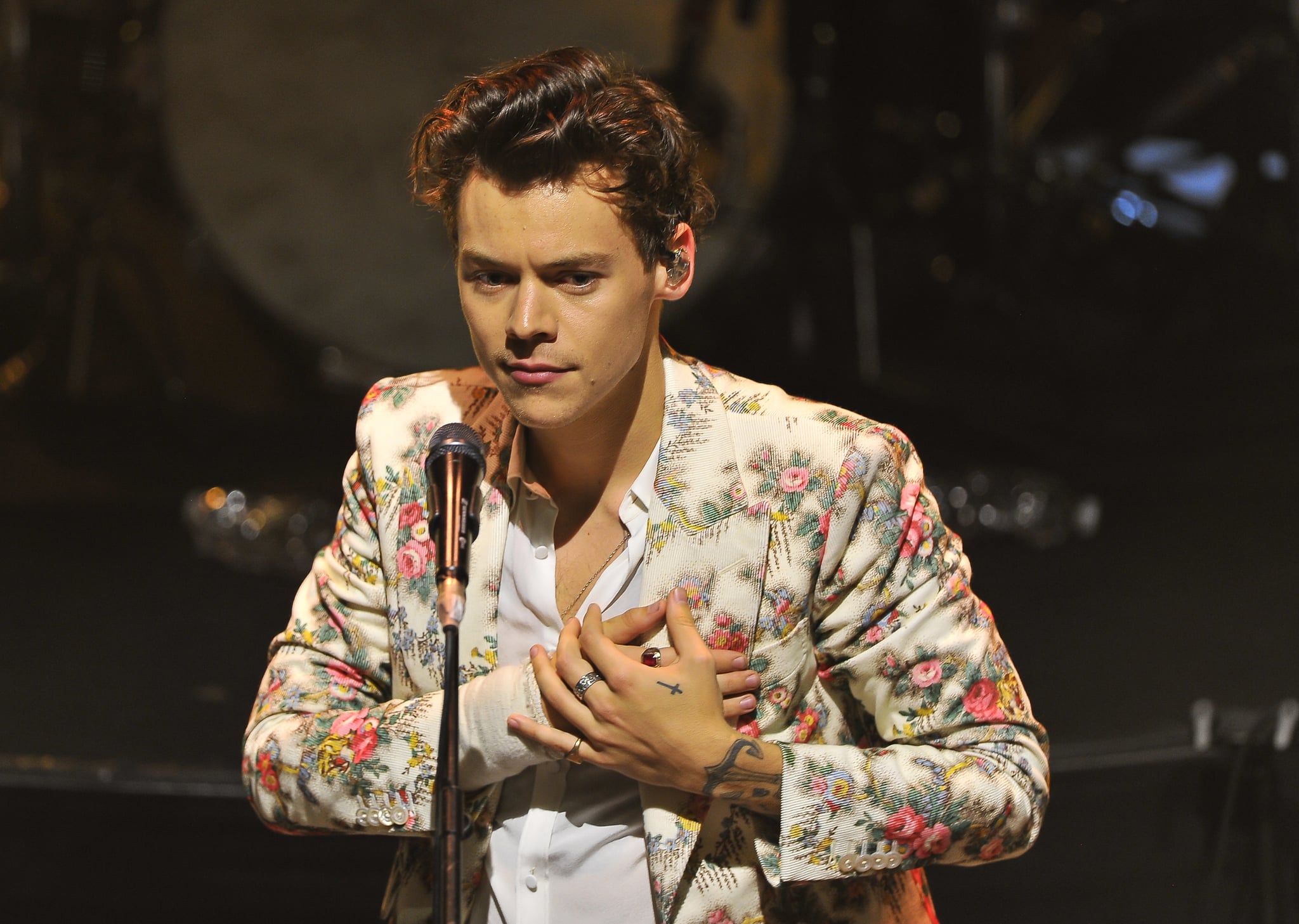 Image Source: Getty/ Steve Jennings
When Harry Styles released his debut solo album in 2017, one of my coworkers cautiously approached me to tell me how much she enjoyed it. I, of course, was in full support of her finding it to be a good album, especially since she is one of my favorite people to work with, but I couldn't understand why she seemed nervous to tell me about it. Her actual words to me were, "I hate to admit it, but I listened to Harry's album and I actually liked it." What followed was a bumbling response about how she "haaates" boy bands and would "neeever" listen to One Direction, but Harry's solo effort was good — for a former boy band member.
There are no hard feelings between us; after all, this gave me a chance to tell her more about Harry, and there's no reason to be ashamed to like someone's music — even if they are a former boy band member (though I fail to see why that is a distinction that needs to be made). If you're one of those people who can't believe Harry is somewhat of an OK singer and decent human in your eyes and you're embarrassed to admit it, let me tell you why I will never be in your shoes, because Harry is someone to be proud of being a fan of.
Completely aside from the fact that Harry is a damn good musician, here is more about what a casual listener probably doesn't know about him. Harry spends a lot of his effort on making his fans feel safe and included at his shows, which is quite possibly my favorite thing about him.
At each of his shows, he makes some variation of a speech about being whoever you want to be while you're in that room and having the best time of your life, because sometimes life sucks and it's hard to even put yourself out there enough to go to a concert when you may not be comfortable in your everyday life. While he welcomes people from all walks of life, Harry specifically and supports those in the LGBTQ+ community, parading around the stage with a pride flag every night. Harry encourages his fans to bring their own flags to show off their pride, whatever it might be for — their country, their sexuality, their belief system — and fans show up in droves, cloaked in their flags and carrying their signs, knowing that someone they idolize has their back and loves them for who they are.
In my many years supporting Harry, I've encountered an endless number of fellow fans who are particularly drawn to him because of this support, and whose lives have been forever changed because of it. A large portion of Harry's fans are young and trying to figure out their way in the world, and Harry's there for them in the best way he knows how to be. Just this year on his tour, I met a girl who shared with me that it was only after Harry waved a pride flag at a concert for the first time that she felt comfortable enough to come out.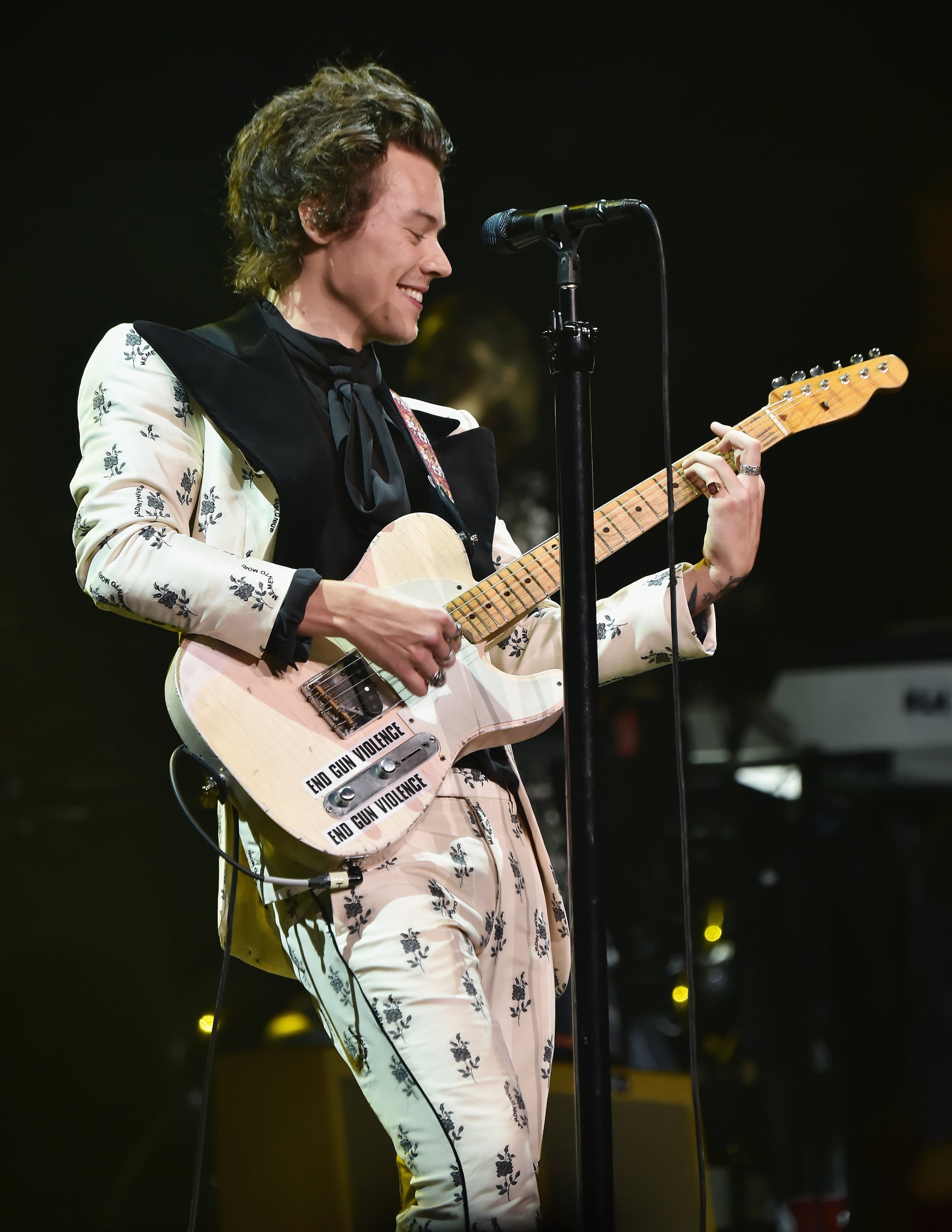 Image Source: Getty / Kevin Mazur
Beyond the LGBTQ+ support at his shows, he sells Pride merchandise for charity and built his brand on the motto "Treat People With Kindness." Currently, Harry sells hair tie wristbands at each show emblazoned with his motto, and all proceeds go to local charities where they're purchased. He is constantly thinking of and looking for ways he can give back to people who deserve it and pay it forward to those who need it.
He's someone who is easy to admire and who puts so much good into this world, that he honestly deserves all the respect and admiration his fans can give him.
While Harry isn't always extremely vocal about the causes he champions, he speaks through his actions by using his platform as a musician. Most notably, he has End Gun Violence stickers on one of his guitars that he uses each night in concert. He also brings light to the Black Lives Matter movement on Instagram, and sometimes even during his shows. His stances are subtle, yes, but they're powerful. Could he be doing even more with his celebrity status? Absolutely. . . but so could you and I.
At the end of the day, as a super fan, it's almost hard for me to articulate why I'm so proud of Harry and why I'm proud to call myself a fan. I'm impressed with his poise and humility every single day — especially when I remember that he's a mere 24 years old. He's wise beyond his years and is so caring toward his fans that I'm honestly blown away by it. Some young celebrities who deal with hate from the public and even their fans might lash out, but Harry has yet to crack. He has been followed, man handled, and criticized, but he never tells his fans to stay away or leave him alone. All he does is praise their dedication, and while it might be useful to encourage them to behave in a mature manner, he chooses to take the high road and simply treat us with kindness.
Harry, the person, is who inspires me to try to be better. I love his music, I love what he's about, and whenever anyone asks me why I'm going to three of his concerts in one week, I'm happy to simply say that it's because I just love him. He's someone who is easy to admire and who puts so much good into this world that he honestly deserves all the respect and admiration his fans can give him.
Next time your kid or your mom or your grandpa mentions something about needing a new music recommendation, go ahead and tell them about Harry Styles. His music transcends generations, and his sheer kindness and charm are captivating to the point that you won't be able to step away. But don't worry, you'll be happy you got sucked in, and you'll be singing along to "Sign of the Times" in no time at all.