Everything We Know About Brendan Fraser's 3 Sons: Griffin, Holden, and Leland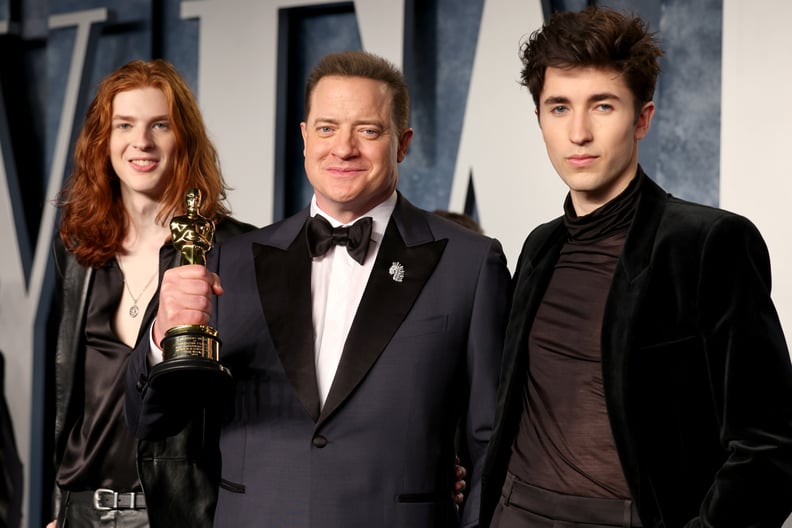 Cindy Ord/VF23/Getty Images for Vanity Fair
Cindy Ord/VF23/Getty Images for Vanity Fair
After taking a break from acting to focus on his mental health, Brendan Fraser marked his return to Hollywood with "The Whale." In the film, Brendan portrays a 600-pound English professor named Charlie who tries to reconnect with his estranged daughter Ellie (Sadie Sink). His performance was so well-received by critics that it earned him a 2023 SAG Award for best actor and the best actor Academy Award, as well as a number of other accolades.
In order to help him get into the role of Charlie, Brendan said he took inspiration from his own desire to be with his family. "Being with my kids and their mom and our family has given me such love that if ever I needed to hold something of value up to try and translate that to what was important to Charlie, I didn't have to look far," he told Interview in November 2022.
The actor shares three kids, Griffin Arthur, Holden Fletcher, and Leland Francis Fraser, with ex-wife Afton Smith. Although he and Smith split in 2007, they continue to coparent their children together. Brendan is now dating makeup artist Jeanne Moore and they've been together since September 2022.
Keep reading to get all the details about Brendan's three sons.
01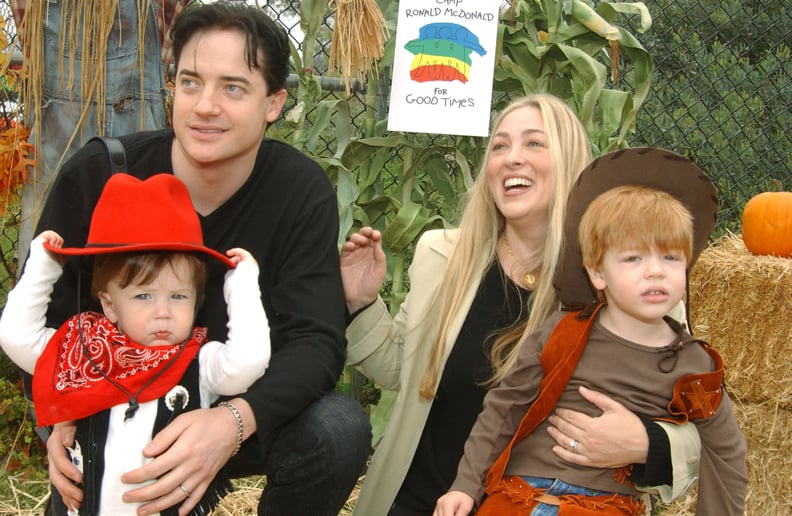 Griffin Arthur Fraser
Brendan and Smith welcomed their first son, Griffin Arthur Fraser, on Sept. 17, 2002. Since Griffin isn't in the spotlight and doesn't appear to have any social media accounts, there's not much that we know about him other than what Brendan has said about him in interviews.
For example, while speaking to GQ in February 2018, Brendan revealed for the first time that Griffin is on the autism spectrum. "He needs extra love in the world, and he gets it," Brendan said, adding that Griffin's younger brothers have always felt the need to protect him. "Ever since they were small, one was always the spokesperson and the other was the enforcer."
Brendan also told GQ that Griffin is "a curative on everyone who meets him," explaining he helps bring out the best in people. "People have some rough edges to them. Or he just makes them, I don't know…put things into sharper relief and maybe find a way to have a little bit more compassion," he said. "They don't put themselves first so much around him."
The actor continued opening up about Griffin by revealing he's built a strong connection with their horse, Pecas. "There's something good that happens between the two of them. And even if he doesn't ride him, just give him a brush. The horse loves it, the repetitive motion that kids on the spectrum have that they love. And it just works," he said. "You know, you have to find those tools, strategies. If I ride, too, I just feel better. I just feel better."
In a November 2022 conversation with Freddie Prinze Jr. for Interview, Brendan said that his relationship with Griffin helped him connect with his role as Charlie in "The Whale." "My oldest son Griffin has special needs. He's autistic. He just turned 20. He's a big kid. He's six foot five. He's got big hands and feet, a big body. I understand intimately what it is to be close to a person who lives with obesity," Brendan said, adding that Griffin is the "happiest person." "And because of the beauty of his spectrum — call it a disorder if you will, I disagree with you — he knows nothing of irony. He doesn't know what cynicism is. You can't insult him. He can't insult you," he said.
02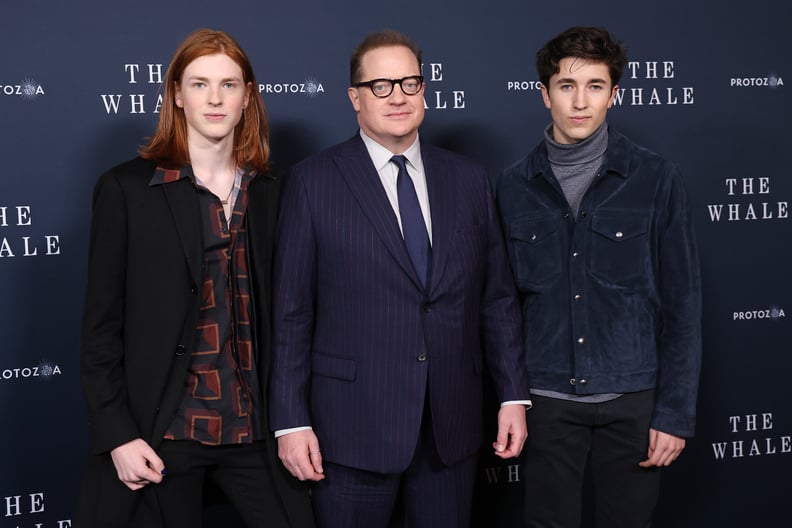 Holden Fletcher Fraser
Brendan and Smith's second son, Holden Fletcher Fraser, was born on Aug. 16, 2004. According to his Instagram profile, Holden appears to be a model repped by Marilyn Agency NY and is a student at New York University. In an interview with Today in February 2023, Brendan revealed that he visited Holden's school and had a discussion about "The Whale" with his class. "I'm really happy that I was able to go into my 18-year-old's film studies class just before it came out and give a sort of Q & A," he said. "They'd all gone out to see 'The Whale,' and they're whipsmart kids. They understand the craft of filmmaking in a way that's so impressive."
Based on what we know about Holden, it sounds like he's following in his father's footsteps by breaking into the entertainment industry. In November 2022, Holden accompanied his dad at the New York premiere of "The Whale." His younger brother Leland was also there and the trio snapped a few pictures together on the red carpet.
03
Leland Francis Fraser
Leland Francis Fraser is Brendan and Smith's youngest son. According to People, he was born May 2, 2006, at Cedars-Sinai in Los Angeles. Just like his brother Holden, Leland appears to be a fashion model repped by Marilyn Agency NY. While Holden has a love for film, Leland is all about music. He's a member of the band The Alligators and has posted a few videos of him singing and playing guitar on Instagram.
In November 2022, Leland made a rare public appearance at the New York premiere of "The Whale" with his father and brother Holden. The siblings also joined Brendan at the 2023 Academy Awards in Los Angeles.
04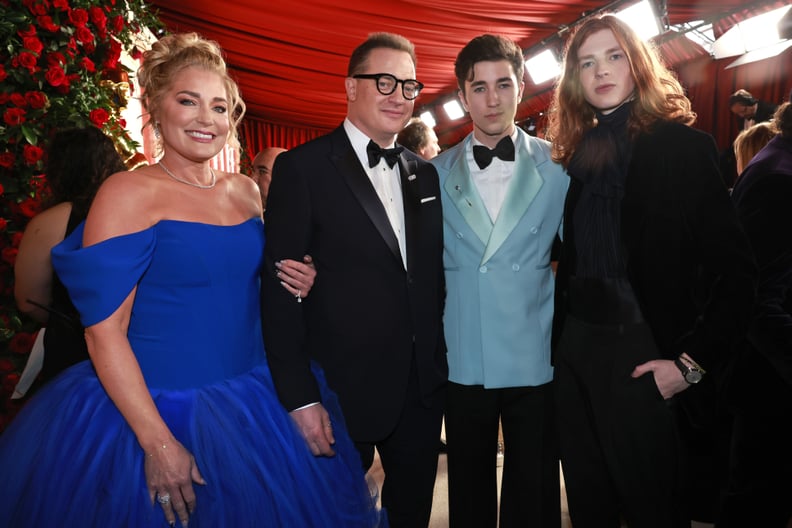 Photos of Brendan Fraser and His Sons
05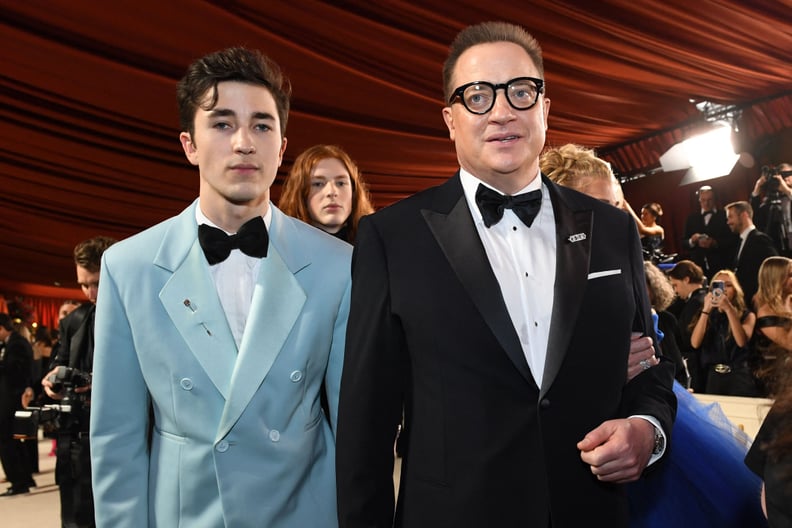 07