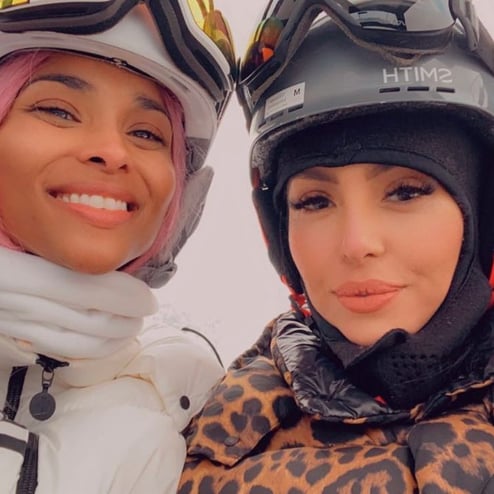 Vanessa Bryant and Ciara are enjoying a post-Christmas ski trip, and it looks like snow much fun! On Dec. 26, the two besties began sharing a collection of photos and videos from their cool get-together, which has involved skiing, ice skating, and a game of pool. Vanessa's daughters Natalia, 17, and Bianka, 4, as well as Ciara's children Future, 6, and Sienna, 3, joined the getaway. "Hittin these slopes 🎿 ❤️," Vanessa captioned an Instagram selfie of her and Ciara posing on a ski lift. Ciara, who revealed it was her first time skiing, shared similar pictures on her page, writing, "The Slopes Ain't Ready 😎@vanessabryant."
The friends started sharing their vacation snaps a day after Vanessa posted a Christmas tribute to her late husband Kobe Bryant and their daughter Gianna, who died in a helicopter crash on Jan. 26. In an Instagram gallery, Vanessa shared a recent photo of her with Natalia, Bianka, and 1-year-old Capri, followed by a throwback family portrait with Kobe and Gianna. "Always Together, Never Apart Together Forever In Our Hearts. ❤️❤️❤️❤️❤️❤️ Kobe, Vanessa, Natalia, Gianna, Bianka and Capri," Vanessa captioned the post.
Throughout the year, Ciara and her husband, Russell Wilson, have continued to show their support for Vanessa and the Bryant family. Ciara even wrote a heartfelt Instagram message for Vanessa in August. "Seeing you and the girls smile makes my heart smile," she wrote. "You're the toughest mama I know. Seeing you put one foot forward each day is admirable. It ain't easy, but if I know one thing, Mamba Queen's capable of it all. Love you V. @VanessaBryant. #MambaDay 💜💛." She and Vanessa have also shared a handful of sweet moments together on social media, including a TikTok dance session at a sleepover in November and a game of musical chairs at Bianka's fourth birthday party in early December. Look ahead to see more snaps from their recent excursion!