Eva Mendes Proves She's Ryan Gosling's No. 1 Fan With Her Phone's Background Photo
"The Gray Man" apparently made quite an impression on Eva Mendes. In a black-and-white Instagram video for her Skura Style cleaning products, the actor revealed that a photo of her partner, Ryan Gosling, is her phone's lock-screen image. Having a picture of your significant other as your phone's background photo isn't unusual, but hilariously, Mendes's pic of Gosling isn't a candid photo but rather a shot from his recent Netflix movie, "The Gray Man."
In the video, Mendes pauses to flash the photo at the screen, ensuring everyone gets a good look at the pic of Gosling in full Six mode. Given that the date on her phone reads May 3, this could have been her cheeky way of advertising her partner's Netflix movie, which premiered on July 22, but it's definitely more fun to believe she's just super into his CIA character. After all, the entrepreneur did recently praise Gosling's performance in the upcoming "Barbie" movie, where he's taking on the role of Ken.
"So. F. Funny. So. F. Good. So F excited for you to see this…#Thatsmyken," she captioned a photo of Gosling dressed as Ken on Instagram. In June, Mendes appeared on "The Talk," where she shared her initial reaction to Gosling's first Ken photo — and the one item of clothing she asked him to bring her from the set. "First of all, I saw the photo, and the 14-year-old in me was like, 'Ahh.' But it's a funny photo, and he's trying to be funny, so it worked on all levels," she said.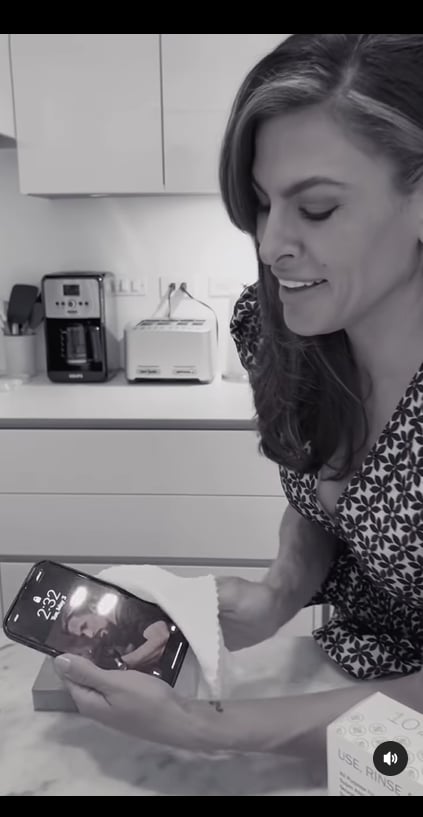 Mendes went on to give Gosling's Calvin Klein-inspired Ken underwear a shout-out. "But when I saw it, he sent it to me from work, and I said, 'Can I please have that underwear? Please? I never ask for anything,'" she continued, before revealing that her partner obliged and brought home his Ken undies for her.
Seeing how much Mendes seems to love Gosling's recent roles is a delight in large part because the two have kept their longtime relationship out of the spotlight. Although they've been connected since 2012 when they costarred in "The Place Beyond the Pines," they haven't walked a red carpet together since then. However, they have had two daughters — Esmeralda, in 2014, and Amada, in 2016.
It seems that even though this famous couple is all about their privacy, Mendes isn't opposed to showing the world that she's her partner's biggest fan.