Are Keke Palmer and Darius Jackson Still Together? A Timeline of Their Relationship
The status of Keke Palmer and Darius Jackson's relationship remains a mystery after their viral summer drama. On Aug. 16, a source told People that Jackson had "moved on" from the relationship, which was thrown into the spotlight in July after he publicly criticized Palmer for wearing a sheer thong dress to an Usher concert. "We live in a generation where a man of the family doesn't want the wife & mother to his kids to showcase booty cheeks to please others & he gets told how much of a hater he is," Jackson wrote on Twitter on July 5 before briefly deactivating his account. "This is my family & my representation. I have standards & morals to what I believe. I rest my case."
On Aug. 16, another source told Entertainment Tonight that the pair "called it quits shortly after [Jackson] called [Palmer] out on Twitter for her outfit at the Usher concert." They added, "Keke is focusing on her work and her 6-month-old son. The actor and Darius have been co-parenting, but for now, they aren't together." Reps for Jackson could not be reached for comment, and Palmer's reps did not respond to POPSUGAR's request for comment at the time.
However, a new update arrived on Sept. 25 from Palmer herself when she responded to speculation about her and Jackson's relationship on the "Today" show. When asked if the two are still together, the singer-actor simply said, "I'm going to take a page out of Beyoncé's book: Mind y'all's business." It seems that's all the info we'll get about their relationship for now.
Reports about Palmer and Jackson's alleged split arrived the same day the former and Usher released the music video for the single "Boyfriend." While social media users promptly expressed their disdain over Jackson's controversial July tweet, neither he nor Palmer have publicly addressed it or their split rumors in detail. Two days after Jackson's initial tweet, though, Palmer shared an Instagram video of herself singing Stevie Wonder's "Isn't She Lovely" to her baby. "One thing is certain and one thing is true, IM A MOTHA, through and through!" She wrote in the caption, also revealing that she was selling T-shirts emblazoned with the phrases, "IM A MOTHA" and "Stevie to the bullsh*t."
Palmer and Jackson have been spotted together a few times since the latter shared his tweet, including on Palmer's 30th birthday on Aug. 26 and at Beyoncé's birthday "Renaissance" tour show on Sept. 4. Before that, though, the pair kept their relationship pretty low-key, aside from a few publicized tidbits here and there, including when Palmer announced she was pregnant with the couple's first child while hosting "Saturday Night Live" on Dec. 3, 2022. "There's some rumors going around, people have been in my comments saying, 'Keke's having a baby, Keke's pregnant,' and I wanna set the record straight — I am!" Palmer exclaimed during her opening monologue, revealing her baby bump. "I gotta say, though — it's bad when people on the Internet spread rumors about you, y'all. But it's even worse when they're correct!" She later added: "This has been the biggest blessing, and I am so excited, guys — I'm going to be a mom."
On Feb. 25, 2023, Palmer and Jackson welcomed their son to the world, revealing his name and face just two days later. "Born during Black History Month, with a name to match 😄!" Palmer wrote in her Instagram announcement. "LEODIS ANDRELLTON JACKSON, welcome to the world baby Leo."
Aside from a few Instagram tributes to each other, their baby reveal, and breakup rumors, the public only knows a few details about Palmer and Jackson's romance. We also know a few things about the latter personally, as he just so happens to be the brother of "Insecure" alum Sarunas Jackson. Jackson is also an aspiring actor himself, per Elle, and has writing, executive producer, and acting credits on one of Palmer's KeyTV series called "Sportsfan."
Keep scrolling to learn more about Palmer and Jackson's relationship.
01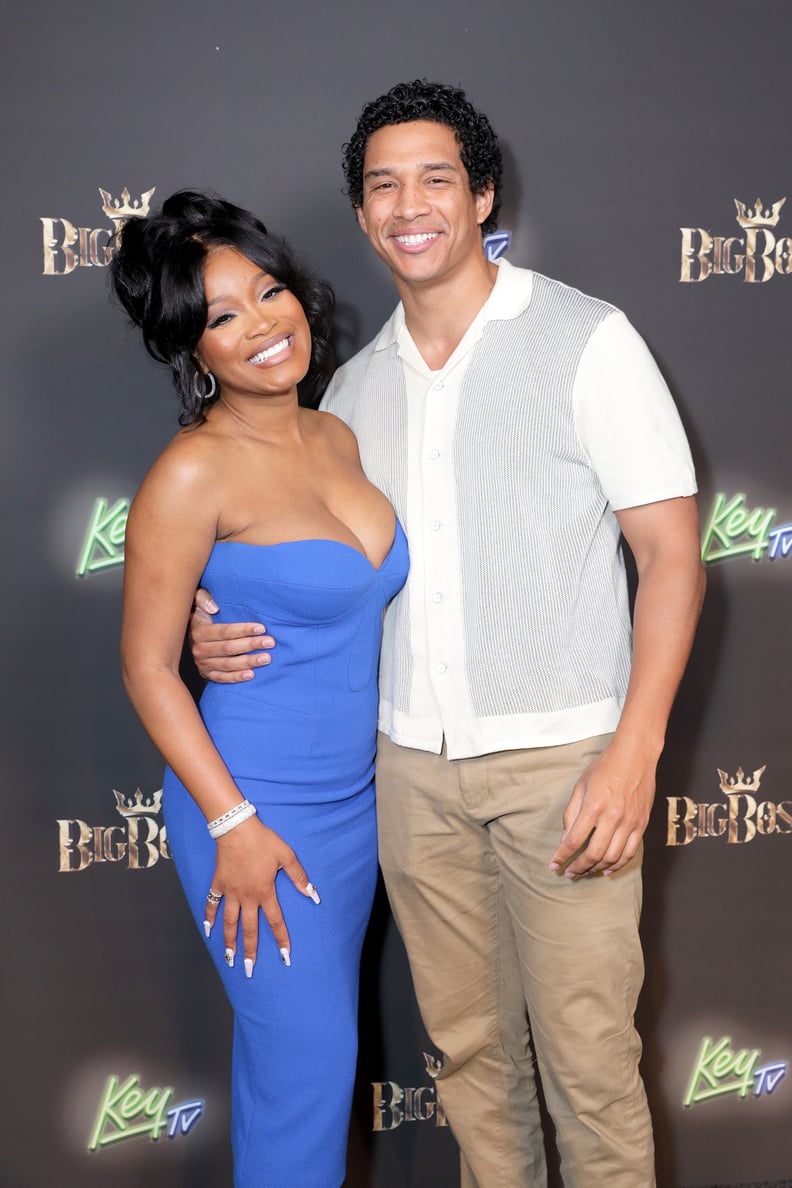 May 2021: Keke Palmer and Darius Jackson Meet
Palmer and Jackson reportedly met at a Memorial Day party hosted by Diddy and Issa Rae, according to Us Weekly.
02
August 2021: Keke Palmer and Darius Jackson Make Their Relationship Instagram Official
In a since-deleted Instagram post, Jackson shared his affection for Palmer and wrote, "Never would have expected summer 2021 to turn out the way it did, but here we are," per People. "I'm glad we were able to help each other throughout our lowest of times & show one another that what we are bringing to the table is everything that we got."
03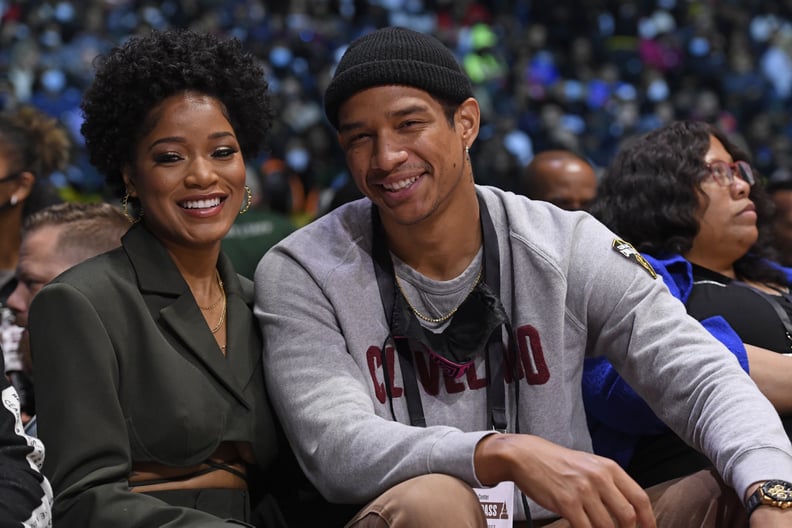 October 2021: Keke Palmer Shares Her Love For Darius Jackson on Instagram
In October 2021, Palmer took to Instagram to express her feelings for Jackson in a since-deleted video. "Without being too mushy because I HATEEEE THAT, it feels really nice to not be afraid to show this kind of care for someone that I don't share the same blood with," she wrote, per Life & Style. "I thought it could never happen, I can be quite guarded, but I appreciate you for being a safe space. I will always cherish what you have given me."
In a November 2021 interview on "The Tamron Hall Show," Palmer explained why she'd decided to make the couple's romance Instagram official. "It became more difficult to hide," she said. "We spend all this time together, and he really is my closest friend, so it just becomes a thing where I'm not gonna hide something that makes me happy. It's not gonna be everything you see, my job is my job, but at the end of the day this is somebody that is important to me so why not."
04
March 2022: Keke Palmer and Darius Jackson Delete Their Instagram Photos of Each Other
In a March 17 interview with Bustle, Palmer talked about how committed she is to her relationship. "I just think [this] was a moment in time in my life where I really stepped into this kind of boss behavior [of doing] whatever the hell I want to do," she said of her decision to go public with Jackson. "This is the happiest I've ever felt with someone. So why would I go out of my way to hide this person? That's a lot more work than just living in my life and being in my life. You know what I'm saying?"
However, about a week later, fans noticed that Palmer and Jackson deleted all photos of each other off of their Instagram pages. They also both unfollowed each other, according to OK Magazine, leading to breakup rumors. The two still don't appear to be following each other on Instagram, but one TikTok of the pair has remained up on Palmer's account — a clip of the couple sharing a kiss behind a fan, along with the caption, "Lady Miss takes what she WANTS."
05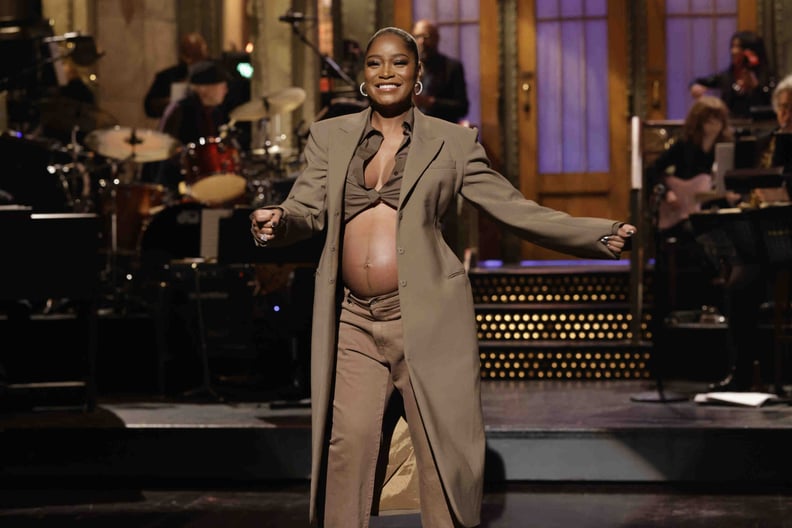 December 2022: Keke Palmer Announces She's Pregnant
Palmer unveiled her baby bump on a Dec. 3 episode of "Saturday Night Live," which she hosted. After the show, she posted a long thank you message on Instagram — which ended with a shoutout to Jackson. "thank you to my other half @dvulton for giving me the things that only true unity can bring," she wrote. "Love is all we have isn't it, you do nothing in this world alone and trust me, I am not alone!"
Jackson also paid tribute to his girlfriend after the show, sharing a photo of a pregnant Palmer on his Instagram Story with the caption "2023" and a red heart emoji.
06
January 2023: Keke Palmer Wishes Darius Jackson Happy Birthday
Palmer doesn't often post about her boyfriend on social media, but she made an exception on Jan. 21. For his birthday, she shared a sweet video of the two driving around and singing Jenevieve's song "Baby Powder" on the radio. "I can easily write long emotional posts for all my girls birthdays, but it's so cringy writing a birthday post for you 🥴 because the love is so sacred," Palmer wrote in a caption. "It almost feels asinine to try to share or give a glimpse into something that only we could understand. I can share most things so easily, but not you. Happiest Birthday to the best Aquarius, Darius, my guy!"
07
February 2023: Keke Palmer and Darius Jackson Welcome Their First Child Together
On Feb. 25, Palmer and Jackson officially became parents after they welcomed a baby boy named Leodis Andrellton Jackson. The "Nope" actor announced the news on Instagram two days later with a photo gallery of their son's first few days. "Hey Son!!!! 1. Only 48hrs of being parents! 😳," she started her caption. "Born during Black History Month, with a name to match 😄! LEODIS ANDRELLTON JACKSON, welcome to the world baby Leo."
08
June 2023: Keke Palmer Wishes Darius Jackson Happy Father's Day
On June 18, Palmer posted an Instagram video reel of Jackson playing with the couple's son and captioned it, "Happy Father's Day to the best dad ever!(don't tell my dad I said that)." She continued, "Congrats Mr. Man, Leodis and I are so very happy to have such a fun, kind, responsible, dependable and supportive man like you in our lives. It's so wonderful to see the kind of loving father you are, but I'm not surprised. You wanted to be a dad maybe more than I wanted to be a mother and that's saying a lot, because I've ALWAYS wanted to be a mother. I love this for us, but I really love it for Leo! God bless you darling, thank you for being in our lives. WE LOVE YOU!"
09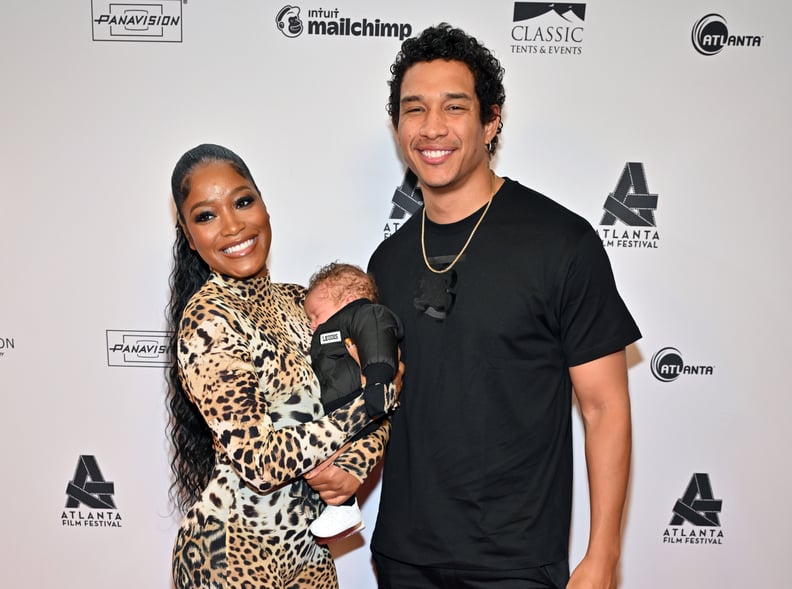 August 2023: Darius Jackson and Keke Palmer Reportedly Break Up
Jackson provoked immediate backlash on July 5 when he criticized Palmer for wearing a sheer thong dress to an Usher concert on Twitter. Shortly after, he deleted his Instagram account. He restored it a day later, per People, but appeared to delete all of his pictures of Palmer.
On Aug. 16, a source told People that Jackson had "moved on" from their relationship. The insider also added that, at the time, the pair were just trying to focus on co-parenting. "You don't have to be in the same household to be good parents," they said, also claiming that Jackson isn't interested in drama and wants to focus on his acting career.
Two weeks later, though, Palmer and Jacksons sent fans into a frenzy again when the pair celebrated the former's birthday together on Instagram Live. At one point during the Live, Palmer asked Jackson to tell fans what he said about Virgos (her zodiac sign), to which he responded, "Virgos don't believe the hype, they are one of the biggest spokesperson for themselves." Palmer then replied, "Don't believe the hype — but you are really into the Virgos though, so what are you talking about," to which Jackson said his mom, brother, and other family members are also Virgos. He also added hesitantly, "My partner in crime is a Virgo," gesturing to Palmer, which led some fans to believe the two are still together.