Kim Kardashian Felt "Guilty" After Speaking Out Against Kanye West's Antisemitic Remarks
Kim Kardashian is further addressing the antisemitic remarks made by ex-husband Kanye West in the latest episode of "The Kardashians." The reality star and entrepreneur first spoke out in a statement shared on her Instagram Stories on Oct. 24, 2022, writing: "Hate speech is never OK or excusable. I stand together with the Jewish community and call on the terrible violence and hateful rhetoric towards them to come to an immediate end."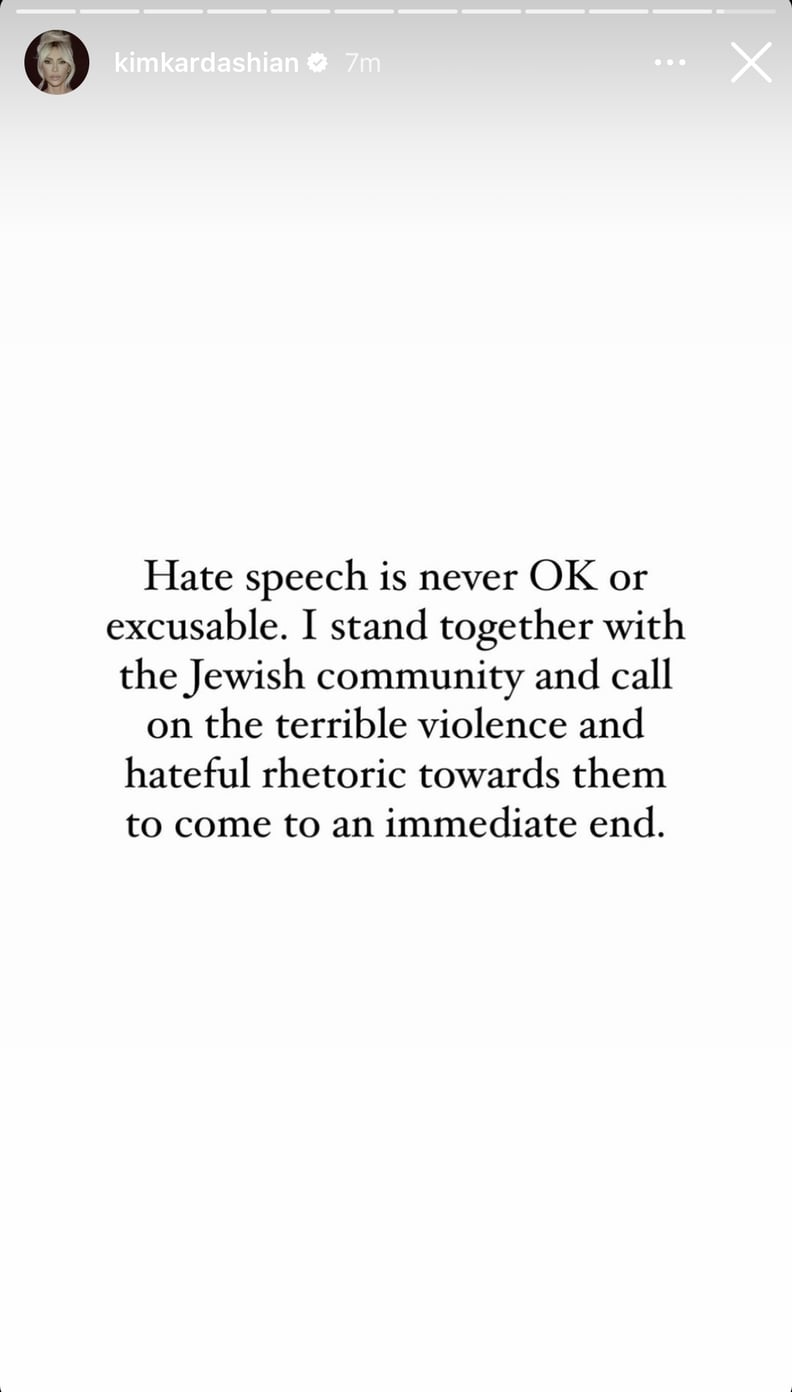 Image Source: Instagram user kimkardashian
In the third season of her family's Hulu reality show, Kim revealed how she felt about West's insensitive comments, nearly bringing herself to tears in episode seven (filmed in fall 2022) as she confessed to the camera, "It's really confusing for me that it's so different than the person that I married because that's who I loved and that's who I remember." She added, "I'll do anything to get that person back."
Addressing how the scandal affected her family, an emotional Kim said, "The whole situation is sad, and I don't know how to emotionally manage it. I'm conflicted because I don't ever want to jump in and be a part of a downfall for the father of my kids." She continued, "It's really f*cking hard, and I don't wish that upon anybody."
In a conversation with her sister Khloé, Kim admitted that she felt "so bad" for West, adding, "I don't even think he feels bad for himself because I don't even know if he knows how…I just feel so bad." She also expressed concern over how West's comments affected his business dealings, explaining, "I feel guilty that I posted something in support of the Jewish community, then people dropped him today. Is that my fault that I posted that? And did that push them? And I should have just kept quiet? But I'm vocal about everything else. I never know what to do."
Kim's first public condemnation of West's remarks came days after a group of white supremacists hung banners over a Los Angeles freeway on Oct. 22, 2022, following West's hateful rants. The group was also seen giving the Nazi salute. The horrifying demonstration appeared to be a collective breaking point for even the most loyal fans of West, who for months at the time proselytized far-right rhetoric and conspiracy theories.
Kim's family members also spoke out previously. At press time, her sisters Khloé, Kendall Jenner, and Kylie Jenner, as well as mother Kris Jenner, all shared an Instagram graphic, which simply read: "I support my Jewish friends and the Jewish people." In "The Kardashians" season three, Khloé shared that she wished she could've helped her sister through the situation with West, saying that "watching [him] is like watching a car crash in slow motion."
Kim herself has often been a target of West's ire. Early in 2022, the exes — who finalized their divorce in November of that year — exchanged public disagreements over matters relating to the parenting of their four children, North, Saint, Chicago, and Psalm. West also repeatedly maligned Kim's boyfriend at the time, comedian Pete Davidson.
West later wrote about taking "accountability" in an Instagram post in February 2022. "I'm still learning in real time. I don't have all the answers," he said. "I'm working on my communication." On her end, Kim spoke about taking the high road in a "Good Morning America" interview in April of that year. "At the end of the day, everyone has their own way of communicating," she said at the time. "I've always been a champion of him speaking his truth, and I would always want that."
Though he's managed to rebound in the past, West's actions in recent years have particularly damaged his reputation. Prior to his antisemitic comments, the rapper sent "White Lives Matter" shirts down the runway at Paris Fashion Week, had a baffling two-part interview with then-Fox News host Tucker Carlson, shared a hugely disrespectful conspiracy theory about the murder of George Floyd on the "Drink Champs" podcast, and spewed antisemitic stereotypes on Twitter, leading to his account becoming locked. (Instagram also locked his account.) He then made moves to acquire Parler, a conservative social media platform, but TechCrunch reported in December 2022 that the deal didn't happen after Parler's owner and West "mutually" parted ways.
West's longtime collaborators also took notice of his remarks. Balenciaga parted ways with West, and Adidas said its partnership with West was "under review" in early October, eventually cutting ties. On Oct. 24, 2022, shortly after Kim shared her statement, news broke via The Hollywood Reporter that West was dropped by his talent agency, CAA.