Mariah Carey Shares Adorable Video Celebrating Easter With Her Kids: "Gratitude For All!"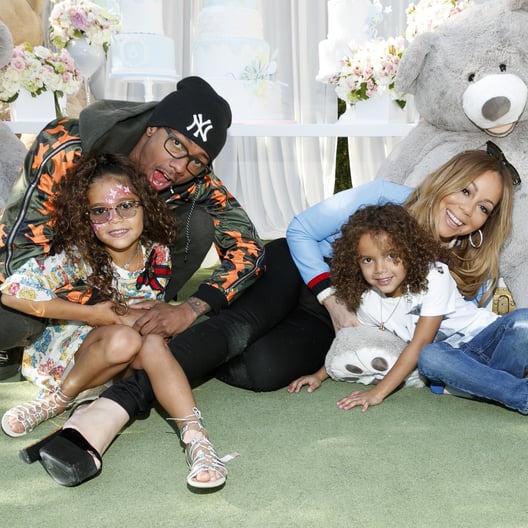 Mariah Carey and Nick Cannon welcomed two children together on their third wedding anniversary in 2011, twins named Moroccan and Monroe Cannon. Despite Cannon and Carey's 2014 divorce, the family still make appearances together and share many holiday and birthday celebrations.
The pair also share a lot of sweet one-on-one moments with their offspring. On April 9, Carey shared a video of herself celebrating Easter with her kids and a fluffy, adorable gray bunny. "Bunny kisses and orange soda with a huge side of Gratitude for All!" Carey captioned the sweet video. "Happy Easter! 🐣🐰👼🏾😇🦋".
Judging by their parents' social media posts, both kids seem to have inherited the large personalities that both of their parents possess — as well as some of their talents. It seems Carey's daughter may follow in her footsteps, as the two sang a Christmas duet during the singer's "Merry Christmas to All" show in Toronto on Dec. 9, 2022 — just a few weeks ahead of her CBS holiday special airing on Dec. 20, 200. The pair's jingle in question? "Away in a Manger," and judging by the videos fans shared on social media at the time, some seemed quite impressed with the youngster's vocals. Meanwhile, back in August 2022, Cannon paid tribute to his ex by sharing a video of him and Monroe dancing to Carey's "Emotions."
Keep reading to learn more about Cannon and Carey's twins and see all their cutest photos.
Monroe Cannon
Carey and Cannon's daughter, Monroe, or Roe, was born on April 30, 2011, which also happened to be the couple's third wedding anniversary. Monroe's name is inspired by Marilyn Monroe, whom Carey admires. Roe doesn't have a middle name, which was a conscious choice made by Carey, as she doesn't have one herself.
It appears as though Monroe is a big supporter of Carey flexing her high-note range, as evidenced by an adorable TikTok video featuring Monroe lip-syncing over Carey's singing. We already know both twins are great backup singers, so only time will tell if Monroe or her brother follows in their mama's musical footsteps.
Moroccan Scott Cannon
Cannon and Carey's son, Moroccan, or Roc, was also born on April 30, 2011. Roc shares a middle name with his dad (Scott is Cannon's grandmother's maiden name) and gets his first from the Moroccan decor of the room in which Cannon proposed to Carey in her New York City apartment.
For her twins' 11th birthday, Carey shared a gallery of photos and wrote, "Happy 11th birthday to the two greatest blessings of my life. Roc and Roe. . .Always be my babies! . . .DEMKIDS!!!! I LOVE YOU FOREVER! Mommy ❤️."
More Photos of Mariah Carey and Nick Cannon's Kids