In just a few years, Megan Fox and Machine Gun Kelly (née Colson Baker) seem to have been through a full spectrum of experiences together. After reportedly experiencing some major relationship setbacks in early 2023, the duo are apparently going strong once more, according to Us Weekly. "They're on the right track again," a source told the outlet on July 20. "They've had so much success in therapy together. As they start to trust each other, they've been talking about getting married again."
On Aug. 4, Entertainment Tonight reported that the pair are "fully back together." "Everything between Megan and Machine Gun Kelly has been great lately. They're in a really good place in their relationship and have worked to get things back on track," an insider told the publication. "They are talking about their future plans and about moving forward with their engagement and wedding planning."
Dating rumors between Fox and MGK first began swirling in the spring of 2020 but it wasn't until that summer that they finally confirmed their romance. The two first met on the set of the 2021 movie "Midnight in the Switchgrass," and it was practically love at first sight.
The "Night Teeth" actor had already been separated from husband Brian Austin Green at the time; however, their split wasn't publicly confirmed until May 2020. Since then, MGK and Fox have gotten way more comfortable showing off their romance — sometimes sharing a little too much (like Fox drinking MGK's blood).
The two heated things up at both the Billboard and iHeartRadio Music Awards in 2021, and nearly every one of their red carpet appearances since has given us even more memorable fashion moments.
From their matching tattoos to their vulnerable discussions about navigating mental health struggles together, it always seemed like just a matter of time until the pair took their relationship to the next level. It finally happened in January 2022 when the couple announced news of their engagement. Despite seemingly experiencing major issues earlier this year, though, it seems like they're now back to wedding planning.
MGK and Fox's whirlwind romance is a lot to track, so if you're having trouble keeping up, we've rounded up all of their major relationship moments ahead.
01
March 2020: Megan Fox and MGK Meet
Sparks first flew between Fox and MGK on the set of their 2021 movie, "Midnight in the Switchgrass." Megan recalled the special moment in a podcast interview with Lala Kent and Randall Emmett on "Give Them Lala . . . With Randall."
According to Fox, she had a feeling that something would eventually happen between them from the moment she found out he had signed up for the film. "I was like, 'Who is going to play this role?' And he was like, 'Oh, we just got Machine Gun Kelly,' and immediately, I was like, 'Uh oh' because I knew — I could feel that some wild sh*t was gonna happen to me from that meeting, but I wasn't yet sure what," she explained. "I just felt it like, deep in my soul that something was going to come from that. So then, we met on set."
And that's when Fox knew immediately that MGK was her "twin flame." "I was in a room with him and said hello to him and looked into his eyes . . . I knew right away that he was what I call a twin flame," she explained. "Instead of a soulmate, a twin flame is actually where a soul has ascended into a high enough level that it can be split into two different bodies at the same time. So we're actually two halves of the same soul, I think. And I said that to him almost immediately, because I felt it right away, so I think it was the second day, I asked him to come into my trailer for lunch, and I put him through all of this astrology stuff . . . I went deep right away. I knew before I even did his chart, I said to him, he has a Pisces moon. I could tell by his energy."
02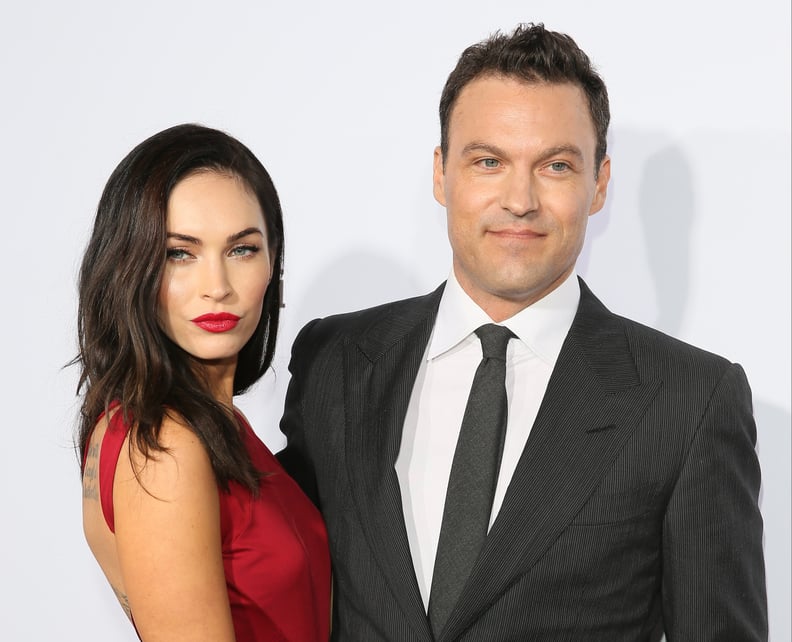 May 2020: Brian Austin Green Announces Split From Megan Fox
When photos of Fox and MGK hanging out began making the rounds, Green confirmed that he and his ex had separated after 10 years of marriage back in December 2019. During an episode of his ". . . With Brian Austin Green" podcast titled "Context," Green revealed that he and Fox have "really been trying to sort of be apart."
"I will always love her," he said. "And I know she will always love me and I know as far as a family, what we have built is really cool and really special . . . She met this guy, Colson, on set . . . I've never met him . . . Megan and I have talked about him. They're just friends at this point . . . I don't want people to think her or he are villains or that I was a victim in any way."
He continued, "It sucks when life changes and something that you're used to, that you've been doing for 15 years, you try and not get rid of but you change. There's the unknown aspect . . . there's that pit in my stomach . . . I really don't want Megan and I to be at odds . . . she's been my best friend for 15 years and I don't want to lose that."
03
May 2020: Megan Fox Stars in MGK's "Bloody Valentine" Music Video
Fox and MGK added more fuel to those romance rumors when the actress starred as the rapper's love interest in his music video. At one point in the visual, the two nearly share a kiss.
04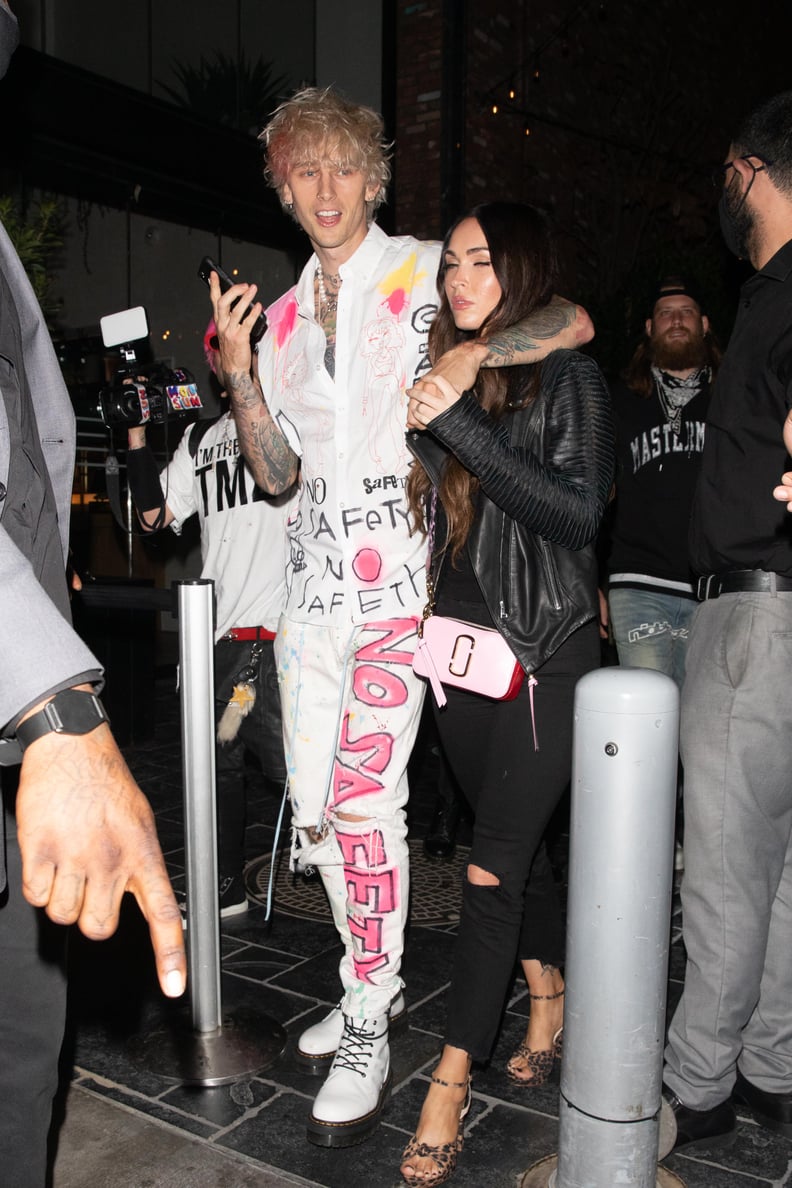 June 2020: MGK and Megan Fox Seemingly Confirm Their Romance
05
July 2020: MGK Makes Things Instagram Official
MGK then took things a step further and made their romance Instagram official by sharing a black-and-white snap of him and the actress sticking out their tongues, writing, "waited for eternity to find you again ... 🔪💫❤️🔪."
06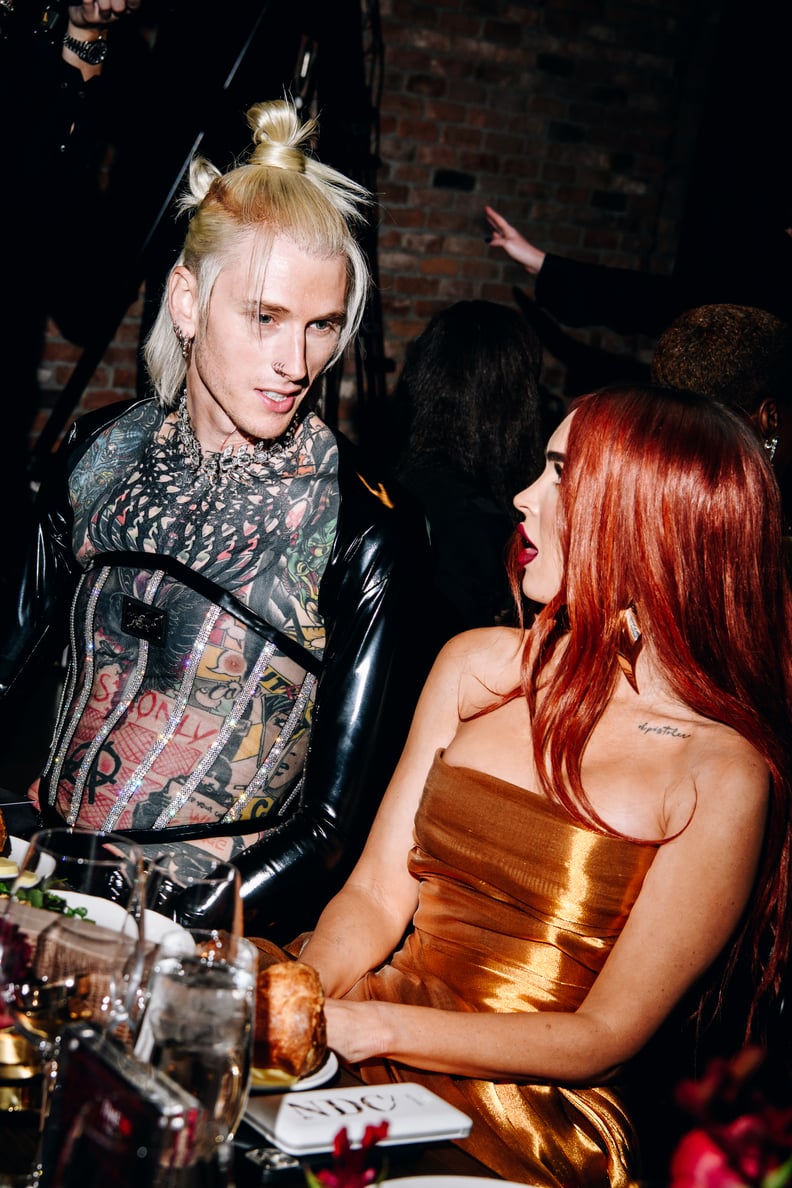 August 2020: Megan Fox Follows Suit
Fox later shared a since-deleted similar photo of the pair on her Instagram page with the caption: "Achingly Beautiful Boy... My heart is yours 🔪♥️🔪."
07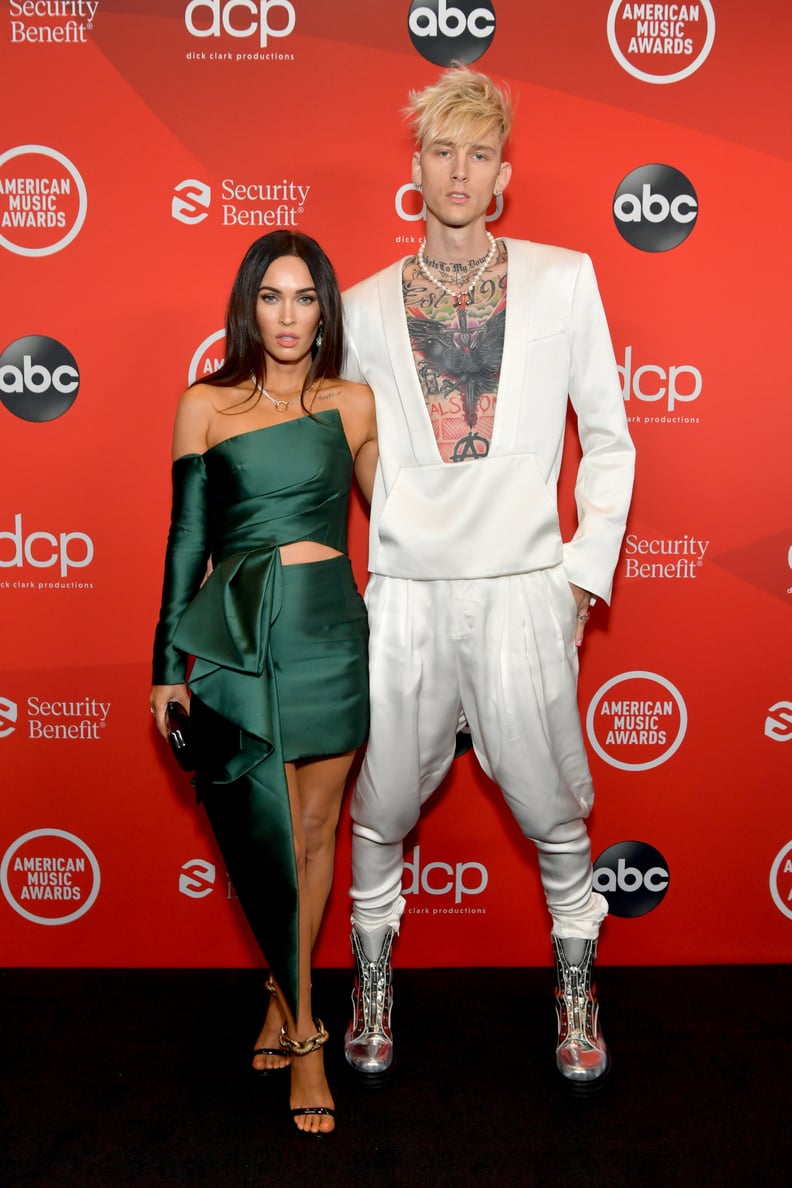 November 2020: Megan Fox and MGK Make Their Red Carpet Debut as a Couple
08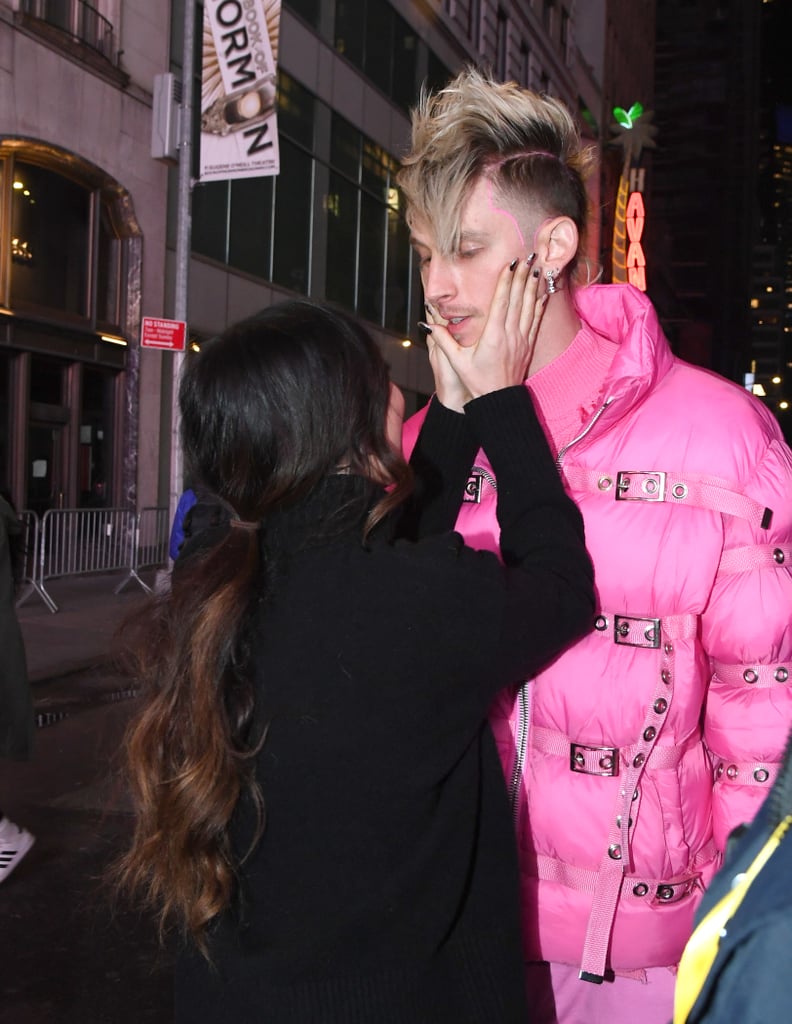 May 2021: MGK Celebrates a Special Anniversary With Megan Fox
09
October 2021: Megan Fox and MGK Take a GQ Couples Quiz
The lovebirds sat down for a 40-question couples quiz in tandem with their October British GQ cover story. They asked each other about their go-to movies, astrological signs, favorite vacation spots, and first dates. They also showed off their secret handshake while Fox shared her nicknames for Kelly — which include Cookie, Lamby, and Blond Angel Baby.
10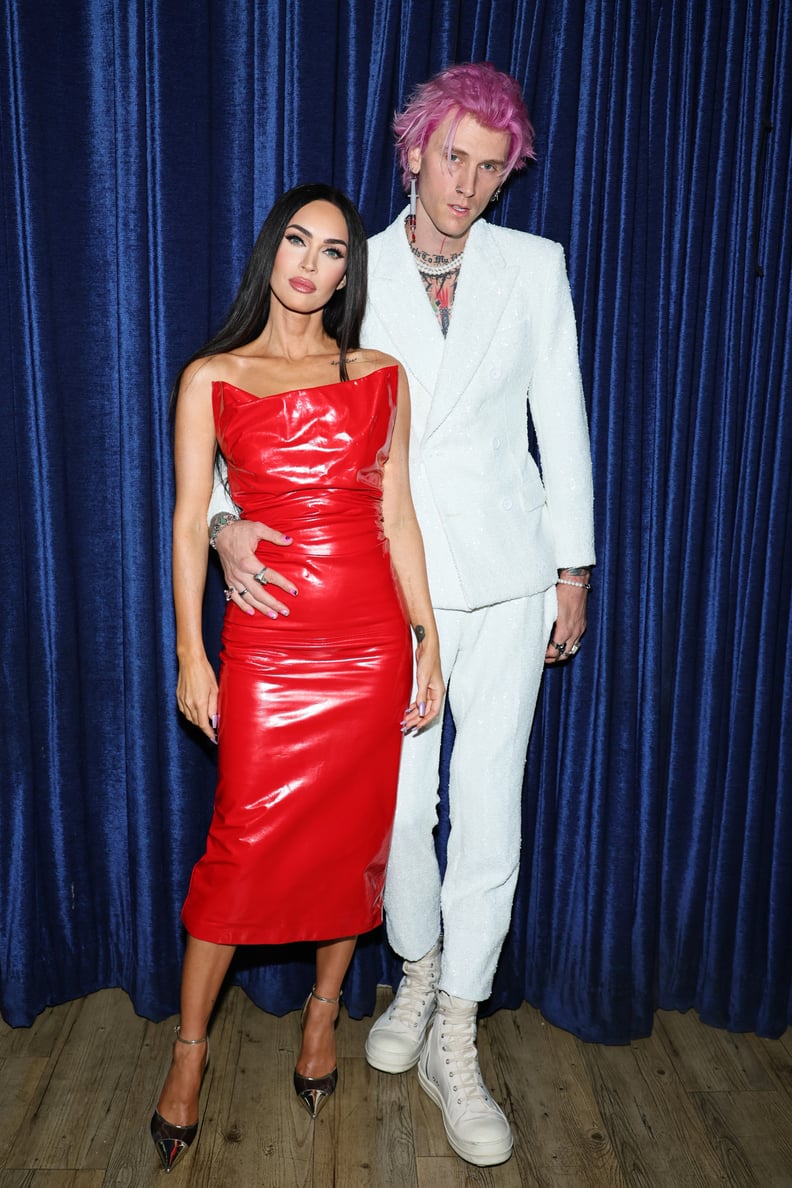 January 2022: Megan Fox and MGK Get Engaged
On Jan. 12, the couple announced news of their engagement on social media in a since-deleted post, sharing a video of their sweet proposal that took place "beneath the same branches we fell in love under."
11
May 2022: MGK Dedicates His Billboard Music Awards Performance to Megan Fox
12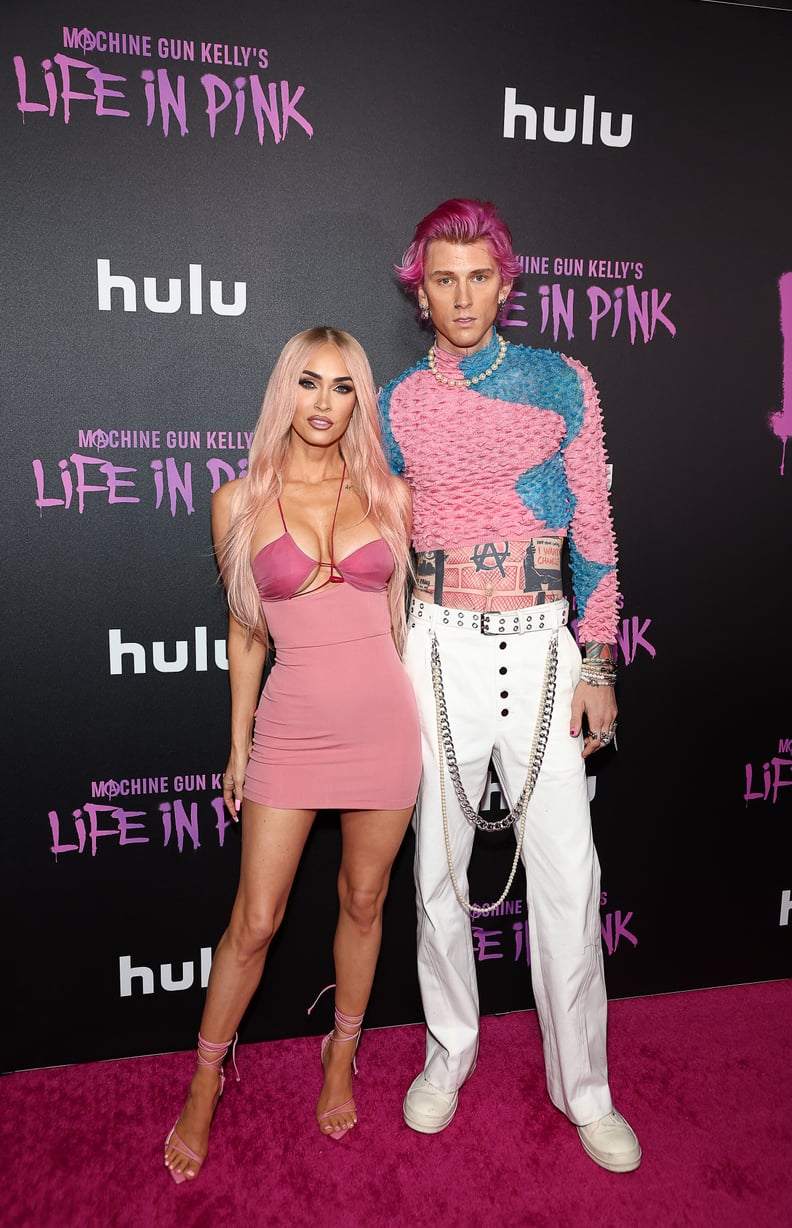 June 2022: MGK and Megan Fox Get Real About Mental Health
On June 28, 2022, MGK released his documentary "Life in Pink," which provided new insights into the pair's relationship. In it, MGK opened up about struggling with drug abuse and attempting suicide while on the phone with Fox. "I kept getting paranoid that someone was gonna come and kill me," he said. "I would always sleep with a shotgun next to my bed, and like, one of the days, I just f*cking snapped. I called Megan, I was like, 'You aren't here for me.' I'm in my room and I'm like freaking out on her and dude, I put the shotgun in my mouth and I'm yelling on the phone and like the barrel's in my mouth. I go to cock the shotgun and the bullet as it comes back up, the shell just gets jammed. Megan's like dead silent."
At the premiere, Fox told Entertainment Tonight that she and MGK had done intensive therapy after what happened. "We've found a therapist that really works for us, couples and individually, and it's definitely a process; it's not an easy one," she said at the time.
13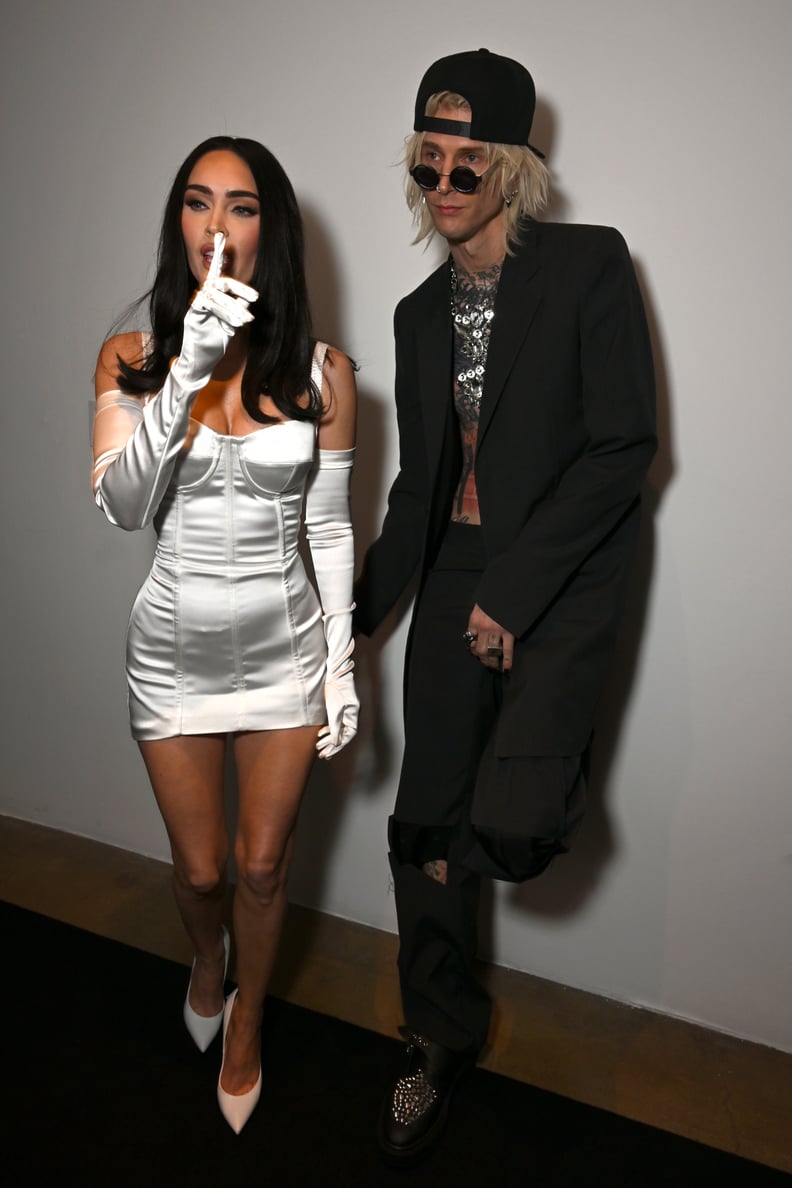 February 2023: MGK and Megan Fox Appear to Hit a Rough Patch
In February, rumors that the pair had split began to swirl when Fox deleted all photos of Kelly off of her Instagram, and shared a photo of herself with a poster that read "when you can't walk away" behind her. She also captioned the since-deleted post, "You can taste the dishonesty / it's all over your breath" — a line from Beyoncé's "Lemonade," which is about JAY-Z's infidelity.
Fox later deleted her account, but returned to Instagram to confirm that there had been "no third party interference in this relationship of any kind," putting rumors that cheating had been involved to rest. At the time, a source told People that the pair had gotten in a fight during the weekend of the Super Bowl, and Fox was "very upset" with MGK. "They haven't officially called off the engagement, but Megan took her ring off," the source said. In April, another source told Us Weekly that they had "stalled wedding planning to work on their issues."
However, the pair were spotted vacationing in Hawaii that same month and were seen out and about in the months afterwards, making it clear that they were still trying to work things out.
14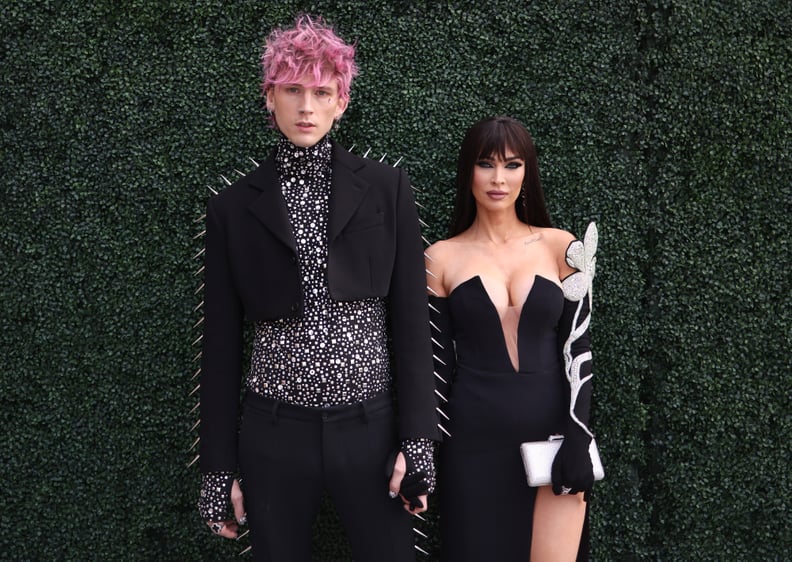 July 2023: MGK and Megan Fox Reportedly Start Planning Their Wedding Again
In July, a source told Us Weekly that the pair are diving into wedding planning again after working on their relationship intensively in therapy. According to the source, the pair were originally planning on inviting 5,000 people to a Los Angeles wedding and were intending to follow that with a smaller Italian wedding, but they've since decided to downsize.
"There haven't been any deposits put down," the source added. "But they are both on board again and are excited to start planning the new version of their wedding."
Fox has also returned to Instagram, and has been sharing a collection of sultry photos of herself posing outdoors — which seem to be making her fiancé happy. "If this is what a wild animal looks like, I'd let it maul me," Kelly commented on one of Fox's posts on July 15.
15
October 2023: Megan Fox and Machine Gun Kelly Celebrate Halloween Together
Fox and MGK got in on the Halloween fun when they attended the annual Casamigos Halloween party in matching "Kill Bill"-inspired costumes on Oct. 27. The following day, they dressed up as characters from the anime, "Death Note," when they attended another Halloween bash.