Over the course of a career spanning four decades, Shakira has gone from a singer-songwriter popular amongst Latin music fans to a global legend. With multiple, chart-topping albums in both Spanish and English, the Colombian artist has not only joined the ranks of musical icons like Cher, Prince, and Madonna, she's also very much been in a league of her own. So, it's only fitting that at the upcoming MTV Video Music Awards, Shakira will be honored with the Video Vanguard Award, a merit given to notable music industry figures who have demonstrated considerable impact on music and pop culture at large. The 46-year-old is also set to perform at the VMAs for the first time in 17 years.

Past recipients include industry giants such as The Beatles, David Bowie, Michael Jackson, Beyoncé, and Jennifer Lopez. Yet, while these artists have achieved monumental success, Shakira is unique in that her success is not limited to a single language. After the massive success of her breakthrough crossover album, "Laundry Service," Shakira continued to nurture her English-language artistry without giving up her Spanish-language roots. This versatility has culminated in an incredible career that has seen the artist take home three Grammys and 12 Latin Grammys among numerous other honors. And she shows no signs of stopping any time soon.
After a hectic year that saw her separating from long-time partner Gerard Piqué, "La Barranquillera" proved success is the best revenge, dropping her famous diss track "Session #53" this past January with in-demand Argentinian beatmaker Bzrp. The single debuted at No.9 on Billboard's Hot 100, making Shakira the first woman to reach the top 10 on the chart with a song in Spanish. And just like that, Shakira turned her personal tragedy into a reminder of the caliber of artist she is— one who never fails to find her footing in whatever genre.
In the past year we've seen her brilliantly turn grief into art with singles like "Session #53," "Monotonía featuring Ozuna (which had the biggest debut ever for a woman on Spotify in Mexico and Colombia), and "TQG" with Karol G (which debuted and peaked at No.7 on the Billboard's Hot 100 in March). Her most recent single "Copa Vacia" with fellow Colombian singer Manuel Turizo debuted at No.4 on Billboard's Latin Pop Airplay Chart.
She was also honored at Billboard and Telemundo's first-ever Mujeres en la Música (Latin Women in Music) event with the Woman of the Year Award.
All of this is further proof that Shakira is always evolving. The singer is nominated for four VMAs this year including Artist of the Year, Best Latin, and Best Collab for "TQG" and Best Latin again for "Acróstico."
So, before she takes the stage on Sept. 12, we're taking a trip down memory lane with the following slideshow of Shakira's most memorable moments at the VMAs.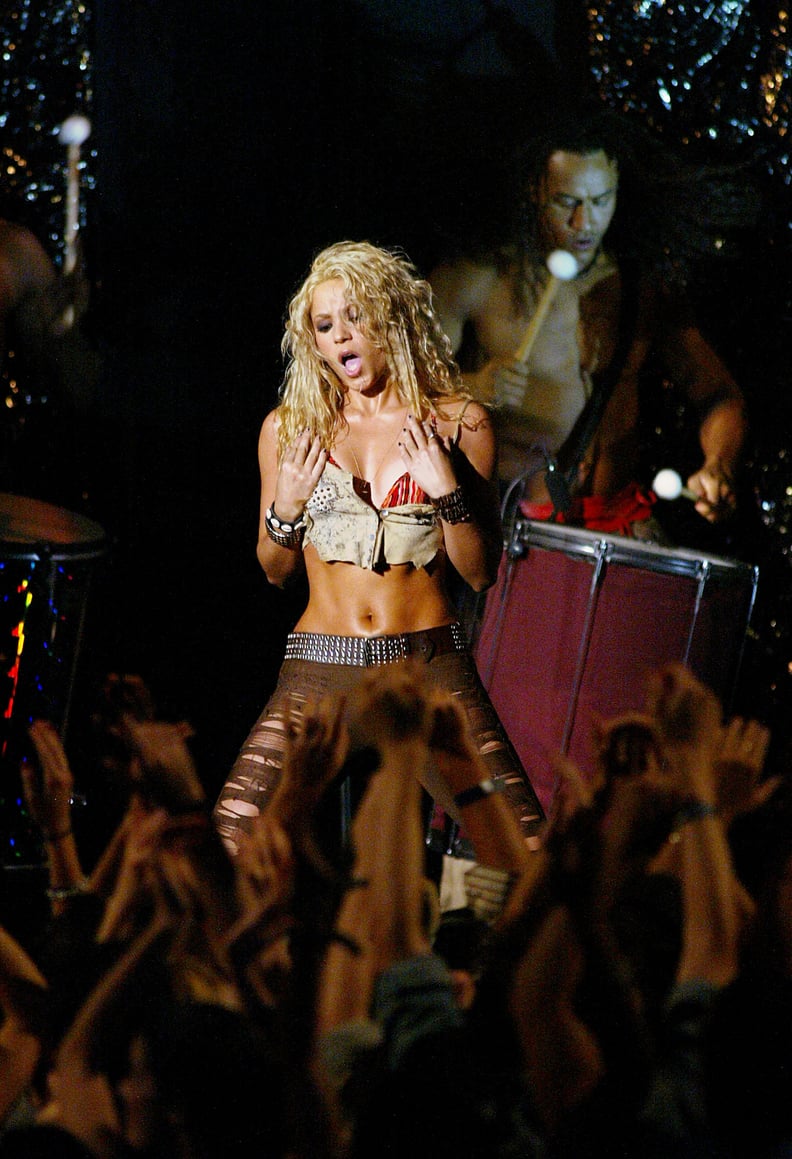 Shakira's 2002 MTV Music Video Music Awards Performance
In 2002, Shakira was already an established force in Latin America and the Spanish-speaking Caribbean. But in the States, she had only just released her crossover debut, "Laundry Service," and was still fairly unknown to non-latine audiences. Her performance of "Objection (Tango)" would change that. Not only did the percussion-heavy interpretation of the song show how easily the singer could switch up her sound, but it also provided the perfect backdrop for her to showcase her trademark belly dancing and crowd surfing to a new audience — solidifying the image of the sensual songstress in people's minds for years to come.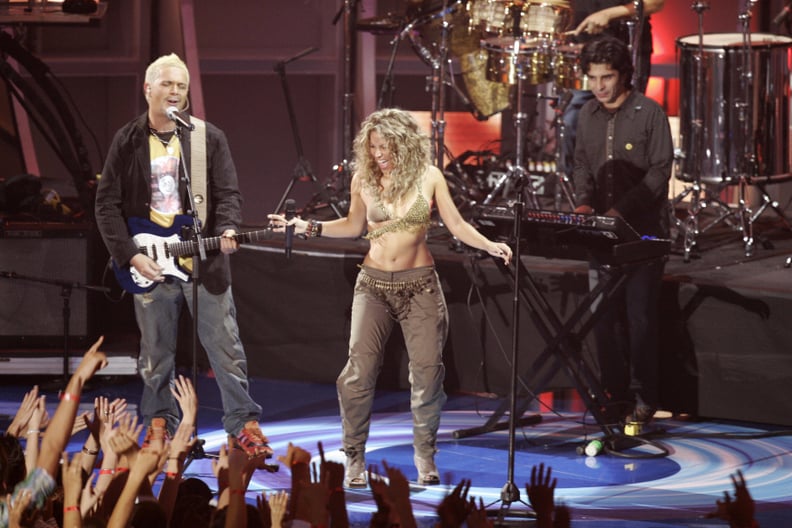 Shakira's MTV Music Video Awards Performance in 2005
On August 28, 2005, Shakira performed her single "La Tortura" off her sixth studio album, "Fijación Oral Vol. 1" alongside Spanish singer-songwriter Alejandro Sanz. It was the first time in MTV Video Music Awards history that a song was performed in a completely different language other than English. It's hard to describe the impact "La Tortura" had when Shakira dropped the track in 2005. Not only did it mark the return of the multilingual singer-songwriter (she speaks seven different languages) to Spanish-language hitmaking, it was an incredibly energetic song that could be heard everywhere you went. It even garnered a reggaetón remix by none other than the golden boys of the genre at the time, Luny Tunes.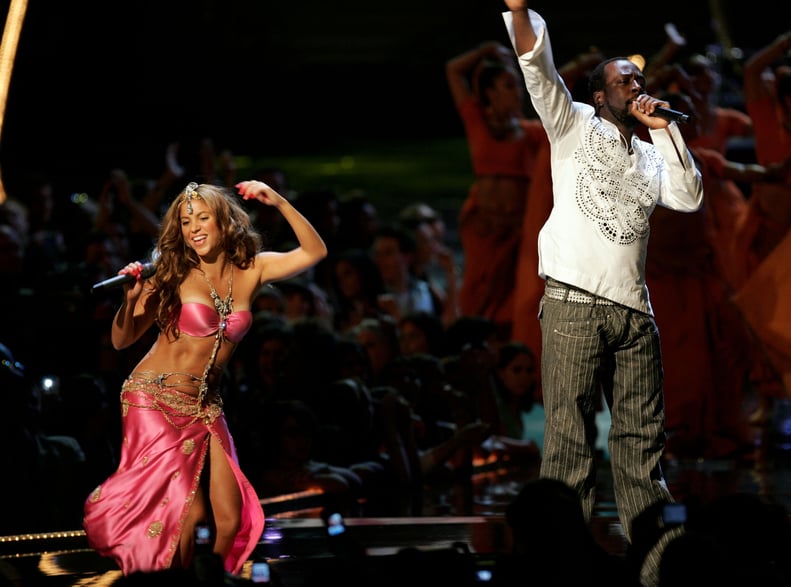 Shakira Performs Hit "Hips Don't Lie" with Wyclef Jean in 2006
Arguably her most successful song, Shakira went full Bollywood with this production of "Hips Don't Lie," opening with a slow, melodic Indian flute solo before launching into choreography provided by the legendary Indian director Farah Khan. The set cemented her as a true performer, one who looks far beyond her own cultural influences in order to bring fresh ideas to her fans. And as her last performance at the VMAs, it will be interesting to see how she tops it when she returns to the stage this year.
Her Win for Beautiful Liar with Queen Bey (2007)
Following her epic performance of "Hips Don't Lie," Shakira's last win at the VMAs came the very next year when she shared the award for Most Earth Shattering Collaboration with Beyoncé for their song "Beautiful Liar." The artist has never been one to shy away from collaborations, and that's probably a key factor in her longevity. Across 11 albums, she boasts an international A-list of features from Alejandro Sanz to Akon to Blake Shelton to Rihanna and more.