Fans may have wondered whether "Only Murders in the Building" season two could live up to season one's impact, but now that the second season finale has aired and revealed a twist ending just as satisfying as the first's, it's pretty clear the show's cast and writers have hit their stride. It's no wonder the Hulu critical darling is nominated for 17 awards at the 2022 Emmys, with nominations for best outstanding comedy and best lead actor for two of its stars — Steve Martin and Martin Short — among them.
Short reflected on what it feels like to be nominated in the same category as Martin, telling The New York Times in July, "We're thrilled. We're thrilled at the nominations, not only for us but for the show." He did express disappointment over Selena Gomez's snub in a main acting category, saying, "We're dismayed that Selena was not nominated because she's so crucial to our performances, really." Martin made sure to shout out Gomez for her best outstanding comedy nomination, however. "She is nominated as an executive producer," he said.
Martin and Short echoed the same sentiments while on the Emmys red carpet on Sept. 12. They were sure to give Gomez a shoutout as they chatted with Laverne Cox on "E! Live From the Red Carpet" when Cox said she was talking to "the stars" of "Only Murders in the Building." Martin swiftly added, "Two of the three stars." Short then joked, "We have two living legends on the show, but Selena isn't here."
The pair of comedy icons went on to joke about their "rivalry" after being nominated in the same category. "It's been pretty cutthroat," Martin shared. "I asked Marty to announce he would sacrifice people voting for him for me, and he would come off like a hero for sacrificing, and then I would win." "But I ignored that call," Short responded. "[It's] winner takes all. . . . But if I win, Steve, will there be a little bit of bitterness?" Martin quipped back, "Well, to go along with the existing bitterness, yes."
But don't go thinking there's any bitterness between Gomez and her castmates. While Gomez didn't join Martin and Short on the red carpet, she met up with them inside at the ceremony, and she looked thrilled to be there.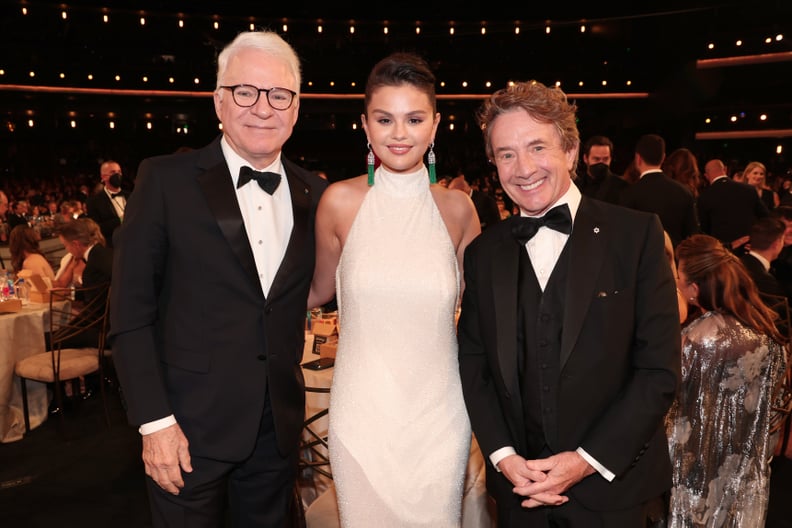 Fans are waiting with bated breath to find out who takes home the Emmy on Monday night!
The 74th-annual primetime Emmy Awards are airing live on NBC on Sept. 12.