When Is Rihanna and A$AP Rocky's Baby Due?
Rihanna Talks Third Trimester of Pregnancy and Being a Protective Mom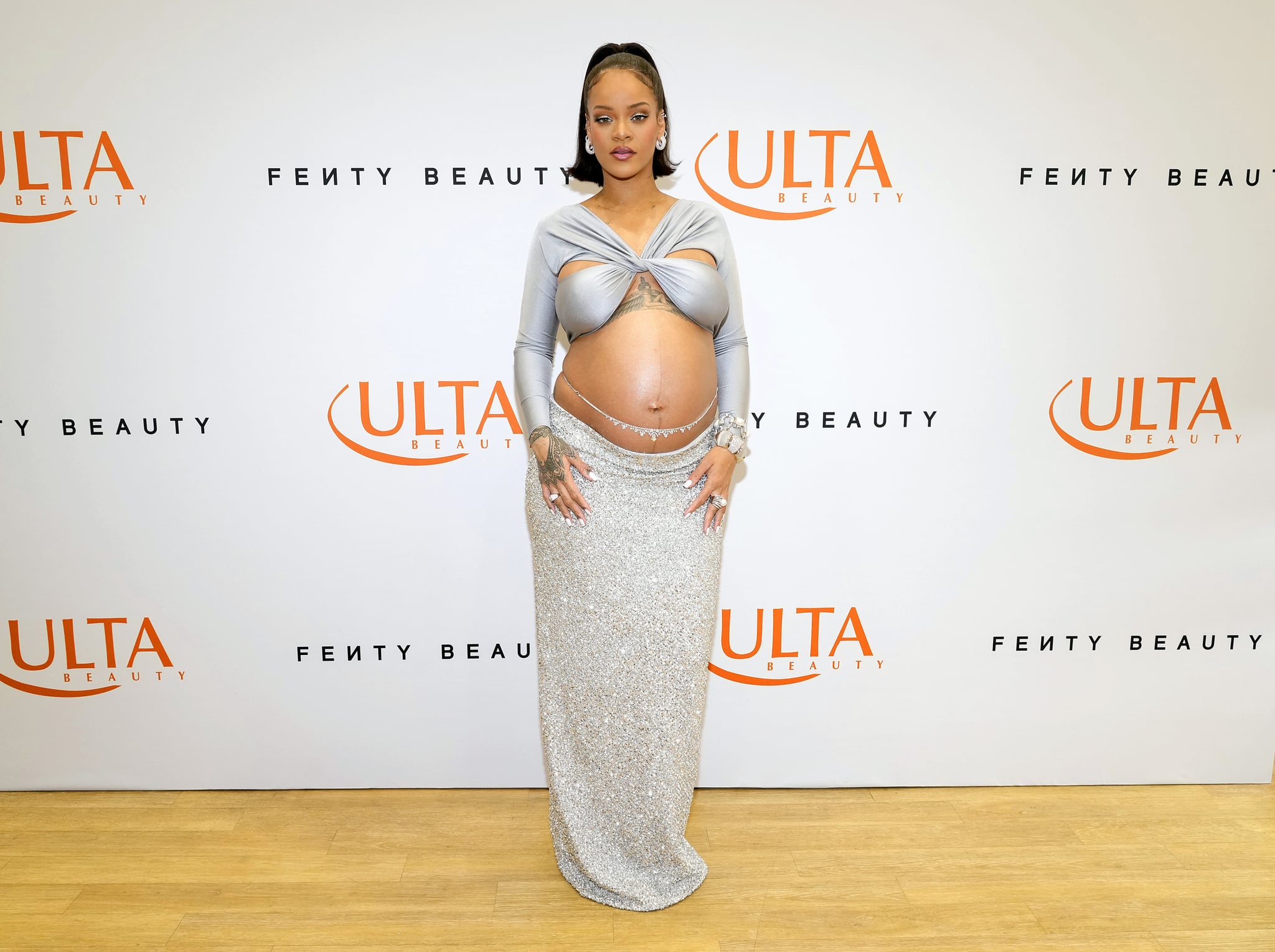 Rihanna and A$AP Rocky are going to be parents! The couple announced in January that they're expecting their first child, and it seems like the baby will be here pretty soon. In a recent interview with Elle, the 34-year-old musician and Fenty beauty founder revealed that she's in her third trimester.
"There's a pregnancy glow. There's also those days, girl. Especially in the third trimester where you wake up and you're like, 'Oh, do I have to get dressed?' Makeup for sure helps you feel like a real person," Rihanna said of her pregnancy. "The face gets a little round and chubby. The nose starts to spread. Everything is a challenge, from getting dressed and how you're going to do your makeup. But I like challenges. I like things that force me to be creative and create in new ways. And with beauty, there's so much that you can do."
When asked what has about the best advice she's received about motherhood so far, Rihanna replied, "Probably the best advice is to sleep now because I won't get much later. I need to work on that before it's a thing of the past."
Given that Rihanna is a big fan of the Real Housewives franchise, it's no surprise that she admires Heather Dubrow's chic parenting style. But she's also a fan of Teresa Giudice. "Heather Dubrow is so chic while being a mom. Just love the way that she just allows her kids to be who they are. And that's really inspiring to me. But Teresa from Jersey does not play about her kids," Rihanna said. "She will flatten you about those kids. And that resonates with me a lot because I feel like that's the type of mom I'm going to be. Psycho about it."
Rihanna and Rocky first sparked dating rumors in November 2020, but it wasn't until May 2021 that the 33-year-old rapper confirmed them in an interview with GQ. He called Rihanna the love of his life and had nothing but sweet things to say about their friendship-turned-romance. "[It's] so much better when you got The One," he said. "She amounts to probably, like, a million of the other ones. I think when you know, you know. She's The One."
Based on Rihanna's recent comments, it looks like the pair will officially become parents this spring. So exciting!