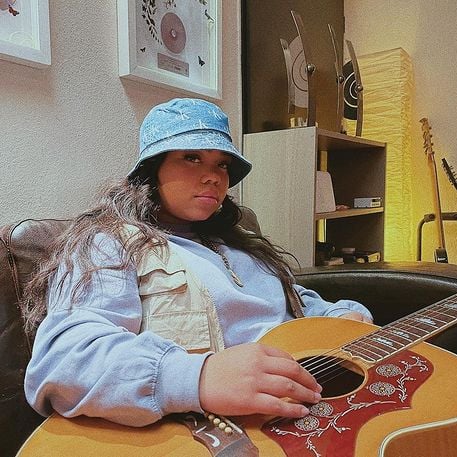 We can't get over German-born singer-songwriter Zoe Wees's raw, deeply emotional music. We were awe-struck from her very first hit, "Control," and her subsequent releases have been just as spectacular. With a range that goes from raspy low to unbelievably powerful and sky high, Wees is an artist to watch right now, showing her artistic ability through both her incredible voice and handwritten lyrics. Even though her songs bring her audience in and allow them to get to know her for who she really is, like the empowering "Girls Like Us," there are many details about Wees's life that would come as a surprise to many. Curious? Ahead, find nine facts about Wees that make her the artist she is today, and that lend even more significance to the tunes she pens herself.
01
She Was on The Voice Kids 2017
Zoe Wees's career got started when she was 15 years old, singing Jessie J's "Get Away" on The Voice Kids' season-three blind auditions in 2017. Her performance was an immediate success, garnering both applause from the audience and an immediate chair turn from the judges. The rest was history.
02
Her Hit Single "Control" Is About Her Struggle With Benign Rolandic Epilepsy
03
Since "Control," Wees Has Made Countless Appearances, Like on The Late Late Show With James Corden
Since the success of her first single "Control," racking up millions of multiplatform views and streams, Wees has made several other high-profile TV appearances. Notably, Wees appeared on The Late Late Show With James Corden to talk about the meaning behind "Control" and perform the emotional banger. She also came on The Voice Germany to perform her song with a contestant.
04
She Counts Songwriting as a Kind of Therapy
With powerful, emotion-strung lyrics like "Tryin' every day when I hold my breath/ Spinnin' out in space pressing on my chest" in "Control" and "Red lights in the darkness/ Everyone's so heartless" in her latest release "Girls Like Us," it's no wonder that Wees counts songwriting as "[her] therapy." As listeners, we can tell she leaves it all on the page, which makes us respect her even more!
05
She's a Plays Many Instruments
As if Wees's songwriting and powerhouse voice weren't already impressive enough, she plays a bunch of instruments, too. She counts both the piano and guitar as instruments she knows and loves, and regularly posts herself playing one of them on her Instagram.
06
She Has Serious Playlist-Making Abilities
Apart from Wees's music-making abilities, she's also been known to create incredible Spotify playlists. Featuring favorite artists like Anne-Marie, Jessie J, Daughter, and Alessia Cara, you can catch us dancing to her playlists on any given Friday night.
07
Her Talents Stem From a Very Early Age
Throwback photos like these show that Wees knew she had it in her from day one, crooning into the microphone and playing the keys as if she knew her songs would one day get millions of plays. With captions like, "Sometimes music is the only thing that gets my mind off of everything else. It's more than just music. I feel alive, I feel at home. Music gets me through everything. I will never be able to thank you enough for always being there for me . . . years fly by but my dreams are still the same," it's clear that the singer-songwriter's ambition and drive led her to where she is today.
08
She Has Worked With Sam Smith
Further cementing the young vocalist's rise to fame, she recently worked with the one-and-only soulful singer Sam Smith. Opening for Smith's live-streamed concert at Abbey Road Studios, Wees sang "Control" with strength, resilience, and incredible musical ability.
09
Her Song "Girls Like Us" Shows Her Passion For Emotion-Driven Songs That Have the Power to Heal
The chanteuse's latest single "Girls Like Us" focuses on the idea of getting hurt before and the attempt to heal from past pain. Describing the feelings of insecurity, lack of trust, and fear, Wees's songwriting is powerful and authentic, giving a voice to people going through difficult situations so they can find a way to empowerment.