It 1990 Movie Facts
13 Things You Never Knew About the Original It Movie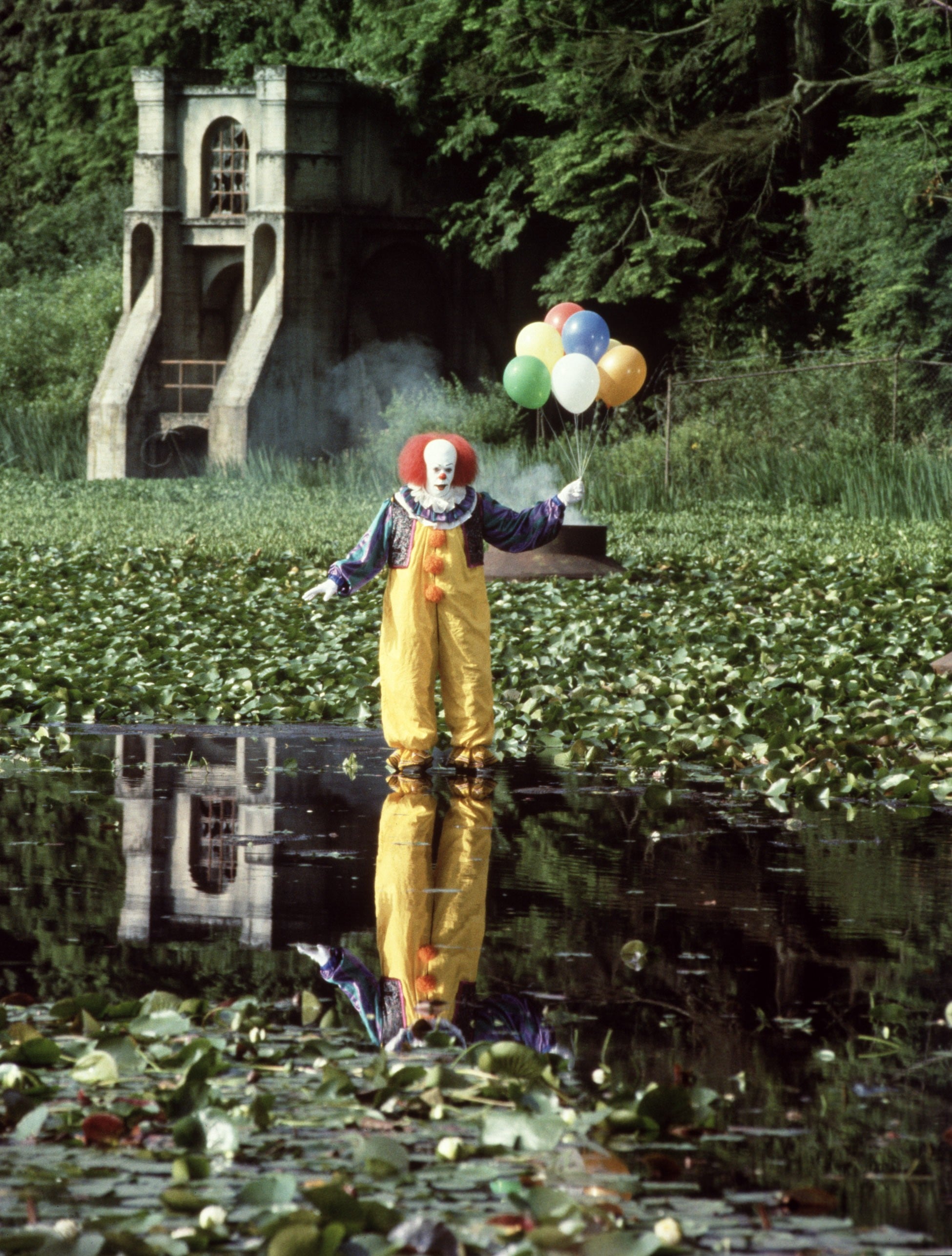 This September, the first half of the two-part film adaptation of Stephen King's 1986 novel, It, will be released. For those unfamiliar, the story follows a group of childhood friends who is terrorized by a shape-shifting, evil being that preys on the fears of its victims. Over 20 years later, the creature — which often takes the form of a clown named Pennywise aka "It" — returns, forcing the friends, now adults, to come together and protect the next generation as well as themselves.
The Fall film, which features a cast of young up-and-coming actors (including Bill Skarsgard as Pennywise), will be so terrifying that it'll have you shaking in your boots. Yet, this isn't the first time the horror story has hit the screens. In 1990, the first adaptation aired on ABC as a miniseries, starring Rocky Horror Picture Show alum Tim Curry as the demented clown. Take a look at the list below to learn a few fun facts about the original TV film, and don't forget to check out the teaser trailer for the upcoming remake!
Jonathan Brandis was in another Stephen King adaptation before his starring role in It. Just one year before his portrayal as a young Bill Denbrough in It, a 13-year-old Jonathan Brandis was used to voice over the beginning scenes of Pet Semetery, a film based on King's 1983 novel of the same name. Years later, Brandis would go on to voice a main character in an animated television series remake of Disney's Aladdin; however, it was his breakout role in It that paved the way for the child actor and made him a teen heartthrob of the 90s.
A real-life "killer clown" is rumored to have inspired the story. Just a few years before King's novel was released, John Wayne Gacy was convicted for the rape and murder of 33 boys in 1980 in Illinois. Declared a "killer clown" by the media, Gacy had spent years providing entertainment at children's parties and charity events dressed as "Pogo the Clown," a character he created. While King has never confirmed the public's 1980s clown frenzy as his inspiration for It, it's hard to imagine that two killer clowns in one decade is a coincidence. King did, however, speak about the 2016 clown hysteria on his Twitter, stating, "Hey, guys, time to cool the clown hysteria--most of em are good, cheer up the kiddies, make people laugh." Furthermore, just a couple of weeks after the trailer for the 2017 film remake was released, King tweeted, "The clowns are p*ssed at me. Sorry, most are great. BUT . . . kids have always been scared of clowns. Don't kill the messengers for the message."
Eerily, two main cast members both passed away in 2003. In the film, Three's Company actor John Ritter portrayed Ben Hanscom and a preteen Jonathan Brandis played young Bill Denbrough. In 2003, Ritter tragically passed away from surgical complications, while a 27-year-old Brandis committed suicide. In an interview with Yahoo celebrating It's 25th anniversary, the director of the miniseries, Tommy Lee Wallace, spoke about Brandis: "He had matured a bit, of course, but he seemed overly serious and distracted, as well. I recognize now that it may have been depression; wish I'd had better insight at the time, but it's probably naive to think I could've helped him in some way." He continued, "A tragedy. As was John Ritter, whose life felt very much unfinished, even though he had a long and varied career."
The budget was monumental for a television film. A whopping $12 million was given for the creation of the horror project, which was just a two-night television event; with inflation, that'd be over $21 million today. In comparison, this year's film reboot had a budget of $30 million for the big screen.
Brandis found it difficult to play a character with a stutter. In an original 1990 interview with cast members during the film's production, a young Jonathan Brandis told Fangoria magazine, "One of the reasons this movie's harder is that I have to stutter, and that's a really difficult thing — which I never realized when I auditioned for it. They said I had to stutter, and I thought, 'Hey, that can't be so hard!' But I had to get coaching on the set, because it was really tough."
A longer, more expansive format was originally considered. When reflecting on the original film, screenwriter Larry Cohen stated, "This was the heyday of networks adapting lengthy novels for TV, and initially It was going to be an eight-to-ten hour series." He continued, "ABC was always nervous about It, primarily the fact that it was in the horror genre, but also the eight-to-ten hour commitment. They loved the piece, but lost their nerve in terms of how many hours they were willing to commit. Eventually, they were agreed to a two-night, four-hour commitment." While the shorter format was ultimately successful, Cohen acknowledges that anthology/miniseries today are extremely popular and had they been given more time back in 1990, "It would have provided the canvas to really get to know these characters."