How 2021 Artists Brought Back That '80s Sound
Pressing Replay: How Artists in 2021 Are Bringing Back That Signature '80s Sound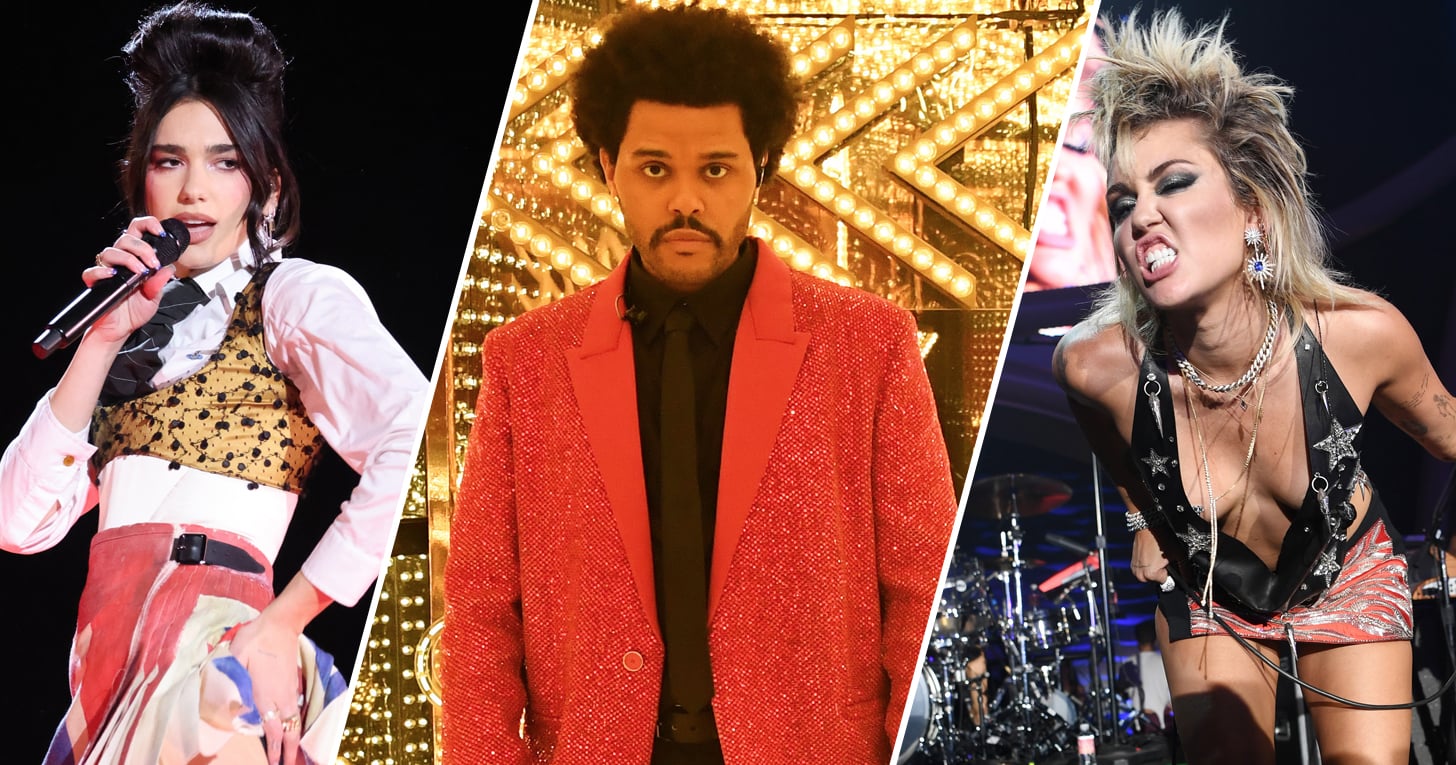 Image Source: Getty / JMEnternational, Getty / Kevin Mazur, Getty / Denise Truscello
Click through your recommended TikTok sounds and you might find Fleetwood Mac's "Dreams" sandwiched between Doja Cat's "Say So" and MGMT's "Little Dark Age." Even for those who weren't alive to hear these hits on the radio firsthand, TikTok has helped resurface dozens of musical gems from decades past that introduce us to new artists, new genres, and lend insight to a time that parallels our own in striking ways.
The return of these hits has even spilled over into pop releases from artists like Lady Gaga, Miley Cyrus, Dua Lipa, and The Weeknd, bringing with them a vibrant energy reminiscent of the '70s and '80s. Maybe it's the guitars shaped like lightning bolts or the shaggy hairstyles, but the retro music era has not-so-quietly slipped its way back into our lives at exactly the right time and with a surprisingly similar effect as the first time around.
Blurring the Lines Between the '80s and the 21st Century
With the release of his After Hours album in March 2020, The Weeknd didn't just debut punchy new melodies. He also had a new look that shook the musical sphere like a snowglobe that turned back time. Sliding into our lives just a week after the first official lockdown orders of the COVID-19 pandemic were mandated, the album unintentionally set the tone for one of the most influential moments in recent world history.
"Blinding Lights" rapidly became a chart-topping hit, making history as the No. 1 song in Billboard Hot 100 history. "['Blinding Lights'] really sort of re-energized the Top 40 in a way that not a lot of songs had in recent years," Andrew Unterberger, deputy editor for Billboard, told POPSUGAR. Unterberger also pointed out that the song's double tempo beat and snappy handclaps create hesitant energy that builds over the course of the song, making heads buzz and emotions explode when that second chorus hits.
Meanwhile, other artists like Lipa, Gaga, and Cyrus have unveiled their own pop-rock albums, laced with heavy guitar solos and guest vocals from some of the top '80s music legends. Gaga's Chromatica revives the urgency of pop, while Jessie Ware's What's Your Pleasure? illuminates what it was like to be alive and in love in a time long behind us. Cyrus's Plastic Hearts features stars like Billy Idol, Joan Jett, and Stevie Nicks, and it follows through with unmistakably '80s songs like "Prisoner," featuring Dua Lipa and "Bad Karma," featuring Joan Jett. Cyrus also interpolated Stevie Nicks's 1982 hit "Edge of Seventeen" with her own "Midnight Sky" for a duet that transcends the divide between old and new.
And like a love letter to the disco-pop era, Lipa's Future Nostalgia immerses people in the funky, upbeat pop culture atmosphere of the time. Her song "Physical," inspired by the 1983 movie Flashdance, marries synth and heavily processed bass into an uptempo track, while "Cold Heart," featuring Elton John, emits the space-age rhythm and dancy drumbeat of a go-to club hit. From "Don't Start Now" to "Love Again" and beyond, the album suspends listeners to a time many look back on fondly and some have never experienced. All the same, we're transported there together.
Blurring the lines between what counts as pop or rock or disco, artists across genres have since replicated the retro sound. It's easy to dub these artists as unoriginal for imitating a sound that has already existed for decades, but each of them has put a unique spin on the winning pop formula of the past. Just look at albums like Justin Beiber's Justice, Coldplay's recent single "Higher Power," Aly & AJ's "Easy," or Carly Rae Jepsen's entire Dedicated album. With a sound so familiar, these new releases invoke a sense of nostalgia in people who remember the birth of synth-pop, while also cultivating a younger audience with fresh opinions and the platforms to share them.
But The Weeknd's bouncy synth-pop sound is nothing new. "I think that just comes from being an '80s connoisseur and hearing the Pretenders or Roxy Music or Hall & Oates. I was finding that alt-rock synthwave character," he said in an interview with Variety a month after his fourth album debuted. Somewhere between the height of Beatlemania and the premiere of Pretty Woman in 1990, the '80s electrified the music scene. Instruments like electric guitars, keyboards, and synthesizers became a staple in pop music, providing dancy background beats for artists like Madonna, Tina Turner, Whitney Houston, and Cyndi Lauper. For listeners, the new-wave radio sound wasn't just a soundtrack for weekend car rides to the beach and long afternoons spent wandering around the mall. It was a flicker of joy during a time when fear and uncertainty cast a shadow on the party scene.
Life in the '80s
In 1981, the CDC released an article detailing five cases of what would later become known as AIDS, a sexually transmitted disease caused by HIV infection that largely affected gay men at the time. Up until the late '70s and early '80s, the disease had appeared sporadically around the world, but its appearance in the US coincided with the deaths of over 700,000 people worldwide. Today, the high death toll is largely attributed to the government's slow response at the start of the epidemic, which many connect to the fact that most of the people being affected were gay men, immigrants, people with substance use disorders, and people experiencing poverty. As the disease spread, so did misinformation about its origins and an even more undeniable stigma arose around gay men: they were targeted on the streets, subjected to overt homophobia, and mentally and physically mistreated.
At the same time, the country was experiencing a complete economic downturn as unemployment rates and inflation rose to an all-time high. This led to a painful recession that left many families in difficult financial situations. More confused and afraid than ever, people became more hesitant about partying and took extra precautions to stay safe. People were filled with heartache and the atmosphere of the decade became somber, but music offered a bright spot that everyone could bond over. For some, it provided a temporary escape that lifted people's spirits and acted as a beacon of hope that good times were still to come.
The same year that the CDC released its report, MTV launched. Decades before TikTok, MTV was the go-to spot for discovering new music and artists that would otherwise have been deemed too rebellious and ones that spoke openly about socio-political topics. Songs that weren't intended to blow up did and listeners started to feel a deeper connection to what they were hearing. Like TikTok was for Megan Thee Stallion, so was MTV for artists like Madonna.
Even in 2021, a je ne sais quoi that extreme can't be bottled and manufactured, which is why songs from artists who got their start decades ago still connect with listeners. In the '80s, icons like Prince wowed people with flashy outfits and synchronized backup dancers. Today, we turn to Gaga and Lil Nas X for a taste of that something "extra" that's resonated with people for so long. "In a world in which no one was going outside — definitely nobody was going to clubs or parties or anything like that — these [uptempo] sounds were able to kind of last forever," Unterberger said.
Fast-Forward to 2021
Similarly, the COVID-19 pandemic created an atmosphere of despair, taking a deep mental, emotional, and physical toll on the world's collective wellbeing. The pandemic has claimed the lives of over 777,000 people across the country and over 5.22 million people worldwide and has forced people to rethink their entire way of being. Hospitals are filled to capacity and despite a surplus of vaccine doses in some countries, the majority of people left untreated are those in poorer countries with fewer resources. The availability — or lack thereof — and divisiveness surrounding how best to handle the pandemic has created a palpable tension between family members, friends, and strangers.
Thanks to disinformation spread by leaders, including former president Donald Trump, who odiously referred to coronavirus as the "Chinese virus," many pinned the blame for the spread of the pandemic on China and the wider Asian community as a whole. Insensitive remarks like these paralleled the hate speech around the LGBTQ+ community at the height of the AIDS pandemic, further exacerbating the strain on already marginalized groups.
"Everyone needed a little bit of a pick-me-up and I think that when things were particularly dire, people weren't necessarily looking for only songs that reflected the current conditions."
To escape from the unwelcome noise of the outside world, many people once again turned to music to escape. That escape came in the form of songs like Lipa's "Love Again" and Cyrus's "Plastic Hearts," which created the same pocket of liberation people in the '80s sank into for comfort. "Everyone needed a little bit of a pick-me-up and I think that when things were particularly dire, people weren't necessarily looking for only songs that reflected the current conditions," Unterberger said. "They were looking for more upbeat, more kind of lifting melodies and beats and songs to elevate what were pretty dire surroundings. So those songs really take advantage of that moment. They became some of the biggest hits of the last couple of years."
Reflecting on the message behind her Chromatica album in a 2020 interview with Variety, Gaga said, "If you're listening to this album and you're suffering in any type of way, just know that that suffering within itself is a sign of your humanity and you are not broken. You are connected to the whole world and we are one giant body. We are one full entity. And the whole you is having a whole human experience and there might be parts of your life that feel completely shallow or robotic or ancillary and unimportant, and that's okay, but that suffering is a sign that you're real and it's a way to ground yourself."
Phasing Into a New Musical Era
The way we discover new music has shifted since the '80s, and even though MTV isn't as popular as it used to be, platforms like TikTok have reinvented how we consume music. Part of the magic in TikTok is that users never know what's going to stick next — sounds dubbed over cat videos, old songs brought back to life, new songs that would have flown completely under the radar if it weren't for a viral video. But, unlike the songs played on loop on the radio, we have a say in which TikTok hits make it to the charts. Likes, shares, and the way we curate our personal playlists all have a direct influence on which songs become hits and what kind of artists are given the opportunity to shine. In voicing our opinions, we challenge the industry's cookie-cutter pop star formula and invite a new musical era defined by the sentiments of a different generation.
"Over the past couple of weeks while we've been in self-isolation, there have been lots of emotions," Lipa said in a 2020 interview with NPR about her Future Nostalgia album. "And I think I'd be lying if I said that the current situation doesn't make me well up at least five to 10 times a day just because of the uncertainty of it, and it's all a bit unsettling." At the time, Lipa considered pushing the album back because she felt like she'd be doing a "disservice to my fans and listeners" by releasing it. Ultimately, she knew the album would be a bright spot for listeners, as it was for her when she was writing it. And, like The Weeknd's After Hours, it's had a lasting impact on the music scene, and the spirits of listeners, ever since.
"I just want people to be able to take a moment away from what's going on outside and I hope it gives them some happiness and some moments of fun."
"I made this album to get away from the anxiety and pressures of making a second record and to get away from other people's opinions," she said. "I just wanted to make an album that was fun and something that I could dance to and something that made me feel good. So I feel like maybe now more than ever, that album should just come out. When the time is right and when we've all healed collectively and when we're ready to celebrate again, then I can hopefully pick up where I left off. I just want people to be able to take a moment away from what's going on outside and I hope it gives them some happiness and some moments of fun."
In place of turning on MTV and passing around mixtapes, today we're blasting Spotify and sharing playlists, but the sentiment is the same. Music is cyclical, and by sharing it, we're able to time travel to eras that are lauded for their eccentricity but that distinctly mirror our own. Ardent lyrics echo the complexities of another time, familiarity sinks in as we bob our heads to the dancy beats, and we find comfort in being reminded that the pulse of the world has always been thrumming with a hunger for something brighter, something new.